Each year, hundreds of thousands gather in Downtown Denver sporting their best lederhosen and Alpine hats to attend Denver Oktoberfest! Rick and I go every year (in fact, it was one of our dates when we first started going out) to join in on the festivities, fun, and food, and of course to get our fill of German bier!
The 49th year of celebration is upon us (the Denver version, the real Oktoberfest was in 1810) and we couldn't be more excited to go! If you're planning to attend the Oktoberfest event in Denver, here are some tips and ideas of things to do while there!
Denver Oktoberfest is located on Larimer St., between 20th and 22nd streets, near Coors Field. The event spans two weekends, September 21 – 23 and September 28 – 30. Denverites are known for drinking a lot of beer, but the first weekend will really be a test to that as it's the same weekend as the Great American Beer Festival! If you can't wait to sip some European brews or the seasonal Oktoberfest beer, you'll want to get to Denver for one of the biggest Oktoberfest celebrations in the country!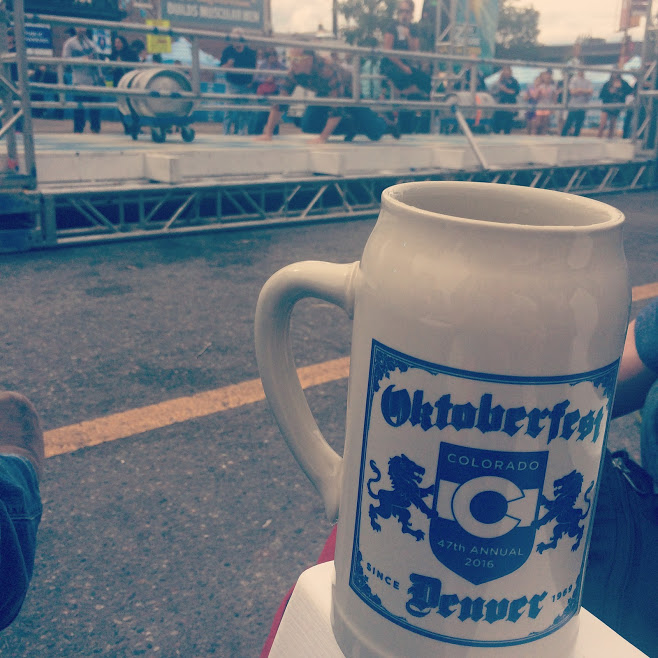 Activities at Denver Oktoberfest
We often go to just eat and drink and hang out with friends, but there are a variety of scheduled events and activities to participate in if you want to walk off some of those calories from your bier, pretzels, or brats.
Keg bowling
It's a lot harder than it looks! Go keg bowling at Oktoberfest where you roll a keg strapped to a cart toward a tower of kegs to knock them all down.
Stein hoisting contest
I can barely hold my stein up when it's full so I don't know how the participants in the stein hoisting contest hold two full beers out in front of them… with straight arms! The contest runs all weekend with qualifying rounds and the championship round. Cheer on the contestants as their arms quiver and shake under the weight of all that beer and then question how strong some of the fraus at the real German beer halls have to be to carry around all those steins all the time.
If you want to put your stein hoisting skills to the test, please note that you must be 21 or older to participate.
Bratwurst eating contest
Have what it takes to eat the most brats? Find out during the bratwurst eating contest – or hang back and watch as others stuff themselves silly. The top three winners get $500, $250, and $100 respectively to donate to a charity of their choice.
Long Dog Derby
Come see all the wiener dogs race during the Long Dog Derby on Sunday morning. Dogs are welcome to attend the festival, but only full and half-breed dachshunds are allowed to enter the race. There are a variety of race categories, like Frankfurters (one to five years old), Senior Schnitzels (more than 10 years old), and Hot Dog Carts (handicapped dogs), among others. Other dogs are allowed to compete in the Wiener-Wanna-Be race or in the costume contest!
Eating & drinking at Denver Oktoberfest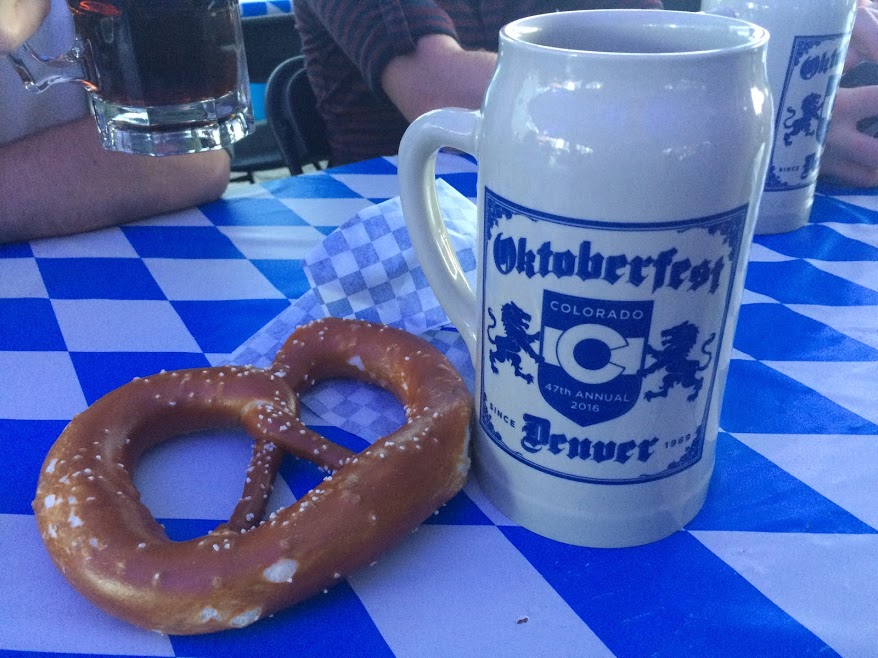 There's no shortage of beer or food at the fall festival, but it's good to know that you'll need tickets for drinks and cash or credit/debit cards for food – some food vendors are cash only, so come prepared with some bills on hand. The event itself is free to enter, but food, drinks, and souvenirs come with a price tag.
For tickets, a 16 oz. pour of Spaten Oktoberfest and Spaten Lager, Franziskaner Weissbier, Stella Cidre, and Breck White Ale are one ticket each. If you want to fill up your  32 oz. stein, you'll need to hand over two tickets. If you're planning on guzzling down the beer, buy a stein and get two tickets for $30 instead of buying just the stein for $25.
Tickets are $6 each or you can buy a pack of four for $20.
Tips for attending Denver Oktoberfest
Go for happy hour at Denver Oktoberfest
During happy hour (Friday and Saturday from noon to 2 p.m.) one ticket refills your stein or you can get a two-for-one deal on the 16 oz. pours. It's a great deal and you'll run into fewer crowds during the day.
Get there early
If you've got a big group, or know you're going to want to sit down at the long tables, get there early to snag some chairs. They disappear frequently and as the night progresses, it seems impossible to find a spot to sit down at.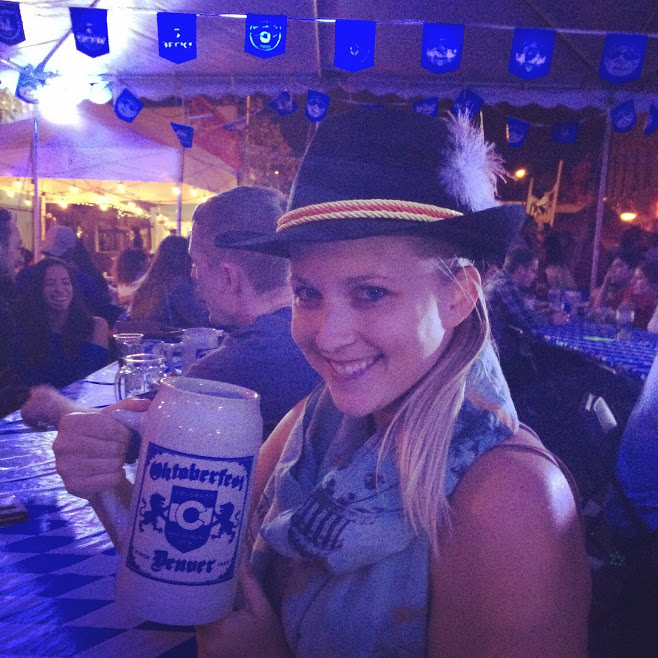 Theme it up
You won't stand out if you come in costume, and many people dress up or buy accessories at the festival to be a part of the tradition. I wear my Alpine hat each year and we've had friends dress up in their lederhosen and dirndls.
Prepare for crazy weather
Denver weather is something that keeps us on our toes, and as the event is held late September, who knows what the weather could be like. We've had years where we can go in shorts and tank tops and years where we've needed to bust out the fall jackets and mittens. Check the weather right before you go and plan to have a sweater or light jacket with you, especially if going at night when it'll cool down. Though, depending on how much beer you drink, you might not need it!
Use public transportation
Getting there with the road closures and even parking in the area can be a nightmare or quite costly as the lots fill up. Plan to use the light rail and walk from Union Station or even the 18th and California station isn't too bad of a walk. You can also use Lyft or Uber to get you close to the festival and not worry about having to designate a driver at the end of the night.
Buy VIP tickets
If you know you're going to go all out when it comes to eating and drinking at the festival, purchasing the VIP tickets could be worth it. The VIP area is all-you-can-eat and all-you-can-drink, and you get a stein, a t-shirt, and have access to VIP bathrooms. You can buy a one-day pass for Friday for $105, a pass for Saturday for $130, or a weekend pass for $185.
No matter what you choose to do at Denver Oktoberfest, you're sure to have a great time – unless you hate food and beer or German music. It's a great event that draws a huge crowd each year and a cool Denver tradition to be a part of. We'll see you there. Prost!
Like the post? Share it now!