I love living in Denver. It's where I've wanted to be since I was a kid and could not be happier to call the capital of Colorado home!
While Denver is awesome year-round, there's something super special about our summers – except maybe this one if I'm being honest. Colorado, stop the rain and hail, please!
While Colorado has many cool destinations to explore, there are so many things to do in Denver that you could easily just stay here for a week.
If you're planning to visit in the summer, the best time of year in my opinion, here are some awesome Denver activities to keep you busy during your visit!
Hot summer things to do in Denver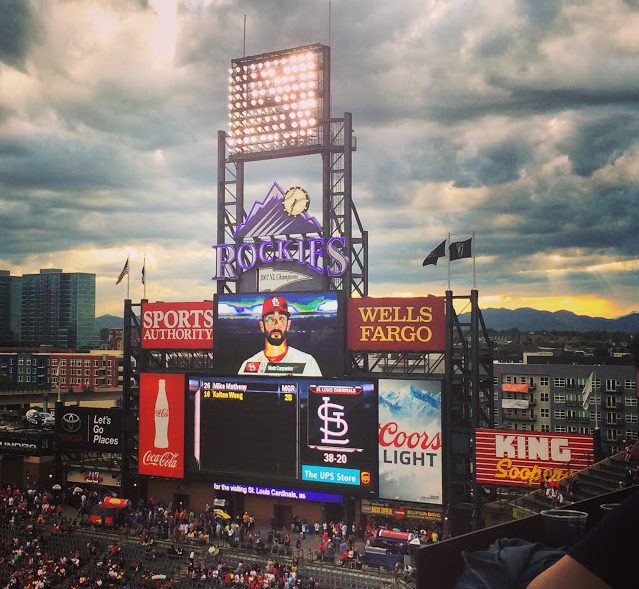 1. Cheer on the Rockies at Coors Field
Grab a Coors, hit the bleachers, and enjoy a baseball game at the Rockies' home field at Coors Field in Downtown Denver. Just going for the atmosphere and not really a die-hard baseball fan? Do as the local Denverites do and get Rooftop tickets. Rick and I normally just do Rooftop tickets as they're cheap, you're near bars and food, and you can move about and hang out with friends while still having a good view down into the field.
Find a game on the Rockies schedule!
Fun fact: Dinger, the Rockies mascot, is a dinosaur because dinosaur bones were found when they excavated the site for construction of the stadium. So, no, he's not a sad Barney rip-off, he's our lovable purple triceratops!
2. Go behind the scenes at the Broncos Stadium at Mile High
The Broncos may not be in season right now, but you can still take a tour of their unique stadium at Mile High! Learn more about the construction of the stadium, its design, and hear fun stories about the players and games played here.
Tours run about 75-90 minutes and are led by guides from the Colorado Sports Hall of Fame & Museum. Summer tours are available Monday through Saturday from 10 a.m. to 2 p.m. with tours departing every hour.
3. Discover Union Station
Either go early to snag a table for breakfast at Snooze or go in the evening when the Terminal Bar is open for business and mixing up craft cocktails. There's also a great sandwich shop and coffee and ice cream parlour inside, serving up ice cream from Denver's famous Little Man!
4. Sample our craft beverages
Denver is home to some pretty amazing breweries and wineries! From light, summer ales to sours to barberas and zinfandels, you can find a great glass of anything in the city.
It's pretty easy to create your own taproom crawl as some breweries are clustered together, especially up in RiNo and Five Points. Many tap rooms also serve beers from other Denver craft breweries so you can set up shop at one bar and sample a great variety of craft beers. The wineries and wine bars are a bit more spread out, but well worth the Uber ride.
Check out our picks for the best beer in Denver or if it's wine o'clock, visit our favorite Denver wineries and wine bars!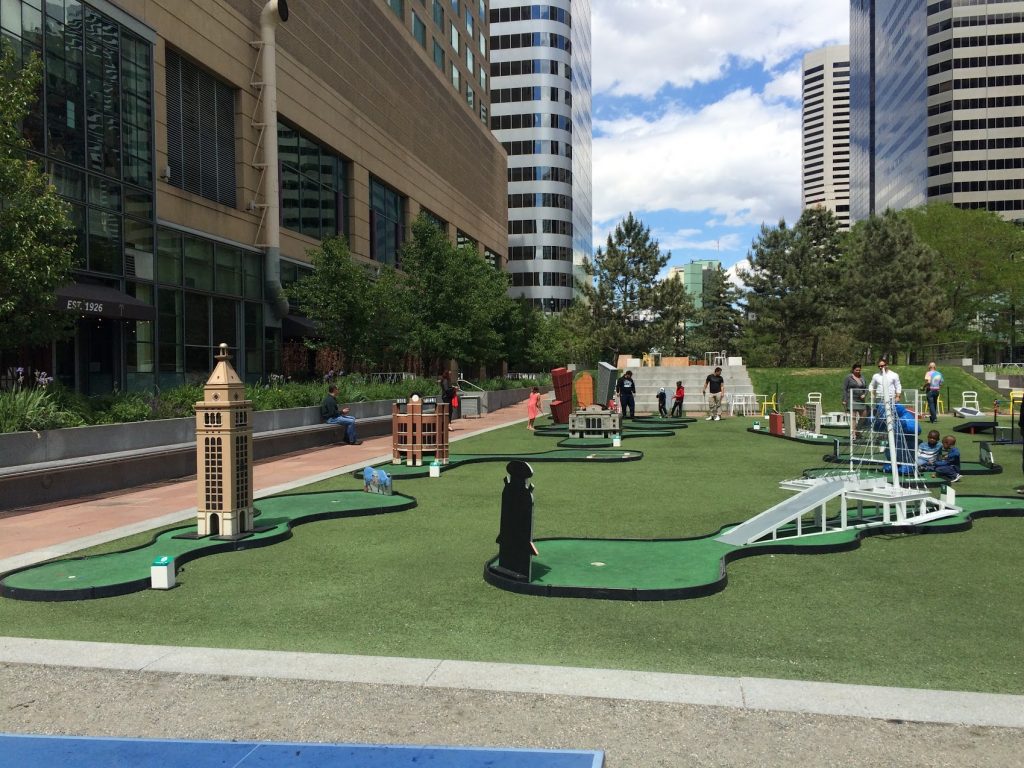 5. Check out Skyline Park Beer Garden
While taking in the tourist shops and restaurants along the pedestrian mall on 16th Street, be sure to stop by Skyline Beer Garden for beer, food, and games. They have a fun Denver-themed mini golf course, foosball, cornhole, and some great street food vendors on site, along with some tasty tap beer from local breweries. It gets very busy for happy hour during the week and is a fun place to hang out and get some cheap food and drinks.
The park is open from 11 a.m. to 10 p.m. Tuesday through Sunday, and is located on Arapahoe Street, between 16th and 17th streets.
6. Visit the Brown Palace
The Brown Palace has been a part of Denver since 1892 and even if you don't stay the night here, you have to visit the elegant and historic hotel.
They have a wonderful afternoon tea with scones, finger sandwiches, and pastries, and you can upgrade to a champagne and tea experience to take it to the next level. If afternoon tea isn't your cup of tea, go for their indulgent brunch at Ellyngton's instead.
Finally, you could also choose to enjoy a relaxing spa treatment or soak. They have a great menu of massages, facials, manicures, pedicures, and even couples treatments!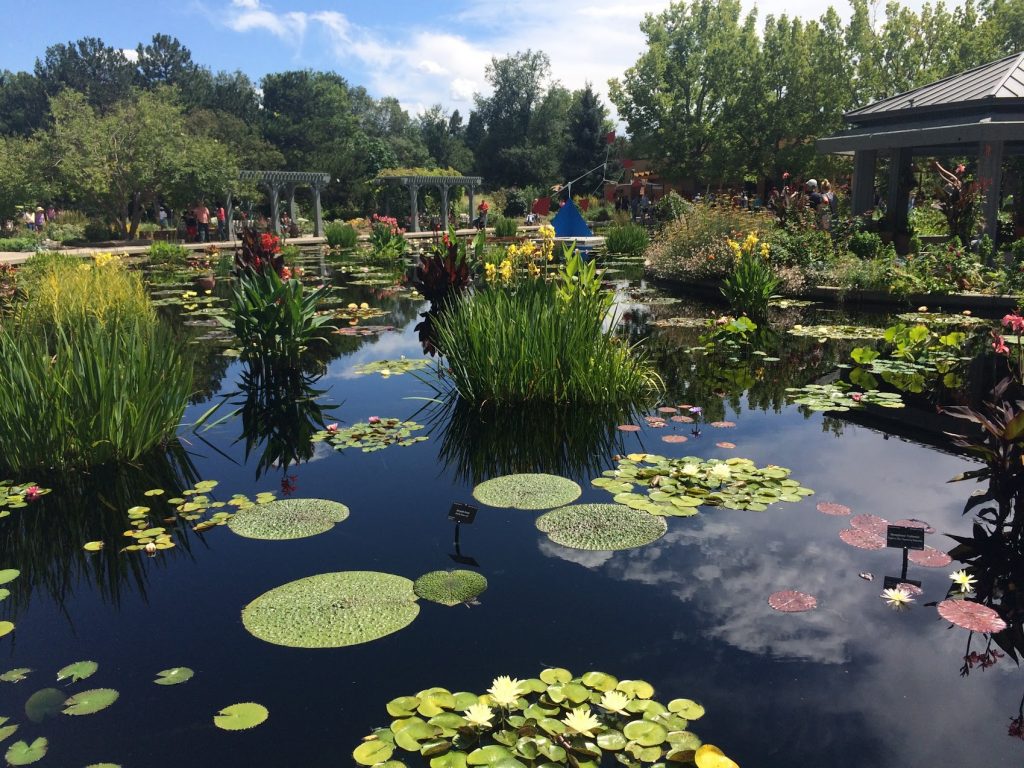 7. Denver Botanic Gardens
Feel like you've left the city behind as you take a walk through the stunning gardens and flower displays at the Denver Botanic Gardens! The Botanic Gardens cover 24 acres and have 18 gardens, including a cactus and succulent house and water gardens. There are also international gardens, like the tea house garden, the tropical conservatory, and the South African Plaza.
If you plan accordingly, you could even visit for free as they have about 8 free days throughout the year with two dates in the summer.
If you don't care much for plants and flowers, plan to visit in the evening when the gardens open up for their summer concert series! Bring a blanket, chair, and even pack a picnic as you can bring your own food and alcoholic beverages into the gardens for the concert.
Also, come back in the fall for the Ghosts in the Gardens ghost tour in Denver!
8. Learn something at the Denver Museum of Nature & Science
Not going to lie, Rick and I are card carrying members of the Denver Museum of Nature & Science (DMNS). They have a few permanent exhibits, like the Egyptian mummies, dinosaurs, wildlife in Colorado, and space exhibits, as well as cool visiting exhibits. It's a great spot when it's a rainy day in Denver, and is always a fun time.
When my family comes to Denver we normally visit the museum to see a show in their IMAX theater, and they always have good movies playing, or you can catch a film in the planetarium.
If you want to avoid the kiddos, they do have special after-hours events just for adults and the rest of the museum is open to explore at your leisure!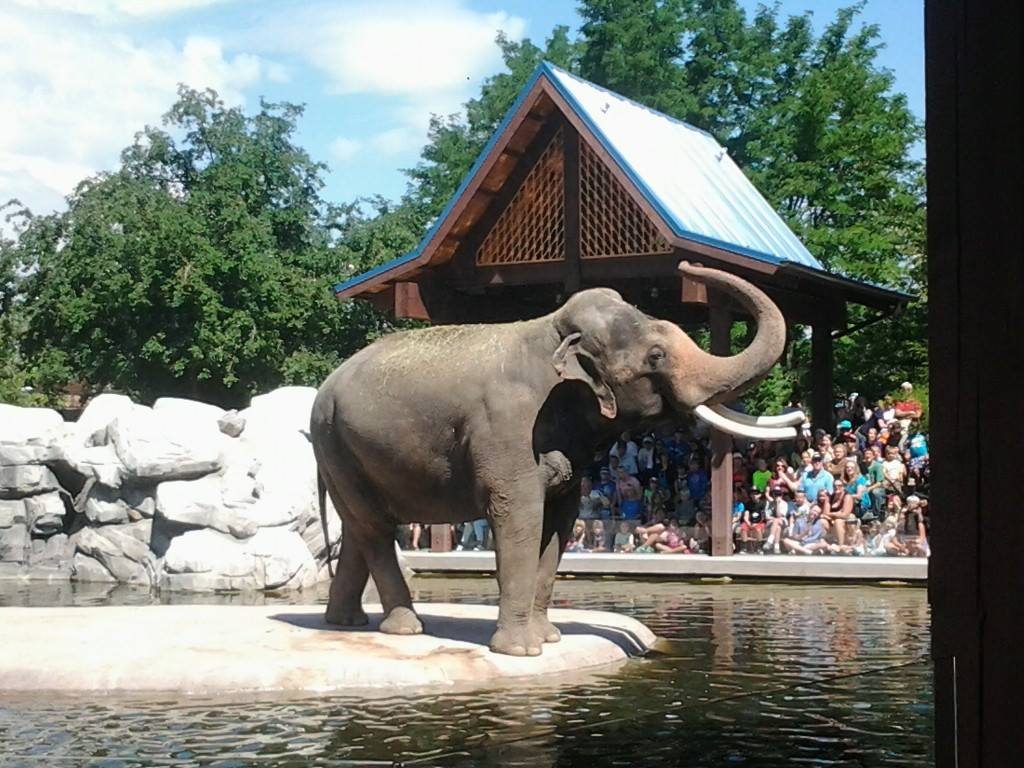 9. Go wild at the Denver Zoo
Home to more than 4,000 animals spread out over 75 acres – and right next door to the DMNS – you can't miss the Denver Zoo! See lions, sea lions, penguins, bears, rhinos, African wild dogs, giraffes, gorillas, monkeys, bats, and zebras.
I love their elephants and the fact that when they have the elephants on stage, they never make them do anything they don't want to do. You can tell the zookeepers respect the wildlife living here and want to educate guests about their natural habitats and lifestyles.
10. Take in the art at the Denver Art Museum
On the first Saturday of each month, you can enjoy free admission to the Denver Art Museum (DAM) and explore all the unique art galleries located here. It's in the heart of downtown, so you can easily find a cool brunch spot if you go in the morning, or stop by one of the many bars in the area and enjoy a martini while discussing your cultural outing. While you'll enjoy the works of art inside, you'll definitely have to take a picture of the building itself!
11. Free First Friday at the Santa Fe Arts District
See the great works and meet the artists during the Free First Friday in the Santa Fe Arts District! The boutique galleries open their doors, pop open some wine, and some even serve light snacks as you go from gallery to gallery.
It's the perfect thing to do on a Friday evening, especially when it's been a warm day and the sun is dropping behind the mountains – it's like the city is making its own work of art for you! First Friday Art Walks are from 5:30 – 9:30 p.m.
12. Explore the Molly Brown House
Discover where the Unsinkable Molly Brown called home in Denver and learn more about her life and what life was like in the early 1900s in the West.
Molly had quite the impact on history, especially for her heroic efforts after the Titanic sank, helping those who didn't speak English and coordinating efforts to raise more than $10,000 for those who lost everything on the ship.
She was also very charitable in the Denver community, raising funds for children's playgrounds and helping found the Denver Dumb Friends League, our animal shelter.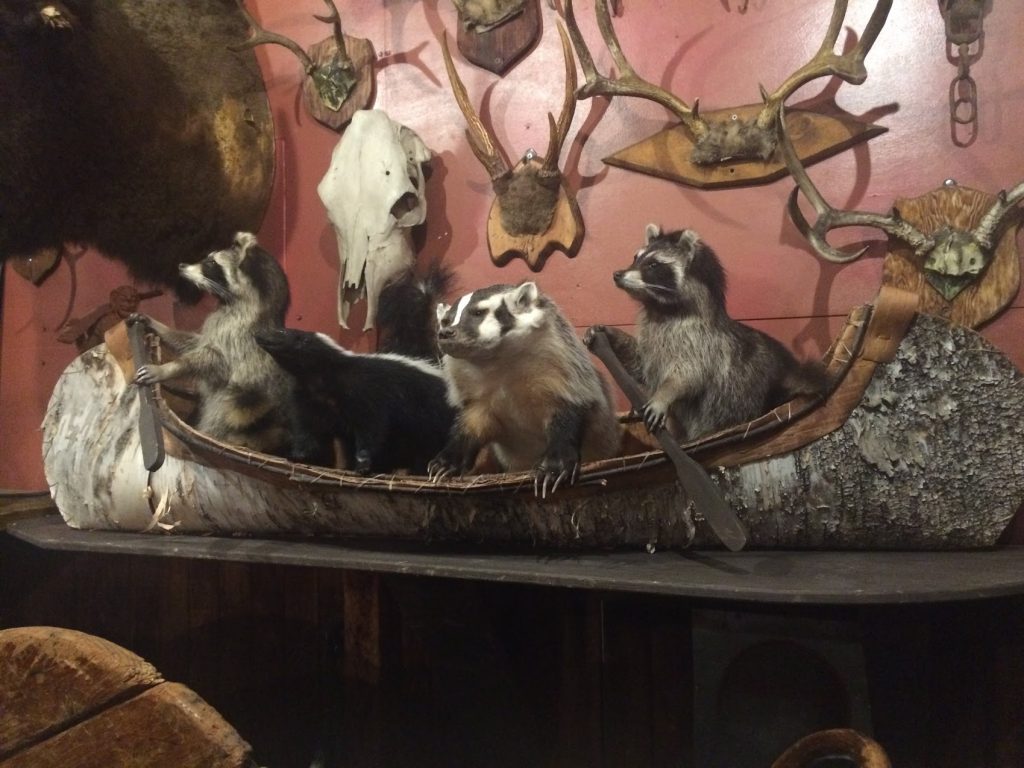 13. Buckhorn Exchange
Stop at Denver's oldest restaurant, and most uniquely decorated, with a visit to the Buckhorn Exchange. Serving up exotic meats since 1893, this is a staple of Denver's restaurant scene and many go for live music, to try Rocky Mountain oysters, or to take in the almost 600 pieces of taxidermy.
Easily get to the Buckhorn Exchange as they're right across the street from the 10th & Osage light rail station.
14. Sneak into a speakeasy
OK, not much sneaking involved, but either get the password or put your name on the list to visit one of our speakeasies. My favorite is Williams & Graham where you enter behind a bookcase and then a giant craft cocktail menu, and decadent food menu are waiting for you. It's dark, intimate, and it's impossible to have a bad experience there. Get there early to get your name down or go on an off-day, like Sunday night.
15. Play at Elitch Gardens
You can't miss Elitch, the giant theme park rising up from the heart of Downtown Denver. Get whiplash on the roller coasters, take in the great city views from the ferris wheel, or cool off at the waterpark portion. It's a great place to feel like a little kid again and enjoy the thrill rides.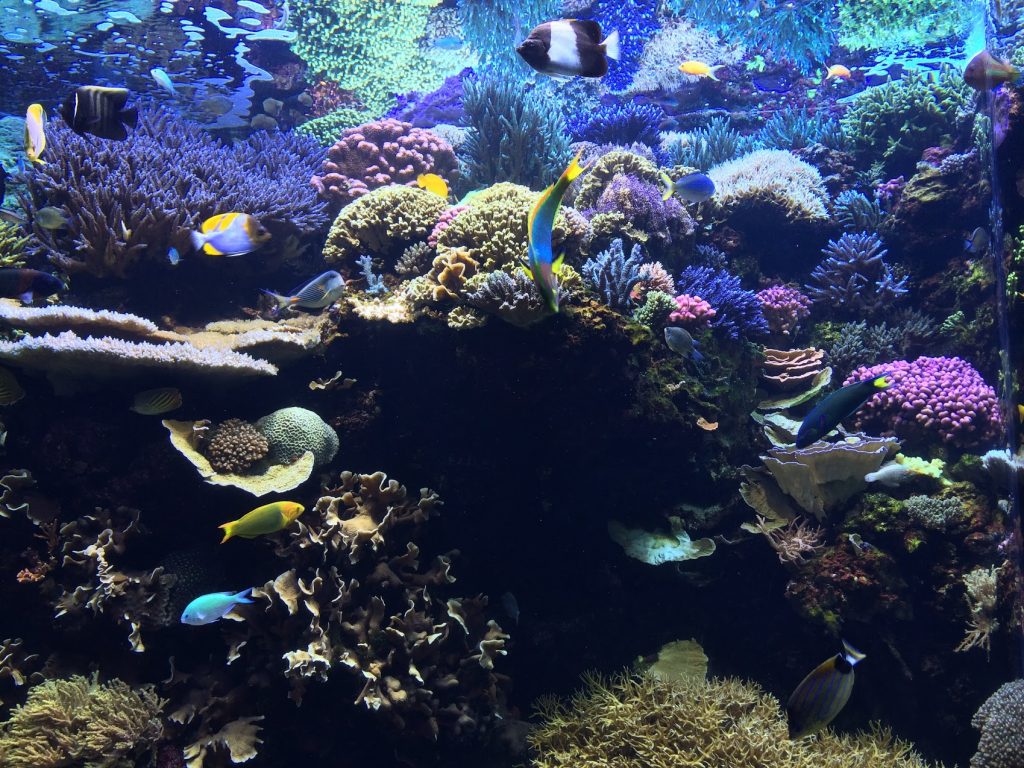 16. Cool down at the Downtown Aquarium
Head indoors to see the giant aquariums and water habitats at Denver's Downtown Aquarium. See thousands of tropical fish and other marine animals or see if you're brave enough for their new shark cage experience at the shipwreck exhibit.
Strangely, they also have a tiger at the Downtown Aquarium, but he's cool to see. If you dine at the restaurant, keep a lookout in the central tank for the mermaids!
17. Work it out in Washington Park
I like to think of Washington Park (affectionately known as Wash Park by locals) as our little Central Park. My sister and I go every weekend, and we're not the only ones! The park has great grassy areas for volleyball, frisbee games, yoga, BBQs, and more, and great trails for cyclists, runners, and rollerbladers (yes, I'm one of them).
18. See Cheesman Park
Want a different park option? This one is next to the Botanic Gardens and shares some of its haunted history! Sometimes bones make their way to the surface of this park after heavy rains – but make no bones about it, this Denver park is super popular when it's a gorgeous summer day in the city. Bring a picnic, soak up the sun, take a walk, and read the informational plaques lining the park.
19. Enjoy City Park Jazz
In the mood for free music in the park? Enjoy free jazz concerts in City Park on Sunday evenings. You can bring drinks into the park (nothing over 3.2% though) and enjoy a great variety of food like pizza, gyros, BBQ, cupcakes, and ice cream to snack on during the performance.
20. Take a horse-drawn carriage ride
When the weather is nice, the 16th Street Mall becomes a hot spot for horse-drawn carriages. Go for a romantic ride down the street under the city lights and stars. It's a fun way to end your night in Denver!
This list only scratches the surface of all the cool things to do in Denver. So, if you're planning a trip to Colorado, be sure to include a few days in Denver to enjoy all our fun activities.
Did we miss a must-do in Denver? Tell us in the comments or on Twitter!
Like the post? Share it now!