From Christmas markets to magical Christmas festivals, there's no place better to really get into the holiday spirit than in some of the Old World settings in Europe. With piping hot drinks to keep you warm, roasted nuts and other baked goods to keep you full, and plenty of unique shopping opportunities, there are some amazing European cities you just have to visit during the holidays. We're listing out our top 10 picks on where to go in Europe for an unforgettable Christmas vacation and to soak up some fantastic Christmas cheer!
10 best cities to spend Christmas in Europe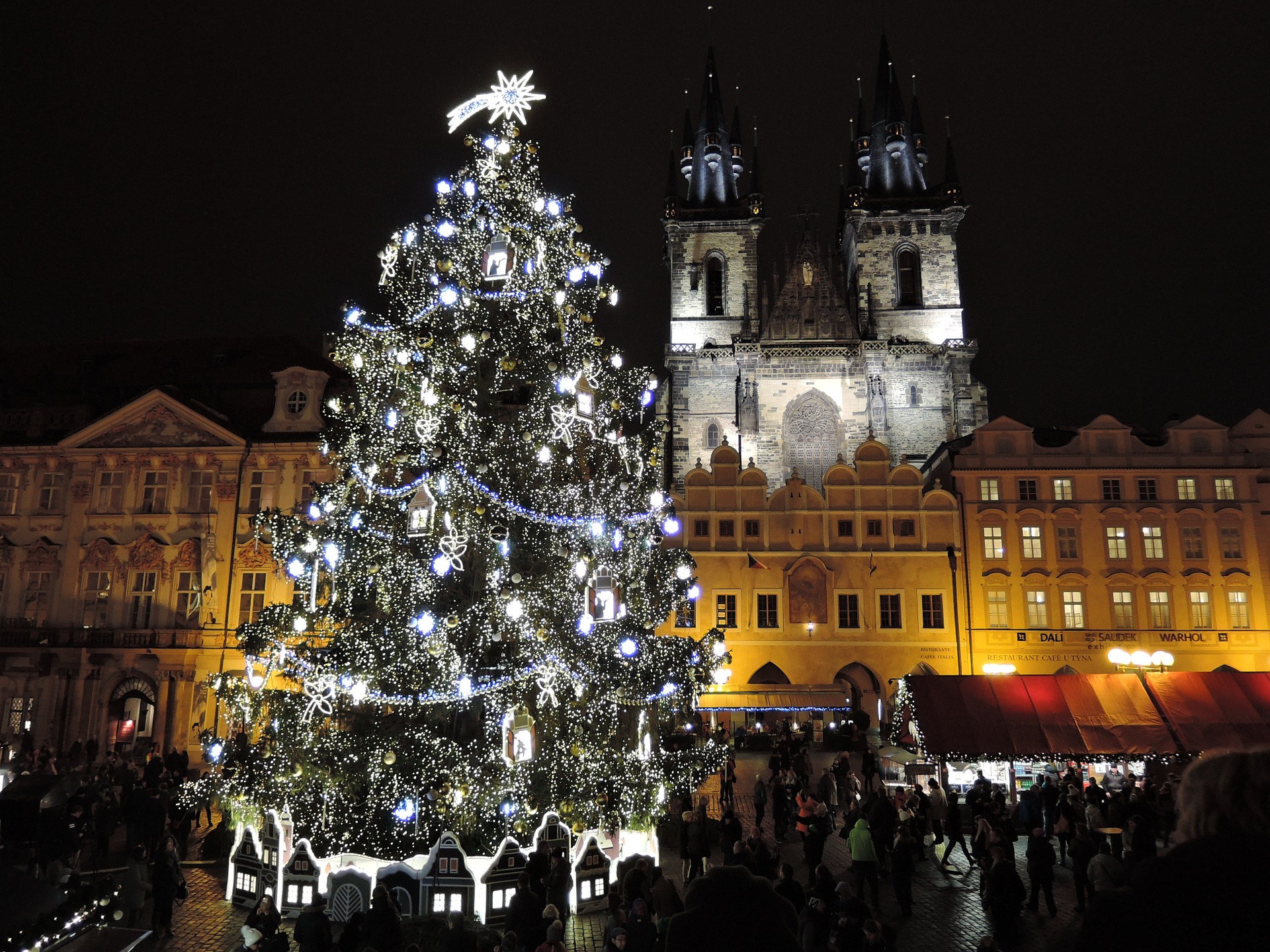 Prague, Czech Republic
Shop the oldest Christmas market at Old Town Square or head off to Wenceslas Square or Namesti Miru for other shopping opportunities. Save some of your shopping money to pick up trdelnik, a sugary pastry and traditional treat during the holiday season. Be sure to save room for some yummy mulled wine to keep you nice and toasty! Burn off your holiday treats with a few laps around the ice skating rink – a fan-favorite wintertime activity.
London, England
With watching Love Actually every Christmas, celebrating the festive season in London has been a wish list item on my travel bucket list for a while now. With a lively Winter Wonderland in Hyde Park and the Christmas tree towering in Trafalgar Square, London definitely has a lot to offer over Christmas.
During the holidays, you can easily find ice skating rinks, holiday concerts (though I doubt the cute girl from Love Actually will be signing All I Want For Christmas on repeat), and Victorian-themed events, thanks to London being the setting for A Christmas Carol. Don't forget to tuck into seasonal dishes and some Christmas pudding.
Salzburg, Austria
The city of Mozart might be putting him on pause for classic Christmas carols as the city comes alive, not just with the sound of Christmas music but also with a glow of vibrant holiday lights. Salzburg is a city that honors and celebrates tradition and that's no different when it comes to Christmas. With one of the oldest Christmas markets around, you're sure to find plenty of timeless traditions and classic Christmas gifts in Salzburg.
Savor a cup of gluhwein and taste a sample of lebkuchen while here for an extra special holiday treat. And, if ice skating isn't your thing, the city's great location is ideal for a day trip to go skiing in the Alps!
Strasbourg, France
The French in Strasbourg don't mess around when it comes to celebrating Christmas. Discover France's oldest Christmas markets, there are 12 of them, and one-of-a-kind gifts, marvel at the gigantic Christmas tree, view the nativity scenes, and indulge in some holiday fare like foie gras and French pastries, like the seasonal bredele cookies, of course paired with some mulled wine.
They too enjoy a bit of ice skating and have several inviting rinks set up around town, with the rink reflecting the glistening and glowing Christmas decor adorning the city.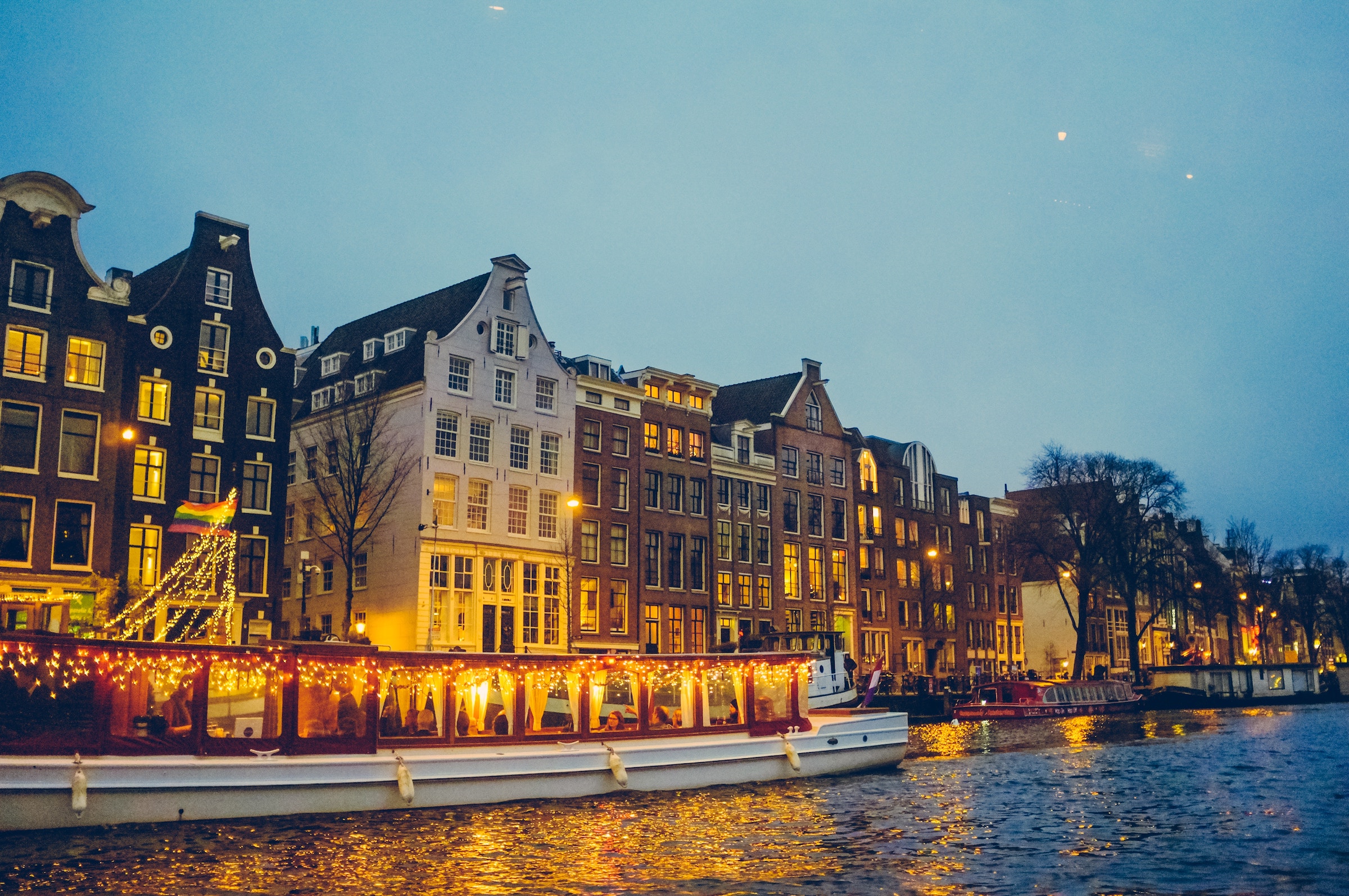 Amsterdam, Netherlands
Be bathed in light at the Amsterdam Light Festival and pick up some gifts and goodies at the Christmas markets – perhaps for a friend with a good sense of humor when it comes to sex and drugs and all things that make Amsterdam such a delightful and unique city. See the city's decor from a new angle on a canal cruise or simply stroll the streets, maybe avoiding the Red Light District even though its coloring is quite appropriate for the season, and enjoy the welcoming ambiance of Amsterdam.
Bruges, Belgium
This charming city is like a fairytale Christmas village brought to life! See the twinkling Christmas lights on houses that look like life-sized gingerbread homes and take a romantic horse-drawn carriage ride through town – hopefully while some carolers come passing through! Warm up inside with a mug of Belgian hot chocolate…. No judgement if you pair it with some more yummy chocolate treats.
That isn't all for Bruges though, as they also transform Grote Markt into a Christmas village, complete with an ice rink. If you can't get enough ice in December, be sure to take a look at the impressive works of art on display at the Bruges Ice Sculpture Festival.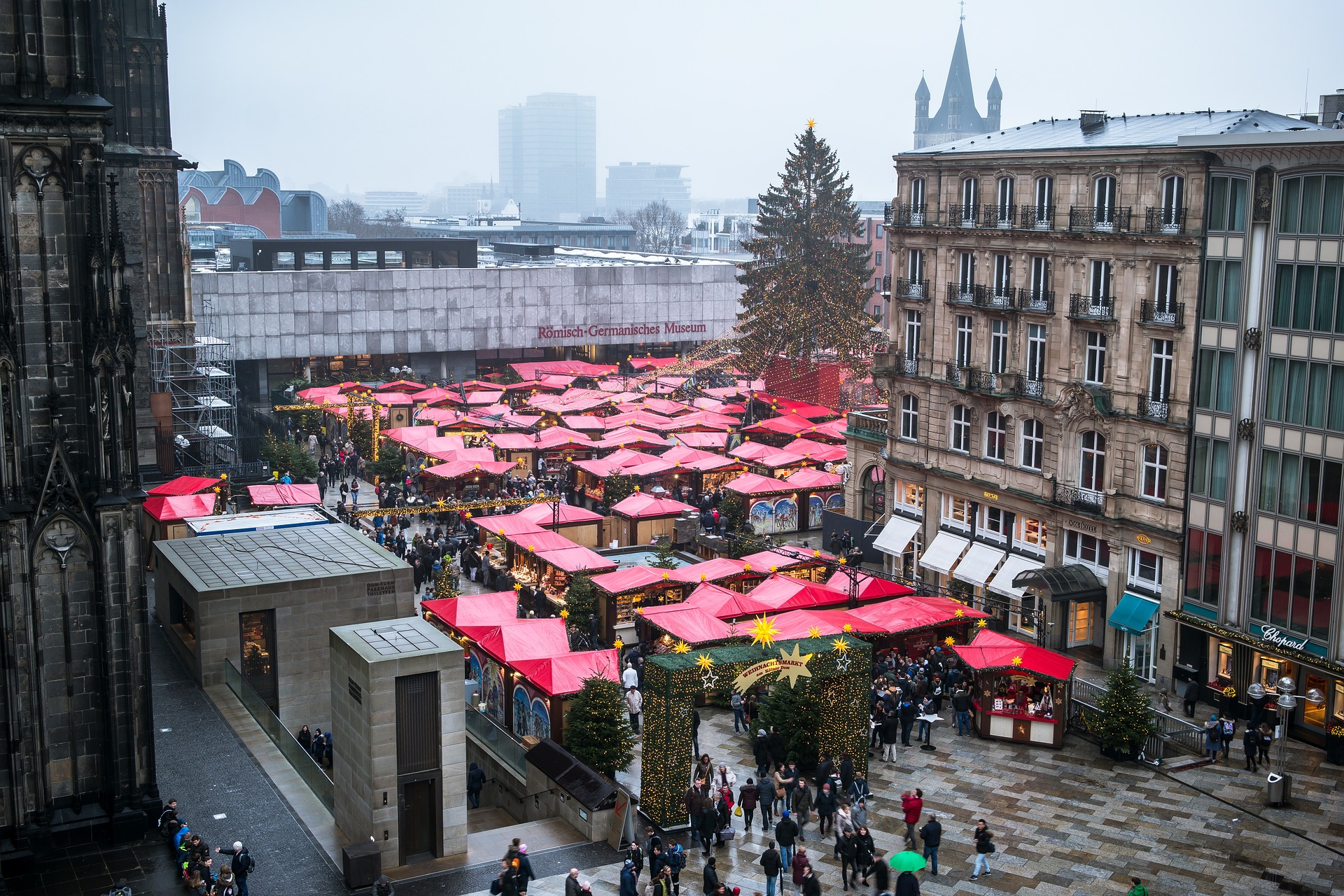 Cologne, Germany
Known for its fantastic kolsch beer and Cologne Cathedral, this German city welcomes the holiday with open arms. Join the festive fun at any one of the many Christmas fairs in the city, sample some spectacular mulled wine (Cologne is the birthplace of the drink after all), and simply enjoy the festive atmosphere of the city.
Cologne is also touted as having some of the best Christmas markets in Germany, perfect for some holiday shopping and bringing home unique gifts. If you really want to get in the holiday spirit, head up to the observation deck of the KolnTriangle in the late afternoon to see the city's Christmas light shimmering below.
Copenhagen, Denmark
Like the other cities on our list, Copenhagen is no stranger to Christmas markets. Make your way to Tivoli Gardens to check out the Christmas lights, hop on the exciting rides, and get a holiday treat or two, like aebleskiver, a Danish treat that's like a pancake ball filled with applesauce. While in Copenhagen, save some room for andesteg, a traditional dish for the holiday that's made with succulent roast duck and complemented by potatoes and cabbage.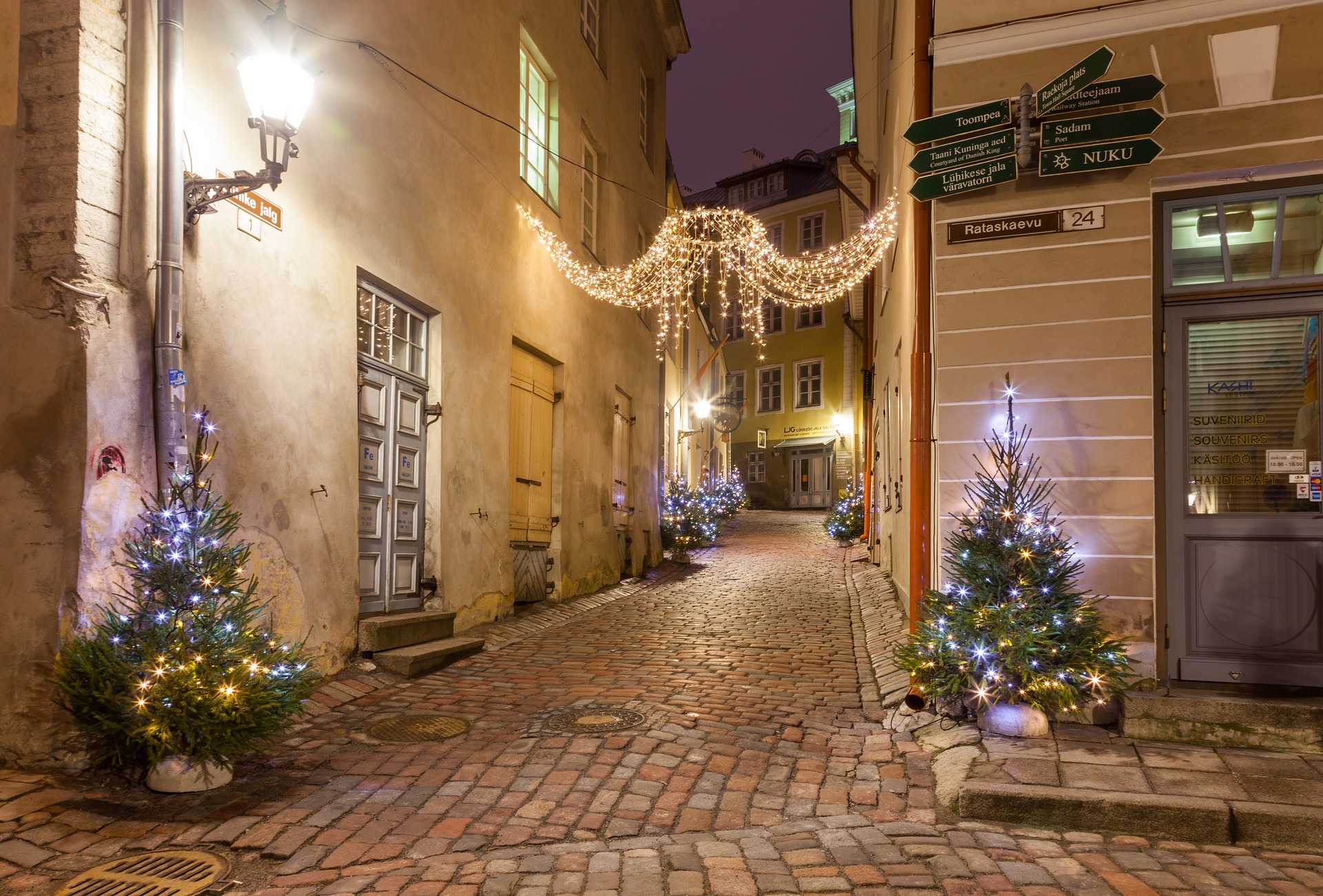 Tallinn, Estonia
This enchanting city in Estonia is another fairytale-esque city that beckons many. Discover the UNESCO-listed Old Town and see the huge Christmas tree in Town Hall Square. Fun fact: Tallinn is said to be the first city to have a public Christmas tree – way back in 1441! If you love tradition and history, that fact alone should get you hopping in your sleigh to spend the holiday there.
Wroclaw, Poland
Wroclaw shines bright in December as the city's decorated in a dazzling display of lights, and the city has a fantastic holiday energy as you hear carols in the main square. Shop the Christmas market in this melting pot city and treat yourself to a decadent dessert or two. Wroclaw, while magical over the holidays, tends to be overlooked as a destination, making it an affordable option for your holiday travels!
What are your picks for the best places to spend Christmas in Europe? Tell us in the comments below or on Facebook!
Like the post? Share it now!