Even after exploring London on a few visits one thing I hadn't checked off my England bucket list was enjoying afternoon tea. When Rick and I went in June 2018, that was the one thing I wanted to make sure we slotted some time for. This was Rick's first visit to London so I wanted to make sure he saw all the sights and so when I found a sightseeing tour of London that was combined with a delicious afternoon tea, it was the perfect activity to add to our itinerary.
B Bakery has a physical location, but I was drawn by their variety of themed tea tours, both on a bus or on a Thames cruise! We opted for an afternoon tea tour on their outfitted double decker bus and had a great time. Below is our review of the afternoon tea bus tour with B Bakery.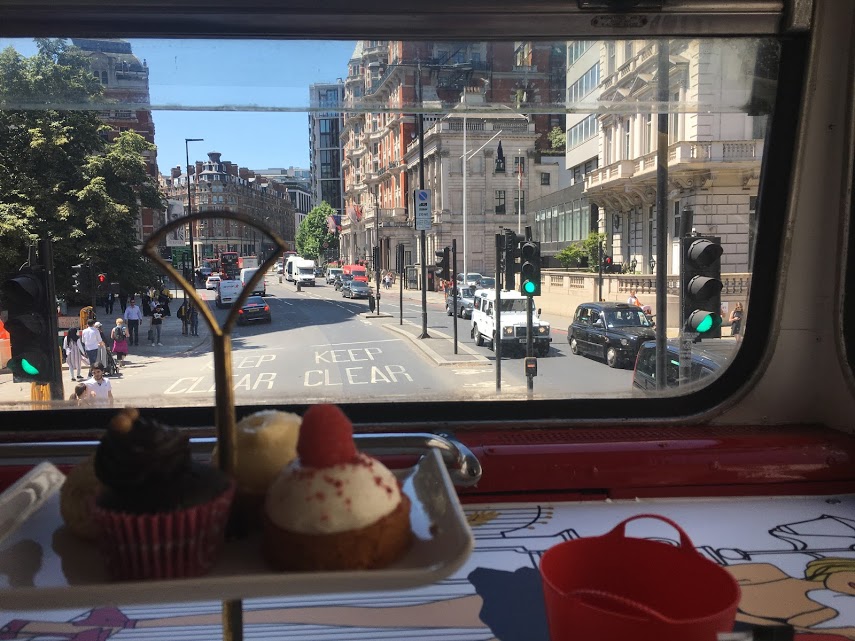 London Tour
The afternoon tea bus tour is about an hour and half – can be longer if traffic is a bit congested. The seats are comfy and when you're stuck at a traffic light you're easily distracted by all the goodies and hot tea in front of you. They have commentary on the bus to describe what you're seeing but the commentary could be hard to hear at times but was still useful when you picked it up.
Some of the icons you see on this London sightseeing tour:
Buckingham Palace
Royal Albert Hall
Trafalgar Square
Harrods
Big Ben
London Eye
Customer service & booking
The online booking process was easy and you pick out your menu, seats, and purchase any add-ons at the time of your booking.
The tour started right on time and the staff was nice. The food was already waiting at your table and then they come around ask what type of tea you want to drink during your tour. Our server asked if we wanted our prosecco first or at the end of the tour and we had it at the beginning. She asked if we were celebrating anything and it was a few days before my birthday, which I told her, and then she served me an extra chocolate cupcake later on the tour, which was a fun surprise!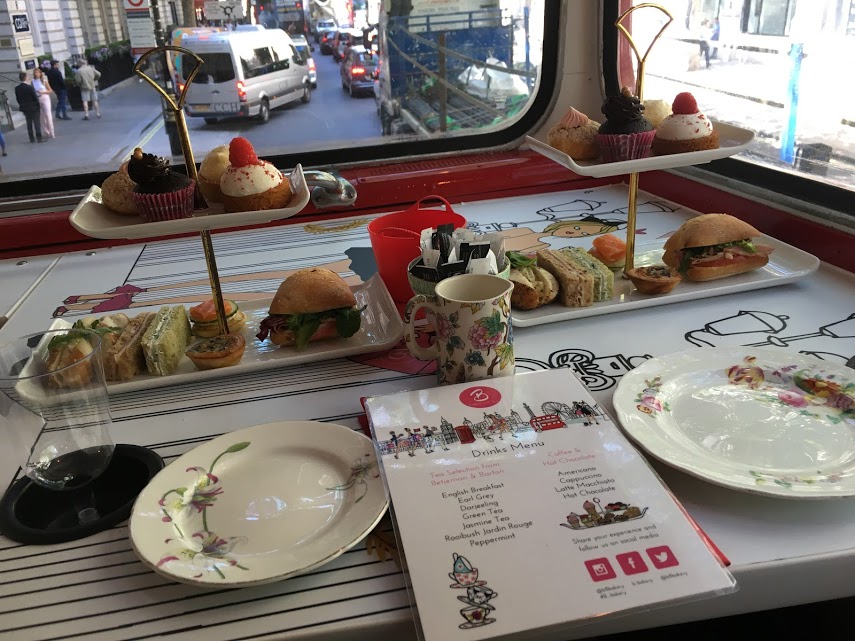 Food & drink
We booked the traditional tea menu which had a variety of savory sandwiches and sweet treats. Some of the finger sandwiches included a cucumber and mint sandwich, watercress and egg on a pretzel bun, and a ham and cheese with mayo and mustard. There was also a mini quiche and smoked salmon blini. The sandwiches were tasty and flavorful and the serving size was just right for the tour's duration.
We knew the desserts were going to be amazing (it is hosted by a bakery after all), but the mouthwatering cakes and tarts included a mini chocolate cupcake, a passionfruit, mango, and coconut tart, and a vanilla cream pastry. They also come through during the ride to serve a hot scone with clotted cream and jam. They met our expectations for the desserts as they were delicious and we could have easily eaten another six chocolate cupcakes or those mango tarts.
For teas, they offer a variety of leaves from Betjaman & Barton: Earl Grey, English Breakfast, darjeeling, green, jasmine, rooibos jardin rouge, and peppermint. If tea isn't your cup of tea, they also serve water, coffees, and hot chocolate. They serve your tea in a to-go souvenir mug, so no worrying about spilling your hot drink on the bus.
We booked their traditional menu but I also appreciated the variety of menus they offer, including nut-free, dairy and gluten-free, vegan, vegan and gluten-free, and a Celiacs-friendly menu.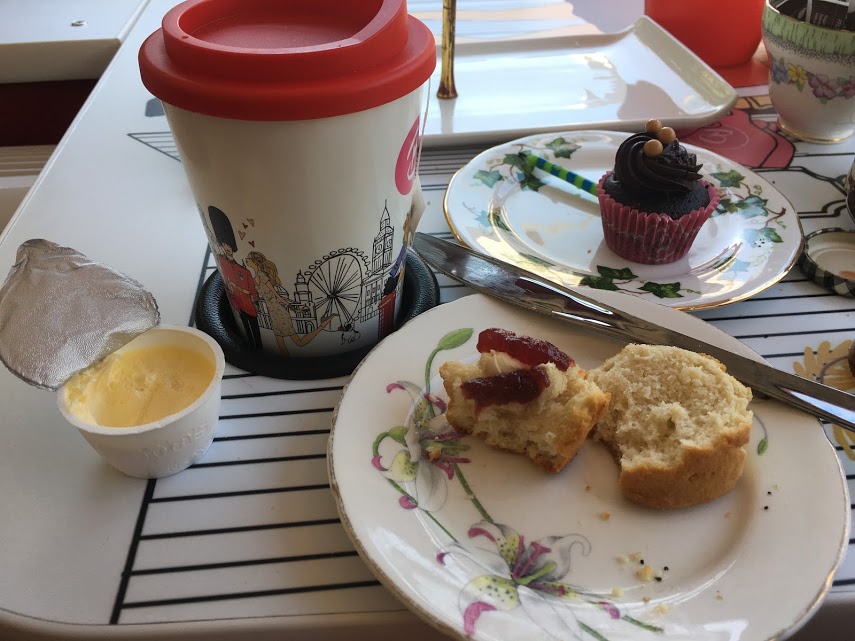 Price
The starting price for this bus tour of London is £45, though we did spend a bit more as we added a glass of prosecco each and bought dedicated seating at the front of the bus on the top deck – totally worth it, but only works for couples. I thought the price for the tour and all the yummy goodies was appropriate.
Overall, the experience of having tea on the go was really fun and let us kill two birds with one stone when we had limited time in the city. I'd recommend it if you're looking for afternoon tea in London with a twist!
Where's your favorite place for tea in London? Tell us in the comments or on Facebook!
Like the post? Share it now!