Two years ago, Rick and I went to Jamaica for the ultimate relaxing getaway – and it worked for timing to celebrate our engagement and get some amazing engagement photos taken on the island!
We decided on that trip that we knew we'd be coming back to a Sandals for our honeymoon and after looking at the other resorts, we choose to come back to Jamaica and check out Sandals Ochi as one of our butlers told us that resort was for a more youthful crowd.
Now that we're back home, it's time to write up our review of Sandals Ochi in Ocho Rios, Jamaica! Check out what we loved about the resort and things it could improve upon to see if it's the right fit for your next romantic getaway.
Our review of Sandals Ochi
The resort
I will say that both Rick and I were quite surprised when we got there to learn the resort was split – literally by a road. We knew from the website and online map that there was the beach side and hillside. What wasn't clear was that there was a street dividing the resorts and that you had to take a little shuttle bus to get between the sides.
It wasn't bad catching the bus, one came about every 10 minutes, but it was a surprise for both of us. Most of the restaurants and activities are located on the beach side, so if you're just booking a standard room, you'll be near the action, but butler rooms will be on the other side of the resort.
Our butler at South Coast had told us this resort attracts a younger crowd but one thing we also noticed here more than at South Coast was how many groups were traveling together. I felt like at South Coast it was kind of a surprise when you saw groups, but here there were a lot of people traveling together. Not a bad thing at all! But, just different compared to our last Sandals experience.
Getting to and from the resort was super easy as they included transportation in the reservation. We got to grab a drink and some snacks from their lounge in Montego Bay, and then it was about an hour and 45 minutes' drive to the resort. The ride back to the airport was very nice as we were the only ones on the shuttle! They have set times for shuttles, we saw some people waiting for a 9 a.m. pickup and we left the resort at 11 a.m. with a late afternoon departure time.
Sandals Ochi accommodations
Our room was one of our favorite things about the trip! We booked one of the Honeymoon Romeo and Juliet Villa Suites with a Private Pool Sanctuary, and it truly was a sanctuary. We couldn't hear other guests, we were further away from the main buildings of the resort, and it was so nice having a private pool and hot tub in our suite.
We would hit the beach in the morning and then come hang poolside for the afternoon where no one else would bother us. It was glorious! Like all Sandals suites, the room came with a stocked bar, super comfortable King-sized bed, amazing and spacious bathroom, and all the amenities you need like shampoos, conditioners, soap, lotion, and a hairdryer.
Our suite was also split up, so we walked into our courtyard with our pool, hot tub, outdoor shower, and loungers, and then to our left was our bedroom and bathroom and then to the right was our living room and dining table. Both "rooms" were outfitted with seating and TVs so if I wanted to go to bed early but Rick wanted to watch TV or read without disturbing me, we had separate areas to be. It was a really nice setup!
Housekeeping took great care of our room and kept it immaculate and our room included 24-hour room service, which we called a few times. The chocolate fudge cake was to die for and they had a great little cheese plate and fresh veggies and ranch that were great for afternoon or late night snacking. Since our room had a private pool, pool maintenance staff also came by each day to refill water and clean the pools.
We loved our room at Sandals South Coast that overlooked the ocean, but for a honeymoon, this room couldn't be beat for privacy and inclusions. It was great for us as Rick could take a cool dip in the pool and I could sit in the hot tub.
Butler service
The honeymoon suite included butler service and this time Rick and I had a better idea of what to expect with our butlers and what they take care of. We had two, this time a male and female butler, and both were very chill. Our butlers at South Coast started out more formal and got more relaxed whereas our Ochi butlers were informal from the get go. They took care of booking our restaurants, our spa services, and photo shoots, as well as periodically checking in on us to make sure everything was going well.
I'd say the only complaint about our butler service at Ochi was that we were told different things or basically told no when we thought our request was pretty simple. Our first night, our flight got in late so we wouldn't be able to have dinner in the restaurants and we really wanted to try Soy so we asked our butler if we could have some sushi delivered and that was no problem.
Another night, we asked our butler for the same and it was almost like they didn't want to say yes or told us we might be able to do it but only certain menu items. They did deliver sushi, but it wasn't the menu items we would have picked.
Or, another time we were hanging by the pool in the afternoon before dinner and wanted another bottle of champagne. I called our butler and asked and said it'd be delivered to the room. It was. About two hours later when we were getting dressed for dinner. It was some small things like this that put a bump in the road when compared to our last butler experience where no request was too big or too small.
General customer service
One thing Rick and I love about Sandals is how happy the employees seem, which makes it easy for us to be happy we're there. Everyone always has a smile on their face and happy to help you out. We never had a bad experience with any of the customer service staff, or any staff really for that matter.
Something new, or at least new to us, was the use of the Loop. We ran into a few members of staff who told us to use the Loop to submit a compliment, concern, or even make a request. You can either go to their website to do it or if you have the Sandals app (which I recommend you do), you can access it there. It was pretty nice being able to compliment people or report an issue and most of our posts were responded to within a day.
Sandals Ochi restaurants and food
Another thing Rick and I love about Sandals is their food quality and themed restaurants. And Ochi delivered. We had fantastic meals while we there:
Soy: Sushi (order the crispy Philly roll – like a million of them)
Vista Sky: Gourmet Caribbean (order the seafood pasta and start with the Caribbean-inspired fish cake)
Kelly's Dockside: Seafood and grilled meats (order the tiger shrimp and start with their sampler)
Neptune's: Mediterranean (order the shrimp and snapper and start with the calamari)
Valentino's: Italian (order the frutti di mare gnocchi and start with the arancini, it takes just like it did in Rome)
Le Gourmand: French (order the duck and start with the escargot or French onion soup)
For lunch, we often grabbed a pizza from Bella Napoli on the beach side or would pop into Southern Table for the buffet lunch. The breakfast buffet had a great spread with pancakes, French toast, eggs, baked beans, sausage, bacon, pastries, deli meats and cheeses, cereals, and fresh fruit. One morning we had our breakfast delivered to our room and it was hot and tasty as if we had just gone to the buffet.
On our last full day there we went to Le Gourmand, the only a la carte breakfast option. The food was very good, but I'm not sure if they were having staffing issues as our food took forever to get to our table. We had ordered eggs benedict and a shrimp omelette and it took at least 45 minutes from our order to being delivered to the table. I know that's not that long, but everywhere else had had such fast service that it was surprising that breakfast was the slowest meal.
I can't stress enough how good the food is at the resorts.
Bars and drinks
Going back to Sandals I made sure to get my fill of hummingbirds and mudslides, and let's be honest pretty much any drink that contained alcohol. The bar service was fast – especially compared to having just gone on the cruise where it takes a year to get one cocktail. The bartenders were friendly, excellent at mixing drinks, and making sure you were taken care of and having a good time.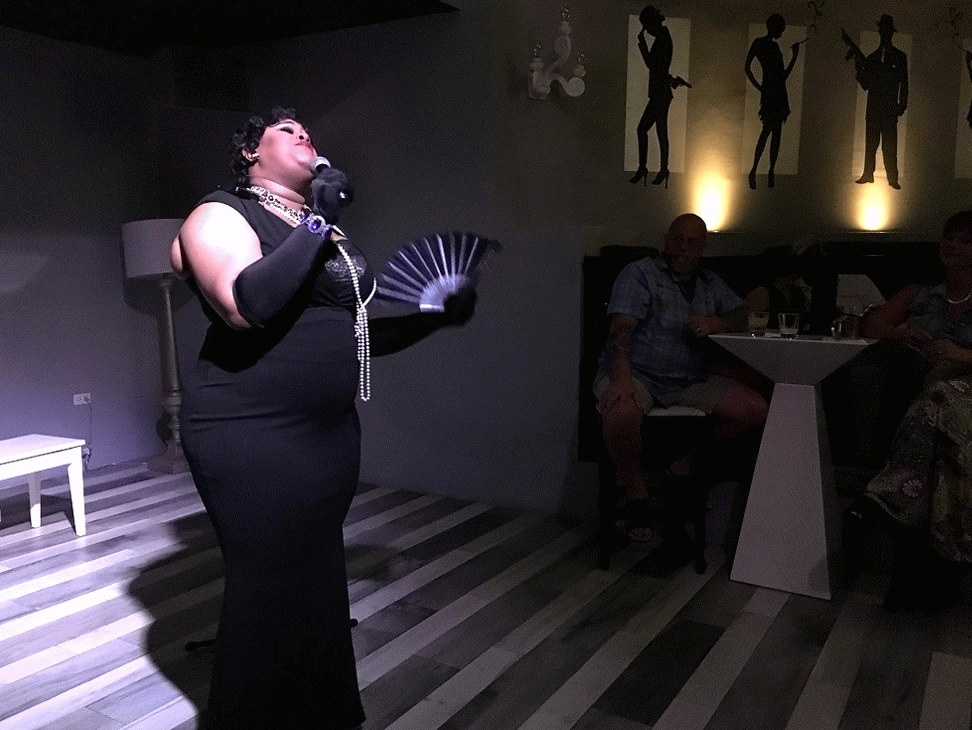 The Rabbit Hole
One thing we were really excited about with Ochi was The Rabbit Hole, the speakeasy. It was 1920s themed with some creative decor – a mix of playing cards, gangsters, and Alice in Wonderland. We loved, loved, loved going there and went pretty much every night. They had their own cocktail menu and the servers were on top of everything and made sure your drink was always full.
The space was intimate, unique, and you needed the day's password to get inside. They also had live entertainment and we went twice to listen to Phylea sing. We went early to ensure good seating on their black leather couches. Besides our awesome suite, I think the Rabbit Hole was one of my favorite things at Sandals Ochi. The drinks were good, the service was great, and the entertainment was fantastic.
Jamaica activities
Like other Sandals resorts, Ochi had kayaking, stand-up paddleboarding, Hobie cats, snorkeling, and scuba diving. They also had golfing included (green fees, didn't include golf club rentals or caddy fees), and you hopped on a shuttle to a nearby club. We spent a couple mornings out in the water snorkeling (during our stay snorkel trips went out at 11 a.m., and 2 and 3 p.m.), and kayaking. The afternoons were a bit too windy for SUP for us.
They also had Island Routes tours available from the resort, like Dunn's River Falls, catamarans, and ziplining, but we decided to stay on the resort and relax and make use of our private pool.
Entertainment at Sandals Ochi
The resort is definitely full of entertainment! You'd have to try to be bored here. Between the beach party and white night chocolate buffet, there were shows, talent nights, and pretty much anything you could ask for. The live entertainment was great and the chocolate buffet was a fun experience – I highly recommend getting the chocolate tea with rum!
Sandals Ochi spa
When we booked our vacation, we booked with a special offer that got us a complimentary 30-minute massage and a $500 spa credit! We were so excited for that and broke up our spa services so we could get a one-hour massage early in the trip and an hour and a half massage later in the week.
We booked the Scents of Love Couples Massage for both bookings, and it was a really nice experience. It starts with picking the scent of the candle you want and then you light each others' candles and since it's a soy candle, that's the hot wax/oil they'll be using on you later. Our therapists were very nice and we both felt amazing after our treatments.
The only hiccup we had was during our hour and a half massage. It was scheduled to start at 3 p.m., which worked well for us since we had a 6 p.m. dinner reservation. While waiting in the relaxation room, one of our therapists said they were running five minutes behind. That's fine. But five minutes turned into half an hour without us knowing since we didn't have our phones or watches. By the time we got out of our massages, it was 5:15 p.m., kind of ruining the relaxed feelings we had as we realized there was no way we had time to shower and catch the bus to get to dinner on time. We were able to push our reservation back and our butler drove us to the other side, but kind of stressful after such a nice massage.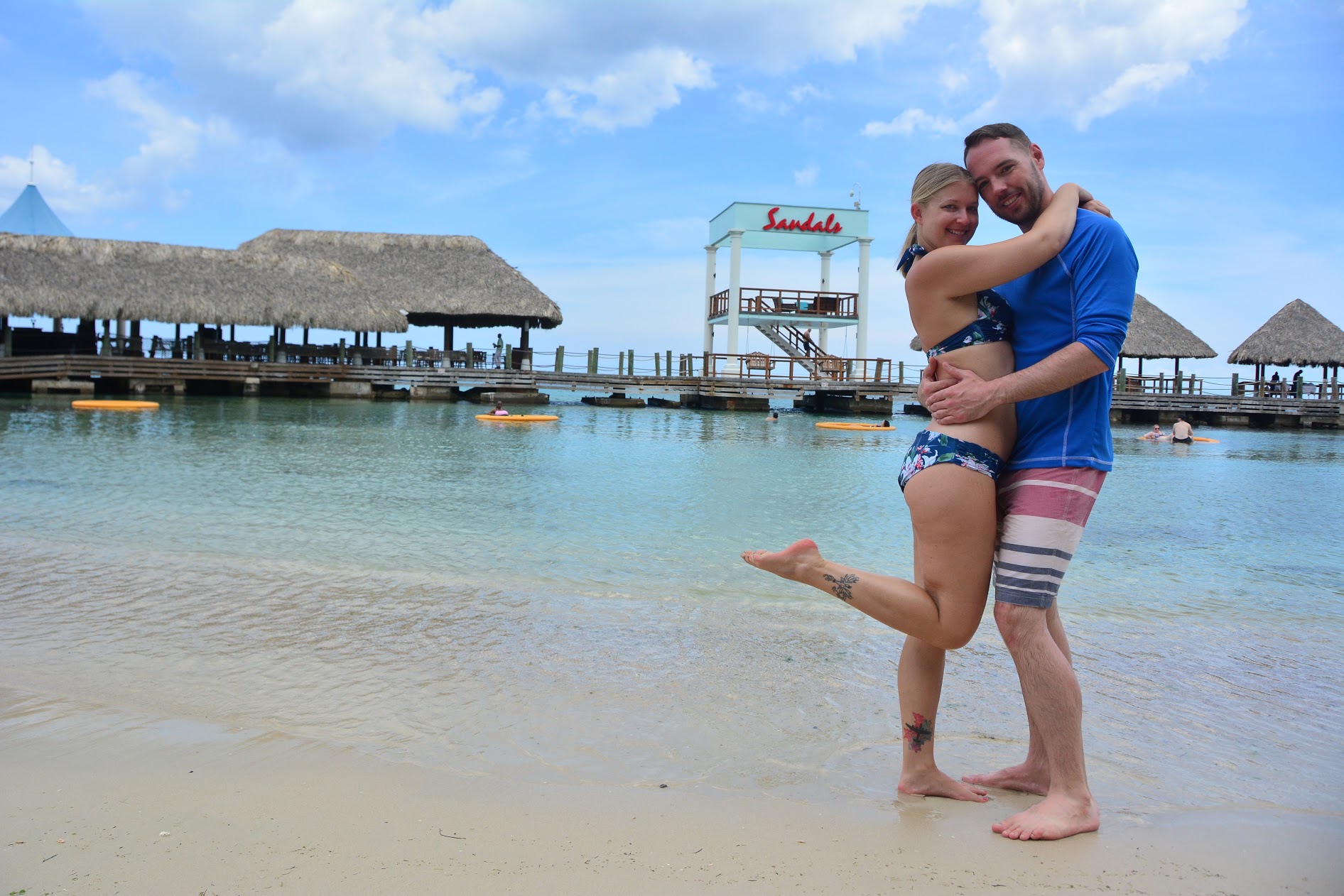 Add-ons
While there, we knew there were a few add-ons we'd be taking advantage of.
Photo shoot
Our engagement pictures at Sandals South Coast were stunning and since they offer free photo shoots, I knew we'd be doing a honeymoon shoot while there! Our photographer Shane was wonderful, put us at ease, and just had fun with our shoot and our photos turned out really nice! I highly recommend doing a shoot, even if you don't end up buying all the photos. It's fun, and a great way to capture your vacation.
Wine
Six wines are part of the all-inclusive portion, but they do have a manager's wine list with different bottles and had staff come around to get you to upgrade a wine at dinner. We did end up buying a chianti for our Italian dinner at Valentino's at $35, which wasn't too bad, but not sure I'd do it again.
Shops
We did buy sunscreen from the shop instead of bringing over a billion little bottles in our carry-ons as well as some souvenirs. Obviously the shop's prices are higher than average but the convenience of just being able to get everything while at the resort was nice.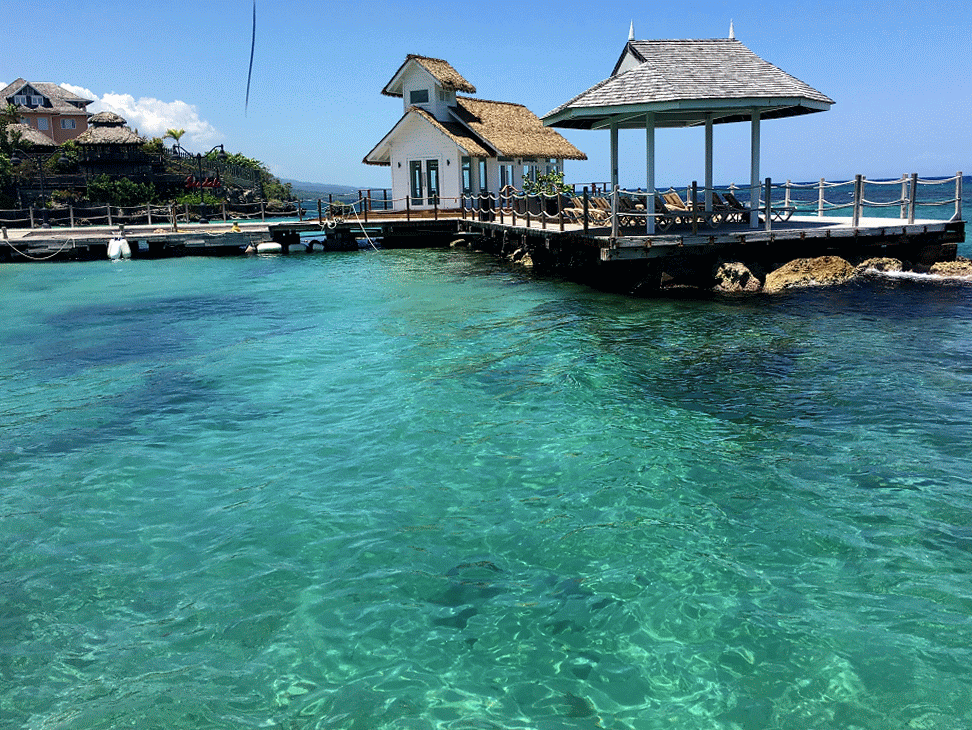 Weather in Jamaica
As one of our butlers said, "Jamaica has sunshine and wet sunshine." Overall, for early to mid-April, the weather was perfect.
We had a few cloudy evenings and two afternoons with rain but the temperatures were moderate and warm (mid- to high 70s, low 80s), and even a bit less humid than I remember from our South Coast trip. Shorts and a tank top worked whether it was early morning, midday, or in the evening. Even on the days it did rain, it didn't last too long and it cleared out in time for some gorgeous sunsets!
Funnily enough, one of the days it did rain, we were out snorkeling and it was the clearest day out in the water to see everything. Of course that was also the day Rick and I left our phones behind!
If visiting during the spring, expect some rain in the afternoon to cool things down. We just started getting up earlier to compensate for the rainy afternoons and it worked perfectly as it was generally super sunny first thing in the morning.
Overall, we enjoyed our stay and had a great honeymoon, but we both noted that we enjoyed South Coast a bit more. Every room there was right on the beach and it was a lot quieter and more relaxed. This time, we felt like we couldn't take two steps without having a staff member ask us to pose for a photo or join in on some resort-sponsored activity. I appreciate that they want everyone to feel involved and have a good time, but sometimes I wanted to have a good time by having some quiet space to read or just relax.
At times it was a little overwhelming, but that could be just us. If you love going to resorts to party, drink and dance every night away, and be really social, this would be a great resort for you. We knew the resort was designed for a younger, partier-type crowd and it fits. We definitely had a wonderful time there but I think we'll pick a quieter Sandals next time we go the all-inclusive route.
Have you stayed at Sandals Ochi? Tell us what you thought of the resort in the comments below or on Facebook!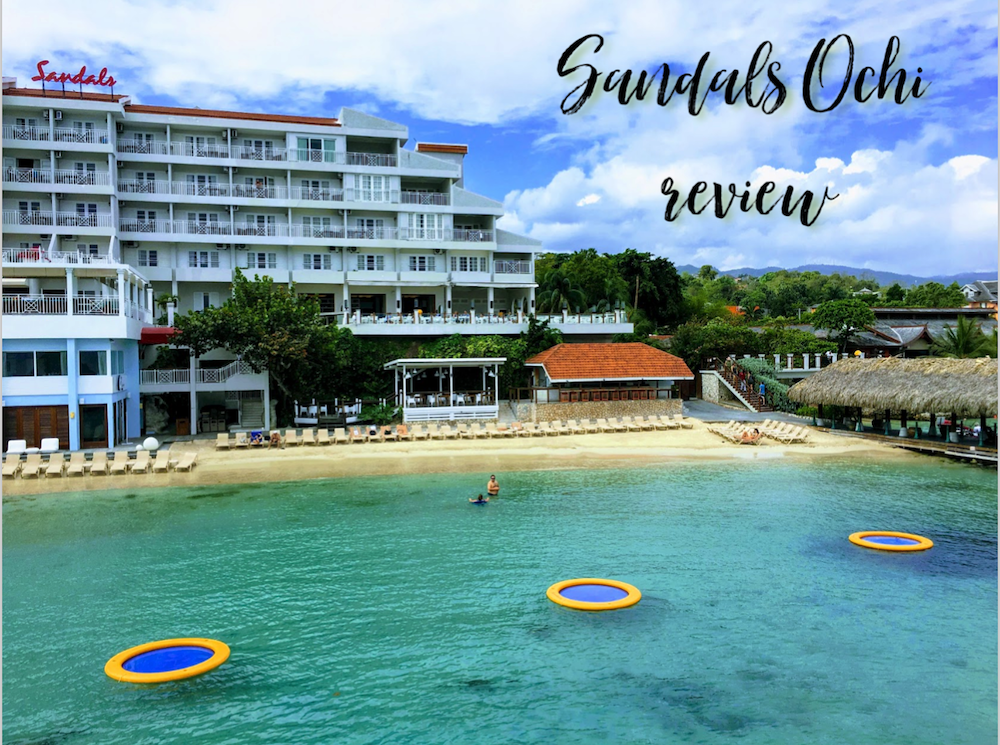 Like the post? Share it now!