I love Greek food! I was so excited to visit Greece in July and gorge myself silly on gyros, olives, pita, and feta cheese – plus wash it all down with some fantastic white wine from Greece!
While we definitely need to head back to Greece to continue our culinary adventure of this fabulous travel destination, we did our best to make the most of our time here and sample a variety of food and wine.
Here are our picks for what to eat and drink in Greece! Let's start with what you need to order for food.
What to eat in Greece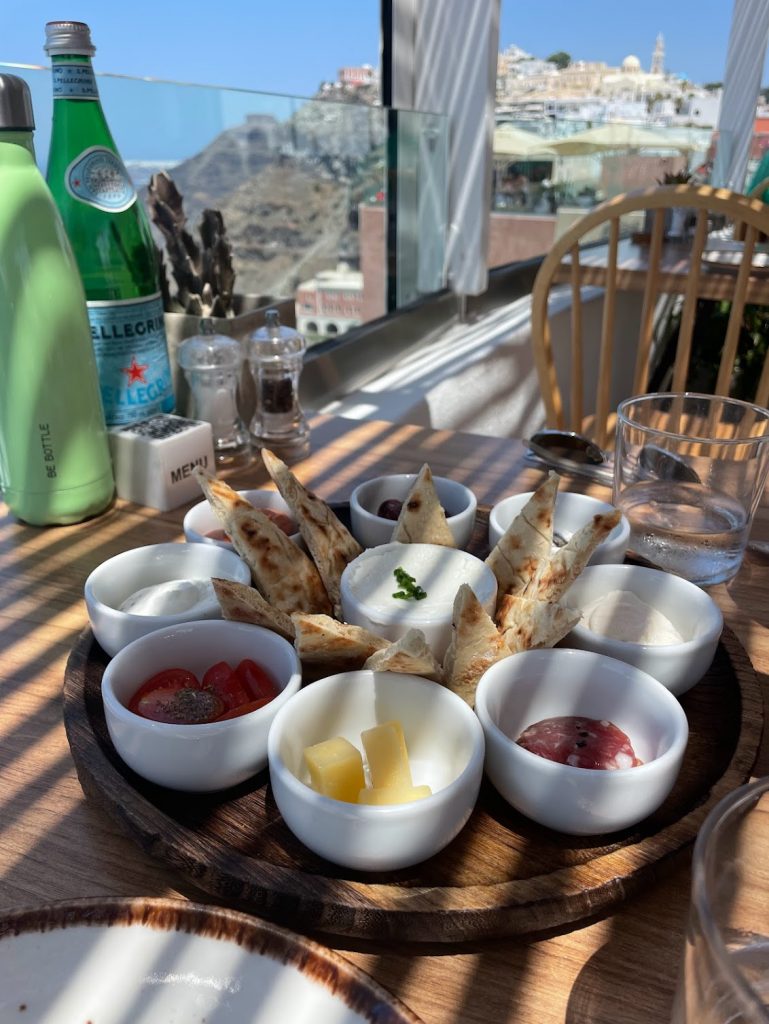 Meze
We love sampling smaller plates of different foods when we travel, there's a reason we look for great food tours before we leave the states. And so we had to sample some meze or Greek tapas when we sat down for a three-hour lunch in Fira on Santorini.
Our meze plate included olives, cured meat, cheese, tomatoes, pita, and a variety of sauces, like tzatziki, whipped tomato, and a cream cheese-type spread. It was a great introduction to some local, light flavors.
Dolma (AKA dolmades)
This is a staple and features grape leaves stuffed with things like rice, ground beef, herbs, and vegetables.
Tirokroketes
Think of cheese curds but make them Greek – and add more cheese! These fried cheese balls feature feta, gouda, and other cheeses for a melty, gooey bite. What more could you ask for? Especially when paired with a great Greek beer.
Spanakopita
Many people recognize this savory dish on Greek menus as it's the traditional spinach and feta pie made with phyllo dough! It's a great choice if you want something filling but don't want to have a meat-based dish.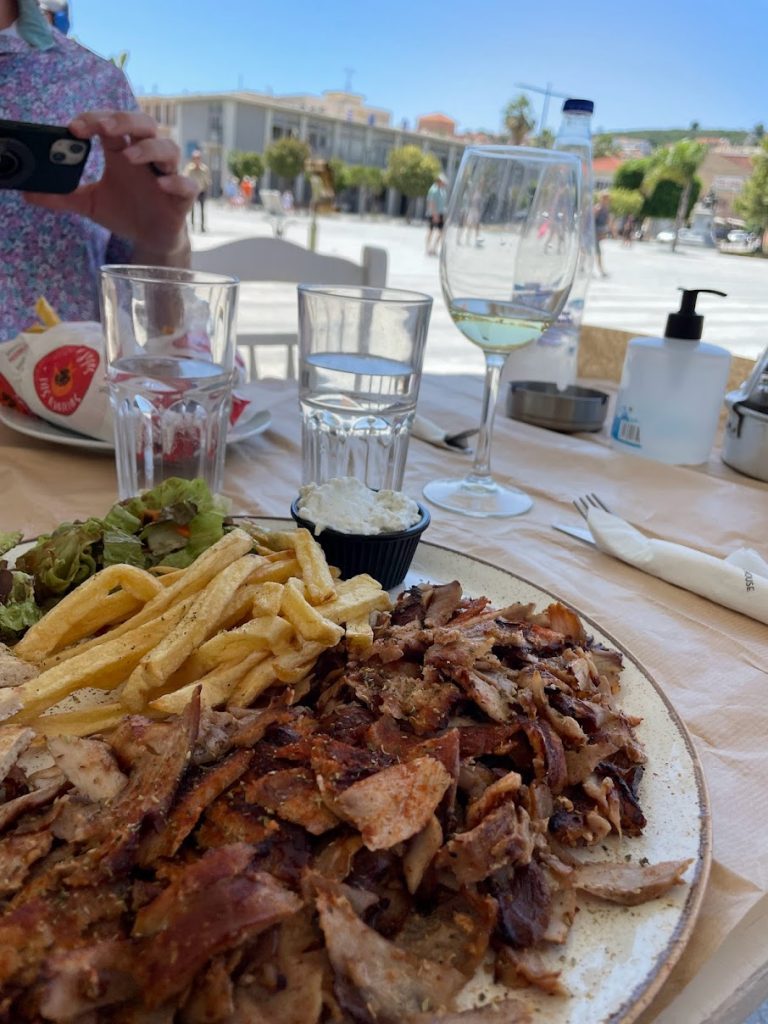 Gyro
You knew it was going to be on this list! Gyros come in a variety of styles, like lamb, beef, or chicken. The difference between gryo meat and souvlaki (which is also on this list) is how it's prepared. Gyro meat is roasted on a spit and then shaved down to be plated up, whereas souvlaki is served on the skewer.
You can order gyro meat on its own (as seen above) or get it wrapped in a pita as a sandwich for an easy takeaway lunch or dinner.
Moussaka
Unfortunately I stay away from this dish as it's often made with eggplant, which I'm allergic to. It can also be made with potato, but I don't want to risk it. But those that don't have a stupid allergy like me should definitely plan to eat this traditional Greek dish that also features minced meat, commonly lamb.
Like spanakopita, it also features yummy phyllo dough!
Lamb
Lamb is a very common dish and I couldn't wait to dig into my plate of it in Fira (served with a lovely Greek red wine)! The lamb dish I got was served with potatoes and a creamy sauce.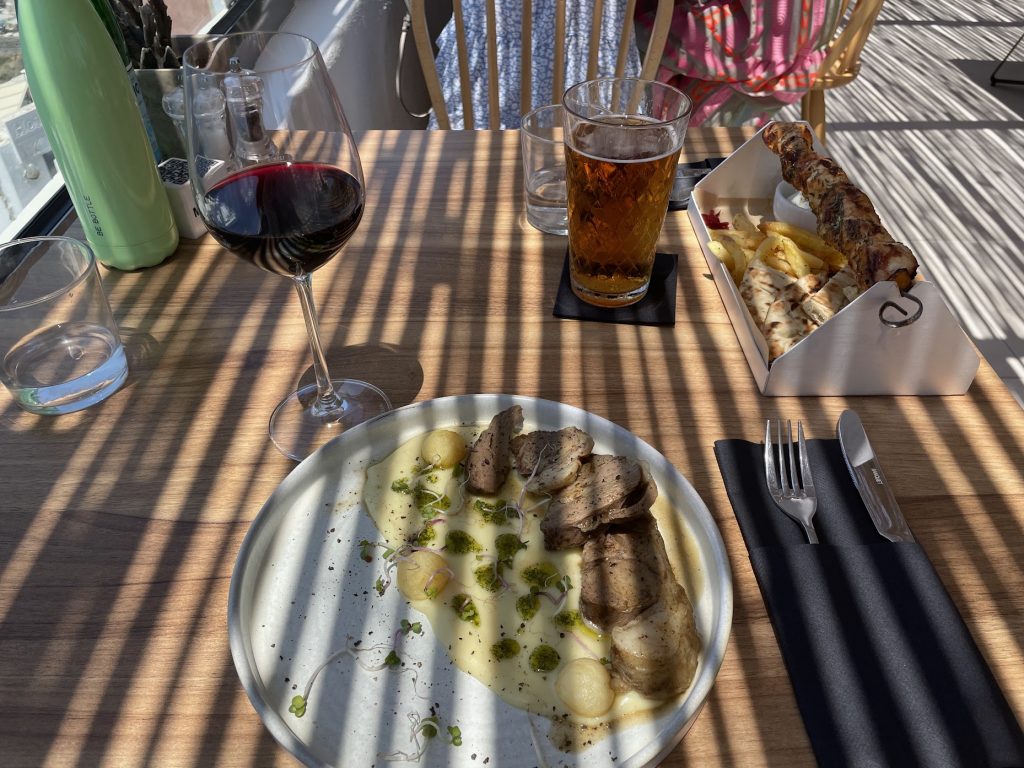 Chicken souvlaki
Like I said, souvlaki is served on the skewer and you can make your own mini pita sandwiches or eat them separately. Rick opted for chicken souvlaki in Fira and it was just the right amount of food before our long walk back down the donkey trail!
Stifado
Looking for something a bit more hearty? You'll want to look for stifado, which is a beef stew with onions and orzo. Maybe not the best dish when it's over 90 degrees, but would be a great dish on a cooler evening.
Baklava
Our friend the phyllo dough makes another appearance! Like some of the other dishes here, many will recognize this signature dessert dish of baklava. It's layers of dough with honey and chopped nuts. Yum!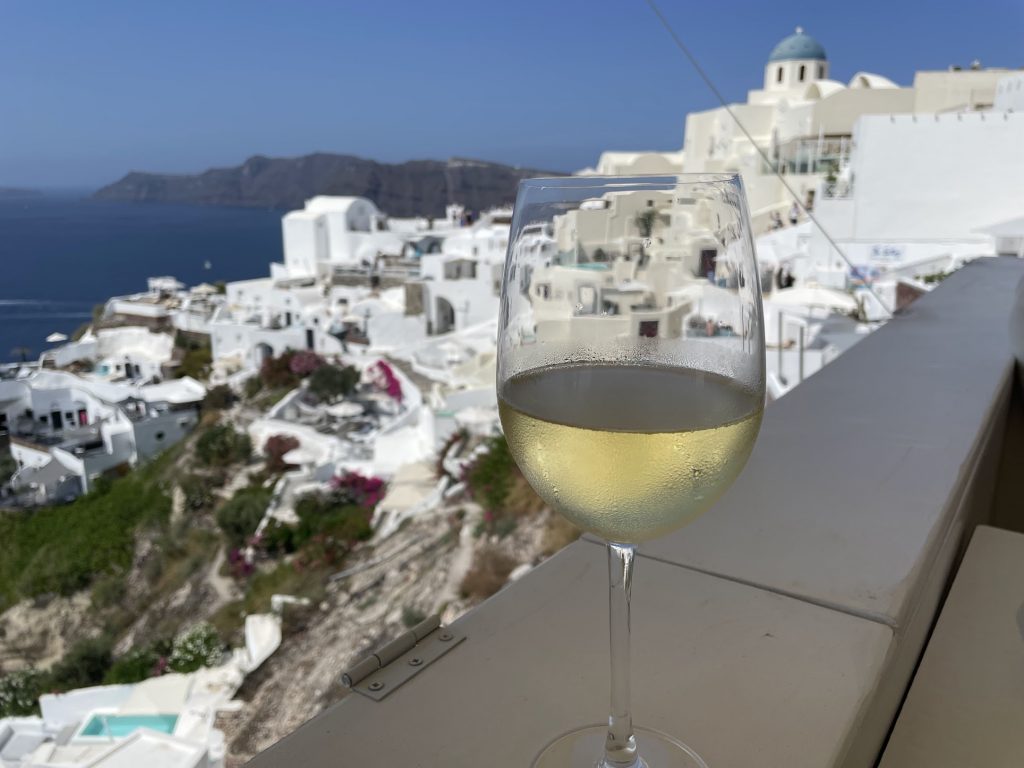 What to drink in Greece
Ouzo
You should not visit Greece without trying ouzo, the national drink of the country! This drink is a basic alcohol with herbs and does pack quite a punch!
Wine
I can be a bit of a snob when it comes to European wine, favoring those from Italy and Spain but I was very excited to try some Greek wines, especially their white varietals, as it was boiling hot when we went and I love a cool glass of white wine on a hot day.
I don't think I disliked anything I had and I made sure to sample about three different styles of white, such as assyrtiko, aidani, malagouzia, as well as some reds, like a very lovely syrah from Messinia.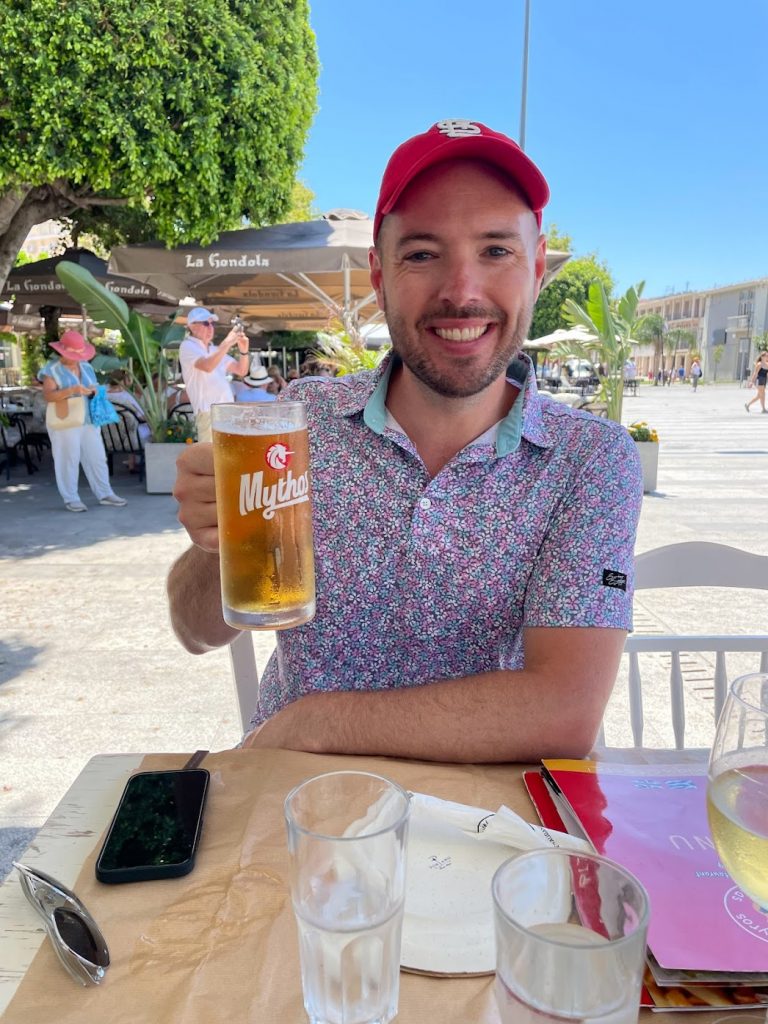 Beer
Rick made sure to sample some Greek beer, especially the famous Mythos, during our trip and I helped him out by taking a sip or two (or five). He ordered a great light lager, perfect for those hot days! While in Fira, he also sampled the Nymfi beer, which was also an ideal summer sipper that paired nicely with his chicken souvlaki.
While we still have many more Greek dishes to try during our travels, we loved everything we ate and drank while we toured Greece. Like Italy, it feels like a place you can't go wrong with whatever you pick from the menu!
Tell us what we need to order next time we're eating and drinking our way around Greece by leaving a comment below!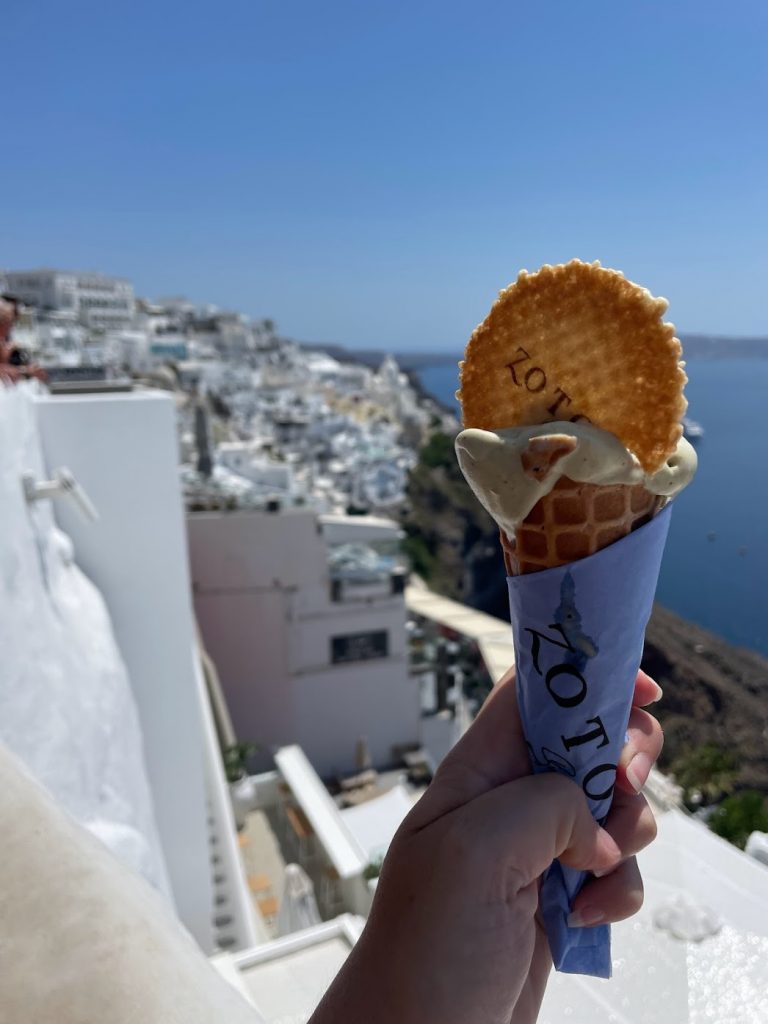 Like the post? Share it now!