I've been dying to get back to Venice, Italy and walk around one of my favorite cities with Rick so it was lucky for us that the opportunity to return to Venice happened much sooner than I anticipated.
We had found a European cruise that fit the dates we already had off from work to go on another trip that got canceled, and this cruise departed from Venice! Score!
Well, Ravenna technically, but we decided to fly in a day and a half early so we could explore Venice on our own before heading down to get on the ship.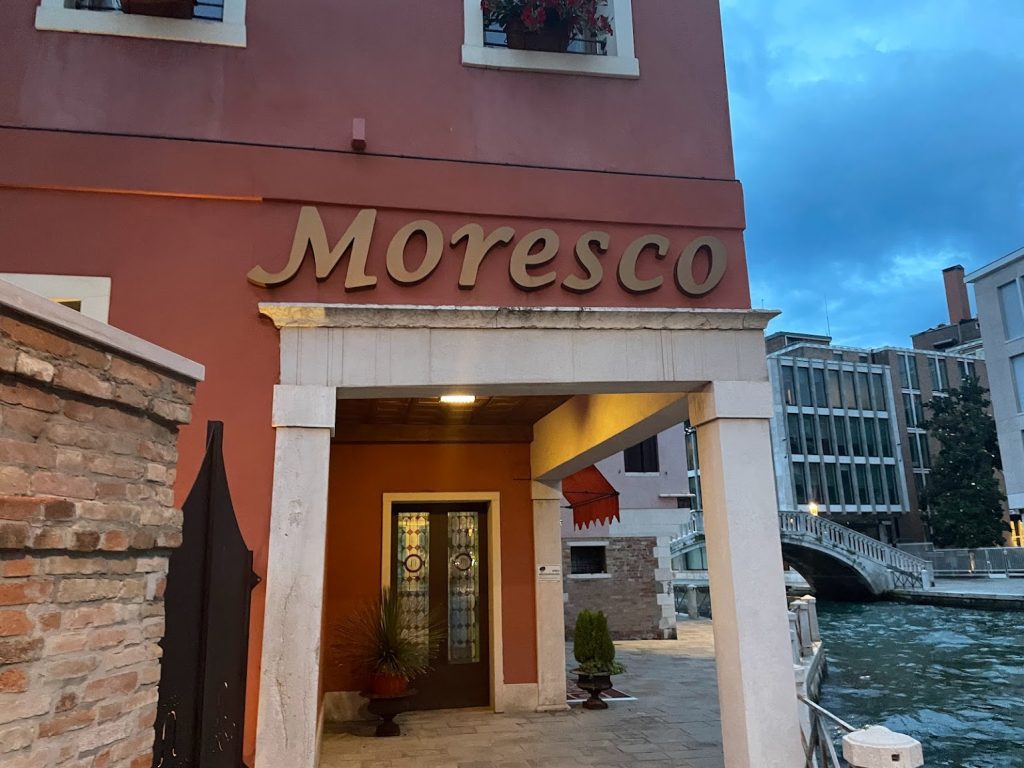 A review of Hotel Moresco in Venice, Italy
One reason we chose Hotel Moresco was someone recommended it on the Royal Caribbean Blog as a great place to stay that's close to the Tronchetto (where we'd be picked up for our bus ride to Ravenna).
I also then saw Hotel Moresco was included as an option for our Chase Sapphire rewards program and my points would cover our entire stay. Upon checkout we did pay taxes, which amounted to €26.
But, the location cannot be beat if you're coming into Venice before a cruise. It was less than a five-minute walk to the people mover station (a ride is €1.50) that would take you exactly where you need to be to get to the ship.
I'm so glad we came across this recommendation as our stay at Hotel Moresco in Venice was fabulous.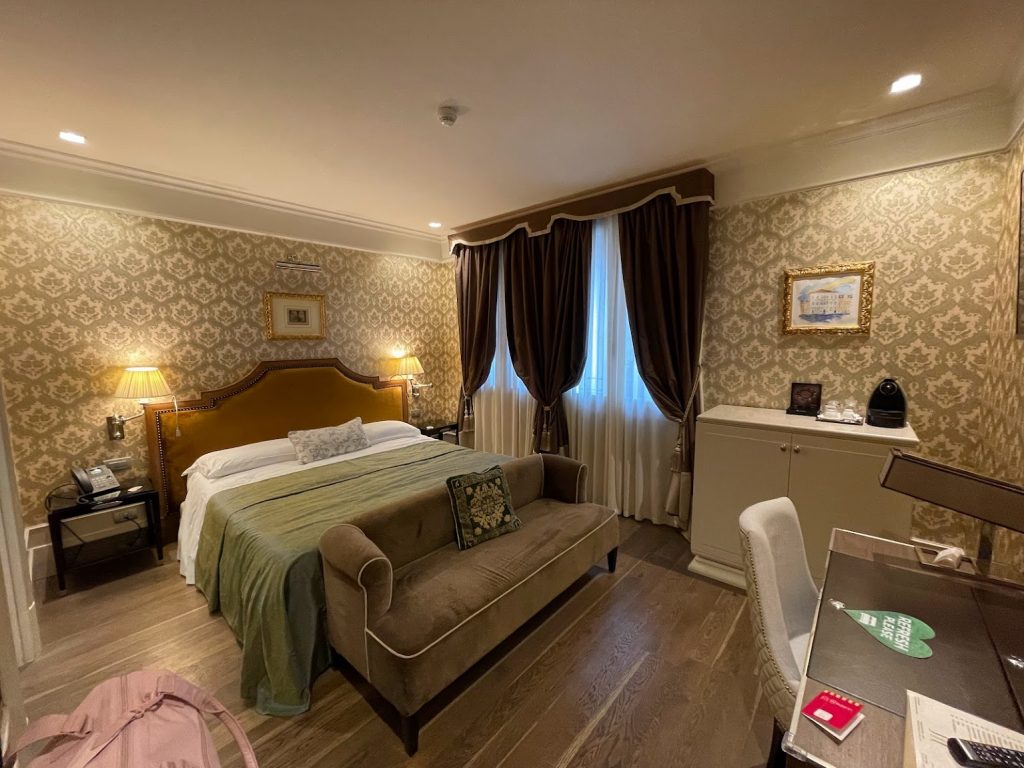 Accommodations
We booked a double room with a canal view and our room was spacious and fully furnished with a bed, couch, desk, TV, coffee making station and mini fridge, and our bathroom that had a big walk-in shower, toilet, bidet, and sink area. The bathroom also had a hair dryer, not that the humidity was doing my hair any favors.
The room was quite comfortable and the windows are amazing at tuning out the noise from the canal and sidewalks below. We had a thunderstorm our first night and only heard it because I wanted to see what the nighttime view looked like but quickly shut our window back up.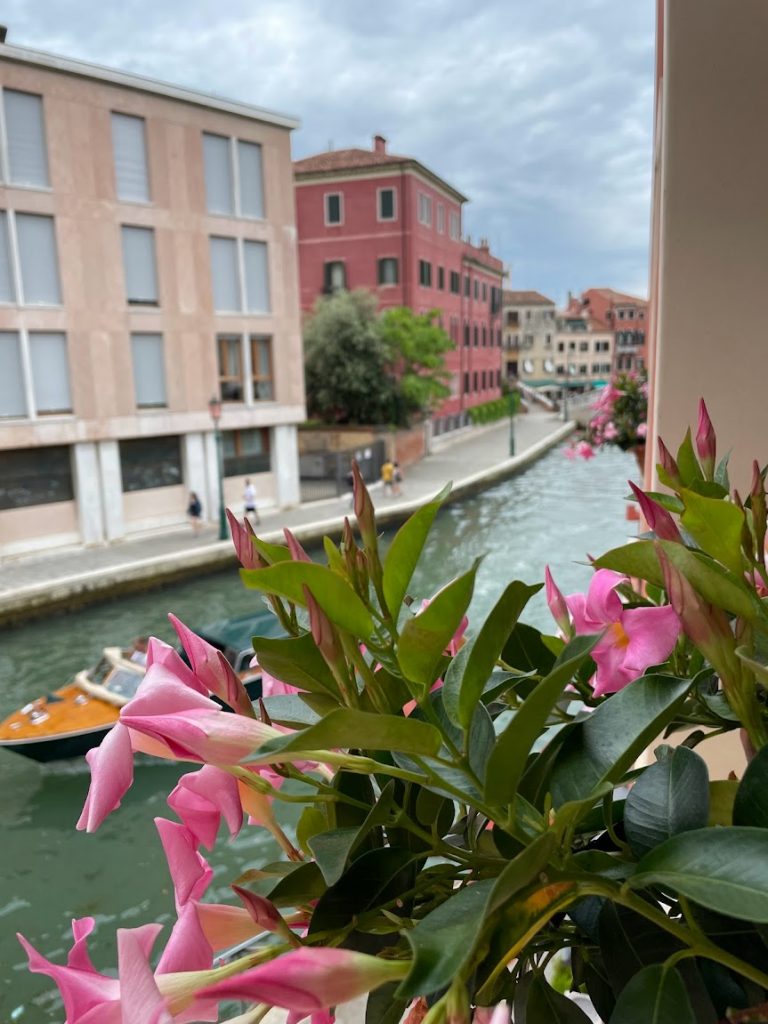 Amenities
The hotel has some wonderful amenities included in your stay, including complimentary Wi-Fi, which was great so I could say my goodbyes before losing internet access for the next week when we were onboard the cruise ship!
Happy hour
The first amenity we took advantage of was the hotel's happy hour! But, even before that, they treated us to food and drink while checking us into our room.
Upon arrival, we were escorted to the study and given a glass of prosecco, a snack, and then an apple tart when I informed them that it was my birthday (honest!).
Happy hour runs from 6:30 – 8 p.m., and you can get complimentary cicchetti (tapas or light bites), and pay for a cocktail or glass of wine. After we freshened up in our room, we went back to the study to load up a plate of snacks, get another glass of prosecco, and then we sat outside in the garden where it was nice and quiet!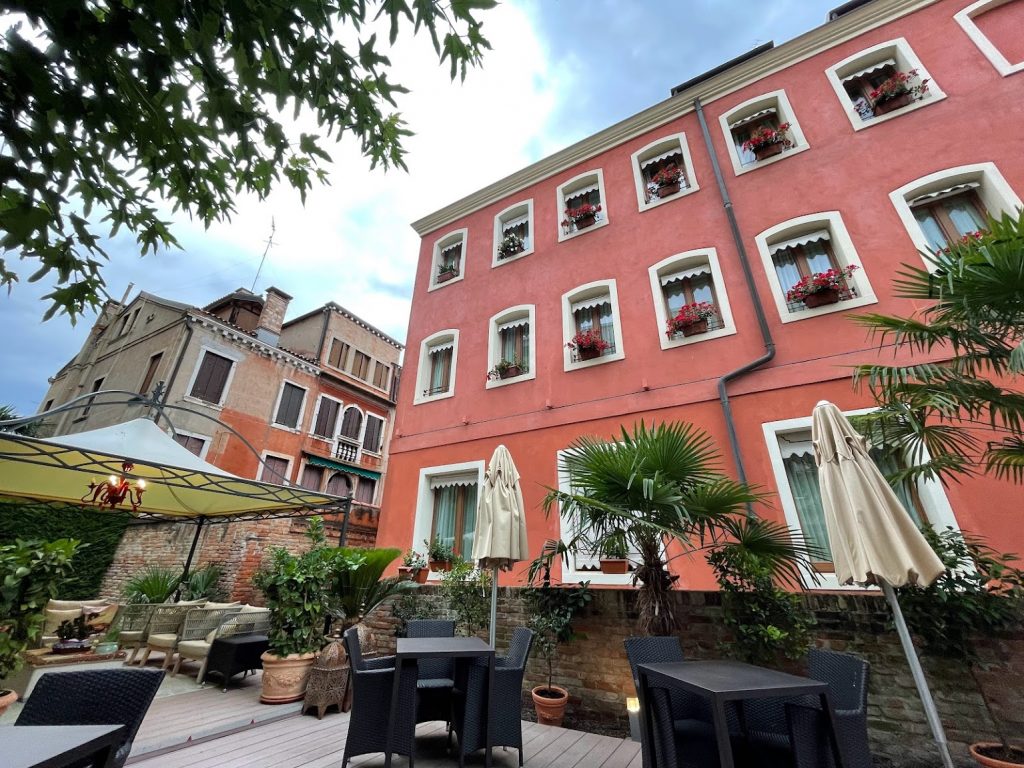 Common areas
We made use of both the study and the backyard garden during our short stay.
Had we stayed a few more nights I'm sure we would have revisited the study during happy hour and spent a bit more time relaxing in the garden. The common areas were spacious and inviting.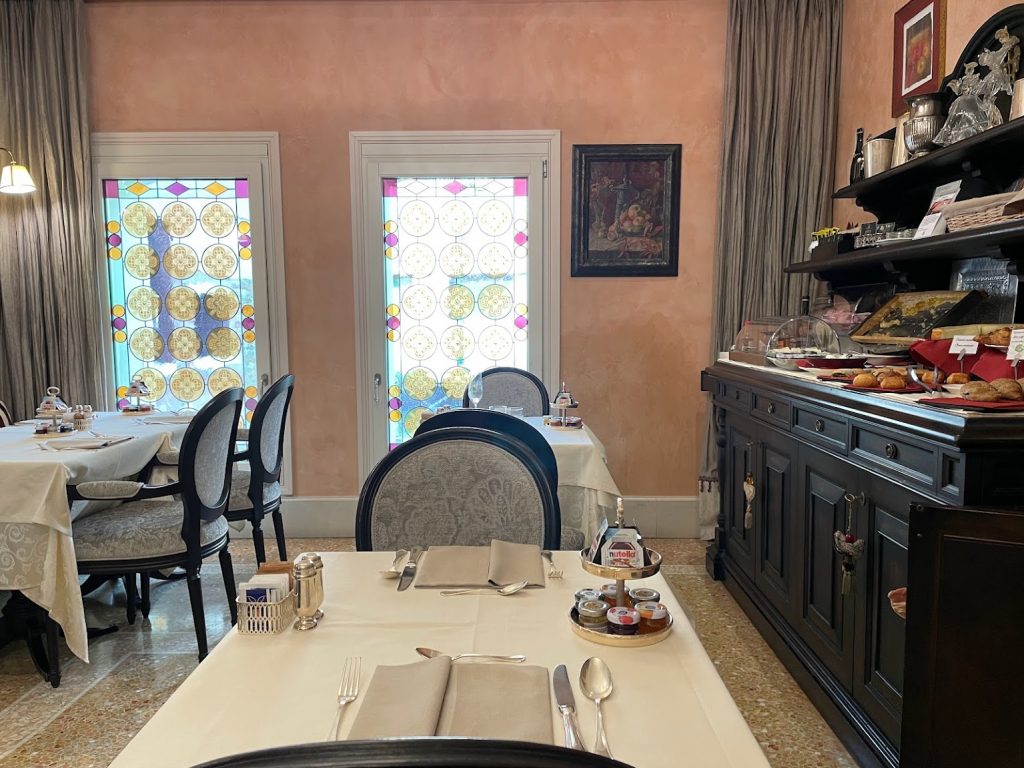 Breakfast
Breakfast was a great affair and was served from 7-11 a.m.
They offer both a buffet-style breakfast and made-to-order items. The buffet had a mix of pastries, breads, cheeses, meats, fruit, cereal, yogurt, and some hot items like sausages, mushrooms, and bacon. Then you could also order eggs and coffee drinks from the staff.
They also had a selection of juices, sparkling and still water, and some prosecco. I started our first morning in Venice off right with a pineapple mimosa and two lattes!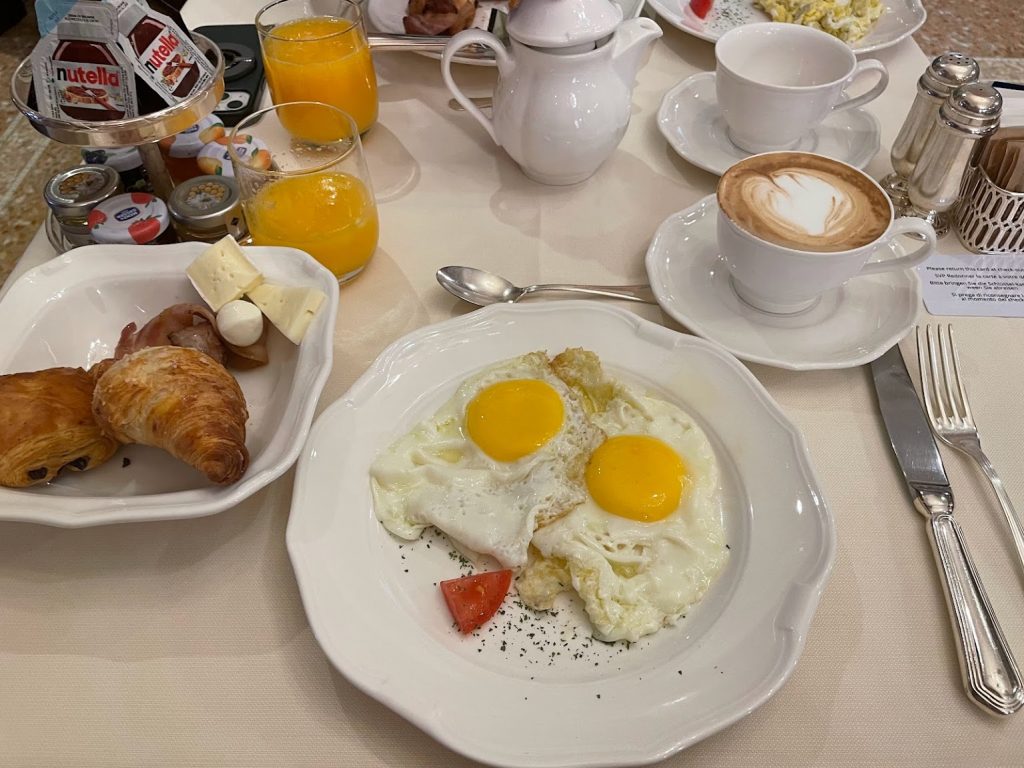 We never had any trouble getting a table at breakfast and the staff was attentive and friendly. If you wanted to, you could take your breakfast with you out into the garden.
The food quality was also great and everything was fresh and flavorful. I could kill for one of those pain au chocolats right now!
Check-in & customer service
Check-in was very easy – I mean, we got to sip prosecco the whole time! When we arrived at the hotel we gave them our information and passports and then were seated in the study to relax while they checked us in. They made sure to take our luggage up and tell us about our room when we got in it.
The hotel also practices sustainability and we received a complimentary reusable water bottle and were told the tap water was more than safe to drink and we could take the bottle out and about with us and fill from the fountains when needed, instead of buying bottles of water and clogging up the city's canals. Not that we would ever just toss a plastic bottle into the canal!
All the hotel staff we met during our stay were friendly and happy to answer any questions we had, such as where to buy some wine to take on the ship with us!
They always said hello when we came back to the hotel and wished us a good day when we left.
The check-out process was also easy as we just had to pay the city taxes and then the staff member gave us directions to the Tronchetto so we could get on our bus to Ravenna.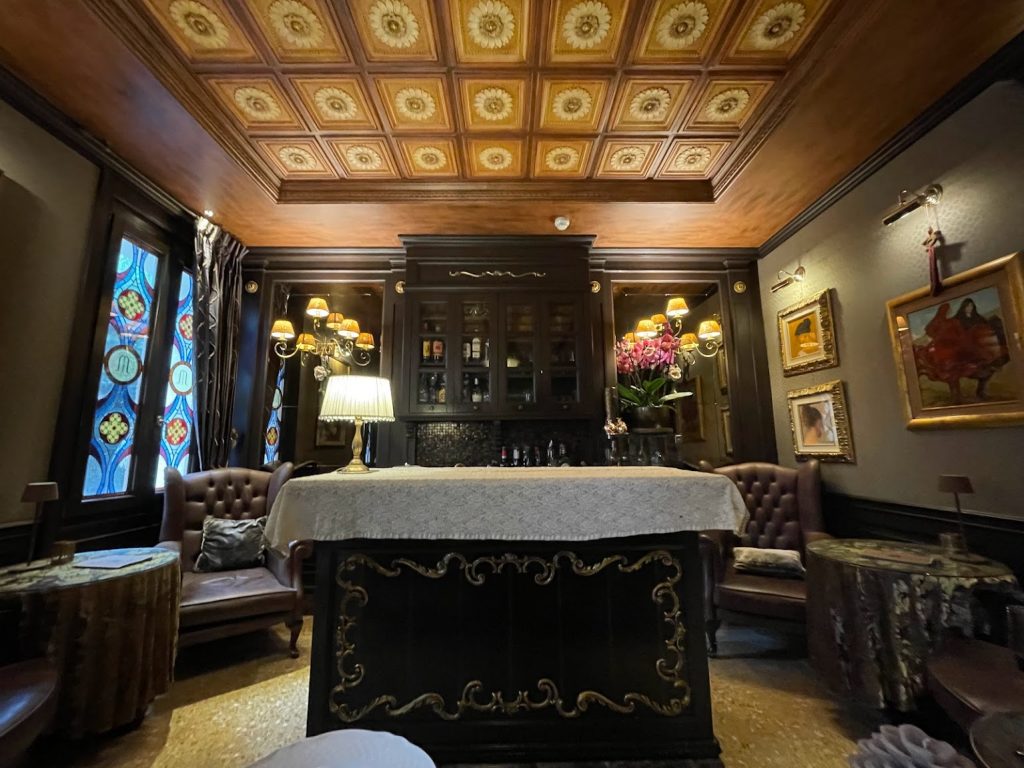 Housekeeping
To be honest we didn't have housekeeping stop by our room as we were there for two nights and didn't need new towels or our sheets changed. We did see housekeeping out and about and the staff seemed very friendly!
Upon arrival, our room was expertly cleaned and spotless.
Price
I did use credit card points to offset the cost of our weekend in Venice. Our two-night stay in a double room with a canal view was worth 60,238 points or the equivalent of $903.58.
For a four-star hotel, it was worth every single point. Our room was comfortable, clean, the amenities were wonderful, and the entire staff was friendly and accommodating.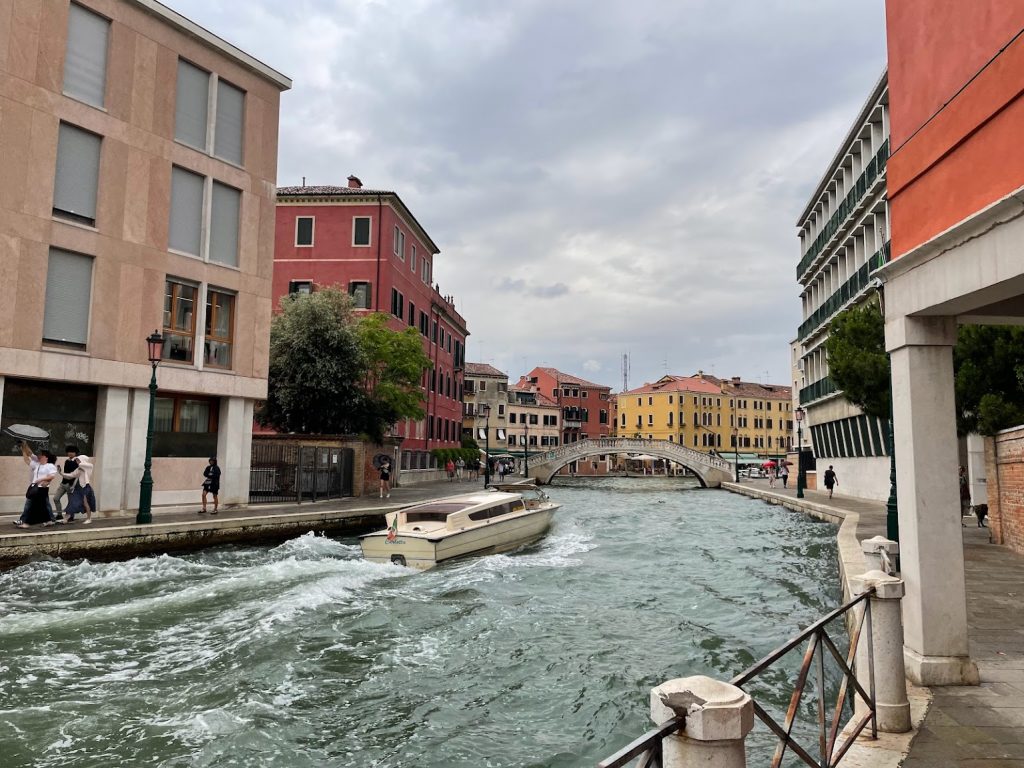 Location
The hotel is located at Sestiere Dorsoduro, 3499 Fondamenta del Passamonte, VE.
Like I said, we picked this hotel for its proximity to the Tronchetto, which worked great for our needs to head off on our Royal Caribbean adventure, but it was also super easy to get to from the airport.
We took a bus (€10 each) and we were told to get off at the last stop, Piazzale Roma. It was then a few minutes of walking and one or two bridge crossings and we were at the front door.
There are plenty of restaurants, gelaterias, and wine bars within walking distance. On our first full day we walked from the hotel to Piazza San Marco with no problem. It was also about a 10-minute walk to Campo San Tomà, where our food tour started.
Overall we were very pleased with our stay at Hotel Moresco and would be happy to stay there again next time we find ourselves in Venice!
What other hotels should we add to our list next time we're in Venice? Share your thoughts in the comments!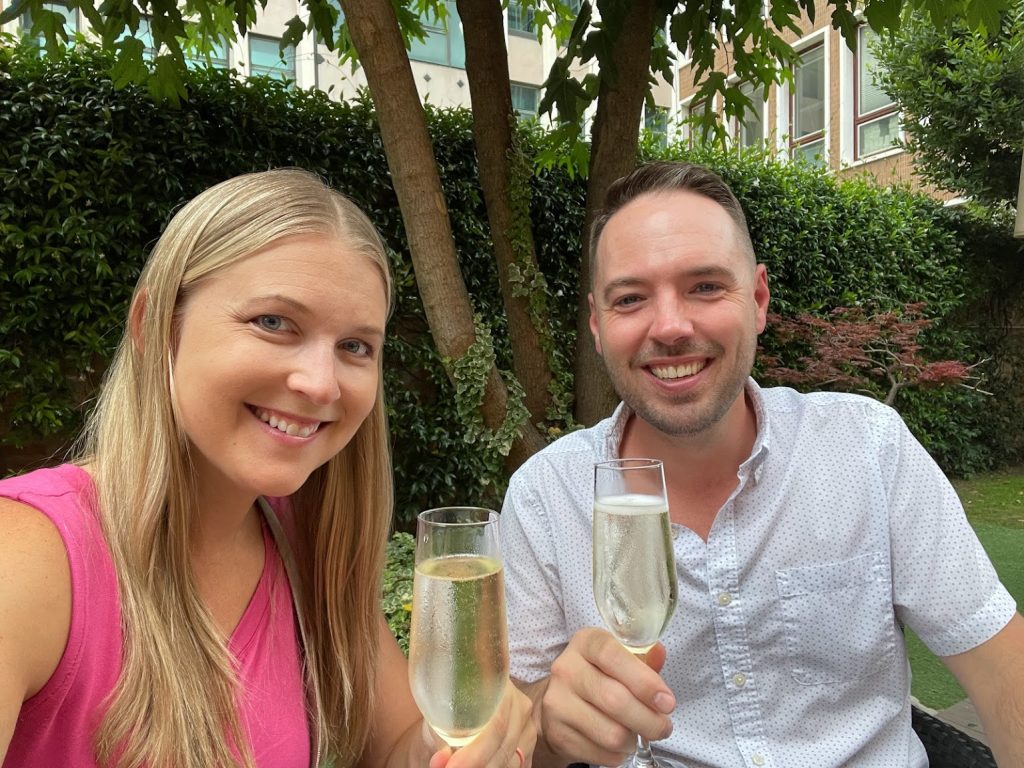 Like the post? Share it now!