We were so excited finally to cross the border up north and visit our Canadian neighbors! We were fortunate my parents choose Canada as this year's family travel destination, more specifically Quebec City.
We were intrigued to visit as from photos it looked like Little Paris or Mini Europe and we couldn't wait to explore the city.
And, of course we were eager to eat and drink our way through Quebec City while we were there. We were ready to dine on food that has a strong French influence with some Canadian twists.
Here are our picks for what to eat when you visit Quebec City!
Top 10 things to eat in Quebec City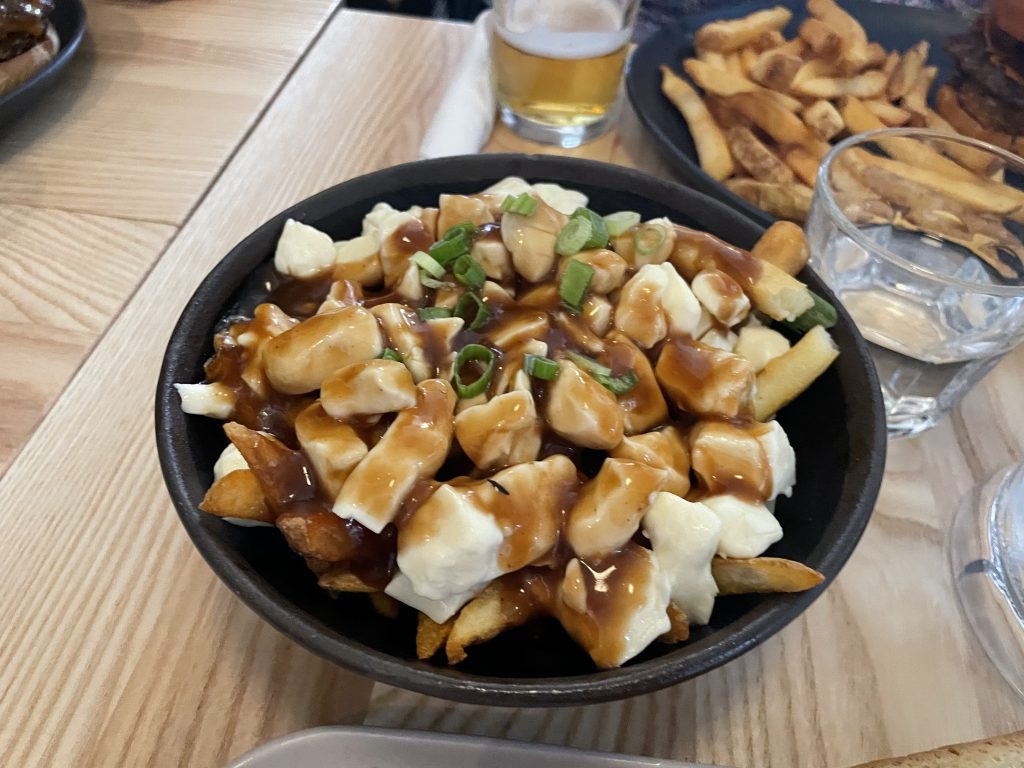 1. Poutine
Having grown up pretty close to the Canadian border, I've had poutine before but definitely had to have Canadian poutine! Fries, cheese curds, and gravy? What's not to love?
2. Creton
This was an interesting addition to our breakfast spread and breton is a pate-style spread made from pork, onions, and spices. Some spread it on toast or others will use crostini or crackers.
3. Crepes
We can't pass up a good French crepe, whether it's sweet or savory. The ones in Quebec City are a bit thicker than its European cousins, but well worth ordering for a tasty treat.
4. Viande fumée
I recognized viande from all my Rosetta Stone I did prior to this trip, but it also reminded me of St. Patrick's Day a bit as it reminds me of a corned beef style sandwich. It's beef brisket, pickles, coleslaw, peppers, and mustard on rye bread (my version was not served on rye bread as you can see by the photo).
5. Soupe aux pois
Get your serving of Canadian pea soup by ordering soupe aux pois in Quebec City! This pea soup is completed with salted pork, vegetables, and broth.
6. Canadian baked beans
Like a traditional English breakfast, the Canadians too often add baked beans to the breakfast menu and I am all for it. I love baked beans, or fèves au lard as they're called in Quebec, especially ones simmered with pork and maple syrup.
7. Tourtière
Essentially this is a Quebecois meat pie. This dish is often served for Christmas so can be harder to come up if visiting in other seasons, but some restaurants will have it available on the menu. It's most often filled with minced pork and potatoes, but other variations have made appearances.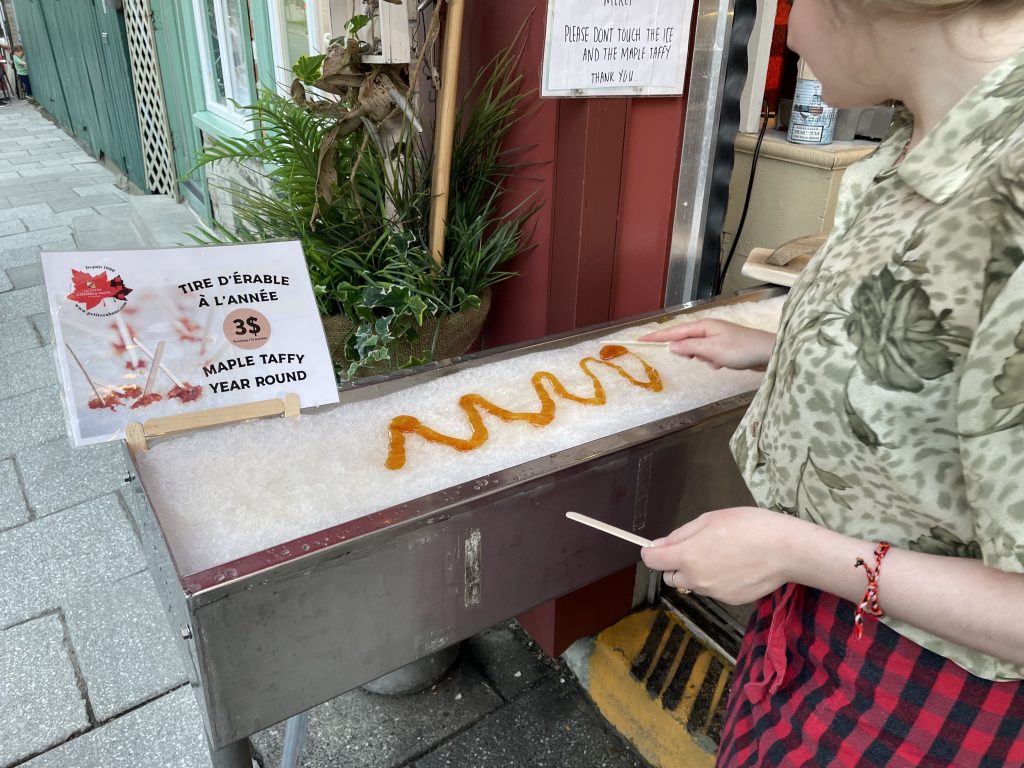 8. Maple taffy
Not going to lie, I was so excited to see this even though it's typically served in the winter! It's a must-try in Quebec City, whether getting it from a street vendor or candy shop. It's essentially maple syrup that's rolled on snow or ice to quickly harden the syrup into a taffy.
9. Tarte au sucre
Pretty much sugar tart or sugar pie. Being in Canada, the ones here definitely have a healthy serving of maple syrup. Be sure to pack a good toothbrush, toothpaste, and floss for all these sticky, syrupy desserts!
10. Pouding chômeur
It translates to poor man's pudding and this maple syrup cake isn't poor in flavor! It's white cake batter, cream sauce, and maple syrup and is a must-have. 
Or, another option that we indulged in quite frequently were Beaver Tails! Crispy, fried dough toped with a sauce or two and dessert bites or candy. Talk about yum!
What are must-have dishes you enjoyed in Quebec City or what are you most excited to try on your Quebec adventure? Tell us in the comments below!
Like the post? Share it now!