Rick and I had the pleasure of spending about a week on Maui to take advantage of our remote work schedules as well as check off another Hawaiian Island off our travel bucket list. We had looked at staying at a resort in Lahaina or Wailea but ended up booking an Airbnb in Kihei to stay somewhere a little quieter and hopefully not have to fight a bunch of people for a good connection to the Wi-Fi! 
We absolutely loved staying in Kihei and exploring this charming beach town but still easily being able to drive out of town and discover more of the island. 
We would happily pick Kihei as our home base if we find ourselves vacationing on Maui again and if you're going to stay there but want to know what to do in Kihei or in the surrounding areas, here are our picks for the best things to do if you only have 24 hours in Kihei.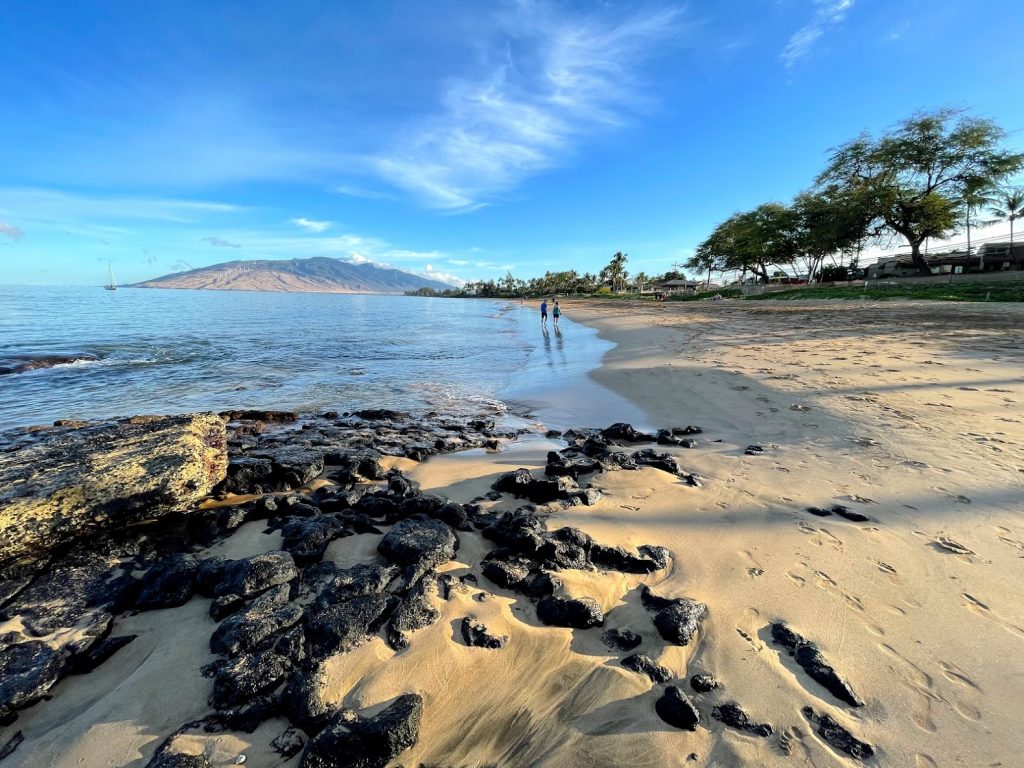 Start the day at the beach
To stick to our mountain time work schedules we were up by 4:30 each morning to start work at 5 a.m. or 9 a.m. for our colleagues and we kept that schedule even after we were fully in vacation mode, meaning on our days off we got to the beach around 5:30 after a nice cup of Maui coffee. The beach in the early morning is great if you want to run or walk or enjoy the sandy shore before it's super windy in the afternoon. Plus, it's less crowded and you're not boiling under the sun yet.
Kamaole Beach Park I was located right across the street from our Airbnb and it was a great stretch of beach. There's a Boss Frog's a block away if you want to rent snorkel equipment or other beach items to maximize your fun at the beach. 
It's a very peaceful beach and we never had any trouble finding a spot to park our beach chairs for the day.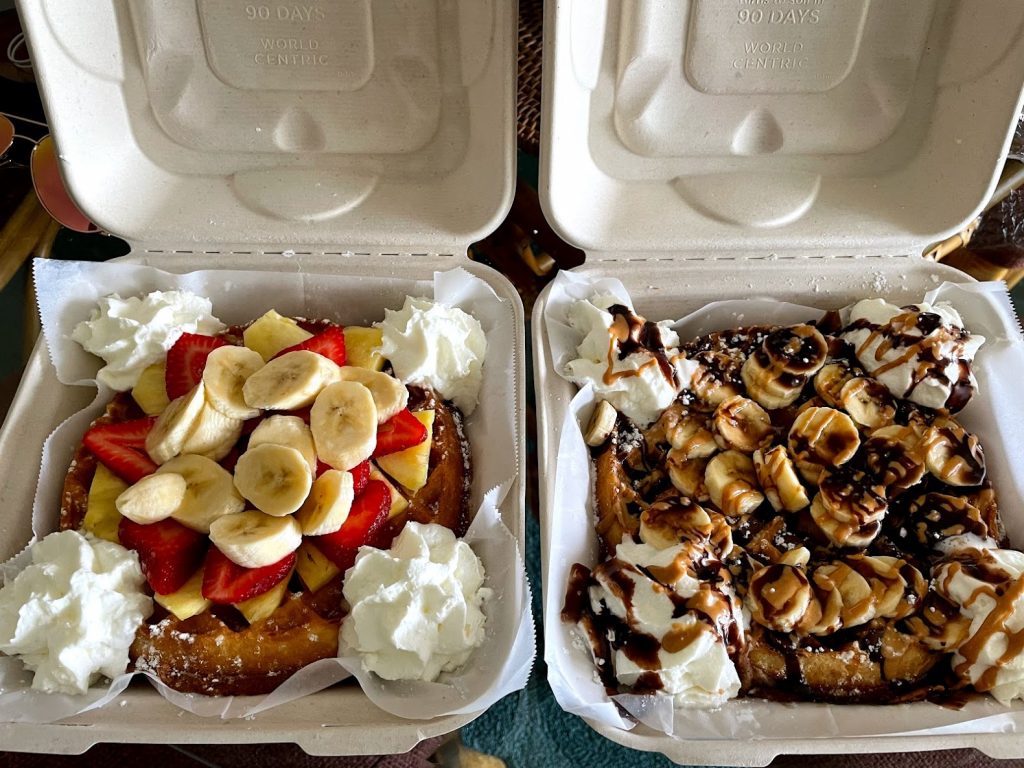 Have breakfast at Maui Gelato and Waffles
We made sure to grab fresh, hot waffles from Maui Gelato and Waffles on our first day and highly recommend them as a breakfast option – you can get your waffles to go and take them back to the beach if you want! We opted for one tropical option served with pineapple, strawberries, and bananas and one rich and decadent option with peanut butter, chocolate, and bananas.
Check out Lahaina
After breakfast, jump in your rental car and take the approximately 45-minute drive up north toward Lahaina to explore the Hawaiian art galleries, do some souvenir shopping, and get some goodies like tropical shortbread cookies from the Honolulu Cookie Company, and then get a frozen cocktail or Mai Tai from one of the cool restaurants or bars along the harbor. 
You can also visit one of the largest banyan trees in the US! The impressive tree spans an entire city block, stands more than 60-feet high, and has been a part of the landscape since 1873. Lahaina has such a different vibe compared to Kihei and reminded us of tourist towns like Estes Park with all the shops and restaurants – but in a good way! It's definitely worth the trek up to see the historic city. 
Visit the Maui Ocean Center
After shopping and snacking, head back towards Kihei and make a stop at the Maui Ocean Center to learn more about Hawaii's native marine life and see turtles up close! They have an underwater tunnel so you can walk among the sea life which is pretty fun. It doesn't take very long to go through the aquarium and they have a quick video about humpback whales that's interesting.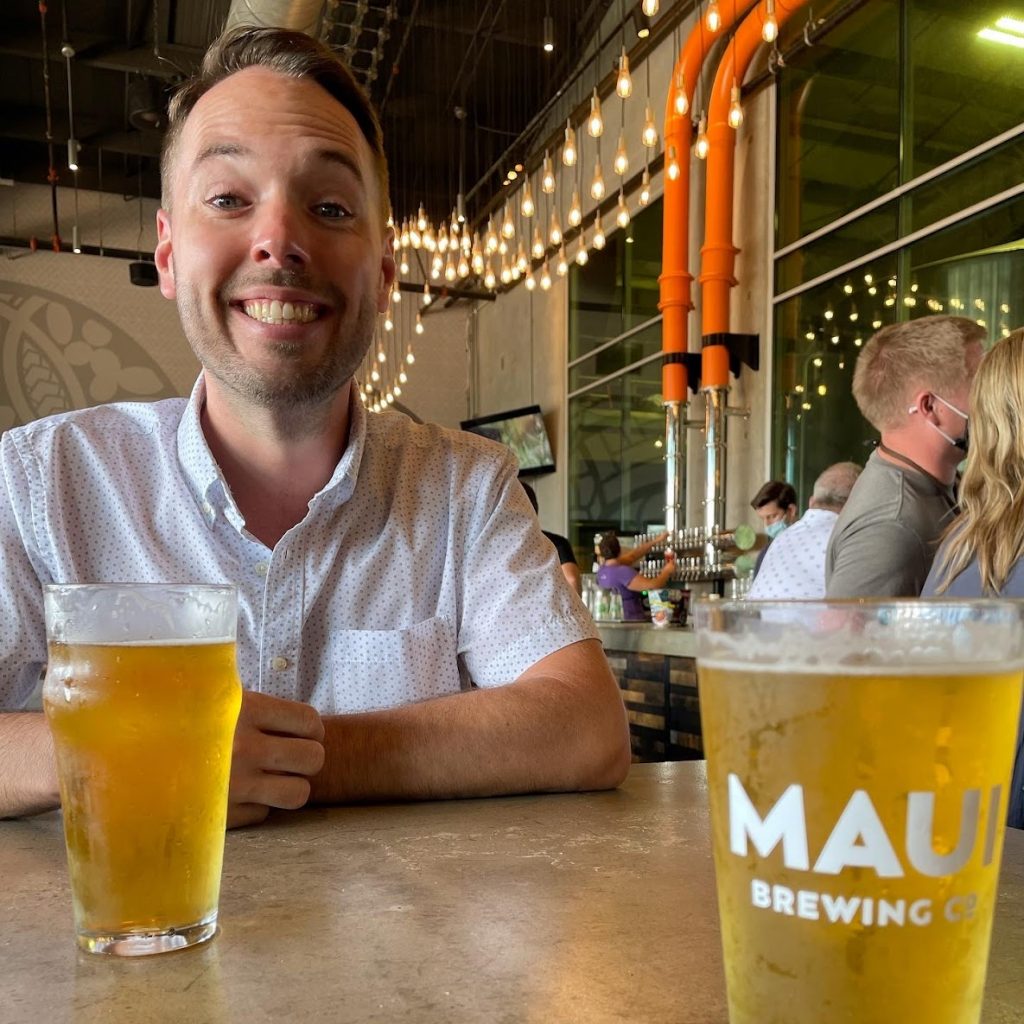 Go beer tasting at Maui Brewing Company
After seeing what you're swimming with in the ocean and learning more about preservation efforts to keep the sea life protected, it's time to imbibe some local craft beer at Maui Brewing Company. They have happy hour every day from 3:30-5:30 p.m. and it's a great spot to get a cheap pizza and some great Hawaiian beer. We love their Bikini Blonde and Pineapple Mana and their brewery has a wonderfully large, open-air tasting room.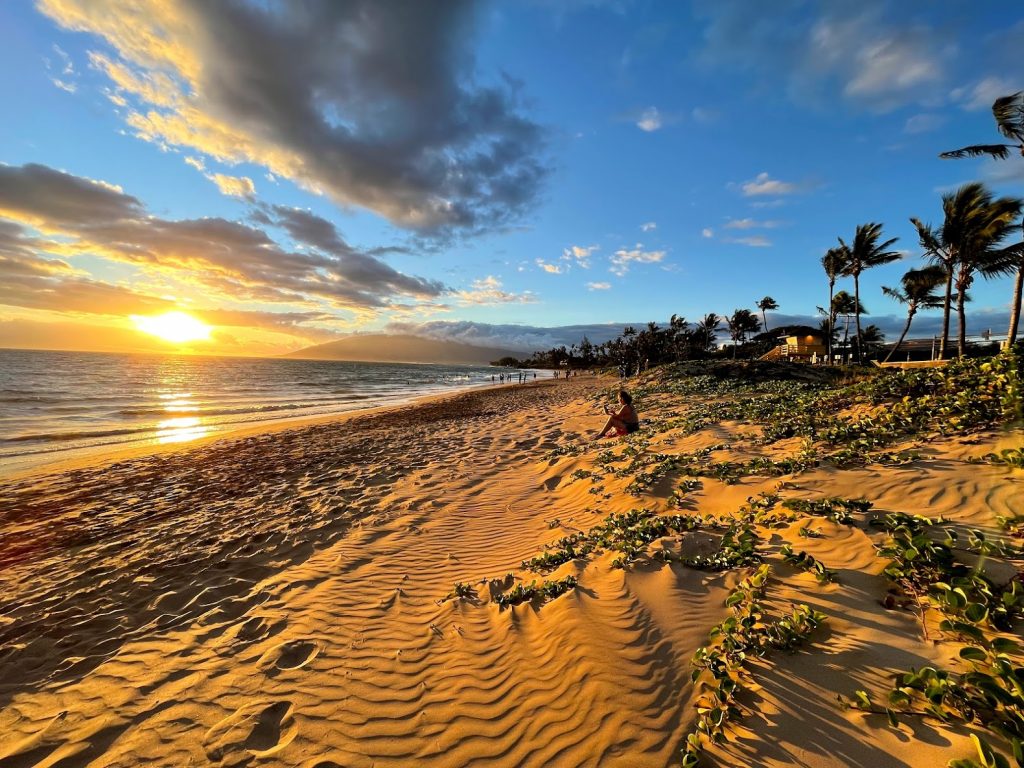 Sunset at the beach
It was easy to get up super early as the sun rises early, which means the sun sets early too. Sunset was at 7:10 in early July and we highly recommend getting down to the beach to watch the sun dip below the ocean and horizon. 
Dinner at Cafe O'Lei
We had a great dinner at Cafe O'Lei and urge anyone going to Kihei to check it out – especially if you like sushi or fresh fish. They have an excellent cocktail menu, I'm actually still mad at myself for not trying their mango martini, and a fantastic sushi bar. Rick ordered from the sushi bar and I opted for their panko-crusted mahi mahi served with a lemon caper butter sauce.
Finish your day with a sweet treat
If there's time or you've still got room left, make a stop at Kihei Aloha Ice Cream or go back to Maui Gelato and Waffles to try their delicious gelato – I mean you'll have already tried the waffles so why not complete the set?
Have you stayed in Kihei during a getaway on Maui? Tell us what you did with your time there in the comments below!
Like the post? Share it now!