We recently wrote about our time on Maui, a combination of working remote and a vacation, thanks to both of our jobs being flexible this year and we did end up taking two days off for full-time exploration of the island. Though we were done with work by 1 p.m. each day, local time on Maui, we still wanted some free early mornings to go sightseeing.
One of the major reasons I wanted to go to Maui for our getaway was to experience a sunrise atop Haleakala and I told Rick that was my number one must-do on Maui. So we made it happen and we were even able to redeem credit card points for the tour!
We booked with Polynesian Adventure Tours and here's our review of our experience on their Haleakala sunrise tour with breakfast. Just a note before we begin, we did our tour on July 10, 2021 and COVID-19 restrictions were in place.
Our review of Polynesian Adventure Tours' Haleakala Sunrise Tour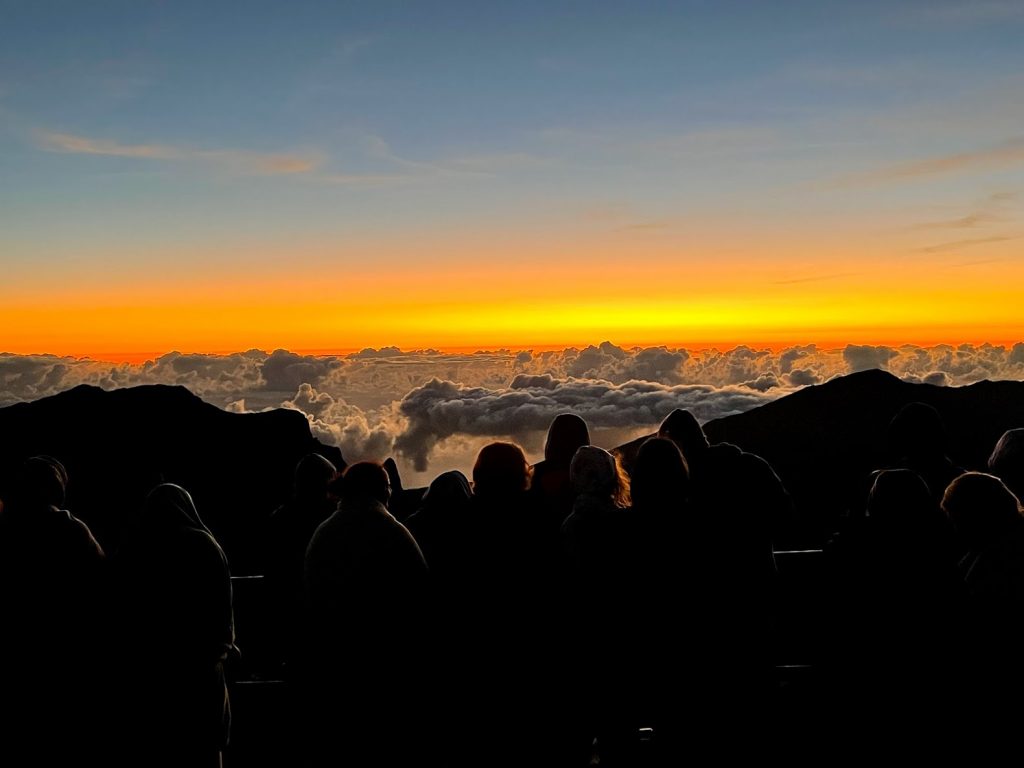 Tour guide/driver
Our guide, Wayne, was friendly and knowledgeable and shared fun facts about Maui and gave advice on what to do with the rest of our time as we drove to and from the viewing site on top of the volcano. I thought his stories were interesting but he wasn't so loud that you couldn't sleep if you wanted to – a 3 a.m. pickup is quite early! Plus, he kept the bus nice and dark if you did want to catch up on some ZZZs before taking in the sunrise.
Wayne was also very communicative, explaining what to expect at the top, how long we'd have to enjoy it, which direction to look, and what other natural phenomena to keep an eye out for. He always made sure to count us as we got back on the bus after photo stops and breakfast, and he genuinely seemed to enjoy his work and doing this tour. He was more than happy to make stops along the way so we could get some amazing photos on the way down to breakfast.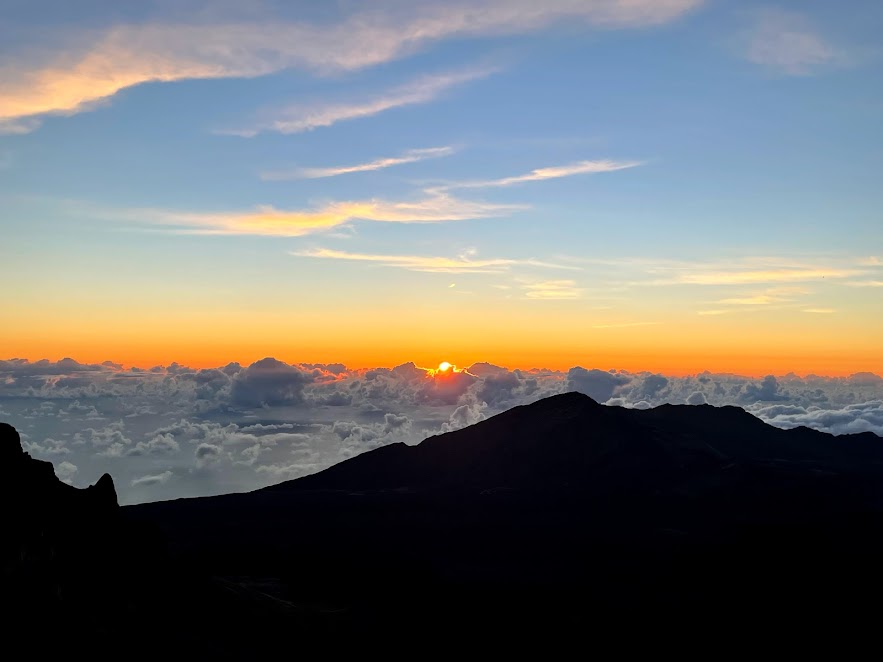 The Haleakala sunrise tour
Our pick-up time was scheduled for 2:40 and we got on the bus just after 3 a.m. Lucky for us we were the last pick-up before heading up, though we did make a bathroom stop about 20 minutes after we got on for those that had already been on the bus for a bit. Wayne picked us up right in front of our Airbnb, which was perfect as we thought we'd have to drive to a local hotel and leave our rental car but when the office called to confirm our pick-up time and location our Airbnb was no problem.
Wayne was good with our check-in though I do recommend that you have a printed copy of your ticket or reservation confirmation as the driver will need it! Then it was masks on and onto the bus for a dark drive to Haleakala National Park.
We got to the top right around 5:15 a.m. and the colors were already gorgeous with a bright golden band right above the clouds. It's a surreal experience being above the clouds and not in an airplane. Sunrise was right around 5:47 a.m. and minutes before the sun made its real appearance, a parks employee came out to greet the day with a Hawaiian chant and encouraged us to not miss that night's sunset so we could both welcome the sun and say good-bye to it on the same day.
It's so easy to see why Haleakala translates to "House of the Sun." Seeing the sunrise from this viewpoint is a magical experience that I would recommend any traveler make time for on Maui.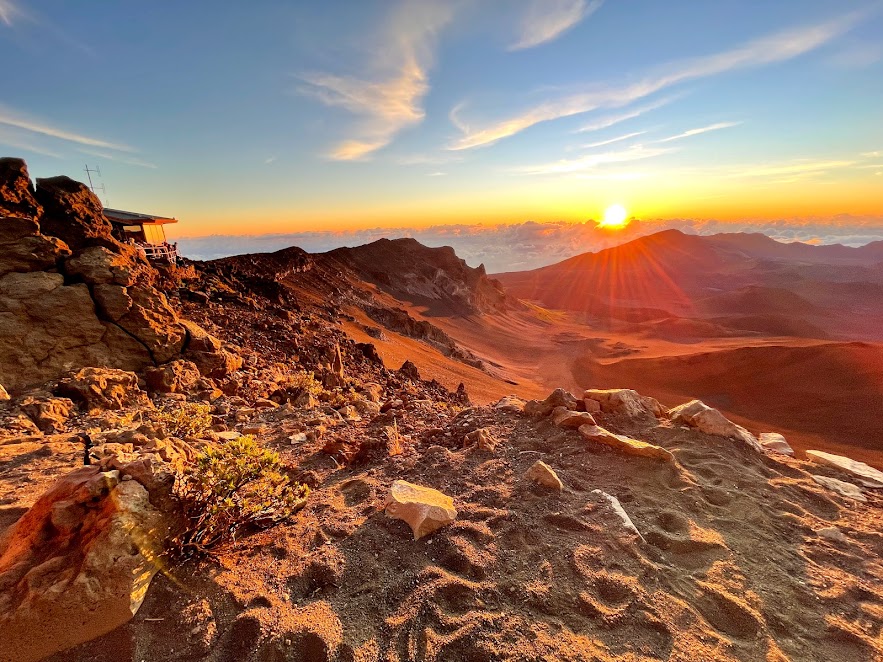 After getting back on the bus at 6:15, Wayne handed us a menu for breakfast. There were six options:
Eggs, bacon, and potatoes
Veggie omelet and potatoes
Loco moco with scrambled eggs
Pancakes with macadamia nuts
Belgian waffle with strawberries and cream cheese
Yogurt, fruit, and granola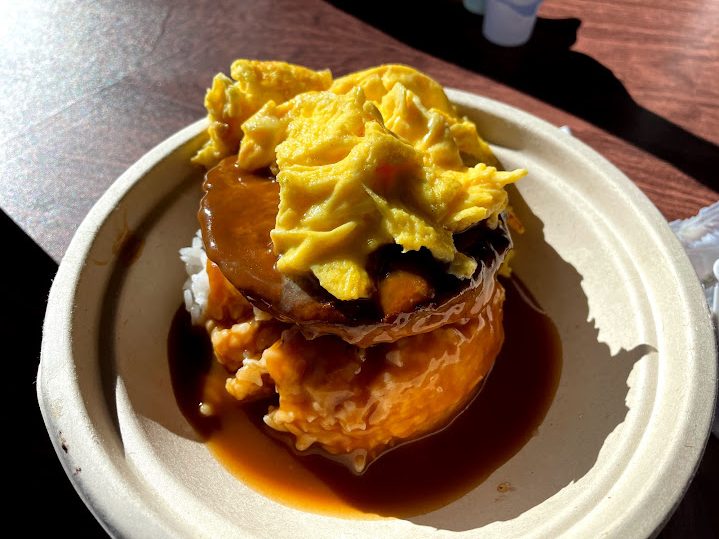 Wayne then asked everyone for their order ahead of time so be ready to pick what you want to eat while on the bus. We then drove down to a little visitor's center to check out some native flora and hopefully spot a nene, the state bird (which is a Hawaiian goose). We did not luck out on spotting any geese but coming from Minnesota I've seen enough of them to last me a lifetime, I can imagine what their Hawaiian brethren look like. While stopped Wayne called in our orders to the restaurant so they'd be ready to go when we arrived.
Breakfast was served at 8:20 a.m. at the Kula Lodge, which has an impressive and beautiful garden and great outdoor seating. The other nice thing is the restaurant is closed to the public until 9 a.m., so it's only other tour groups on the premises. Once seated we got our drinks, the choices being juice, coffee, or tea, and then they asked what number you ordered – don't worry, you get a little piece of paper with your order on it before you arrive.
The food was quite good but it was quick service and everything was on paper plates or in styrofoam cups. I really liked my loco moco and Rick's pancakes were tasty. The portions were good as you didn't leave hungry and since the food was served so quickly, Rick and I had some time to take a stroll along the garden path and get some great shots of Maui spreading out beneath us.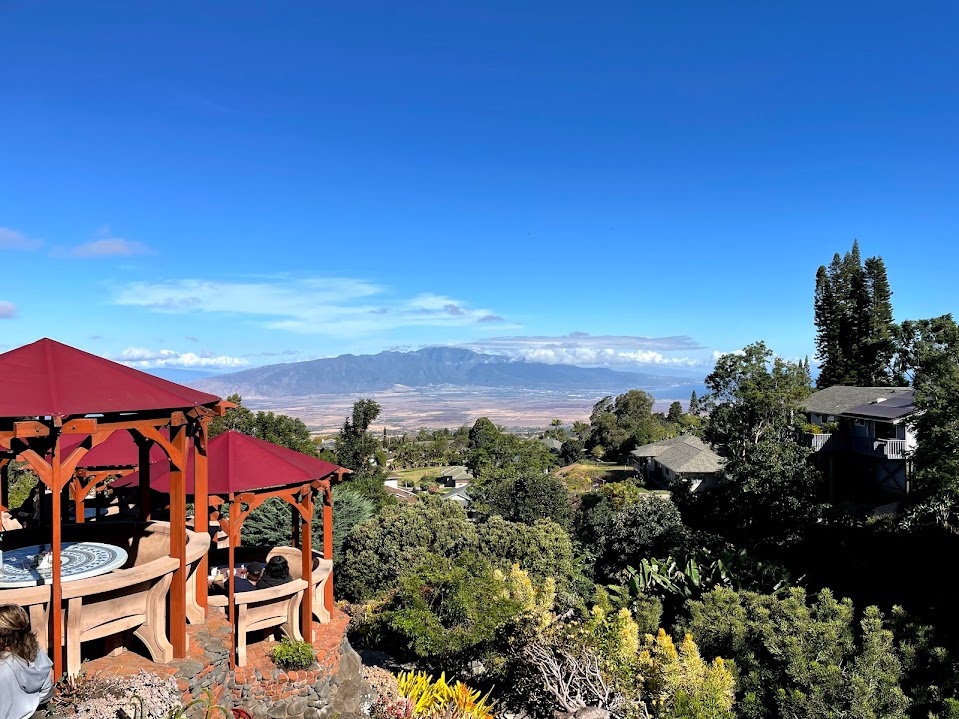 After breakfast it's back on the bus and back to your accommodation. Wayne continued to share information about what we were seeing, the history of the towns we drove through, and gave recommendations of things to see or places to eat on Maui. Though we were the last to be picked up we were the first to be dropped off, which worked well for us as that meant we still had some time left in the morning to head down to the beach for a bit. I think I was in my beach chair reading my book by 10:30 a.m.
Overall I'm very pleased we booked with Polynesian Adventure Tours for this experience. We got to watch an awesome sunrise without worrying about any of the logistics of getting into the park or knowing where to go and the breakfast was a nice addition. Not sure it would have made that much of a difference if we didn't do breakfast on the tour but it was still nice, especially the caffeine to keep us awake after our super early alarms.
They also have a sunset tour that Rick and I might have to go on to compare experiences if we find ourselves back on Maui anytime soon. Oahu seems to be our next destination among the Hawaiian Islands.
Group size
There were about 20 of us on this tour but the bus never felt crowded nor did the restaurant where we had breakfast. We did have to wear our masks while on the bus and walking through the restaurant but it was no big deal and nobody made a fuss over it.
The bus was quite spacious and very clean. The seats are comfortable and you don't have to worry about getting a good seat as the windows are huge, meaning everyone has a good view. There's also a sound system onboard so you can easily hear what your driver is saying.
Booking information for Polynesian Adventure Tours' Haleakala Sunrise Tour
Duration: ~9 hours
Days offered: Tuesday-Friday
Time: Pick-up in the summer is between 2-3 a.m., winter is 2:30-3:30 a.m. Drop-off between 10 a.m. and 11:30 a.m.
Price: $191 per adult (anyone 12+), $119 per child (3-11 years old)
Transportation: Accommodation pick-up and drop-off is included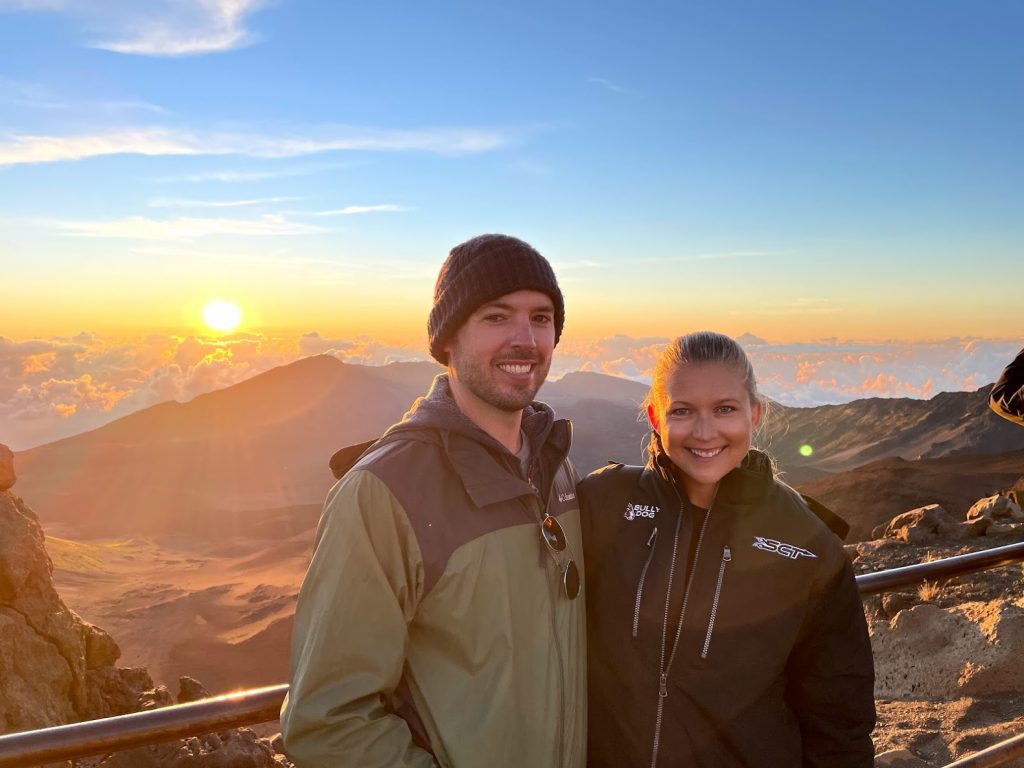 Tips for a Haleakala sunrise tour
Dress for cold weather! Yes, you're in Hawaii but you're also at almost 10,000 ft. in elevation up at the top. It gets chilly. Rick and I both packed padded jackets, gloves, and hats though I ended up not needing my hat on the actual tour. Dress in layers so you can always take off warmer layers you don't need.
Bring a selfie stick. I'm actually not kidding. Don't be a jerk with it and stick it in front of other people's cameras but it can come in handy if you want to crop people out of your shot and you didn't get there early enough to snag a spot along the railing. 
Enjoy the moment. Capturing it on camera or film is great but try to put down your phone for a minute or two and just enjoy this amazing experience and unparalleled way to start your day. 
Bring water. Fortunately Rick and I are used to the elevation with living in Colorado but going from the beach to over 9,000 ft. in one fell swoop can be hard for those that get altitude sickness. Breathe deeply and stay hydrated! There are restrooms at the viewing point so it's safe to drink a lot of water on your way to the top. 
Book ahead of time. Our tour accommodated quite a few people but I imagine as things return to normal this tour will get even more crowded and sell out quickly. Book far in advance if you know this is something you want to do on Maui. 
Confirm your tour: Polynesian Adventure Tours called Rick to confirm our tour, pick-up time, and pick-up location but if you don't hear from the company, be sure to give them a call to make sure everything is in order the day before you're supposed to go. We didn't know where we were staying when we booked our tour and it was no problem telling them our Airbnb's location so they could add the address to the pick-up route.
Be prepared to wait for your driver. Our pick-up time was 2:40 a.m. but they ask for about a 15-minute buffer for the driver and we got on the bus closer to 3 a.m. Be patient and don't worry if it's 10 minutes past your pick-up time.
Tip your driver. If you're thinking your 2 a.m. wakeup call is early just think how early they had to get up to be ready for work with a smile on their face. Pack some cash as a thank you for safely driving you up to the top of a volcano in the middle of the night. 
Have you done a guided tour to Haleakala National Park? Tell us about your experience in the comments below!
Like the post? Share it now!