Both Rick and I have been fortunate enough to work remote pretty much most of 2020 and now it seems most of 2021 and with things opening back up we figured it would be the best time to take advantage of our working schedule and work remote from an awesome location.
For the last year or two we'd been discussing wanting to get back to Hawaii and explore a new island. We had our hearts set on Maui as neither of us had ever been there; Rick's been to Oahu before and we both went to Kauai together.
We had looked at staying at the popular Maui travel destination of Lahaina but ended up finding a great Airbnb a block from the beach in Kihei and decided it'd be a great homebase for working remote as well as seeing the rest of the island.
Funnily enough we found it was cheaper to fly from Las Vegas to Maui than it was to fly home to Denver, so we re-routed our flights after Fourth of July from Vegas to the Hawaiian Island instead of coming home. We did have to take a COVID-19 test and get our results before boarding our plane to Maui, but it was honestly super easy to find a CVS in Las Vegas to get tested. We took our tests Saturday morning at 10 a.m. and had our results in our inbox at 2 a.m. on Sunday. Thank the lord for friends that live in Sin City and good Wi-Fi connections in the hotel.
Before we left we were thoroughly warned about the rental car shortage in Hawaii, but honestly we had no trouble getting a rental car even though we didn't get to Maui until about 9 p.m. It was difficult finding a reservation for a rental car but once we did they followed through and had a car waiting for us.
Here's how we took advantage of working remote to work from Hawaii while still seeing as much of the island as we could!
Our 5-day Maui travel itinerary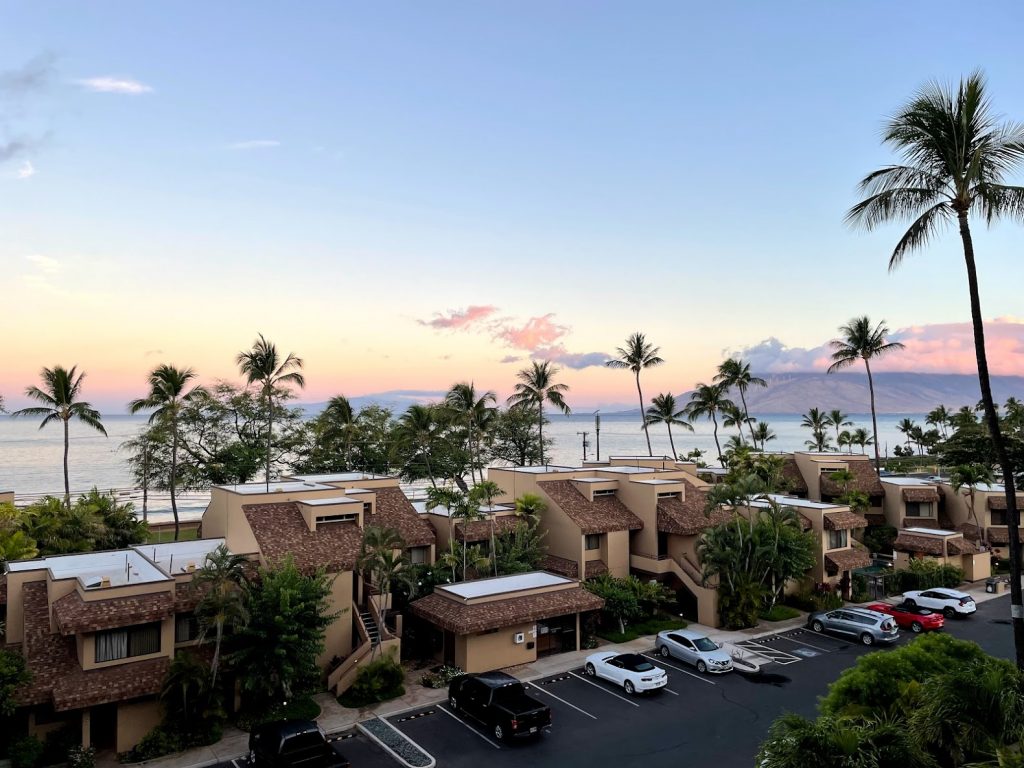 Day 1
Our alarms started going off at 4:30 a.m. so we could start work at 5 a.m., which is 9 a.m. Denver time. While it was a bit difficult getting up in the dark, it was very nice knowing the workday would be done by 1 p.m. – plus we had bought some local Maui coffee so that fresh brewed pot really woke us up.
During our lunch break, at 8 a.m., we went down to check out the nearby beach for a nice morning stroll before heading to Maui Gelato and Waffles for breakfast where we got a tropical trio waffle, complete with strawberries, bananas, and pineapple, and a peanut butter banana chip. We couldn't even finish them, they were so filling!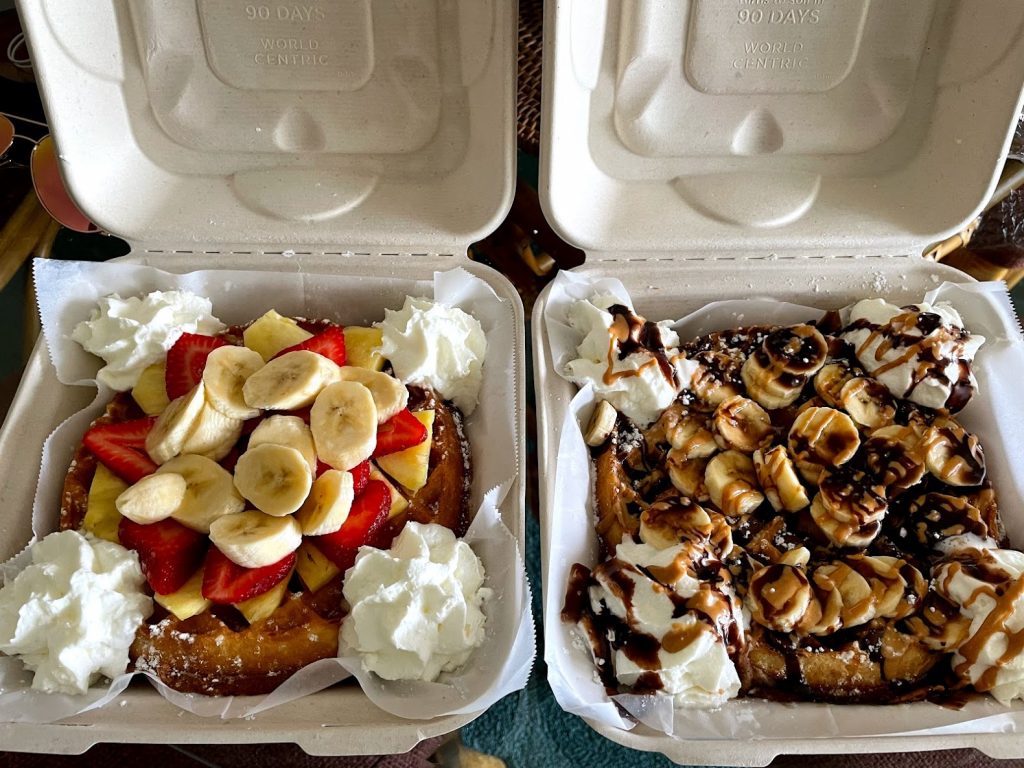 After logging out at 1 p.m., we headed down to the beach for some sunbathing and reading on the beach. We came to find out July is one of the windiest months on the island! From early morning to around noon the beach is nice and calm, but expect winds in the summer on the west side of the island.
After getting sandblasted on the beach we cleaned up for happy hour over at Maui Brewing Co., which was about a 10-minute drive from our Airbnb. We love their Bikini Blonde brew and were both surprised by the Pineapple Mana Wheat. The brewery in Kihei has hour each day from 3:30-5:30 p.m. and it includes $1 off house beers, $3 off crack cocktails, $10 pizzas, and 50% off select apps so we ordered some brews, calamari, and wings with a huli glaze – all of which was delicious.
The brewery was packed for happy hour so we recommend getting there early to snag an indoor table if you want to avoid the wind outside. The beers were crisp and refreshing and the food was great for brewery food.
After getting our fill of beer we went back to our accommodation to catch a gorgeous sunset right after 7 p.m. before going to bed around 8:30 thanks to trying to stay on Denver time.
Day 2
Another day where we had to get our butts out of bed by 4:30 to make coffee for the first-thing meetings at 5 a.m. We did buy a bottle of pineapple mimosa so we had something to look forward to during "lunch" and then after work we went over to Maui Fish and Chips for some battered and fried fish, french fries, and of course I had to sample the mac salad.
That afternoon was a lazy one at the beach with some good books and swimming in the ocean. That night we headed back down to the beach to catch the sunset with some takeaway spam musubis.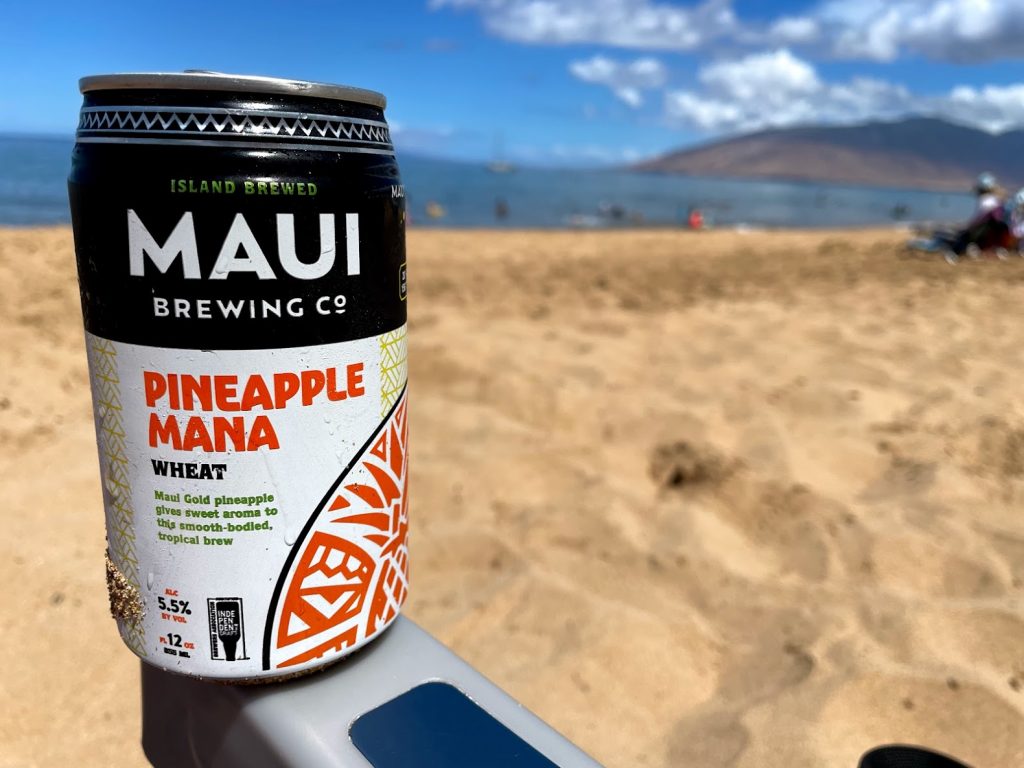 Day 3
We took our third day on the island off work so we could relax at the beach and explore a bit more of Kihei without being on a tight schedule. We spent the morning at the beach to enjoy it wind-free before walking over to Ohana Seafood Bar & Grill to take advantage of Maui's longest happy hour from 10 a.m. to 6 p.m.
I ordered a few $5 Mai Tais and Rick tried a few cocktails before we dug into a plate loaded with kalua pork spring rolls. For actual lunch I got the Ohana poke trio sampler and Rick ordered the grilled fresh catch sandwich. It was a great little spot with excellent service. If you get over there and see a giant line, make sure it's not for the brunch place next door – which did look good but we didn't have to wait for a table at Ohana!
For dinner that night we made our way over to Cafe O'Lei Kihei for a few more Mai Tais before trying the delicious crab cakes with a yummy mango coulis and then sharing some fresh sushi rolls and the panko crusted mahi mahi. We'd highly recommend this restaurant in Kihei, but be sure to make reservations to guarantee a table!
That night we had to hurry back and get to bed at a decent time for our extra early wake up call the next morning.
Day 4
Our fourth day was another day off work which was good as our alarms went off at 2 a.m. for our 2:40 pickup for our Haleakala sunrise tour. We booked with Polynesian Adventure and it was an excellent tour. Our driver picked us up just before 3 and we were the last pick-up before heading up to the summit of the volcano. About 20 minutes after getting on the bus the driver did make a bathroom stop in case anyone needed it. After that we were back on the road where our driver told us fun facts about Maui and the towns we were driving through. We made good time and got there about 20 minutes before sunrise at 5:47 a.m.
Just a note, with COVID restrictions we did have to wear our masks while on the bus and in shared indoor spaces.
We knew it would be chilly up at the top so we were dressed appropriately in pants, sneakers, and each had a lightweight jacket. I mean you are almost at 10,000 feet in elevation and it's first thing in the morning, it will be cold! We were able to elbow our way to a good spot among the crowds and a Parks employee came out to greet everyone and begin the day with a traditional Hawaiian chant.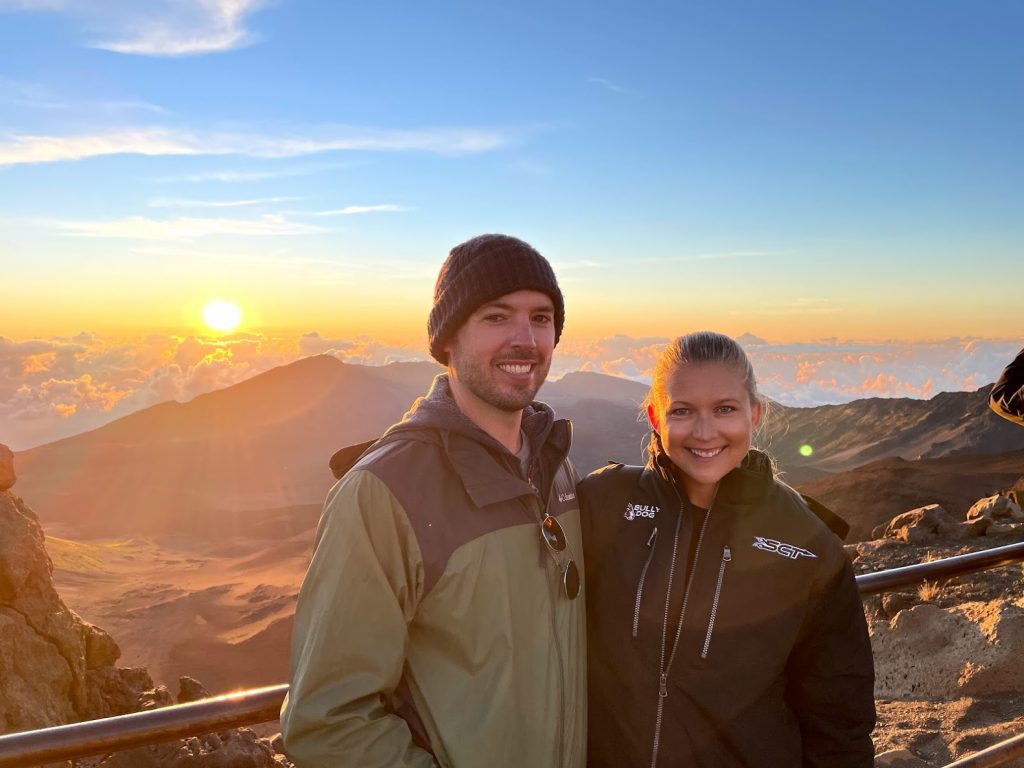 This was the experience that made me want to pick Maui as our Hawaiian travel destination and it was completely worth it. The colors were incredible up there and it was a sunrise unlike any other we've seen. The volcano almost looks like the set of a movie taking place on Mars as soon as the sun rises above the clouds surrounding the summit. We departed the sunrise viewing point around 6:15 to make our way back down for our included breakfast. Upon getting back on the bus our driver handed us a menu to make our choice for food. There were six options:
Eggs, bacon, and potatoes
Veggie omelet and potatoes
Loco moco with scrambled eggs
Pancakes with macadamia nuts
Belgian waffle with strawberries and cream cheese
Yogurt, fruit, and granola
I opted for the loco moco and Rick got the pancakes, and then we both had coffee when we got to the restaurant, Kula Lodge. It was very nice as the restaurant was only open for our tour company and the lodge had a beautiful outdoor dining space surrounded by a gorgeous garden.
We were very lucky in that we were also the first to be dropped off after our tour and were at the beach by 10:30 a.m.! Well, I was at the beach and Rick took a little power nap after our early adventure up to the top of Haleakala.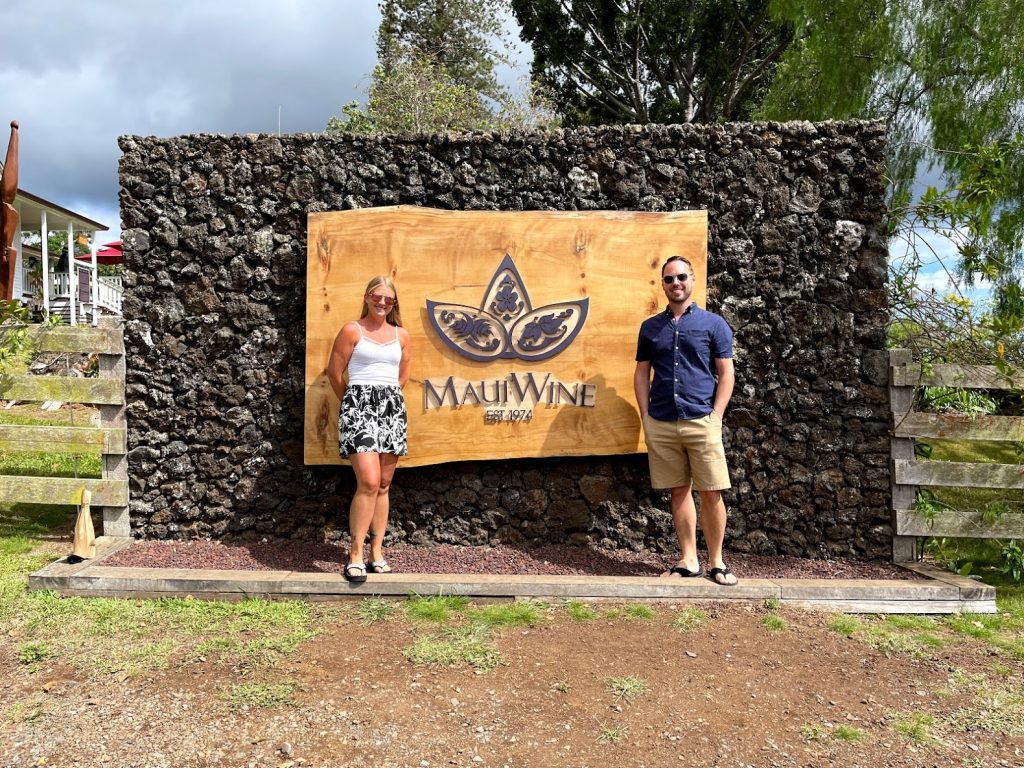 Later that afternoon we went for a little drive up to Maui Wine to try some pineapple wine and see the winery. Unfortunately we didn't have reservations so we couldn't stay long but they did let us do a limited tasting and we bought a bottle of their sparkling pineapple wine to take home. I'd love to return to the island to actually sample more of their wines as their Maui blanc was quite good – and I do not like sweet wines, and later that evening I got to try their sparkling rose which was also quite tasty. I think if there weren't COVID restrictions we would have been fine coming to the winery as walk-ins.
That night we went to dinner in Wailea at Gannon's on the golf course and oh my god when I tell you to order Bev's famous crab dip, you better do it! It was amazing. Rick ordered the cashew crusted catch of the day with some delicious coconut rice, and I did the BBQ pork ribs with a yummy pineapple salsa. The views were beautiful at the restaurant and it was tucked away enough that we still got a cool breeze but not enough to blow away our food or drinks.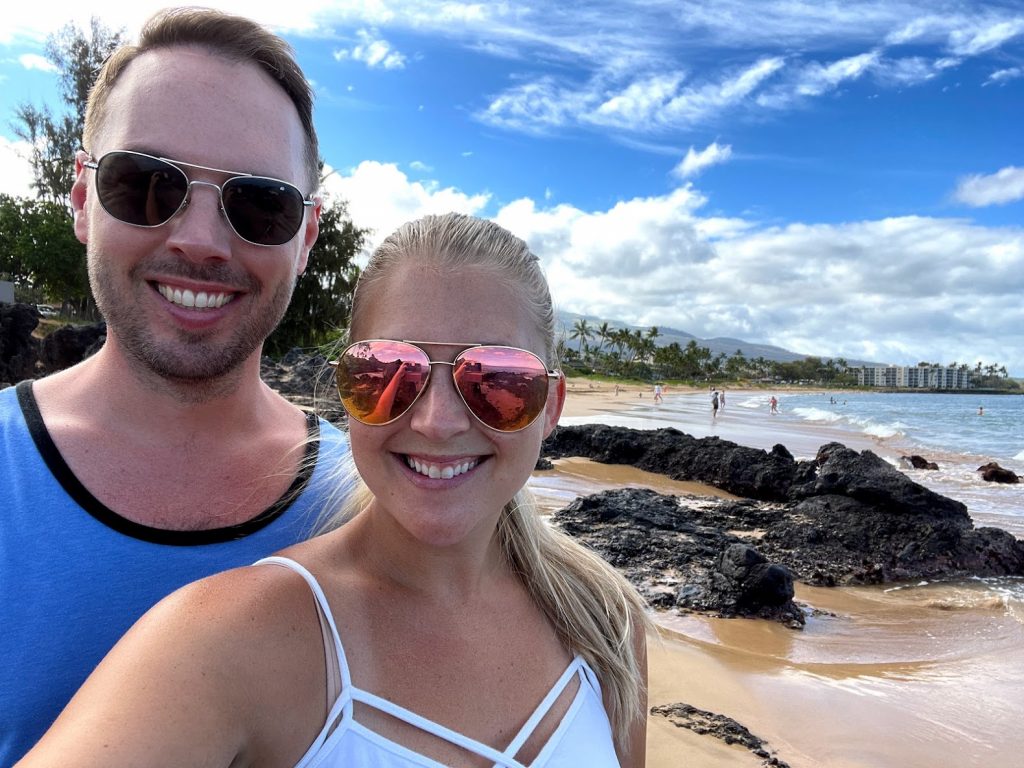 Day 5
Our final day on Maui found us at the beach by 6:30 a.m. to soak it all in before we had to check out of our Airbnb at 10. After checking out we made a stop at the nearby ABC store for some souvenirs and snacks before hitting the road to check out Lahaina.
Lahaina was very cool and reminded us so much of some mountain towns here in Colorado, like Estes Park, with its galleries, funky shops, and plenty of candy shops and stores selling sweet treats. After buying some goodies we went to Captain Jack's Island Grill for lunch and lunchtime cocktails.
We felt we'd seen and eaten everything possible in Lahaina so decided to make a reservation over at the Maui Ocean Center, the Aquarium of Hawaii, to get a closer look at some of the fish we'd been swimming with. It was a nice aquarium with some very cool exhibits, and honestly getting there around 3 p.m. was perfect as the families were getting ready to leave so we had one entire exhibit hall to ourselves. We got to check out the humpback whale movie, which to be honest was only about 15 minutes and didn't really tell us much. The rest of the Ocean Center was cool and I died seeing all the cute turtles swimming about.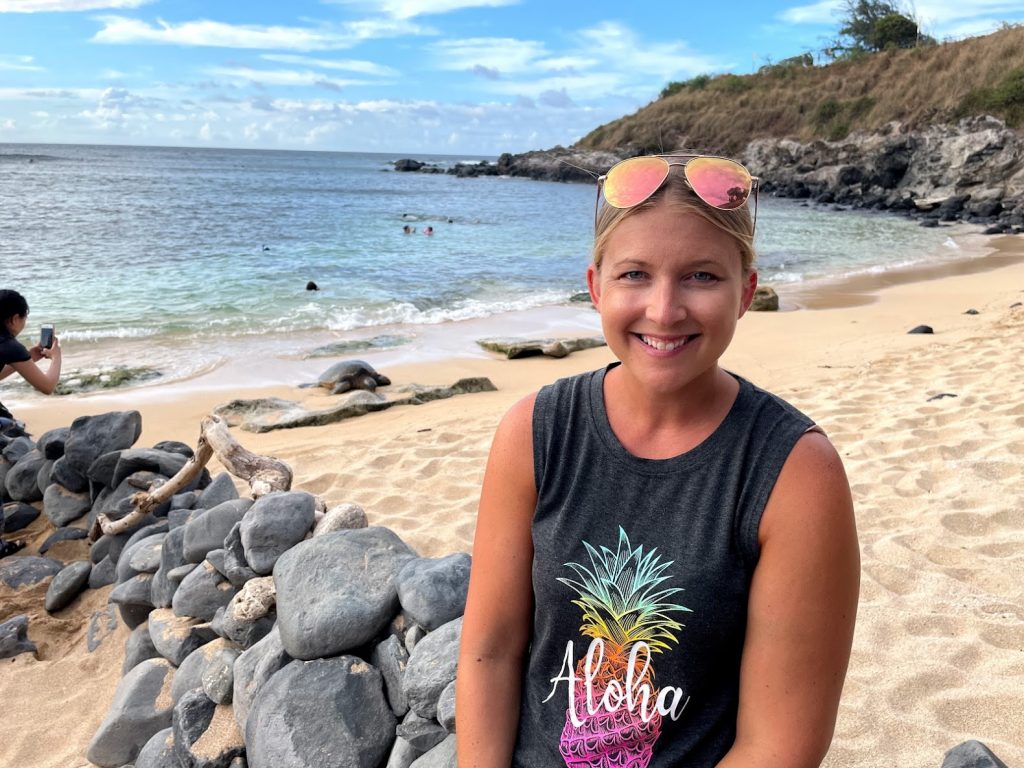 After the aquarium closed at 5 we still had a few hours to kill as our flight wasn't until 9:45 that night. We headed toward Kahului Airport and went a bit further east toward Ho'okipa Beach Park where we were fortunate enough to see giant turtles in the wild! It was the perfect way to end our trip as that's been one thing I wished I had been able to cross off my Hawaii bucket list in Kauai.
It was finally time to wind down, refill the gas in our rental car, and head back to the airport to catch our flight back to Denver. All-in-all it was an amazing trip and a great way to explore Maui without taking too much time off of work and we're so happy we were fortunate enough to do it this year.
Now we're budgeting if we should head back to Hawaii again and work remote in Honolulu or stay on the mainland and head back to San Diego or New York City for a little working getaway! Let us know what you think we should pick in the comments below!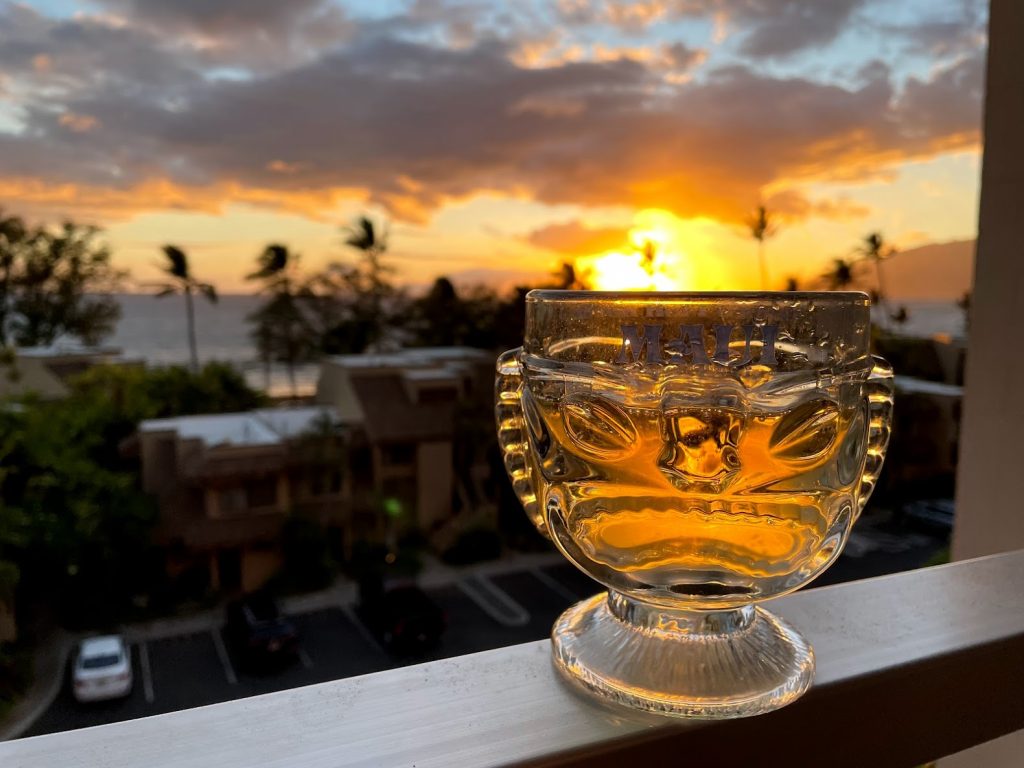 Like the post? Share it now!