I always aim to pack everything I need for a vacation in a carry-on but am coming around to checked bags, especially when they're included in my ticket or when I'm flying with the friendly airline of Southwest that just lets people bring checked bags no matter what. 
But it can be a challenge to only pack a carry-on depending on where we're going or how warm I want to be while traveling but there are some travel hacks to help you maximize your carry-on space and get away with only bringing one easy-to-manage piece of luggage on your trip.
Packing light is an acquired skill and takes plenty of practice, especially when it comes to learning what's a must-have and what's a nice-to-have on vacation. It's about learning to balance what you should bring with you and what it's worth buying when you arrive in your travel destination as well as learning how to plan ahead and make lists around what you'll wear each day instead of just throwing a few things into your suitcase.
Read on to discover a few of my favorite packing tips to get away with a smaller suitcase.
8 expert traveler packing tips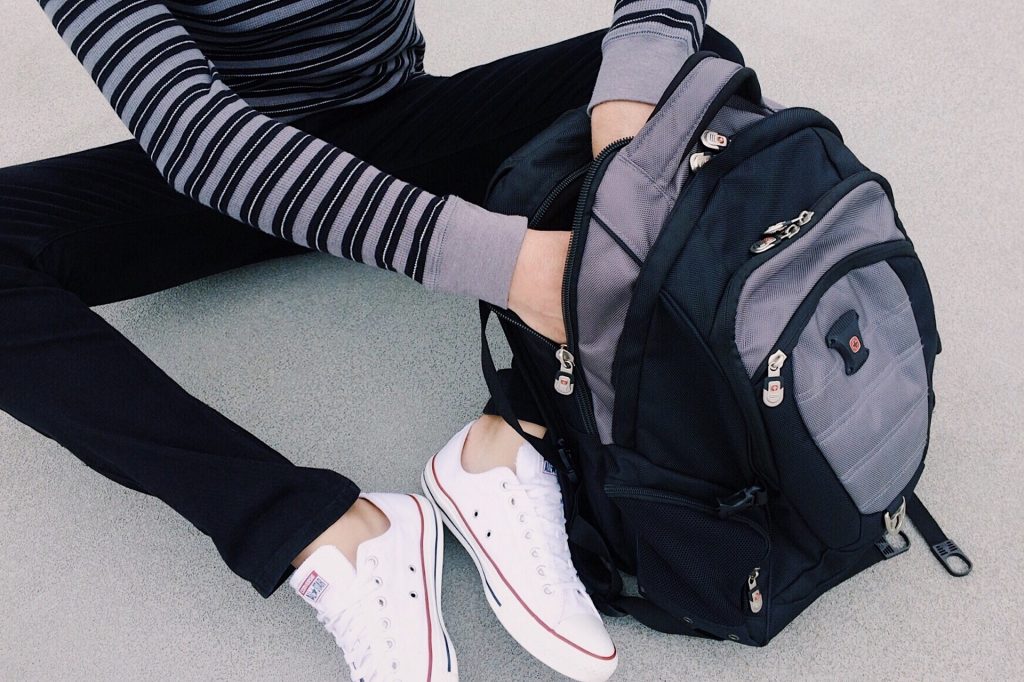 1. Pack by outfit, not options
Organize your suitcase with basics or pick a color scheme for your trip so everything in your luggage matches. You should be able to pick anything out of your bag and have it work. There are many times I would pack shirts or pants just in case I wanted to wear them, but then of course nothing else matched it but this one specific item so that had to come too. 
I've learned to pack by color or just staying classic and sticking to neutrals or black and white combinations. On our last trip we had to pack for both Las Vegas and Kihei, Maui and one of my color schemes was pink as I had some cute pink sandals that I knew I'd wear in both locations so other pink items went in my bag so everything worked when it came to wear it. 
Also beware of shoes, they're bulky and take up more space than you think they would. Really think about what shoes you absolutely need or wear your biggest shoes, like hiking boots or tennis shoes, to save space in your bag for clothing and slimmer footwear. 
2. Be an outfit repeater
Unless you're being chased by the paparazzi, no one will notice if you wear the same shirt or pants multiple times on a trip. It's such an easy space-saver by committing to rewearing your clothing options and no one has to know. This is even more true if you're on a longer trip or staying at an Airbnb where you can wash your clothing. 
3. Take old clothing
Have some undergarments that are holding on by just a thread? Bring them along for the ride and then toss them before you head home! This rule also applies to toiletries as you can bring travel-sized items and not bring them home with you. 
4. Reduce by 50%
If you don't want to go the route of packing by outfit, then lay out everything you're taking and then put half back in your closet. Chances are good you've packed many items in the past that never saw the light of day even though they came along for the journey. 
Also, a vacation is not the time to bust out that shirt or outfit you've been saving for a special occasion even though you've never worn it at home or haven't worn it in two years. If you're packing for your trip and get excited by something you found buried in your closet, that's great but leave it there until you get home. Take outfits you've been wearing or are comfortable in right now.
5. Go solid
Opt for shampoo bars, bar soap, or even toothpaste tabs to save space and not worry about major shampoo explosions like our dear friend Ross. These items are also more eco-friendly which is always a plus!
6. Use packing cubes
Packing cubes are one of my favorite travel accessories as it makes packing a breeze and makes your suitcase nice and organized. I know exactly where my swimsuits are, my workout clothes, or my fancy night outfits and only have to take out the one packing cube for it instead of pulling all my clothing out and piling it on the hotel bed. 
Even with the packing cubes I suggest you stick to the rolling method of packing your suitcase instead of folding your clothing. There are a few exceptions, like sheer material that folds down small anyway or long dresses or skirts which can get bulky when rolled. 
7. Invest in good luggage
Dropping a couple hundred bucks on a suitcase doesn't always seem like the sexiest investment but it can make a huge difference when you travel! Having a quality, lightweight suitcase that won't fall apart during your trip and can accommodate all your items can make a world of difference to your packing woes. 
8. Weigh your suitcase
If you're bringing a checked bag it's very important to be wary of the weight limits. As it starts getting full it's time to bust out the scale – especially if you plan to do some shopping on your trip and want available space to pack souvenirs. Start weighing your luggage to make sure you're within the limit, typically around 50 pounds or 23 kilograms.
While most airlines don't whip out a scale for carry-on bags, they definitely do the eye check or will ask you to drop your bag in their little dimension checker at the gate. Be careful of overstuffing your bag or making it look bulky or bulging with stuff.
Do you have a packing hack that I missed? Let me know in the comments!
Like the post? Share it now!