It's no secret Rick and I enjoy vacationing in Jamaica, we did both our engagement photos and honeymoon there! But this island, which about 2.8 million people call home, is so much more than a tropical vacation destination.
Though it does have amazing waterfalls, gorgeous beaches, and lush, mountainous rainforest to explore, the country is also famous for its people, culture, and food and beverage scene.
Its history is also varied and rich, at one time known for pirate activity and the "wickedest city on earth" in Port Royal, and at other times being known for its citizens' work toward independence from British rule. You could spend a week here and still need more time to learn about the country and its heritage.
Jamaica has so much to offer as a travel destination and if you want a fun nudge to start planning a trip there, read up on these fun facts about this charming island in the Caribbean.
Here are five fun facts about Jamaica!
1. It's the birthplace of Reggae
As soon as you hear the word Jamaica a certain musical beat will resound in your head and invite you to sway to the music. Reggae music, including Ragga, Reggaeton, and Dancehall not only makes you want to dance and sing along, but it's also been used as a tool for social or political change.
This style of music popped up in Jamaica in the 1960s and in 2018 it was added to the UNESCO's Representative List of the Intangible Cultural Heritage of Humanity list for its contribution to "discourse on issues of injustice, resistance, love, and humanity."
2. Jamaica is home to the second-oldest rum producer in the world
At more than 270 years old, Jamaica's Appleton Estate is the second-oldest rum producer in the world and the country takes its rum production seriously. In fact, Jamaica has one of the highest number of rum bars per square mile. The first documented rum production at Appleton Estate was recorded all the way back in 1749 and they've been providing the liquor for specialty cocktails ever since.
Today, there are five major distilleries in Jamaica (there used to be almost 150), but they still continue to supply the beverage in mass quantities. In fact, each year these distilleries produce enough rum to fill 20 Olympic-sized swimming pools. You can also get your hands on the most expensive rum in the world in Jamaica by purchasing a 1940 J. Wray & Nephew rum, coming in at $54,000.
3. Ian Flemming wrote all the James Bond novels in Jamaica
Flemming owned an estate, named Goldeneye, in Oracabessa Bay, and was so inspired by the island that he was able to create the famous James Bond series while living in Jamaica. The property is located near what's now called James Bond Beach and his old home is part of the Goldeneye Hotel and Resort.
Two of the Bond movies were also filmed on the island, including Dr. No and Live and Let Die.
4. Less than 5% of the Jamaican population is Rastafarian
The Rastafarian movement, or religion, began in the 1930s in Jamaica before being brought to other parts of the world. Essentially, Rastafarians believe they and others of African descent are the chosen ones and must return home to Zion, or Africa. All the tribulations and suffering put upon people with African descent are tests from Jah who will one day liberate everyone.
Rastas focus on living naturally, following an Ital diet, and twisting their hair into dreadlocks. The Ital diet is much like a vegetarian diet where the foods should be natural and come from the earth – so lots of fruits and veggies – and there should be little salt or additives. The idea of the diet is to improve Livity or the life energy that is within us and this pure diet increases liveliness.
5. Jerk cuisine dates back to the 1600s
It's all about the jerk in Jamaica! Jerk cuisine originated with the Maroon people of Jamaica and the Maroons took it with them when they hid in the mountains, away from the British that were colonizing the island. They began cooking meals underground to keep their whereabouts hidden but today this method of cooking with a blend of spices and pimento wood is widely celebrated and used as a lure to get you to stop for a bite.
Jerk is the term for both the spicy marinade as well as the cooking style that can be paired with a variety of meats: chicken, pork, fish, or lamb. Be sure to pair your jerk meal with a nice, cold Red Stripe!
Bonus fun fact: August 6 is Independence Day in Jamaica. In 1962, they were granted independence but at the same time they continue to be a member of the British Commonwealth.
Do you have any other Jamaica fun facts to add to our list? Share yours in the comments below!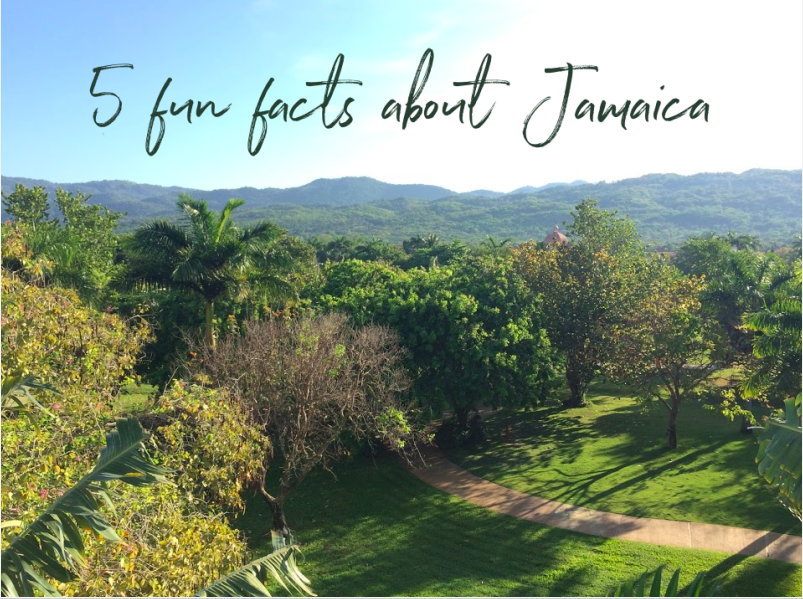 Like the post? Share it now!