Back in June of 2020 we had to cancel our big Europe trip that we had been planning since 2019 and it wasn't fun saying goodbye to all those travel plans but there was no way around it with COVID-19 raging the way it was and we had to pull our weight to stop the spread.
Since we canceled that trip we thought maybe things would be better by Christmas and booked a Christmas vacation in Jamaica. We absolutely loved our first stay at Sandals South Coast and decided that it was time for a return visit to see how the experience compared to our first one. While things aren't back to the level of normal we thought they'd be, we were still able to go on our trip following the travel regulations in place.
If you're interested in what it was like to travel to Jamaica during COVID-19, please click here.
While it was a weird experience traveling at this time, it was also kind of wonderful being able to feel like something was going back to normal as we made our way down the Caribbean for Christmastime. This was my first Christmas in the tropics and I couldn't wait to see what Christmas was like in Jamaica and at a Sandals resort.
Read our review of Christmas at Sandals South Coast to see if a future holiday getaway there is right for you!
Review of Christmas at Sandals South Coast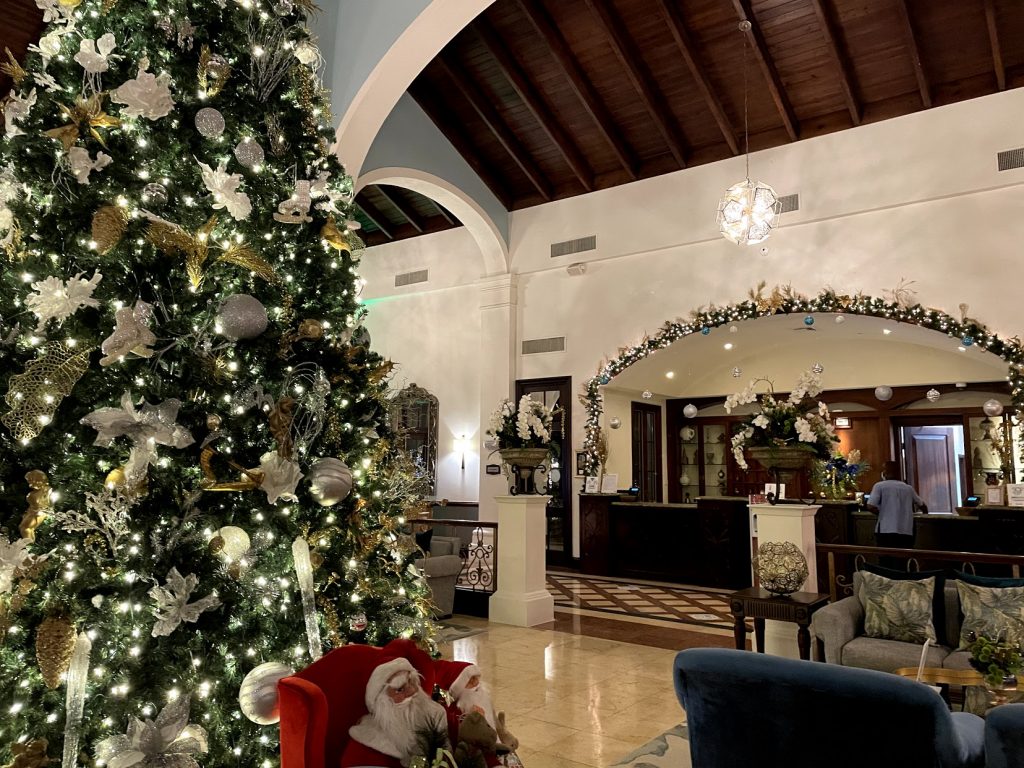 COVID-19 restrictions at Sandals South Coast
Before arriving to Sandals South Coast we did have to get tested for COVID-19 within ten days of our arrival and we had to apply for travel authorization. Upon landing in Montego Bay, we had our temperatures checked and we kept our masks on while inside the airport and on transportation to and from the resort. Once at the resort we were free to take off our masks and the only other time we had to mask up was during our spa treatment.
The staff wore masks at all times, there were hand sanitizing stations outside of every restaurant as well as right inside the door, outside the shops, inside the Club lounge, inside and outside the gym, and inside the spa reception area. We constantly saw staff members sanitizing door handles, rails going into the pools, chairs, and so on. They took the cleanliness and sanitization of the resort very seriously.
When it came to dining, there was always plenty of space between tables and many of the restaurants offer outdoor seating. The only place we noticed it getting crowded and people abandoning the six feet apart rule was at the bars.
We felt very safe without masks as the staff was good about theirs and it was a comfort knowing everyone had to be tested and show proof of a negative test before even being allowed to board a plane to Jamaica.
Accommodations
This time around we booked a Club level room instead of a butler level room and I have to say we really enjoyed the Club level. We had most of the same amenities, the concierge team could take care of any activity or restaurant bookings, we could access the Club lounge at any time for bottles of water, cocktails, or light snacks, and we even had exclusive access to on-resort activities, like a special snorkeling excursion.
Our room was on the first floor because we booked one of the swim-up rooms! This room type was brand new and had opened for stays on December 10. The room was spacious, well decorated, and had everything we needed.
Our room was furnished with a King-sized bed, mini fridge stocked with water, sodas, juices, beer, and a bottle of white wine and a bottle of champagne, a comfy couch and chair, a writing desk, closet with a safe, and our bathroom had a giant walk-in shower and separate bathtub. My only complaint with the bathroom was that counter space was limited, making it a bit hard to do makeup with everything cluttered in a little pile.
Stepping onto our spacious back patio we found a table and two chairs, huge soaking tub with privacy curtains, and then a little ledge in the pool with two loungers. This room was ideal for us as Rick could hide in the shade when he wanted to and I could soak up the sun next to the pool but we were still spending time together.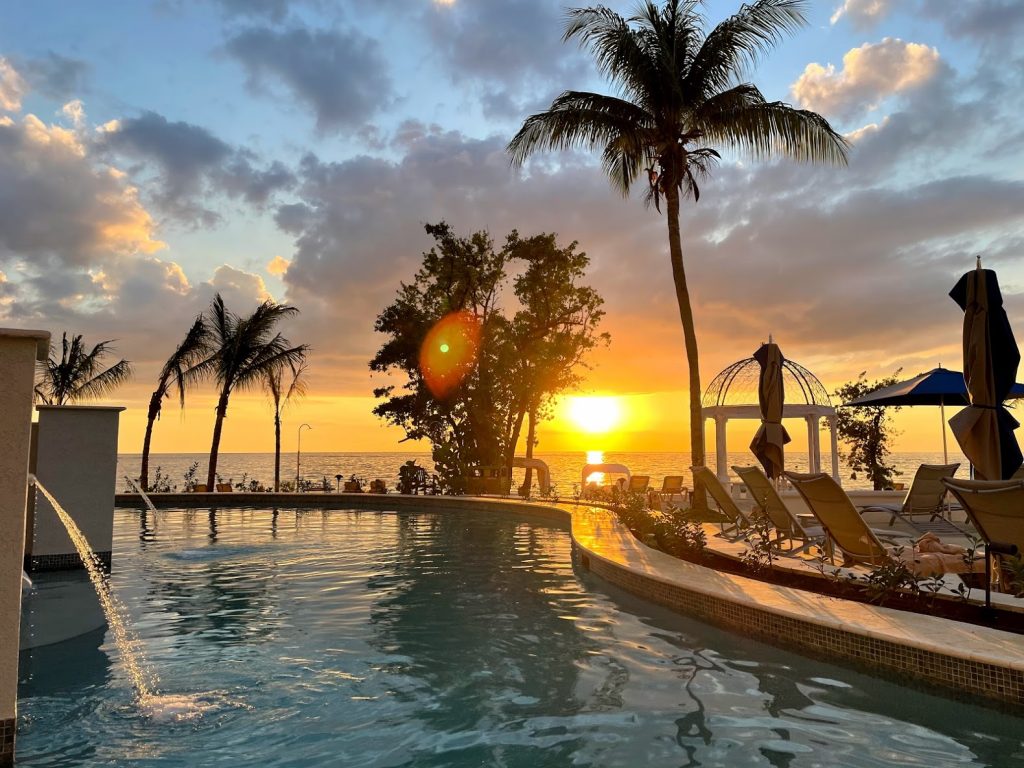 It was the perfect marriage of the last two rooms we've booked at Sandals as it had a semi-private pool area but also came with a great view of the beach – and our room was perfectly situated for watching the sunset!
The only con to this room type was that where our room was on the resort, while it did have a great view, we were also quite close to the Dutch pool and therefore all the chairs around the pool. It wasn't that big of a deal for us but it did mean that people could see right into our pool area and patio – and we could hear everything going on at the pool.
We also didn't know what to expect, like could we just swim across and then go to the pool bar from our room? We couldn't as there were planters between the ledge of our pool and the main area, but if we swam in the shared pool toward the beach, there was another sitting area we could access that then had stairs down to the sidewalk to take us where we wanted to go.
We had daily housekeeping service as well as a stop from the beverage cart to refill our mini fridge every day. With the app, you can also make requests and we did request extra water for our fridge one day and a few hours later they made another stop to accommodate our request.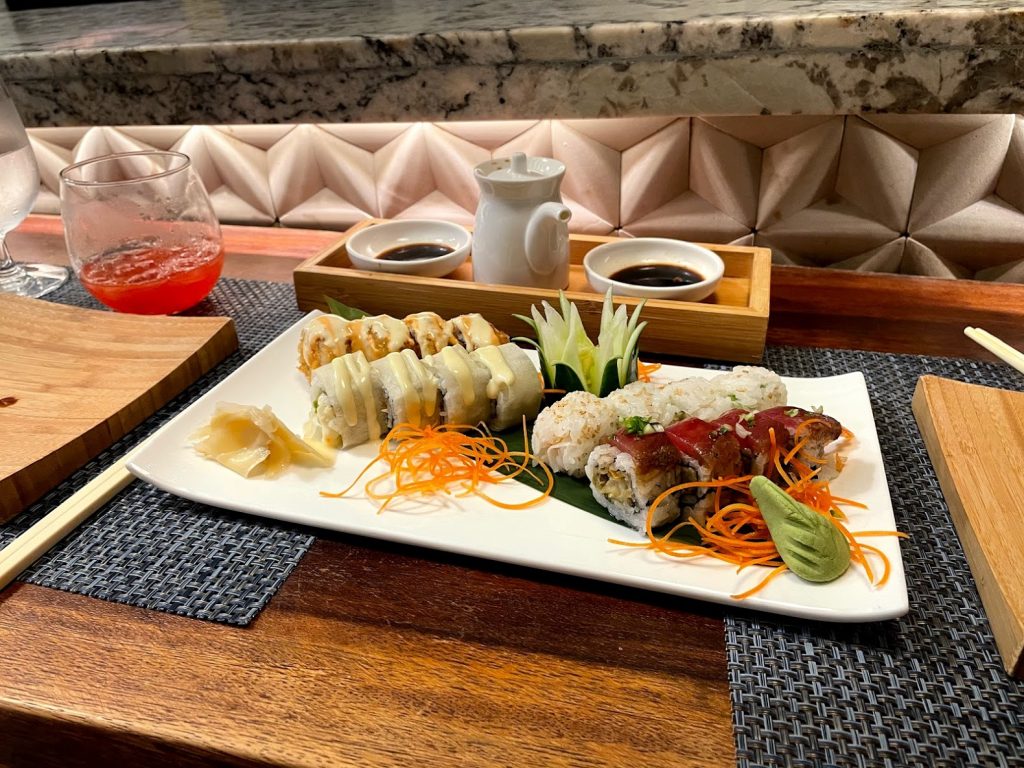 Restaurants & bars
One reason we choose to return to South Coast was due to the exquisite food served at the restaurants! Seriously, I cannot say enough positive things about the quality of the food and drinks here. From the quality booze served at the bars and stocked in the rooms to the delicious food plated up in the restaurants, this is one of the reasons we choose to return to Sandals time and time again as we know the food and drinks will be amazing and high-quality.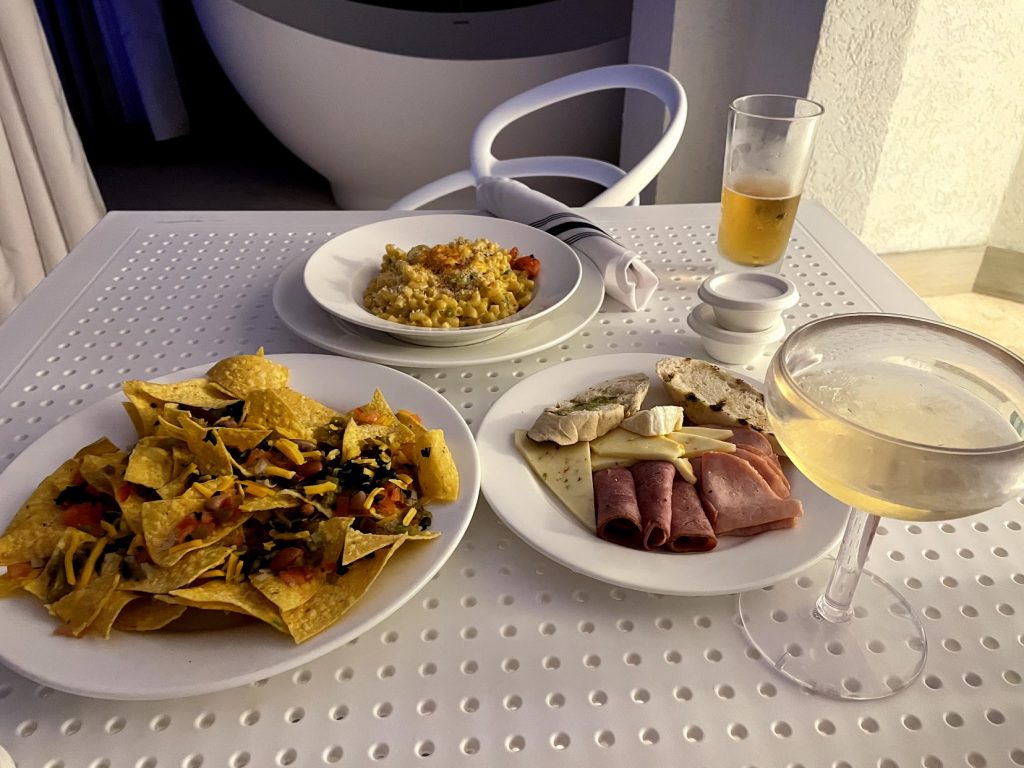 On the day we arrived to the resort our flights were a bit delayed so we go there right before 10 p.m. At check-in in the Club lounge the staff member quickly got us to our room so we'd have time to order room service before it ended at 10:30 and we were so grateful to her. We fully expected not to be able to get anything to eat when we got to the resort – even though we later found out there is late night dining available at Neptune's, but all the same it was nice to have our food delivered right to our room. We ran over to the Latitudes bar to get some cocktails and then waited for our order of the mac and cheese bake, charcuterie and cheese board, loaded nachos, and the devil's layered chocolate cake for dessert.
On our first full day there we got up early and got specialty coffees from Cafe de Paris and I got a banana and Nutella crepe, and then later we grabbed pizzas for lunch from Guiseppe's to take back to our rooms. I got the seafood pizza and Rick got the seafood calzone – both were amazing and we swapped half each.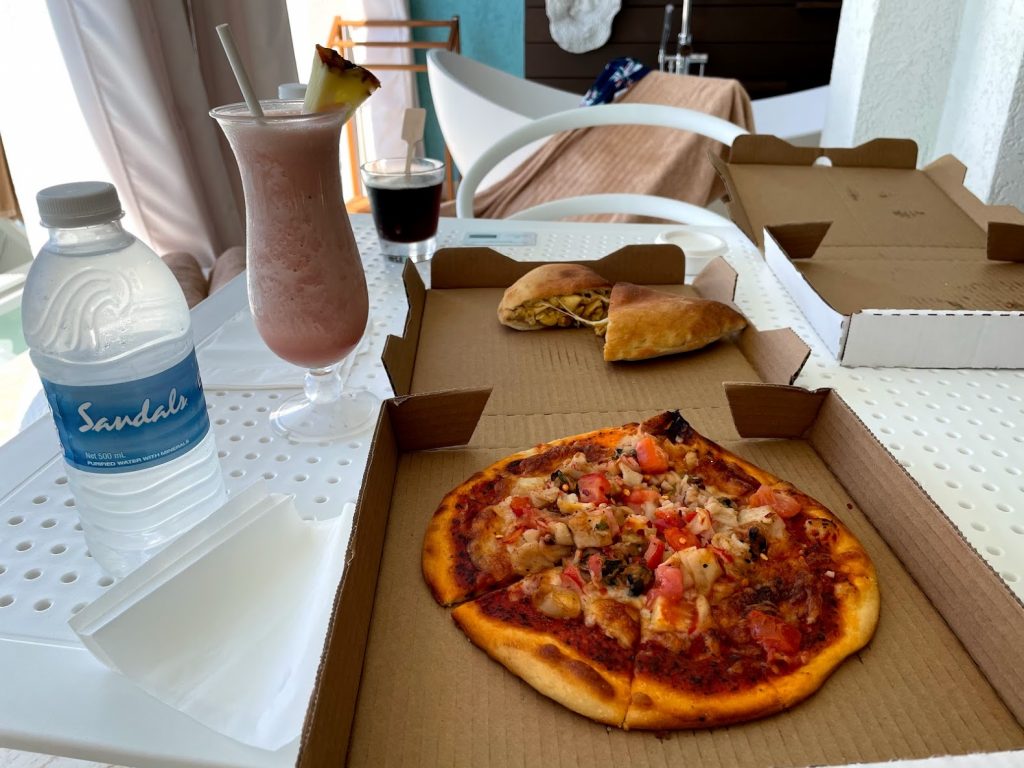 I could not wait for dinner as we were dining at Sushi on the Sand and I'm pretty sure they lace their food with some sort of addictive substance as I'm currently suffering withdrawal from not being able to stuff my face full of the amazing sushi. The crispy Philly roll is to die for! We ordered two plates of sushi to sample the crispy Philly roll, the champagne lobster and crab roll, tuna tataki, crispy spicy tuna, and the snow crab. Everything was amazing and I just couldn't get enough. We also tried their house cocktail as each restaurant makes its own and the sake-based punch paired perfectly with our dinner. We wrapped up our meal with their banana tempura which was quite good.
The next morning we went for breakfast at Eleanor's and I got an omelette made with shrimp, tomatoes, onions, and cheese, with a side of baked beans and Rick ordered the classic eggs Benedict with a side of bacon. It was pretty average as far as breakfasts go – we find we much prefer to wait for lunch and then overindulge during dinner during our trips here.
For lunch we stopped at the Jerk Shack to get some jerked chicken and sausage and festival and pick up some Hummingbird drinks. Rick's jerked chicken was much better than my sausage as it was so tender and perfectly seasoned, we highly recommend it.
One of our favorite bars at Sandals South Coast is Latitudes as its out on the water, has hammocks, and is the perfect place to watch the sunset. We decided to grab a hammock and order one of the Christmas cocktails, which we got lucky as they were doing work on the bar and only three hammocks were available and Rick snagged the last one with a good view over the ocean.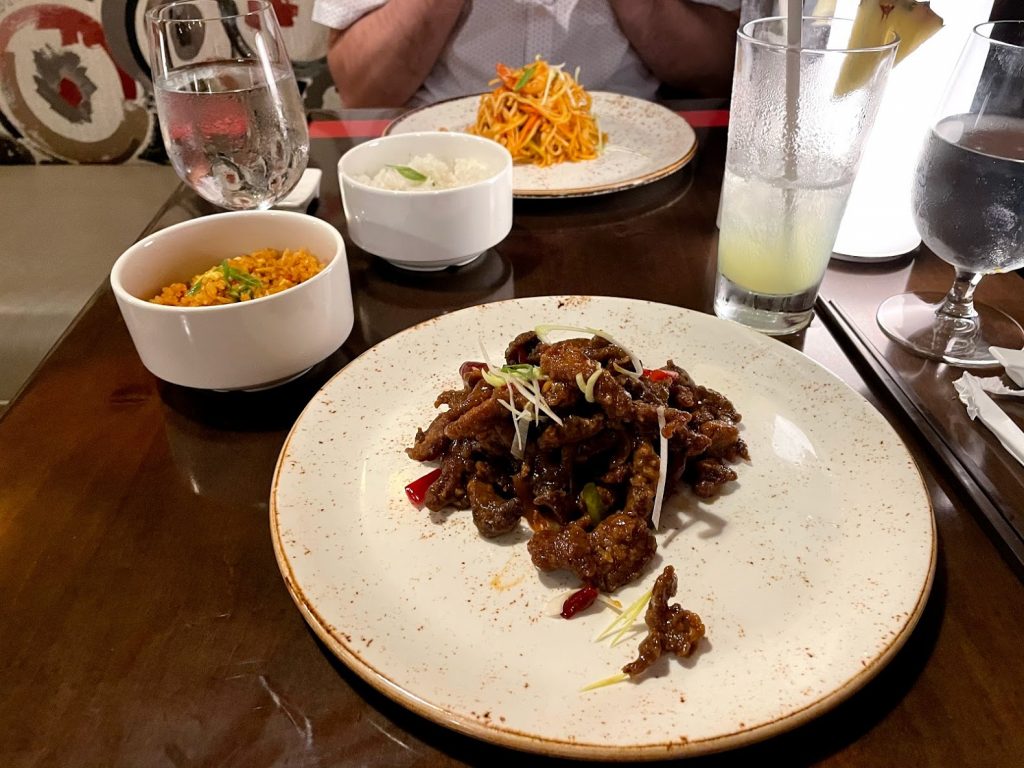 After watching the sunset at around 5:40 p.m., we made our way to Jasmine's for some Asian cuisine. We started with the shrimp kisses and vegetable and shrimp potstickers which we easily could have continued eating all night. I ordered the beef Szechuan with fried rice and Rick got the Mee Goreng Noodles with Jasmine rice. Both dishes were good, Rick's definitely had a kick of flavor and my beef was cooked perfectly – crispy on the outside and tender on the inside. They too had a specialty pineapple cocktail that we ordered with our dinner.
The next night we went to Schooners Seafood Grill which has a nice view over the water and is on the far side of the resort, making it pretty quiet. Here we started with the lobster bisque and smoked fish rillettes, the rillettes was the best appetizer of the bunch with an intense smoky flavor. It was like a fish dip that came with bread. For our main course I had the lobster and Rick had the Caribbean snapper and clams. If you order dessert, I highly recommend the banana creme brulee.
Our last day there we made sure to get another seafood pizza and calzone stuffed with ackee and marlin for lunch before our massages and then for dinner we dined at Neptunes, one of the restaurants we missed during our fist stay here at Sandals South Coast. Rick ordered the crab cake to start, which was amazing! Flaky on the outside and so flavorful on the inside. I started with the calamari which was good as well. For our entrees, Rick had the mahi mahi and I did the cioppino and it was wonderful.
There was not a night during our trip where we didn't have excellent food and there are many dishes that I'd be happy to reorder again and again, but there are also many things we didn't get to try on this trip. One thing both Rick and I commented on was that we love the portion sizes served here as they're on the smaller side but still packed with flavor. Between appetizers and dessert, you won't leave the table hungry but you won't leave it feeling like you need to go lie down for six hours either.
Gym
To make room for all of that delicious food I did visit the gym a few times during our stay. With restrictions around COVID-19, the gym capacity was reduced down to 8 people but I never saw more than five or six people in there at one time. The gym has about five treadmills, a few ellipticals, and a few bikes, then the other side has weight machines and free weights.
The gym also had hand sanitizing stations outside and right inside the front door, plenty of sanitizing wipes for the equipment, the towels were clean and packaged in plastic wrap, and there were always bottles of water up for grabs.
The equipment is standard Lifetime machines but gets the job done. I will say it does get quite warm in the gym, even with the fans running, as there's no AC going. So if you do go to the gym, prepare to be hot and sweaty.
Resort activities
Beyond the gym and tennis courts, there are also on-the-water activities included in your getaway, like kayaking, sailing, standup paddle boarding, snorkeling, and this time we noticed this couch tubing thing we hadn't seen before. Rick and I did some kayaking and snorkeling on this trip though one of these times I do want to try the sailing!
You can begin checking out kayaks and SUP boards at around 9 a.m. and I'd say activities go until about 4 or 5 p.m., though they're more popular in the morning. We've never had any trouble being able to do what we want to do and they don't really care how long you're out with the boards or kayaks.
For snorkeling, it takes about five minutes to get to the reef and then you have 20 minutes in the water, which is plenty.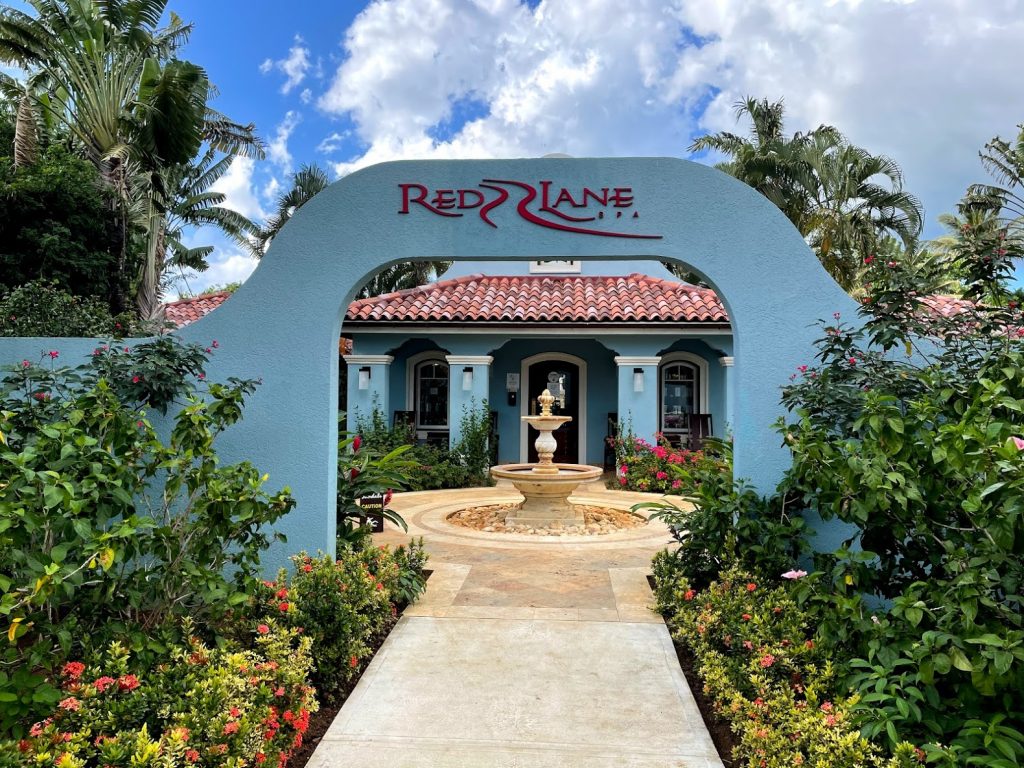 Spa services
We booked a couples massage on Christmas to end our trip on a high note! We've done their couples massage out on the beach before and it wasn't as romantic as we imagined it would be so this time we went traditional and did the scents of love service indoors. For this one, you choose your scented candle (there are three options) and then there's a little lighting ceremony where you share an affirmation or share what you love about your partner as you light each other's candles. The candle is a soy candle so they end up using it during your massage and it's quite delightful.
The locker rooms are nice but simple, you get a locker that's stocked with a robe, towel, and flip flops and they have changing rooms, bathrooms, showers, and a relaxation area. The sauna was closed during our visit due to COVID.
Our massages were an hour and since we've been before we each had a 5% discount so our total, including gratuity for both therapists, was about $325.
Photo session & resort photographers
One thing I love about Sandals is the resort photographers that stroll around the property during the day and then are available for complimentary photo sessions in the evening (they are available during the day too but let's be honest, everyone wants sunset photos anyway!).
You do not have to buy any of the photos if you don't like them and the staff at the photo shop were patient with us as we went through the photos taken during our trip. We ended up buying about 40 images and got a link we could download them from as well as 20 printed photos we can give to family and friends.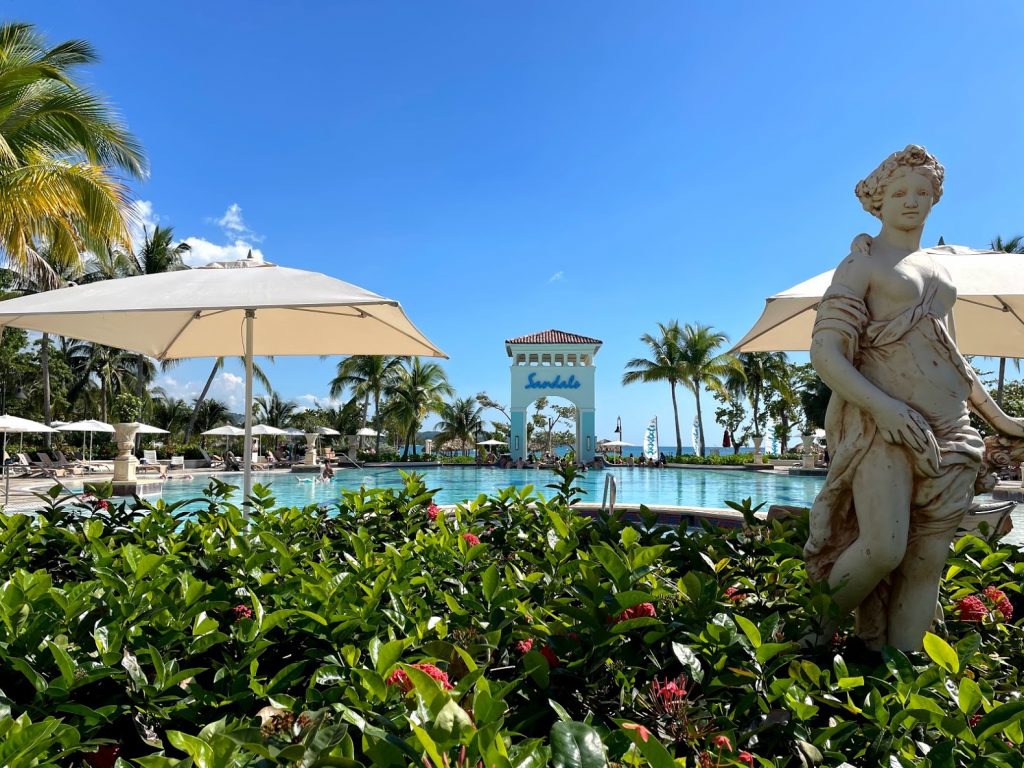 December weather
The weather was perfect during our stay over Christmas with the average daily high of 82 degrees Fahrenheit, but like any tropical destination, we did have some rain clouds and light drizzle roll in around 3-4 p.m. each day. It never opened up and rained on us but it did get quite dark on Christmas Day.
Sunrise was at 6:40 a.m. and sunset around 5:30 p.m., just in case you need to know timing to get out for some amazing photos.
As far as it feeling like Christmas… The resort was decorated nicely and there were Christmas trees and decorations everywhere – people even bring their own lights – but it didn't feel quite like Christmas to me. Granted, I grew up in Minnesota where it's always a white Christmas and -20 degrees, but the resort did do a good job of making it feel like the holiday with the decor, specialty cocktail menu at the bars, and the entertainment on Christmas Eve included a great rendition of "All I Want For Christmas is You," with backup dancers wearing bright red and green.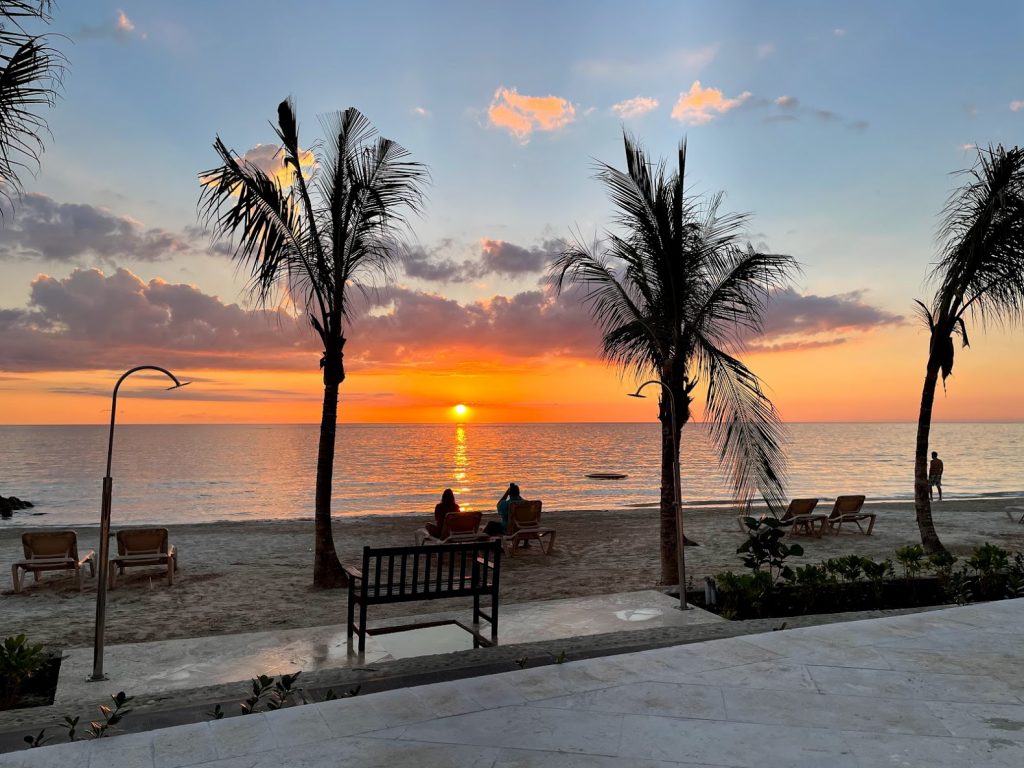 Tips for our next Sandals booking
One thing we learned on this trip was to stop booking flights through them. They do offer to bundle your flights and hotel and allow you to book with American Airlines and while we've been relatively lucky booking flights through Sandals in the past, this time we came to the conclusion it's better to just book our own flights. About a week before our trip our flights got bumped back, so instead of arriving at the resort around 5:30 p.m., we got in at 10 p.m., and the only way to change that is to call Sandals.
I know that doesn't sound that bad but we had originally booked a butler level room before booking the new swim-up room and I spent 45 minutes on the phone just to change room types, not dates or anything, just the room. It's a first-world problem for sure but we didn't want to get stuck on the phone for three hours trying to change flights when the new flights could change right before the trip too. Next time we'll book our own flights that way we only have to deal with the airline if things change, and maybe even fly to Charlotte or Miami the day before so we can get to the resort at check-in, around 3 p.m.
We'll also want to make sure our reservations are synced to our Sandals app on our phones as we used it constantly to look at menus, look up hours for restaurants and activities, and discover what was on the calendar for resort entertainment.
All-in-all, our Christmas at Sandals South Coast was magical and a much-needed getaway after what 2020 brought us. The resort was just as great as we remembered from our first trip and I know for sure we'll be returning for another visit in the future.
Have you stayed at Sandals South Coast? Tell us what you thought of the resort in the comments below or give us a shout on Twitter!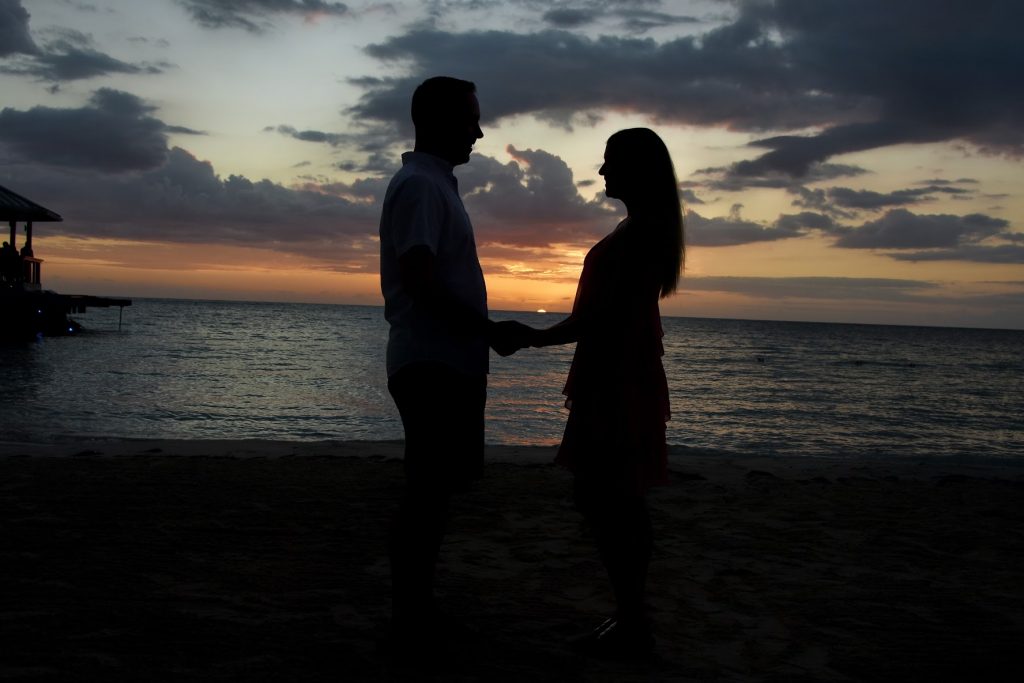 Like the post? Share it now!