A vacation in Florence is one you won't want to forget and by knowing where to go for amazing photos of this beautiful Renaissance city, you'll be able to remember it better later on.
Florence, or Firenze, is home to stunning cathedrals, beautiful architecture, museums filled with impressive works of art, and amazing Tuscan cuisine and wine. Florence is also considered the birthplace of the Italian Renaissance and the originating city of today's Italian language. Florence is a great city for culture, fashion, food, and offers countless photographic opportunities.
Next time you find yourself strolling through Florence, be sure to snap a few photos along the way at these iconic destinations.
Best places for photography in Florence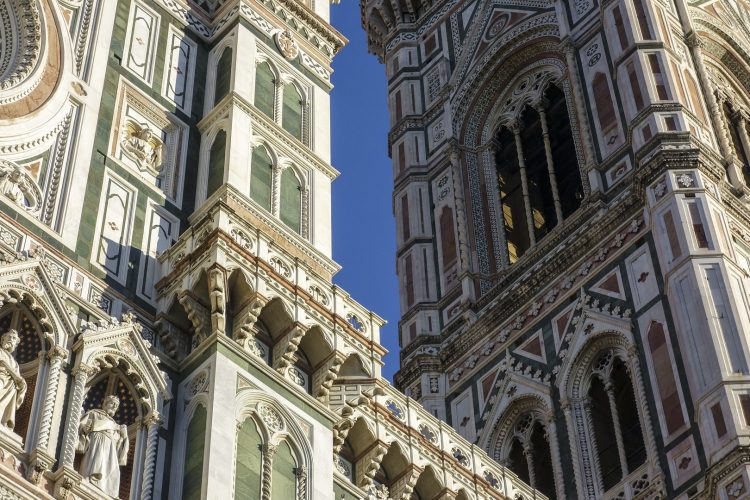 Il Duomo
The Duomo is impossible to miss in Florence and the cathedral catches your attention with her colorful marble exterior. She's a popular subject for photos in Florence and I definitely recommend you capture one for yourself – even if you don't step inside and view the stained glass windows, the frescoes, and religious artifacts.
In front of the Duomo
You might have to back up a bit to capture the whole cathedral but standing in the Piazza del Duomo provides wonderful views of the church and by moving through the piazza, you can capture the 1367 Florentine church at different angles for incredible photos.
From the top
Make a reservation, climb the 463 steps to the viewing terrace, and snap some incredible shots of the church and the city sprawling out beneath your feet.
Giotto's Campanile
Be sure to get some standalone shots of the campanile! You might have to get creative with your squats or crouching down to get the whole bell tower in your shot.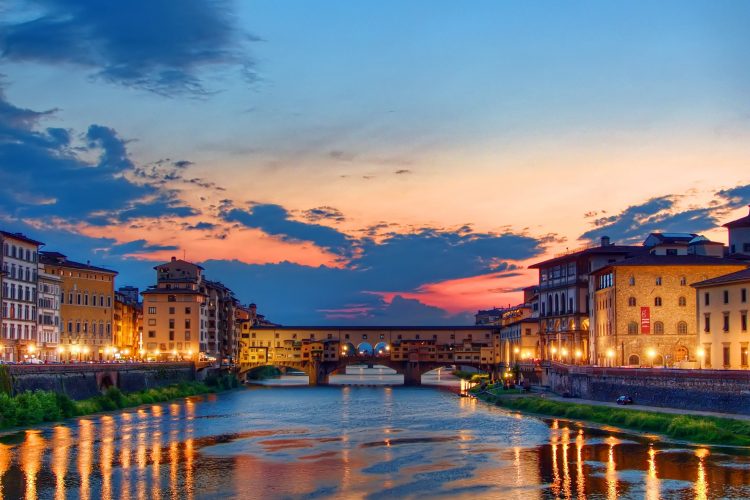 Ponte Vecchio
Probably the second-most recognized landmark in Florence is the Ponte Vecchio (Italian for "old bridge"). Get your souvenir shopping done as you make your way across Ponte Vecchio by visiting the vendors still selling goods along the bridge. You can easily get the bridge in the background of many a photo as you make your way through Florence, but for dedicated Ponte Vecchio photos, try these locations listed below.
From Ponte Santa Trinita
OK, you'll visit another bridge to snap a photo of a different bridge, but the view from Ponte Santa Trinita puts you in the perfect path to snap a great photo of Ponte Vecchio. Chances are, you've seen Ponte Santa Trinita in pictures of Florence, but just didn't know it. It lies behind the more well-known bridge and was originally built in 1252 to connect the north and south sides of Florence across the Arno. It now holds the honor of being the oldest elliptic arch bridge in the world!
From Ponte Alla Carraia
Take a wild guess if this is another bridge to visit to see Florence's most famous bridge. It sure is! This five-arched bridge was first built in 1218 and has been destroyed by flooding and bombing over the years – the current structure was complete in 1948.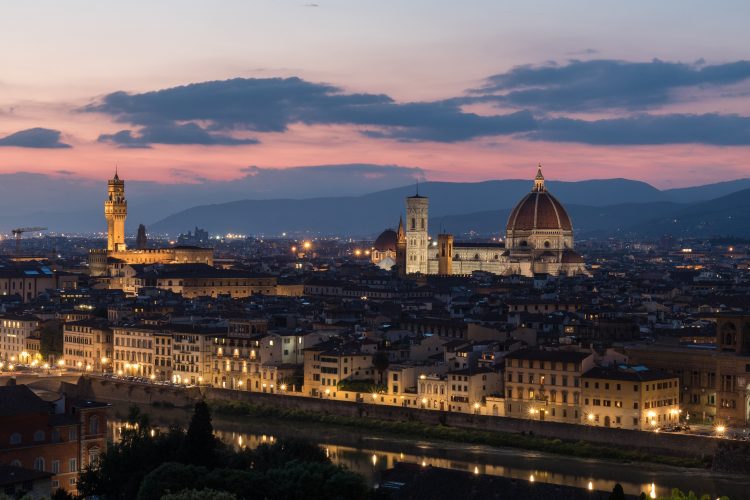 Florence piazzas, streets, and skyline
Part of traveling to a new city is engaging with it and its residents. Immerse yourself in city life at these popular piazzas or city squares or get incredible views of the whole city from these unique vantage points.
Piazzale Michelangelo
If you want the most stunning sunset photo in Florence, go to Piazzale Michelangelo – though be prepared for the crowds who also want to take advantage of this Florence photo location. There are several bars and gelaterias around here so you can indulge in something delicious as Mother Nature indulges her artistic side with a spectacular sunset.
Piazza della Signoria
Want to capture city life and the hustle and bustle of its residents and visitors? Head to Piazza della Signoria! See sculptures (including a replica of the David by Michelangelo, the real one is at the Accademia) and snap shots of people heading in and out of the Palazzo Vecchio or waiting to meet friends as this piazza is still a popular spot for meeting friends.
Piazza della Repubblica
Another fantastic option for architecture and city life is Piazza della Repubblica. Snap a photo of the carousel, focus on the architecture in the square, and get a shot of of the Column of Abundance. This main square is also home to shows and street artists in the evening – making for some creative snaps of life in Florence.
San Lorenzo Market
The smell alone might lure you to San Lorenzo Market as you stroll along the stalls selling quality leather goods, as well as traditional souvenirs. The market is a great photography location in Florence to capture everyday life and its busy streets.
Mercato Centrale
While visiting the outdoor San Lorenzo Market, head inside to tour Mercato Centrale – though these photos will be focused on artisanal food instead of clothing, jewelry, or other merchandise. The market is open from 10 a.m. to midnight. Stop at the birreria (brewery) or enoteca (wine bar) for a drink and a moment to relax inside the gourmet food court.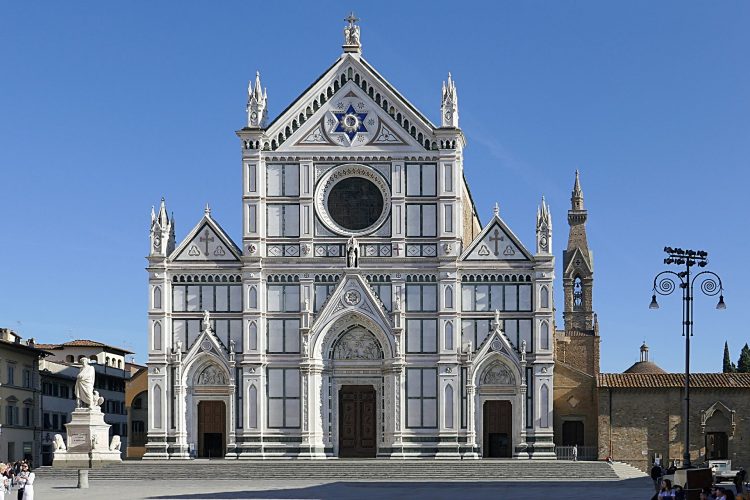 Santa Croce
If you want another church as the subject of your photos in Florence, visit Santa Croce and the Piazza di Santa Croce. The church is the final resting place for Machiavelli, Michelangelo, and Galileo Galilei. Interesting fact – Galileo wasn't allowed a Christian burial until 95 years after his death. You can also visit a memorial in Dante's honor, see the chapels, and take in the stunning frescoes inside the church.
Palazzo Vecchio
If you don't have hours to spend roaming the museums in Florence but still want some historic or artistic elements to your photos, head to Palazzo Vecchio! This open air museum offers free entry and you can get some excellent shots of the statues and fountains within it.
Florence gelaterias
Show off your cool treat with a beautiful background of a shop- and restaurant-lined street in Florence. Obviously the gelato is the main focus of your photo, but the colorful backdrop doesn't hurt its chances of going viral on Instagram either.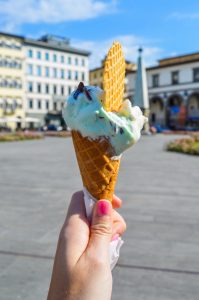 Some popular gelaterias to get picture-perfect scoops include:
Gelateria La Carraia
Perche No? (I just love the name, too – "Why not?")
Bar Vivoli
Procopio
Gelateria de' Neri
Cantina del Gelato
Rivareno
Boboli Gardens
While the colorful buildings and vibrant streets of Florence leave you with endless photographic opportunities, if you want a pop of color in your vacation pics, head to Boboli Gardens. Walk among the fountains, sculptures, and stunning greenery. Besides the beauty inside, you're afforded a wonderful view of the city and rolling Tuscan hillside.
Wine bars, terraces, and restaurants
Document your foodie tour through Florence by taking quality photos of your food. I also recommend taking yourself on a self-guided wine tasting tour of Florence by visiting wine bars and sampling local Tuscan favorites – if wine's not your thing, opt for an aperitivo or cocktail.
During the summer, you can find many rooftop terraces offering happy hour specials or hotel restaurants open to non-guests. Find some amazing views of the city while you sip on an amazing glass of wine or specialty cocktail.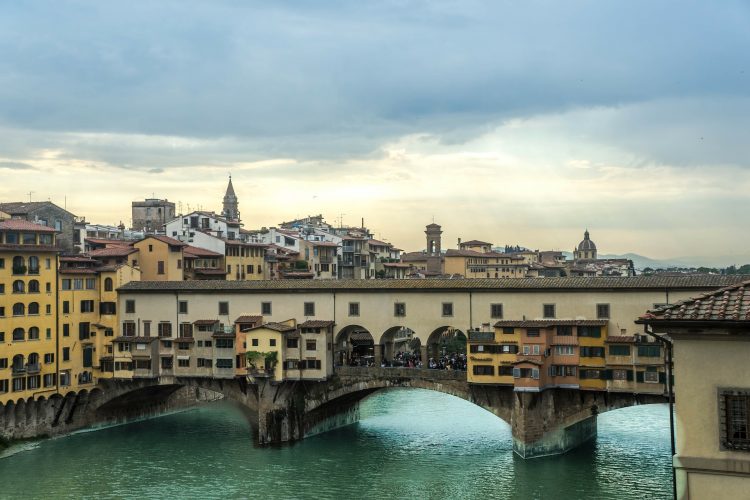 Some popular terrace destinations for an aperitivo and photo opp in Florence include:
What other photography locations in Florence have you discovered? Share them with us in the comments section!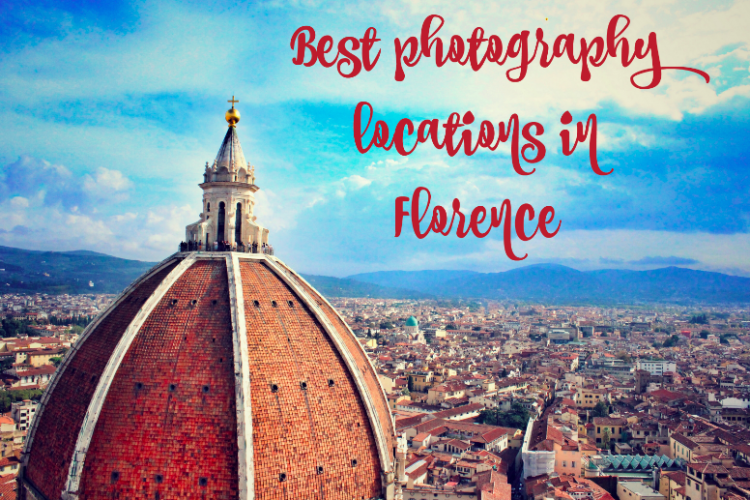 Like the post? Share it now!