Sagrada Familia is definitely a must-see when you travel to Barcelona, Spain. It's a true work of art, both inside and out. Rick and I even stayed behind after our tour group went back to the hotel to stay a bit longer and soak up the vibrant blues and warm reds and to discover the exquisite details of this impressive basilica. It's a surreal experience and one we definitely recommend to anyone visiting Barcelona.
The basilica has been under construction for over a century – which is basically a bonus fun fact! Construction started in 1882 and by the time of Gaudi's death in 1926, it was only a quarter of the way done. It's estimated to be complete in 2026 but I'm guessing the pandemic has added another few years to the timeline, putting it close to 150 years to complete.
The church has had its fair share of praise and criticism around its design. Some, like George Orwell, think it's hideous and some, like myself and Rick, think it's beyond beautiful. You may love it or you may hate it, but once you go you'll see why it's one of the best things to do in Barcelona!
While everyone knows you have to see Sagrada Familia, there are some fun facts that not everyone knows about the almost-magical building.
5 fun facts about Sagrada Familia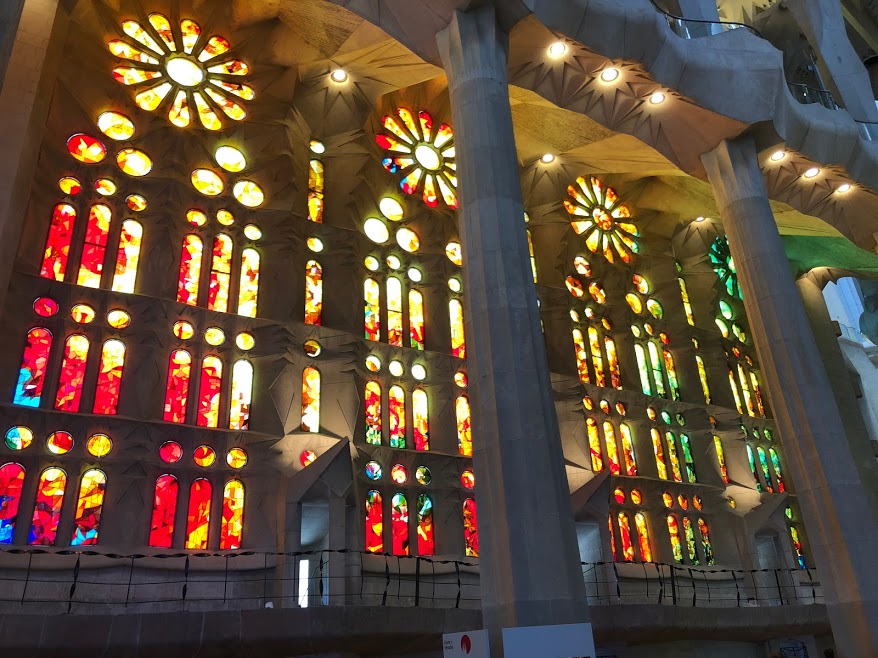 1. Antoni Gaudi wasn't the first architect
His name obviously is the first that comes to mind when you think of Sagrada Familia as his distinctive style is all over the building, including his devotion to reflecting nature in its structure, but he was not the first architect. The church was originally designed by Francisco de Paula del Villar y Lozano who had plans for a more classic Gothic church. He left the project in 1883. Funnily enough, Gaudi had worked under Villar during his work on the apse of the basilica of the Monastery of Montserrat.
2. Antoni Gaudi is buried here
While he may not have been the first architect to work on it, he's making his presence permanent as he's buried in the church's chapel of the Virgen del Carmen.
3. It will have 18 towers
Right now the giant work of art has eight towers but when it's complete it will have 18 to represent the 12 apostles, the evangelists, the Virgin Mary, and the tallest will be for Jesus Christ.
When it's finished, it will also be the tallest religious building in the world, measuring 172 meters tall.
4. It was burned in 1936
During the Spanish Civil War, a group broke into the basilica and set fire to the crypt and vandalized the place. Several of Gaudi's plans and models were destroyed. Fortunately the architects working on Sagrada Familia after Gaudi's death remained faithful to his vision, while also bringing their own style to the design.
5. It's a UNESCO World Heritage Site
Okay, this one might not be much of a secret but it's kind of a surprise seeing as the building isn't even finished! Sagrada Familia got its designation in 1984.
What's your favorite fun fact about Sagrada Familia? Tell us in the comments below!
Like the post? Share it now!