Back in August I went on a girls' trip to Seattle with some friends and we decided a little road trip was in order so we found ourselves heading toward Leavenworth.
Leavenworth is about two and a half hours from Seattle and located in the beautiful Cascades region. It's a charming Bavarian village that goes all out on its German and European theme.
Which means I totally loved every second of being there!
It was sold to me as a tourist town with plenty of wineries and wine tasting rooms serving up amazing Washington wine. No one had to say anything else to convince me to go.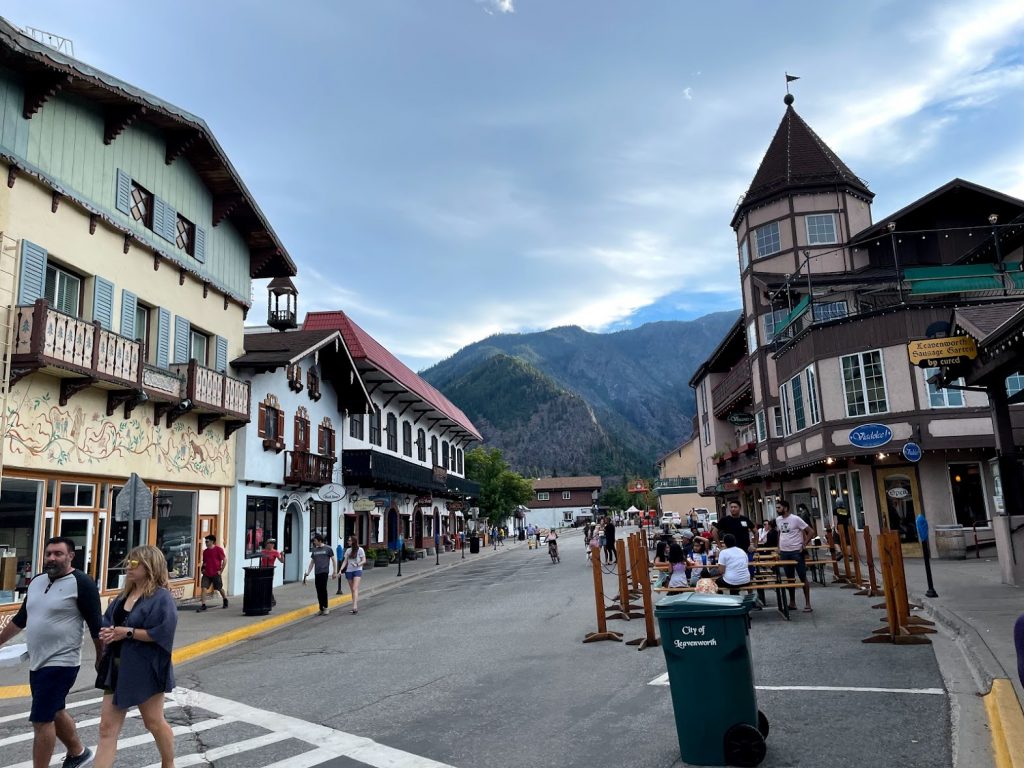 I mean look at it!
I felt like we'd been transported back to Germany and I was ready for it. We had planned to stay two nights in the town but with its proximity to Seattle you could definitely make a day trip of it or just plan to spend one night there – especially if you plan on checking out the breweries and wineries like we did!
So, if you want to plan a visit to Leavenworth, here are my top picks for things to do if you only have a day there.
A one-day Leavenworth travel itinerary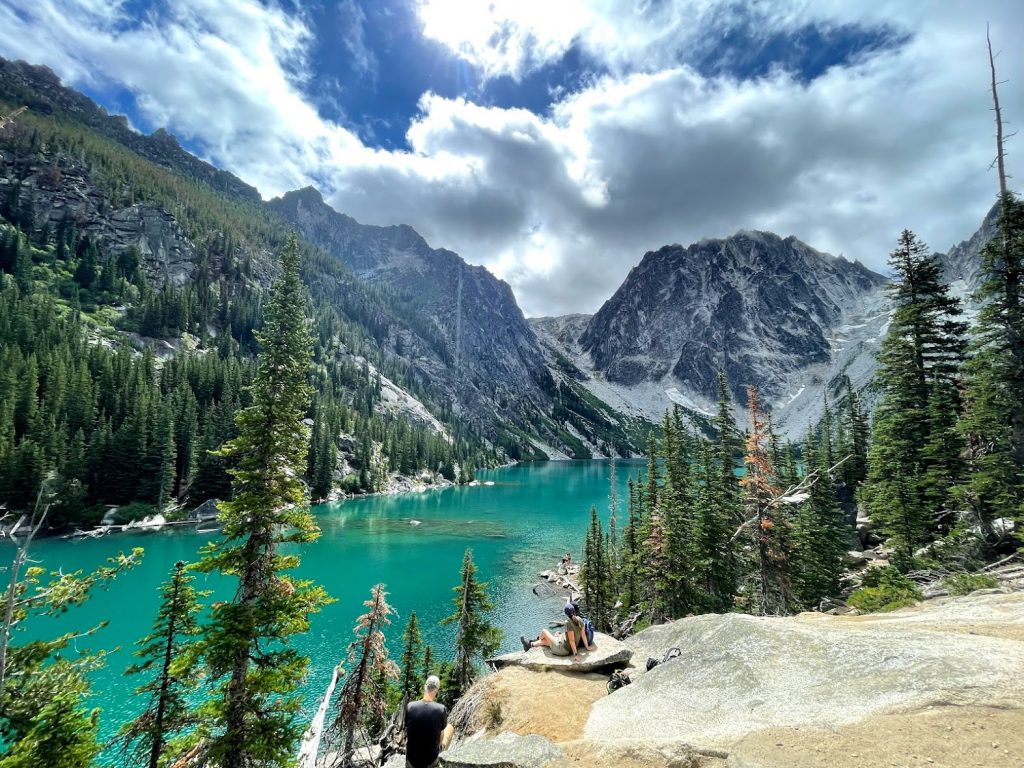 Hike Colchuck Lake
This is a gorgeous hike near Leavenworth that's completely worth the trek up for cool views and cool water. It's an eight-mile out-and-back hike but we made a whole morning of it by packing our swim suits and inner tubes to chill on the lake after a snack.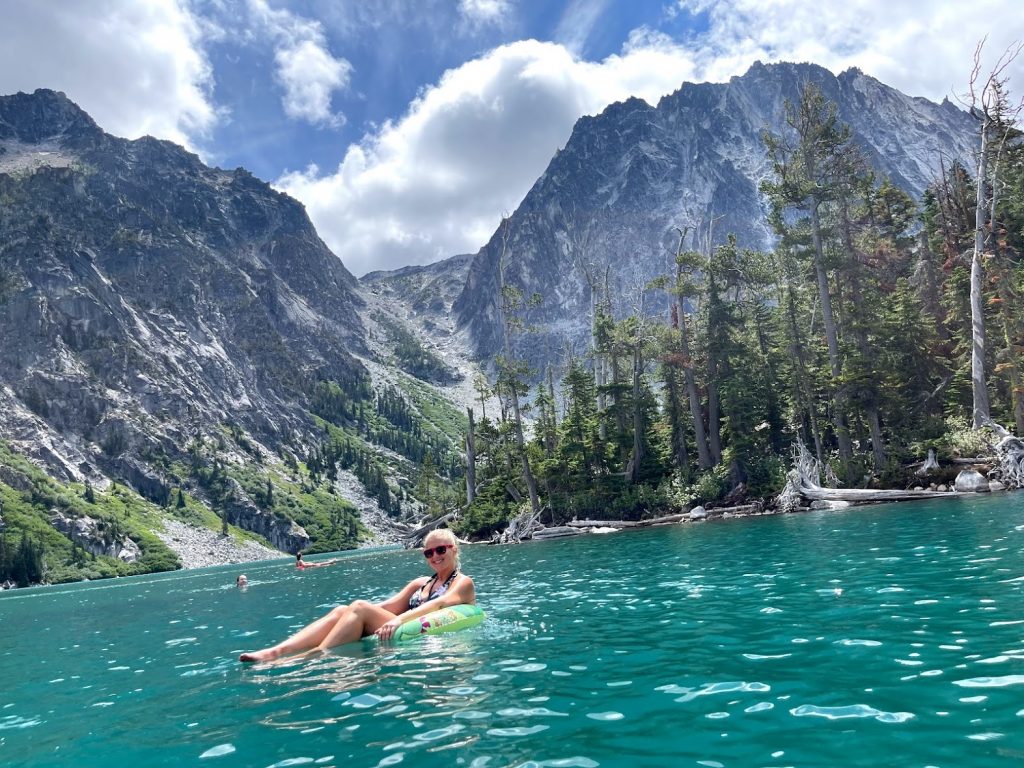 If you skip the floating in the water and get up early enough you can definitely fit this in in the morning to be ready to chow down on some German pretzels, spaetzle, and good beer later in the day.
The lake isn't the only beautiful attraction on this hike as the forests you walk through are gorgeous, there are plenty of breathtaking mountain views, and we even spotted a bear and other wildlife on our excursion into the Washington wilderness.
If you like the idea of chilling on the water but don't want to pack your hiking boots there is also river tubing in downtown Leavenworth. We went with Blue Sky Outfitters who provided our tubes and paddles (bright yellow frisbees) and included transportation. Check-in was easy then we got on a bus and got dropped off and then we got off the Wenatchee River at Waterfront Park.
Our tubing adventure lasted about an hour and a half but you really go at your own pace. We stopped for a bit on a little beach to extend our time and enjoy some beverages. Pack a dry bag and only bring things you're comfortable getting wet. There is no place on the tube or with the company to store things you want to keep dry. We all put our phones in dry cases so we could take photos as we floated along.
Go wine tasting
A big selling point of Leavenworth for me was all the wineries located in town and I made sure we visited a few!
Some of the wineries we sampled their varietals at included:
Chateau Faire Le Pont Winery
Hard Row to Hoe Vineyards
Patterson Cellars
Many of the wineries offer flight tastings so you can sample different wines and my girlfriends and I definitely opted for that option. We sampled delightful whites, sparkling wine, and robust reds.
Many of the wine flights are affordably-priced, like the Chateau Faire Le Pont Winery had a five-wine flight for $10. The pours were healthy at each winery and really allowed you to taste test the wine and enjoy it. Most of the wineries had both indoor and outdoor seating and we never had trouble finding a table.
The only problem we did run into was that many of the tasting rooms close around 5 or 6 p.m. so plan to get there early!
If you check out Hard Row to Hoe Vineyards, be sure to ask your server about the winery's name as there's a reason behind that name.
Go shopping
The town reminded me of a Bavarian Estes Park, the touristy town that's home to The Stanley Hotel (inspiration for The Shining) and the entrance to Rocky Mountain National Park. In the downtown area there are tons of little shops selling unique souvenirs, clothing, wine and beer glasses, local art and sculptures, jewelry, and so much more.
I made sure to add to my shotglass collection but my Leavenworth one comes in the style of a mini stein. It's adorable.
Eat all the German food
I'm pretty sure I ate my weight in pretzels, spaetzle, German potato salad, cabbage, sausages, and schnitzel. It was of course paired with excellent German-style beers.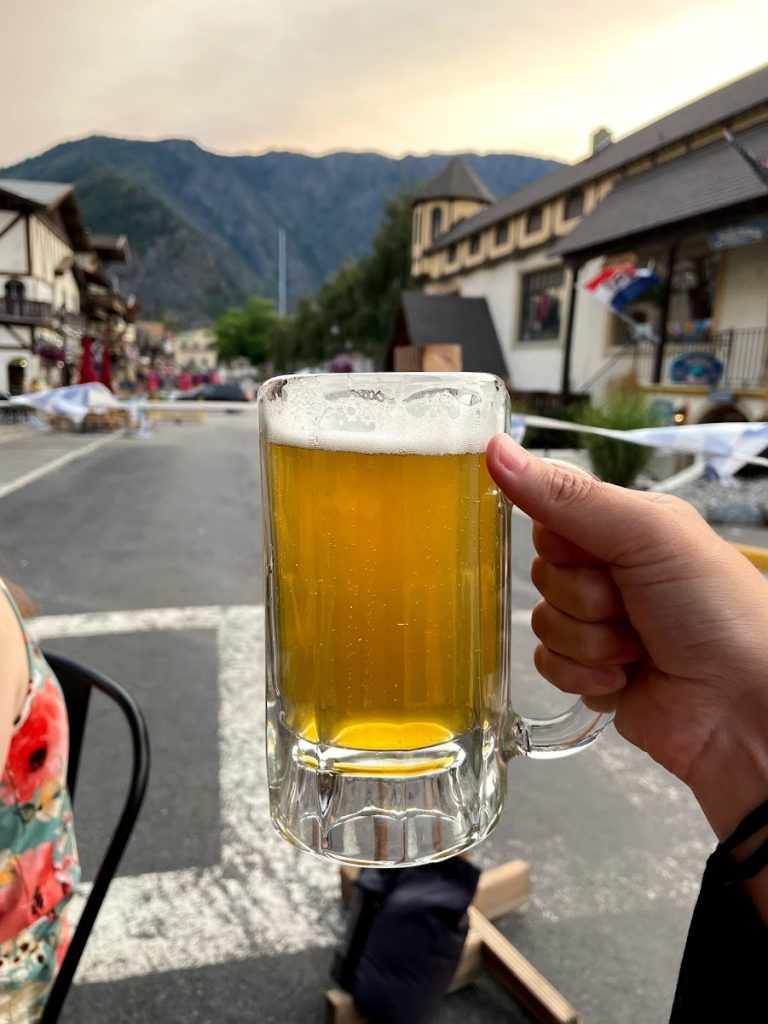 Some of our favorites included:
Rhein House
Andreas Keller Restaurant (ask for the schweinshaxe)
München Haus
Colchuck's
Many of the restaurants had patio seating so you can enjoy the cool evening breeze, beautiful mountain views, and get some fresh air and distance. I can honestly say we didn't have a bad meal anywhere we went and we definitely had enough food between the four of us to feed an army.
This will be hard advice to follow, but you should try not to gorge yourself at one place so you can visit multiple breweries and restaurants – especially if you're there for just a day.
Sweet treat to end your day
If you're like me and love, love, love ice cream then you need to wait in the long line for Whistlepunk Ice Cream Co. It's seriously worth it as the small-batch ice cream is to die for, even if you're already stuffed from wine tasting, beer drinking, and breaded and salted everything. You are on vacation after all.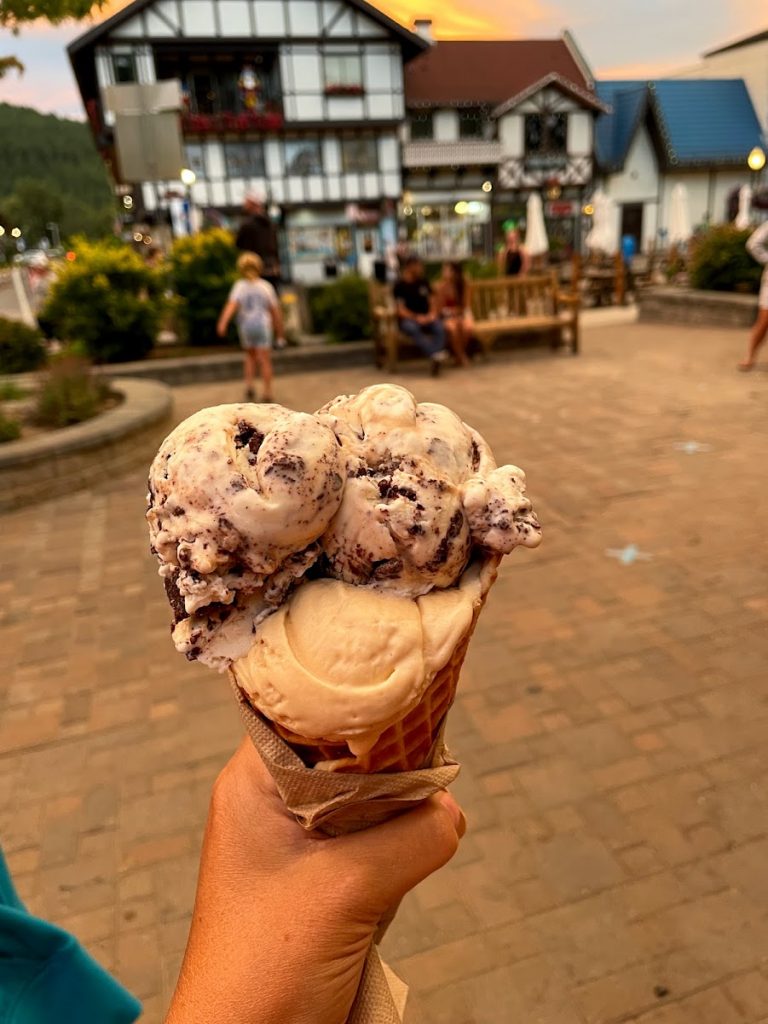 Have you been to Leavenworth, Washington? Tell me in the comments what you would add to your travel itinerary if you only had 24 hours to spend in Leavenworth!
Like the post? Share it now!