A few years ago, Rick and I went to Mexico for a friend's destination wedding. They wanted something fun for everyone to enjoy and chose an all-inclusive Barcelo resort in the Riviera Maya.
It was perfect for them and the guests as we all got to enjoy a great vacation together, relax and have some drinks, and celebrate their marriage in a beautiful location.
This was my first time doing an all-inclusive in Mexico, though I'd done them elsewhere, and I was quite excited – especially at the discounted group rate. It was exactly what we imagined: Lots of sun, tropical cocktails, and a fantastic beach vacation vibe. I've done Acapulco before but it didn't compare to the ambiance you get at a resort.
Review of our stay at Barcelo Maya Beach Resort
Customer service at Barcelo Maya Beach Resort
While all the customer service at the resort was great, we were mostly working with their wedding coordinator who arranged our accommodations and transportation to and from the airport and hotel.
Check-in was easy and the instructions to how to get to our room and use the amenities were clear. The people renting out snorkel gear and towels were friendly and we never had a bad experience with the staff.
Accommodations
Our room at the resort was pretty basic but it was a good size with two Queen-sized beds, a large bathroom, a desk or makeup area depending on what you wanted to do with it, and a mini fridge. Our room was on the ground level so we just walked out and could head off to breakfast or head down the beach quite easily, but it also was outfitted with chairs and sun loungers.
Our room was serviced daily and our fridge re-stocked with beverages. You did rent beach towels from a stall near the pool, so those weren't already supplied.
Our friends that were getting married had a very spacious suite with a large patio area and with a private entry to a shared pool. It was a stunning suite and would probably be our pick if we ever go back.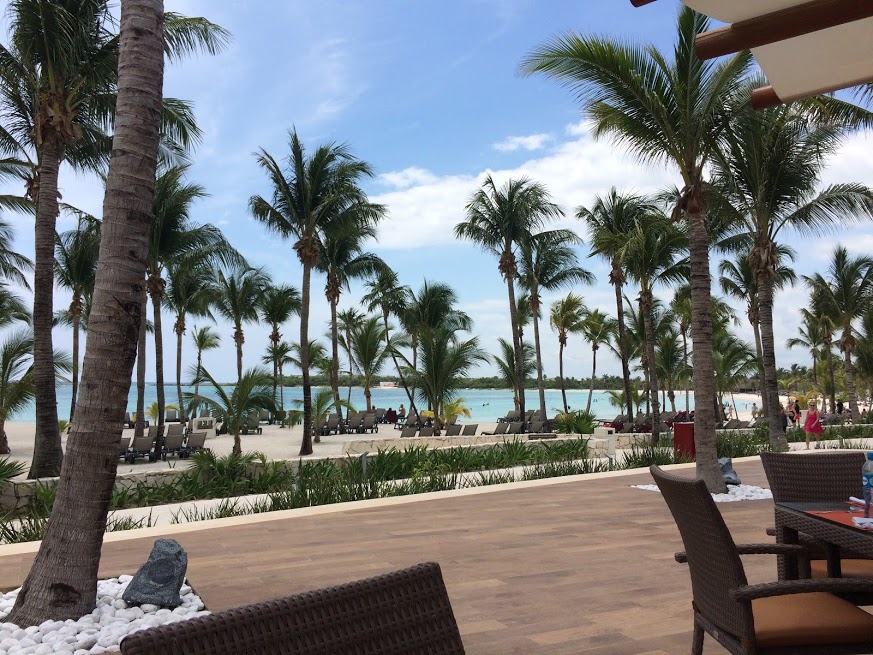 Dining and food at Barcelo
Most of the restaurants were buffet-style and the food was decent, but obviously made in big batches. Probably the best was the fresh fruit and desserts. The lunch menu was pretty good and had a great variety of choices. The staff was friendly and fast about drink orders or getting us to a table.
We did do a nice dinner at a restaurant with table service and that was a great experience.
Bars and drinks
It felt like you were never more than a stone's throw away from a bar or restaurant. It was easy to get your own drinks but oftentimes at the beach a server would come around making sure we were all taken care of. The drinks were good but I would say it was obvious it wasn't top-shelf booze. But, for unlimited it was still quite good.
They also had several swim-up bars which made day drinking by the pool pretty easy. We never really had any trouble getting drinks or having too long of a wait.
Mexico activities
The resort had seven pools, and specialty pools and areas for kids and families. Around the pool, they had plenty of loungers and even some hammocks for a relaxing day by the pool in the Mexico. You could grab a pool floatie and just relax or head up to the swim-up bar.
They also offered plenty of seating at the beach and that's where we spent the majority of our time with the rest of the wedding party. Rick and I rented some of their snorkel gear (you could rent for an hour a day at no cost) and explored the waters around the pier and off the beach which was fun.
The resort also has included activities like mini golf, which was fun, and sports areas for basketball, tennis, soccer, and volleyball. They also offered non-motorized water sports rentals like hobie cats, kayaks, and water tricycles.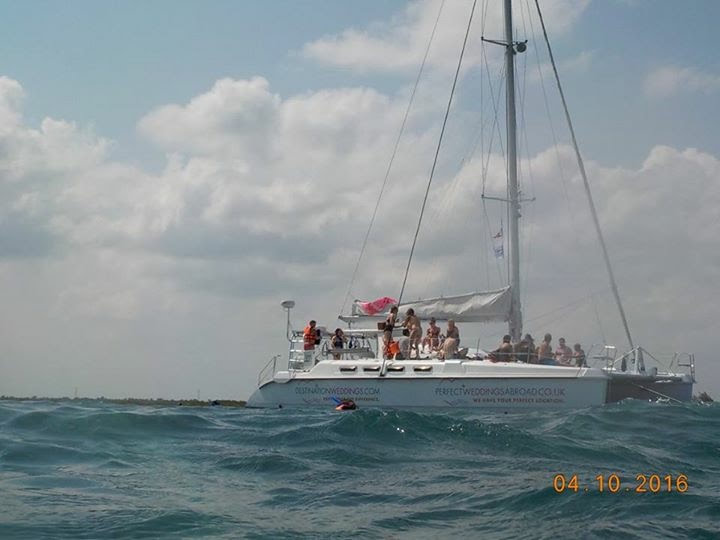 Excursions
The whole wedding group went on a catamaran together after the wedding and enjoyed a nice sail and then some time for snorkeling away from the resort. It was a great way to wrap up the wedding weekend and close out our adventure in Mexico.
Entertainment
There was live entertainment each night and the shows were quite fun and colorful. One of the stages near us was great as it was out in the open so you could come or go as you pleased and the bar was right there.
Shops
The shopping at the resort was very nice, everything was organized and it was easy to grab anything we had forgotten at home or anything we wanted to take home as gifts. The prices were a bit higher than you'd find off the resort, but the convenience is what you paid for.
Weather
We enjoyed great weather while in Mexico in early April and had lovely, sunny days at the pool or at the beach. I can't think of a day when we had bad weather on our Riviera Maya getaway.
Wedding services
Though I don't know all of the intimate details that went into planning the wedding, as a bridesmaid and guest, both Rick and I thought the wedding was very nicely put together and timed perfectly. The photographer was excellent and got some great shots of the whole group and the service itself was wonderful. Right after the ceremony, they had a little bar setup on the beach for cocktails while we finished photos and got ready to catch our bus for the reception. The reception was well done, served great food, and had a fun, entertaining DJ.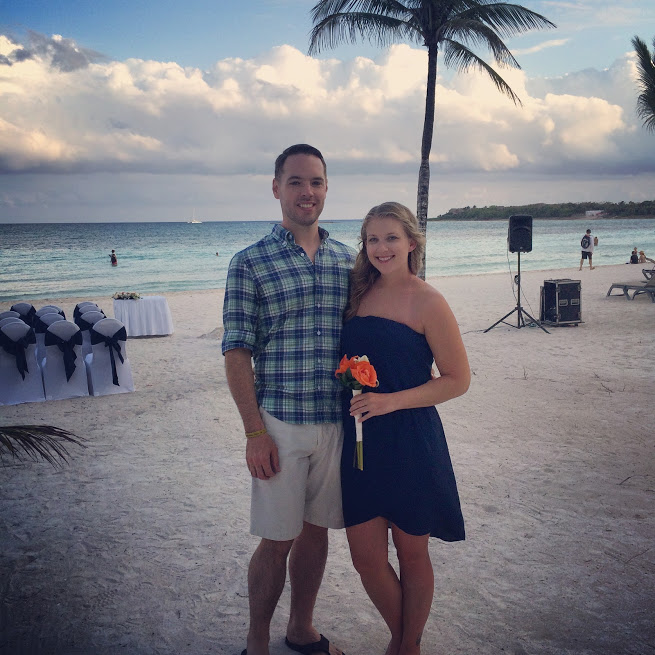 Overall, we had a great time in Mexico for the wedding and the resort was quite nice. The property was beautiful and having the beach right there was amazing. Since then, we've stayed in nicer all-inclusives, but for the price it was a pretty good value. I think we wished we had spent more time taking advantage of the activities and water sports and had tried a few more of the nicer restaurants instead of sticking to the buffet as much.
Like the post? Share it now!