Back in February, I had the chance for a quick weekend getaway in San Francisco and thanks to my credit card points I scored our hotel for free. I booked two nights at the Galleria Park, just on the edge of the Financial District.
My sister had actually stayed at the hotel on a previous trip to the Bay Area so I knew it had to be a good hotel but after looking at the photos online and liking the location, I went ahead and booked it for our trip.
If you're looking for a fun, modern hotel in downtown San Francisco, you may just want to take a closer look at the Galleria Park.
San Francisco's Galleria Park review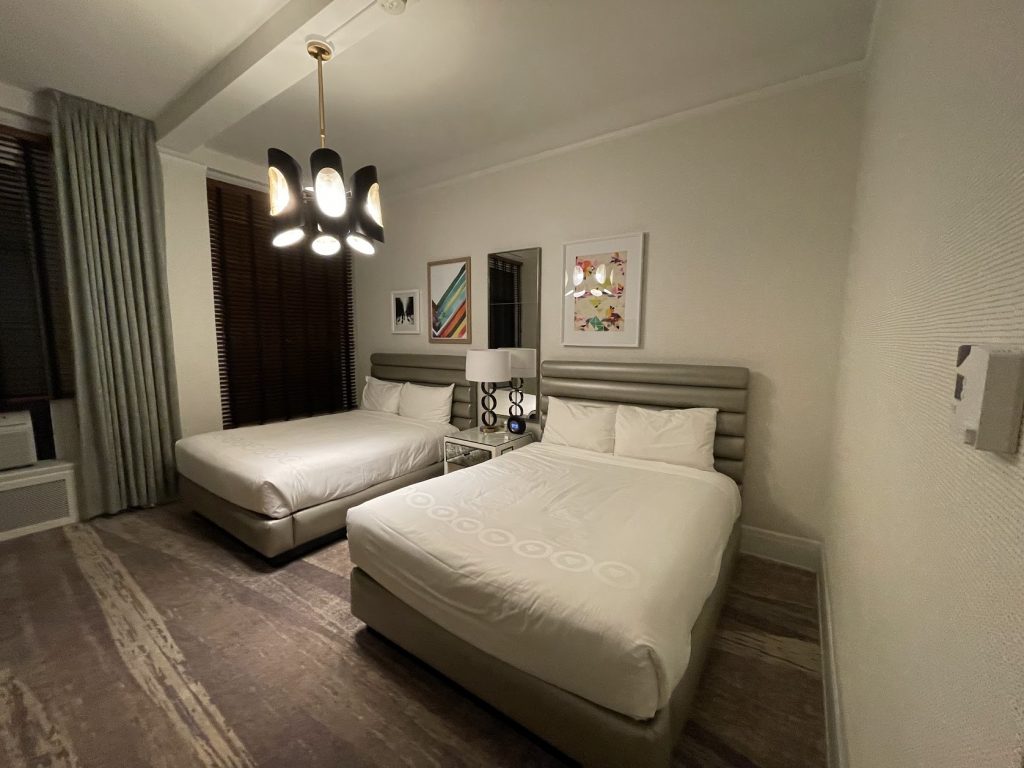 Accommodations
We booked a two Queen room and it was quite spacious, very clean, and we had a slight view of the buildings around us. The beds were comfortable, the bedding luxurious — of these days I'm buying a set of hotel sheets for myself, and the pillows were neither pancakes nor overstuffed. Honestly it was probably one of the bed hotel beds I've slept in as I normally don't sleep well in new places.
The one con I would give the room was that the bathroom didn't really have a counter so doing my makeup was a bit of a hassle, but if that's the only con I have to offer I'll take it.
Amenities
Another reason we booked here outside of its location were the amenities included in our stay.
Complimentary water bottles
One thing I really loved about Galleria Park was that they had complimentary refillable 20 oz. water bottles in the room. I normally bring a water bottle with me when I travel but this time I was carrying a smaller purse that wouldn't accommodate my water bottle and book I wanted to read on the plane so I figured I'd just buy some water as we went. But, I had a bottle waiting for me in the room and each floor has a refill station so we could fill up on our way out and on our way back to our room at the end of the night.
Coffee & cocktails
The hotel didn't have a breakfast, but with so many breakfast and brunch spots within walking distance that wasn't really a problem. Each morning they had a coffee and tea bar set up in the lobby so we could grab some joe to go. In the evening, they have a complimentary sipping hour from 5 – 6 p.m.
On-site gym
On the second floor there's a nice on-site gym with two Pelotons, a treadmill, an elliptical, and a rack with free weights. The gym had towels, cleaning wipes, and a water bottle refill station. The gym was clean and we had no problem with the equipment. We did have to make reservations to use the gym beforehand but we had no problem snagging an 8 a.m. workout slot.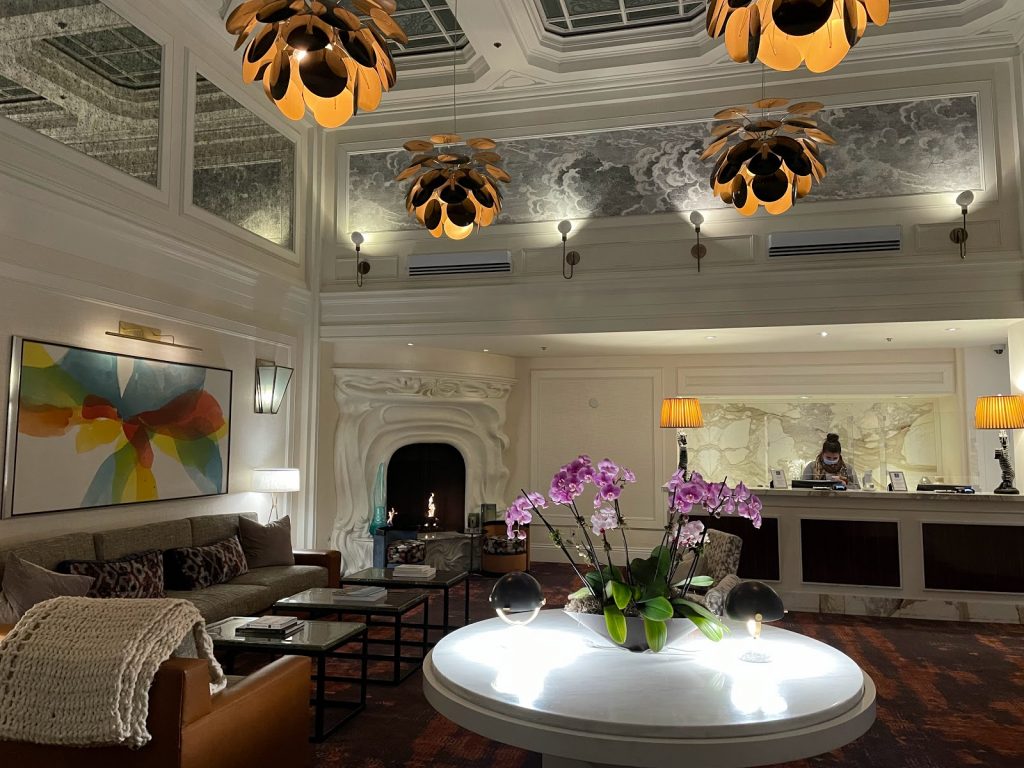 Check-in & customer service
Check-in and check-out was very easy and the staff was always friendly. We did have to show our vaccination cards and IDs but check-in took all of five minutes before we were off to find our room. Anytime we entered or left the hotel, the person at reception would say hello or bye.
Housekeeping was done by request, and since we were there only two nights we didn't ask for our room to be serviced. Our room was clean upon arrival and we had everything we needed for our stay.
We also made use of their bag check the day we checked out so we didn't have to lug our baggage around with us until it was time to leave for the airport.
Price
I did use my Chase credit card points to pay for the hotel, but it came out to be worth about $216 per night, plus an additional $33 resort fee. For its location and amenities I felt this price was fair for our stay in San Francisco.
Location
The hotel is located at 191 Sutter St. and it was a five-minute walk from Union Square, a 10-minute walk to Chinatown, and a 15-minute walk to the Embarcadero. The location was great and we were able to practically walk to every activity we had planned.
Sitting on the edge of the Financial District, I was worried it might be a bit noisy, but the city noise wasn't bad. Overall, I enjoyed our stay at Galleria Park and would be more than happy to stay there again when Rick and I go to San Francisco in the future.
Do you have other hotel recommendations for San Francisco? Tell me your favorites in the comments below!
Like the post? Share it now!