Even though it's still only August, it's never too early to start planning for a beautiful fall hike when the leaves turn golden in the fall. From mid-September through early to mid-October, the aspens start to burst into flames as they turn golden or other trees come alive with vibrant orange and red hues.
We're so lucky to live in Denver where we can easily get to a variety of amazing hiking trails to see the gorgeous fall foliage in Colorado. Some of the best fall hikes are up in Estes Park, a great destination for hiking with plenty of trails to choose from. Estes Park isn't the only amazing destination for fall hiking in Colorado, but since we're focusing on hiking near Denver, these are some of our top picks for fall foliage hikes as they're within two hours of the city.
Top 10 fall hikes near Denver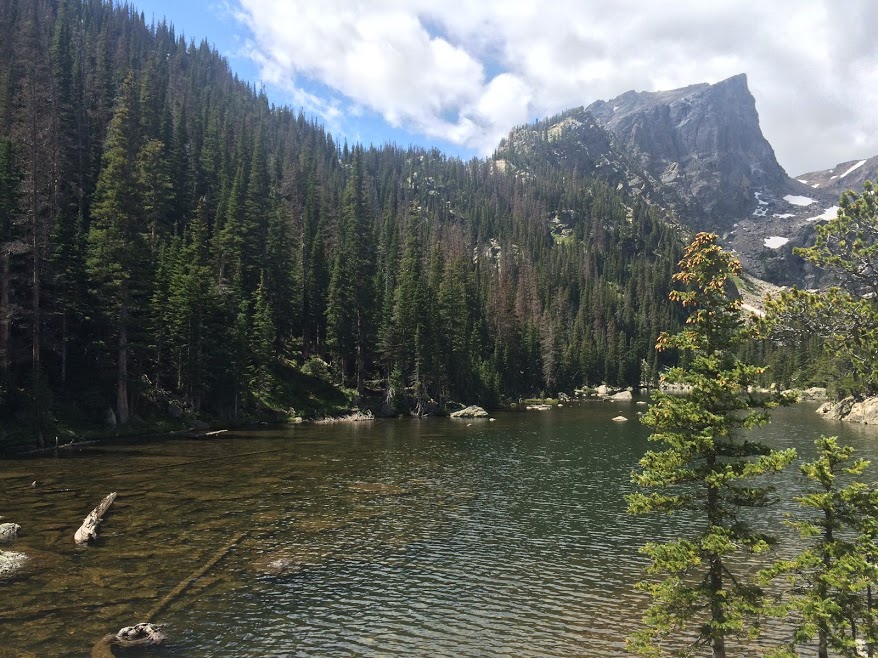 Sprague Lake Loop
.5 miles, easy
First on the list is a beautiful fall hike in Estes Park, the easy half-mile loop in Rocky Mountain National Park. This lake is great for the autumn as it's surrounded by aspens and a lake is in the middle, reflecting the trees. Perfect for insta-worthy hiking shots.
Another option would be Bear Lake Loop as an easy hike in Rocky Mountain National Park.
Fern Lake
7 miles, moderate
This moderate hike in Rocky Mountain National Park offers great views of the surrounding mountains, dense forests, and waterfalls. The trail offers a variety of terrain as well and a great payoff with a lake view at the end.
Kenosha Pass
6 miles, moderate
Head west from Denver and find a great fall hiking trail at Kenosha Pass. This trail is also popular as it has amazing views of the Ten Mile Range and South Park (no characters from the show are to be found though). As you climb, you'll enjoy magnificent views of the changing aspens below with a field of yellow that's just begging to be photographed.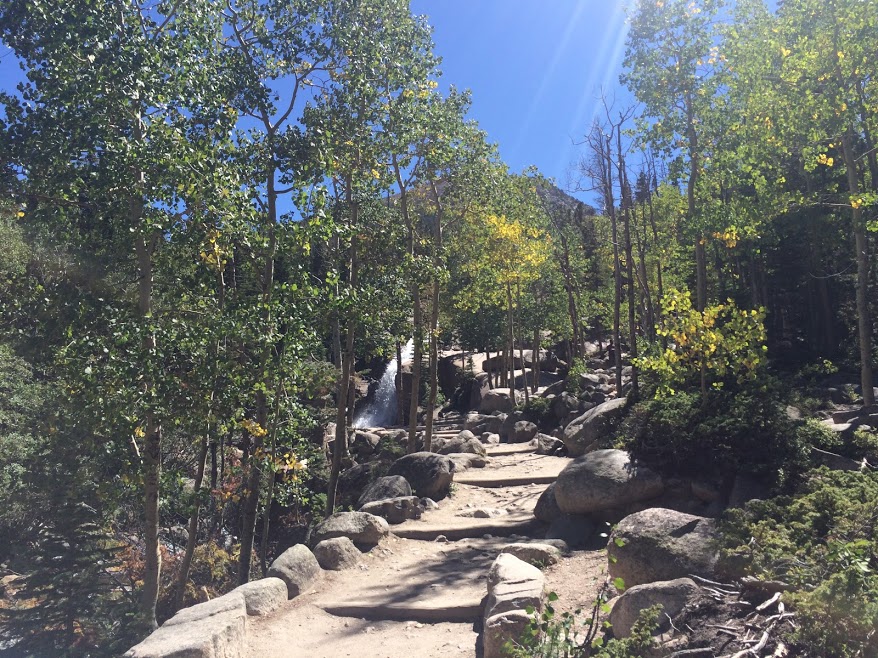 Alberta Falls
1.6 miles, easy
Alberta Falls is a great introductory waterfall hike in Rocky Mountain National Park that provides wonderful views of the colorful trees sprawling out over the mountains. It's a popular trail, especially with beginner hikers and families visiting Estes Park.
Ouzel Falls
5.4 miles, moderate
In Rocky Mountain National Park, you can enjoy views of the golden aspens, the mountain peaks, and cascading waterfalls. This trail can see a bit of traffic so get there early or wait until the crowds have thinned in the later afternoon.
Black Bear
7 miles, difficult
In Golden Gate State Park, you'll find a difficult trail (requiring some bouldering) but the views of Mount Evans and the Golden Gate Canyon, and beautiful Colorado landscape, are worth it as you go.
Royal Arch Trail
3 miles, difficult
This popular trail tends to see crowds in the fall with the college kids back in school up in Boulder. The views and the climb are worth it, and you can enjoy the red rock formations and views of the flat irons as you make your way to the arch.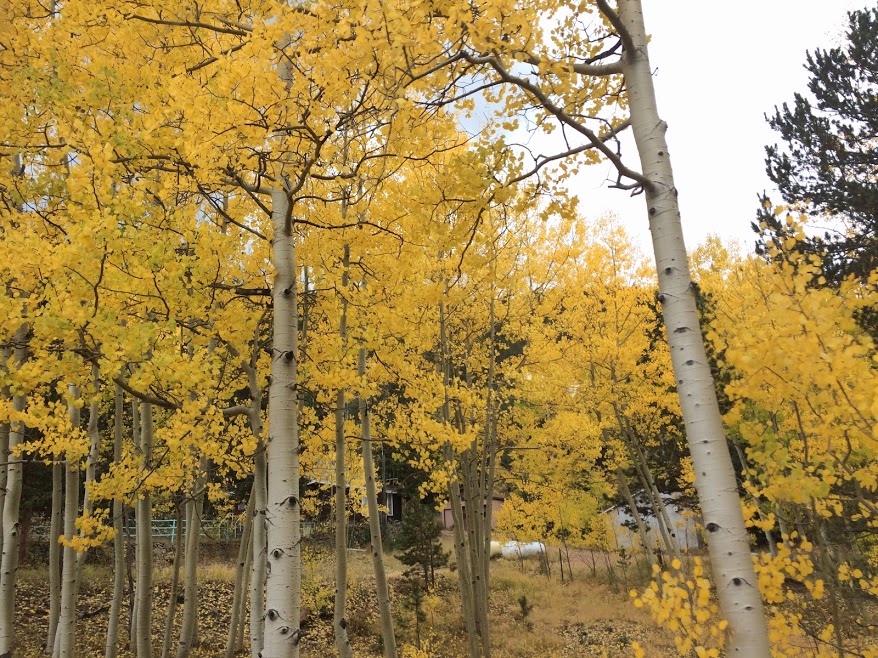 Butler Gulch
5 miles, moderate
Just an hour from Denver and yet you feel world's away as the changing aspens and fall foliage surrounds you and your mountain views. This trail is known for its amazing 360-degree view – another amazing photo opportunity.
Diamond Lake
5 miles, moderate
See the mountain lakes and peaks in the Indian Peaks Wilderness on this moderate hike. This trail is also popular in the spring as the wildflowers come to bloom but just as stunning in the fall when the yellow and orange hues take over. You should also keep a lookout for the waterfall and an old mine site as you hike!
Herman Gulch
5 miles, moderate
Near Idaho Springs and Silver Plume, you can find a great moderate trail offering views of Clear Creek, the Loveland ski area, and the surrounding mountains. This is a great trail if you're exploring the Idaho Springs area more or making your way up further west to head toward Aspen or Glenwood Springs.
What's your favorite fall hike in Colorado? Tell us on our Facebook Page!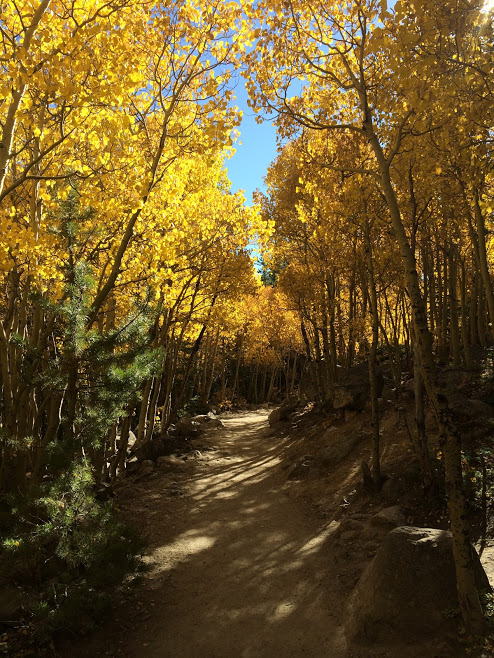 Like the post? Share it now!