I recently had the pleasure of visiting Amelia Island, FL for a work conference and the event gave me the opportunity to put on the ritz at the Ritz-Carlton Amelia Island! On my flight back, I couldn't wait to write my review!
I'd never been to Amelia Island before but from photos the area was gorgeous and looked like the ideal Florida retreat, even while on a work trip. Plus, I was pretty excited to check out a Ritz-Carlton and see how they run their resorts.
My trip to Amelia Island was pretty short, got in on Sunday afternoon and left Wednesday afternoon, but I made sure to maximize my time there and get out and explore the grounds and amenities as much as possible.
If you're thinking of a romantic and first class getaway on the East Coast, you may want to check out the Ritz-Carlton Amelia Island after reading this review of the hotel!
Review of the Ritz-Carlton Amelia Island
Accommodations
The accommodations were exceptional. Everything was clean, organized, spacious, and I loved the complimentary bottles of water they stock your room with. I felt like I was staying in a suite as the room had a King-sized bed, large bathroom, desk and chair, a couch, and a balcony with a dining set and two chairs.
My balcony had a great view of the pool area, beach, and ocean. I spent a lot of time out there answering emails, enjoying the breeze, and just soaking up the view.
Housekeeping came by twice a day, once to clean and replenish in-room amenities and once again at night for turndown service. They always made sure I had fresh water, that my room was tidy, and my curtains closed at night for a good night's sleep.
Amenities
The amenities at the hotel were exceptional and I really want to take Rick back so we can check out and enjoy all of the amenities on our own time.
Beach access
There are two boardwalks out to the beach, plus the boardwalks are designed to protect the local turtles' habitats, and staff on the beach to help you with umbrellas and setting up some chairs. The beach feels like a private beach and I enjoyed walking along the beach at twilight and getting up early to catch a gorgeous sunrise.
They have plenty of chairs along the stretch of beach and it was nice and quiet.
Gym
The gym had good equipment, a row of treadmills, ellipticals, and a weight training area, but it was a bit smaller than I was expecting. Your daily rate does include complimentary access to one of their daily fitness classes if you want to shake up your workout routine while on vacation. The gym had a fully-stocked fridge of water bottles and energy drinks to keep you hydrated and energized.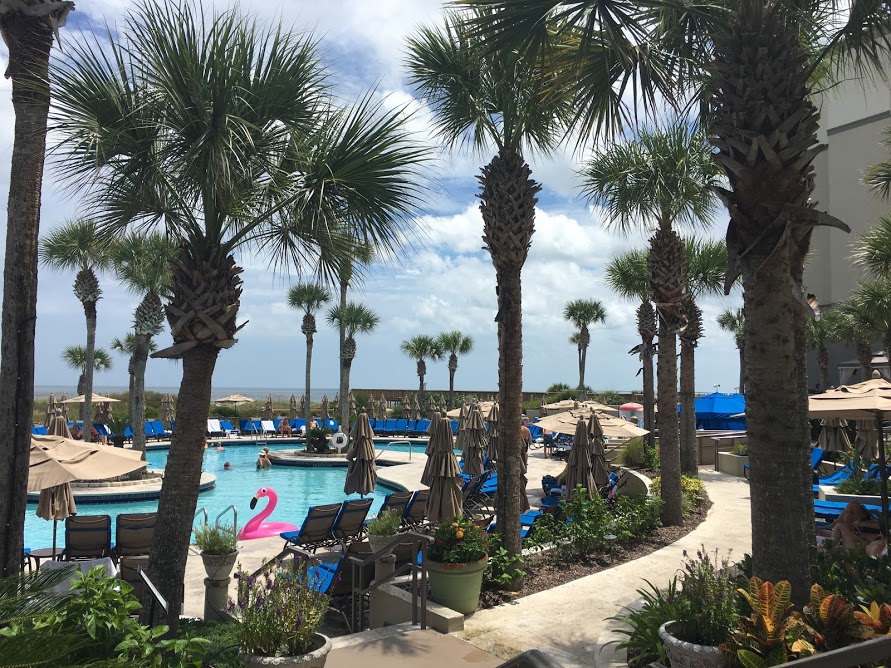 Pool
The pool was a decent size and had a wonderful view of the ocean. There is a kiddie pool and a shallow section of the main pool, but didn't seem like there was a designated adults area. There was a pool bar nearby and plenty of attendants around to help with towels or get you where you want to go.
On-site parking
I Ubered to the hotel, but they do have on-site parking but it's valet only. The valet attendants were always on the move and brought cars up in just minutes. Parking was an additional $26 per day.
The resort also has golf and a spa and the spa did look very inviting, but I never had the opportunity to check it out.
Restaurants and bars
The hotel had a few options for on-site restaurants, both casual and upscale. I couldn't wait to snack on some delicious seafood since we were in Florida, and the restaurants here did not disappoint.
The Lobby Bar
I spent time at The Lobby Bar before dinner or after the day's work concluded and it was a popular spot, but still had plenty of seating to enjoy a conversation. There was indoor and outdoor seating, and they had nice fire pits lit up at night while sitting outside. The menu has a great list of wines and cocktails, as well as scrumptious sushi and light appetizers.
Salt
Salt was an upscale option where they have 40 different salts from around the globe to add flavor to their dishes. I'd heard really good things about the restaurant but didn't manage to make it here unfortunately.
Coast
A casual option that was open for breakfast, lunch, and dinner, and had both indoor and outdoor seating. I highly recommend the outdoor seating as you overlook the pool and ocean. They had excellent seafood and pasta options, and clearly label their menu so I could find gluten-free options.
The Pub
Another casual option and makes you feel like you flew to London is The Pub. Find good beers and elevated bar fare. The food is really good but the menu is smaller than the other restaurant options.
Ocean Bar and Grill
This outdoor restaurant is open seasonally, and wasn't open when I was there. It sounded like a good restaurant with tropical cocktails, like Amelia Island's signature cocktail, the Freckled Turtle, and salads, tacos, and sandwiches, as well as a relaxed dress code where swimsuits are acceptable.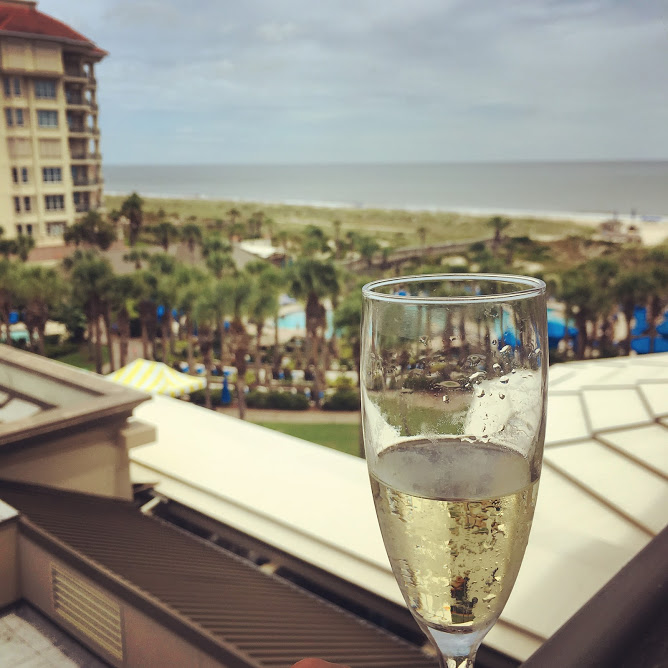 Check-in & customer service
At check-in, I was greeted with a glass of champagne and it was the perfect start to a relaxing Florida getaway. Everyone always treated me professionally, smiled at everyone, and addressed me as Mrs. D. Every experience with the staff was a good one.
When I booked my stay, I signed up for their loyalty program through Marriott Bonvoy, so I could check-in the day before on the app and enjoy complimentary Wi-Fi during my stay! It was free to become a member and now I'm well on the road to getting a free night at one of their properties.
Price
Obviously a stay at the Ritz-Carlton comes at a price. My nightly rate was $359 for a King room with a balcony and coastal view. That was the book direct price on the website, not using a discounted room rate through my conference.
Be aware that like in Vegas there is a daily resort fee of $35.
Location
The hotel has a great location right on the beach, but it is a bit far from the Jacksonville airport, about a 30-45 minutes' drive. The wait is definitely worth it as the resort feels private and a world away from everything.
Ritz-Carlton Amelia Island
4750 Amelia Island Parkway
Amelia Island, FL 32034

Have you stayed at a Ritz-Carlton? Tell us which one is your favorite on Twitter at @bttpassport!
Like the post? Share it now!