Like anything in life, we only get better at traveling the more we do it. We all pick up some travel hacks along the way and we all learn from our mistakes and vow to never do them again – until it comes time to haul out the luggage for our next vacay.
It all stops now! 
Stop making the same mistakes over and over again with your getaways. Your time off and vacation days are too important to be wasted by trying to fix problems that shouldn't be problems in the first place!
Here's a list of 10 common travel mistakes that pretty much every traveler is guilty of making (at least one, admit it). It's time to learn how to better prepare for upcoming travel, maximize your time away from home, and have more fun while we travel.
Things not do when traveling
1. Dining near major tourist attractions
After spending a few hours in a museum or historic site, you're hungry and you don't care where you eat – but you should! Restaurants near major attractions can bump up their prices while serving subpar food as they know the majority of their patrons are tourists and won't be coming back.
Walk a few blocks to find places the locals go to for good grub and save a few bucks. You might even want to look up food or travel blogs to get recommendations of good places that are near the big attractions but not right outside them.
2. Exchange money at the airport or train station
I always exchange some cash with my bank before heading off on an international trip so I arrive with my money ready to go instead of getting ripped off at the airport exchange counters. Then on my trip, I'll get more cash from an ATM.
I also recommend taking out the maximum amount of cash (typically about $500 USD) instead of $100-$200 here and there as it'll last you longer and you'll pay less on transaction fees that way. That $5 per withdrawal can easily add up over your trip and eat into your travel budget.
3. Paying foreign transaction fees
Speaking of money and transaction fees, one of my requirements for any credit card I get is that it comes with zero foreign transaction fees! Don't pay more for your purchases than necessary just because you're overseas. Get a credit card that doesn't charge foreign transaction fees – and fortunately, you can find ones that don't charge annual fees. Obviously, the ones that do come with more perks, but if you just want a free card that works well for travel, there are options.
Credit cards with no foreign transaction fees:
Discover It Miles (no annual fee)
Chase Sapphire Preferred
Chase Sapphire Reserve
Capital One Venture Rewards
Capital One Quicksilver Cash Rewards (no annual fee)
Hilton Honors American Express
Bank of America Travel Rewards (no annual fee)
4. Not using points or discount cards
One of the perks of many travel credit cards is redeeming points for travel, accommodations, or attractions! Before we had to cancel our 2020 Europe trip, we had pooled our credit card points to book tickets for the Harry Potter studio tour, Eiffel Tower, and were looking at hotels we could use points at instead of paying outright for.
A lot of travel-focused cards will give you more value for your points when redeemed on travel. Our Chase Sapphire Reserve cards give us 1.5x times our points' value when we book travel with them and we get an annual $300 travel credit/reimbursement.
Sign up for loyalty programs with the airlines you frequently fly with, sign up for rewards programs with the hotels you stay at, and so on to start getting discounted rates, extra benefits like complimentary Wi-Fi or freebies, earning free nights, and turning miles into free flights. Most of these programs are free to enroll in so why wouldn't you take advantage?
5. Not buying travel insurance
Like any insurance it sucks to pay for it at the time but when you need it, you sure are glad you have it! Do be thorough and read through what the insurance covers and if you need any additional coverage. Some include "any reason cancellation" clauses and some would require you add that on.
Rick and I always insure our big international trips or anything that's costing more than $5,000. Look at the cost for insurance, its coverage, and determine if the investment is worth protecting your trip. For example, we won't purchase insurance on weekend getaways to Las Vegas or San Diego, but we will cover trips down to Jamaica.
Travel insurance can give you that extra piece of mind in case anything were to go wrong.
6. Not bringing a first-aid kit
Like insurance, it's not something you always think about but when you need it it's good to have it. A first aid kit should always be packed in your suitcase and include:
Band aids
Small tweezers and scissors
Antibacterial ointment
Sunscreen
Antihistamine tablets
Ibuprofen or Tylenol
Anti-diarrheal or Pepto Bismol
7. Avoiding public transportation
While some larger American cities do public transportation well, most cities in our country fail at it. Don't be afraid to use public transportation during your travels just because you're not used to using it at home. It can often be cheaper and way easier to get around than trying to hail down a taxi each time you need to move to a new location.
Before you go, learn how to buy tickets or passes for public transportation, read up on how to use public transport, and study the schedules and routes. I love taking the Tube and Metro in London and Paris as it's such a well-planned system – at least compared to Denver!
8. Only eating at familiar chain restaurants
Part of the joy of traveling is trying new foods! Unless you're in a bind or truly need something fast, do not go to McDonald's or other American chain restaurants while you travel. Be brave and try new flavors, new dishes, and sample the regional specialties at local restaurants.
9. Using time poorly
Time is money and it's tempting to find every single way to be frugal and save a few dollars here and there to invest it back in the trip, but sometimes money-saving ideas are time-sucking ideas. You might want to save money by booking cheaper flights, but they come with a lot of connections or long layovers. Is that loss of time out of your trip worth it?
Try limiting booking cheaper flights to the on the way home portion of the trip, when you're ready to just sit and decompress, instead of when you're excited and energized to get to your travel destination.
10. Planning a too ambitious itinerary
You want to pack a lot of fun and sightseeing into every trip but sometimes we overplan our adventures and just end up exhausted and no longer excited about the trip or destination we're exploring. Leave yourself some free time and buffer time between activities in case of delays or in case you find something else you want to do.
Be flexible with your schedule or even plan a day where you have nothing planned except seeing where the road takes you. Sometimes your favorite vacation memories happen when you find yourself lost.
What other common mistakes do you think travelers make? Share your ideas in the comments below or start a conversation with us on Twitter!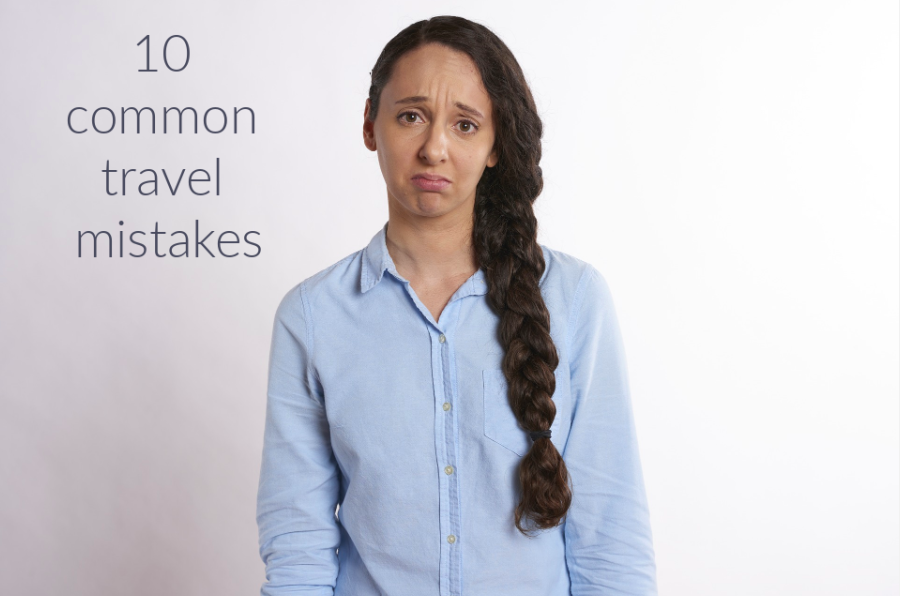 Like the post? Share it now!