Going on an adventure is fun and should be worry-free, but there are risks and dangers out in the world and it's easy to become a target for these dangerous situations when we're outside our comfort zone. Now, there are ways to mitigate those risks and one of them is to follow these travel safety tips!
Many of these safe travel tips are based on common sense but it's always good to remind ourselves of ways we can be extra vigilant and protect ourselves while experiencing new travel destinations. 
If you're excited to travel this year and can't wait to do so safely, take a quick review of these 11 tips for safe travel! 
11 travel safety tips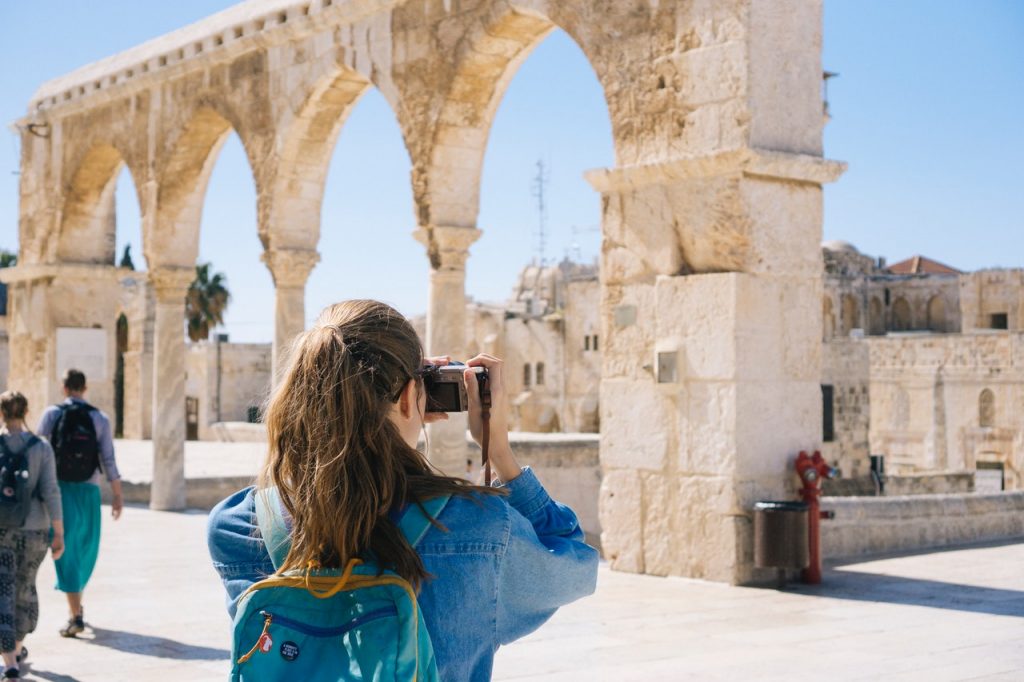 1. Be aware of your surroundings
The best piece of advice for traveling safely is to always be aware of your surroundings and paying attention to what's going on around you. It's especially important to stay on alert when in crowds or when you're packed in on public transportation. Keep your belongings close and in front of you – never use your back pocket when traveling! 
Try not to draw attention to yourself or wear clothing or shoes that scream "Tourist!" Wear your RBF (Resting Bitch Face) with pride and project an air of confidence as you explore your travel destination. If you look confident and walk with a purpose, you look like less of a good target. I'm not saying you have to stare everyone down with an icy glare, but make it seem like you know what you're doing and where you're going – even if you don't. 
You should research any local scams like "free" flowers or gifts, fake police officers, injured or poor children or elderly citizens, or the distraction game where one person distracts you and your group while the other picks your pockets. 
Another good tip is to take a hotel business card or drop a pin on a downloadable map so you can always make your way back to your hotel at the end of the day. You can also ask hotel staff about sketchy areas to avoid or the best options for safe travel to and from your hotel. 
2. Know how to call 911
Each country has its own emergency number and it's a good idea to write it down or save it on your phone in case of an emergency. 
3. Get an international phone plan
On a similar note, you might want to upgrade to an international cell service plan with your provider or buy an international SIM card for your phone while away. Having cell service and Wi-Fi can help you when you're in a bind or need to call for help, call a taxi, or get more information. 
4. Lock away cash and valuables
Only carry what you need for the day. Use your room's safe to store your passport, copies of your passport and credit cards, travel documents, and extra cash. Leave credit and debit cards at home that you know you won't be using while on vacation – as well as any loyalty cards that could just weigh down your wallet or purse. 
You might also want to hide an emergency stash of cash in your shoes, socks, or even try to pull off a shaving cream kit like Jurassic Park to hide your valuables in (and hopefully those don't include vials of dino DNA). 
5. Share your travel itinerary
I always send a copy of my travel itinerary, including hotel contact information, as well as a copy of my passport and primary credit card to a family member before we travel. Another option is to register your trip with the Smart Traveler Enrollment Program, a free service to U.S. citizens. 
This program alerts the nearest U.S. Embassy or Consulate about your trip in case of an emergency or if you lose your passport. The program also sends you up-to-date safety information about your travel destination. 
6. Alert your banks and credit cards you're traveling
Most banks and credit card companies have a section on the website or app to put in a travel alert and you should always notify your banks and credit card companies when you leave home. If you don't and make a legitimate transaction, the bank or credit card might deny or freeze your account on suspicion of fraud. 
By proactively alerting them, they'll know it's you and authorize your transactions. Better safe than sorry when you have to dial the toll-free number and try to explain to customer service that it was you buying two tickets to the Eiffel Tower. 
All you have to tell them is your travel dates and travel destinations to ensure you can freely use your cards abroad!
7. Double check ATMs
It's super easy to use an ATM that has a skimming device attached or one that's been tampered with. Before using any ATM, give it a little jiggle or look for any signs of damage. If for any reason your card gets swallowed or locked, call your bank immediately to freeze your account. This is why having a photocopy of the front and back of your debit card is so important!
8. Ask locals
Want to feel like a local when you travel? Ask the real locals where to go or what to do to get a more authentic and less touristy experience in your travel destination. Hotel staff, restaurant servers, rideshare drivers, tour guides, and so on are great resources. You can also look for information on travel blogs as many share insider information about their home city. 
9. Stranger danger
Don't tell strangers where you're staying or be vague with answers so you don't get followed or identified as a target. Don't go blabbing about how it's your first time in the city or you might have a new best friend sidling up next to you telling you about this amazing tour or city attraction you just have to check out, which turns out to be a scam. Keep a healthy level of suspicion up about anyone who seems keen on asking you lots of questions about your travel plans or accommodations. 
10. Keep up healthy habits
It's important to stay hydrated and well-fed to stay alert and healthy when you travel. Continue your regular workout routine, get a good amount of sleep, and carry a water bottle with you while you explore. We're all prone to making poor decisions when hangry, overtired, or dehydrated and sticking with your daily routine and healthy habits can help you travel safely. 
11. Wait until you're home to share pictures
While it's tempting to share real-time photos of where you are and what you're doing, wait until you're back home to brag about your epic vacation. You never know who might see your photos on social media and then know that you're out of town and your house is more than likely empty. 
Another similar idea is to call your local police department and let them know you'll be away and ask for a courtesy patrol every few days to check on your home. 
What other tips do you have for safe travel? Share your advice in the comments below or give us a shout on Twitter!
Like the post? Share it now!