One of the best things about going to an all-inclusive resort is being able to order whatever you want and trying new foods and drinks without worry. If you don't like something, it's okay to order something else or ask the bartender to surprise you after listing a few things you know you do like.
While I love the stocked bars in the rooms at Sandals Resorts with rum, vodka, beer, and wine, I do enjoy trying fancy cocktails that I know I won't be recreating at home. I mean it seems almost rude to be in the Caribbean and not drinking something fruity, colorful, and chock-full of rum!
While some of the bars do have menus so you can see what signature cocktails they make other areas, like the pool bars, kind of expect you to know what you want to order. So, if you want to go up to the bar ready to order something fresh and fun, view the suggestions below, or learn how to make them at home to do a taste test before getting to the resort.
Check out our picks for the five best cocktails to order at Sandals Resorts, especially any of their Jamaican resorts!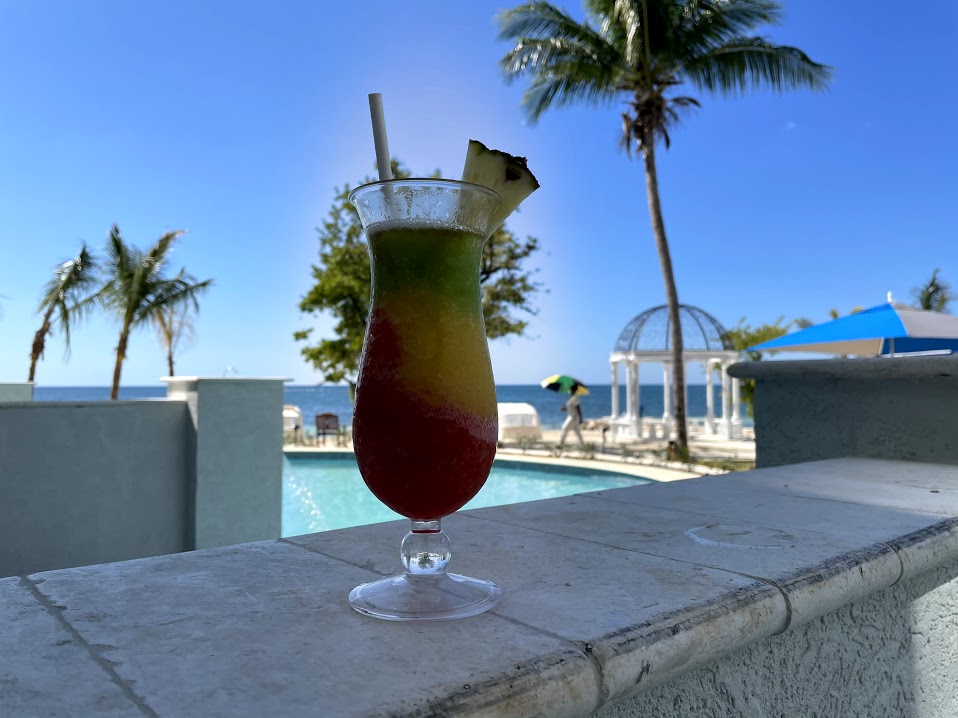 1. Bob Marley
You won't have to worry about a thing with this colorful cocktail in your hand. This layered rum daiquiri drink represents the Jamaican flag with red, yellow, and green, and is named after the world-famous musician and is an absolute delight to drink by the pool or on the beach.
Ingredients:
Layer 1 – red
.75 oz. Appleton Special
2 oz. strawberry daiquiri mix
2 oz. ice
Layer 2 – yellow
.75 oz. Appleton Special
2 oz. mango daiquiri mix
2 oz. ice
Layer 3 – green
.75 oz. Appleton Special
.25 oz. Blue Curacao
2 oz. mango daiquiri mix
2 oz. ice
Blend each layer on its own and then in a hurricane glass pour the red layer first, the yellow layer, and then the green layer. Add a pineapple wedge as a garnish and serve.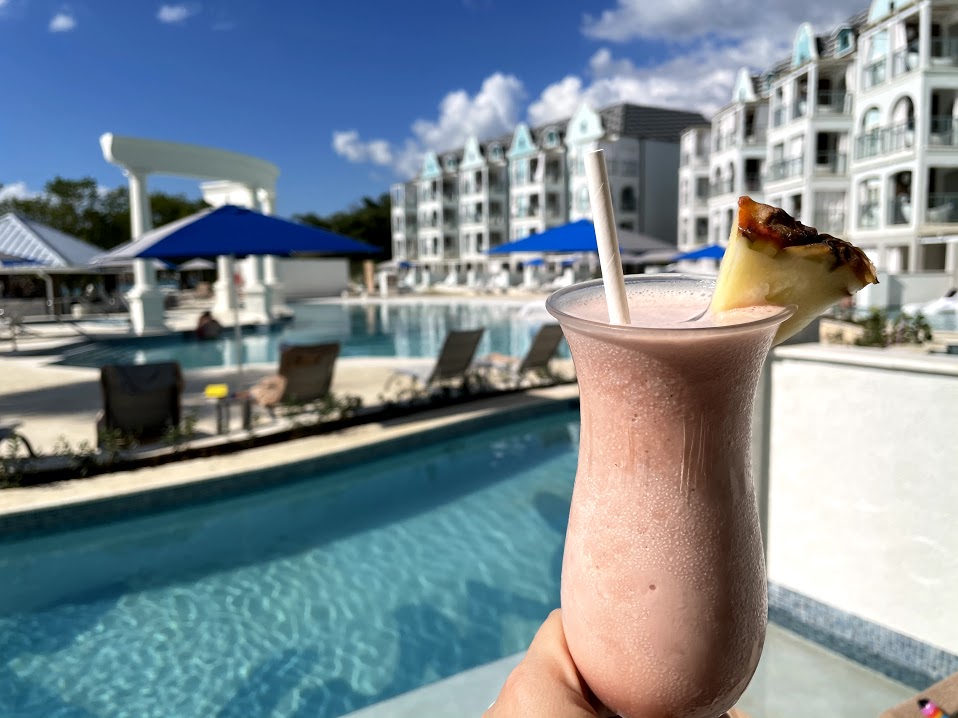 2. The Hummingbird
This is my favorite drink at Sandals as it's sweet and banana-flavored without being overly sweet. I probably have at least two a day when we stay on Jamaica. Gotta get my potassium! It has a smoothie-like texture and is a great option for your first cocktail of the day.
Ingredients:
1.5 oz. Appleton Special
1.5 oz. rum cream
.5 oz. creme de cacao dark
.5 oz. grenadine
1 banana
Put all the ingredients into a blender, add ice, and blend until smooth.
3. Jamaican Smile
Put a smile on your face as you sip and savor this tropical cocktail on Jamaica. If you love pina coladas and want to keep the coconut flavor going but try something new, this drink is right up your alley. Made with coconut rum, rum cream, and coconut cream for good measure, it's an ideal choice for soaking up the Caribbean sun and tropical flavors.
Ingredients:
1.5 oz. coconut rum
1 oz. rum cream
1 oz. coconut cream
.5 oz grenadine
1 banana
Put all the ingredients into a blender, add a cup of ice, and blend until smooth. Garnish with a cherry if desired!
4. Dirty Banana
Similar to the Hummingbird, this one combines rum, milk, and a banana for a more milky texture. I think it's almost impossible to not hang out by the pool bar and not hear multiple orders for this Sandals' favorite.
Ingredients:
1 oz. Appleton Special
1 oz. rum cream
.5 oz. creme de cacao dark
2 oz. milk
.5 oz. simple syrup
1 banana
Blend all the ingredients together along with a cup of ice until smooth.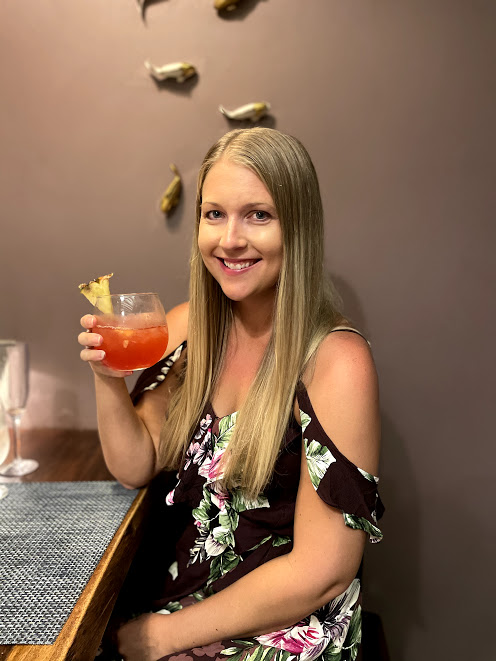 5. Rum runner
You can't go to the Caribbean or Jamaica and not sample some amazing Jamaican rum, and what better way than by sipping a rum runner on the beach? This fruit punch for adults packs quite a punch with its mix of rum and fruity liqueurs but is the perfect compliment to a hot day under the sun.
Ingredients:
1 oz. light rum
1 oz. dark rum
1 oz. banana liqueur
1 oz. blackberry liqueur
1 oz. orange juice
1 oz. pineapple juice
A splash of grenadine
Add the ingredients to a cocktail shaker with ice, strain into a glass over ice, and garnish with fresh fruit, like orange slices and cherries.
Do you have a go-to cocktail when you visit your favorite all-inclusive resort? Tell us your favorite drink in the comments below!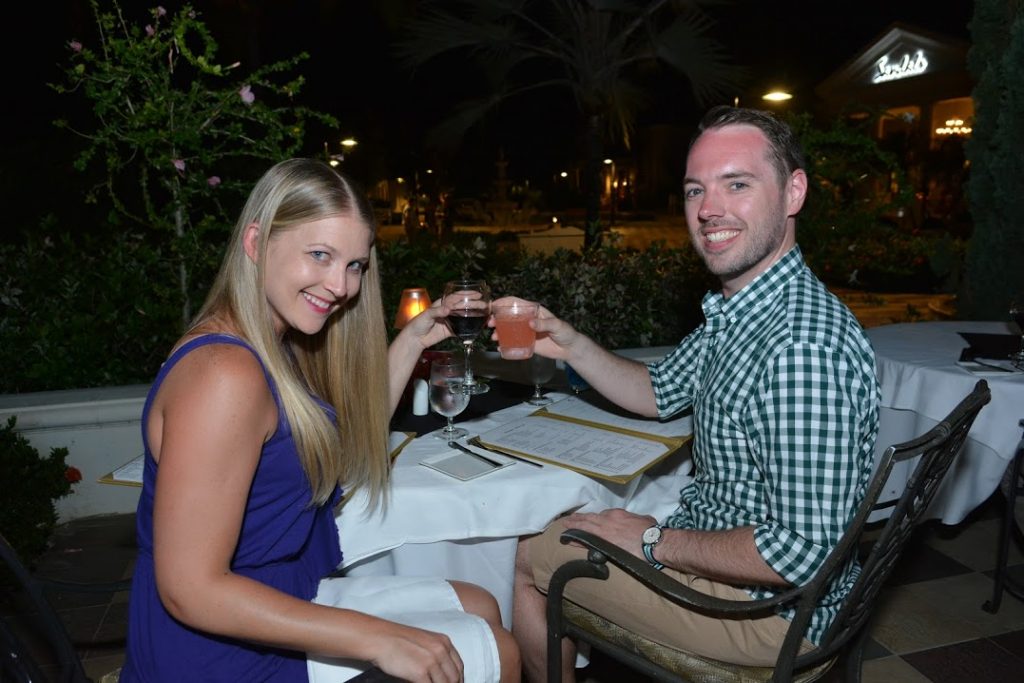 Like the post? Share it now!