On a mission to find a fantastic brunch in Denver? There's no doubt you'll be able to find somewhere to visit for your Sunday Funday filled with bottomless mimosas and delicious comfort food but below is a list of well-established brunch spots in Denver as well as some trendy, new restaurants ready to get your weekend started off right.
Racine's
Racine's is a Denver institution as it's been a popular breakfast restaurant since 1983! You might want to start looking at the menu before you even step in the door as it's gigantic and everything sounds, and is, amazing. Seriously, their brunch menu is three pages long and filled with incredible menu items. I've loved all of their sweet dishes for breakfast like their giant, fluffy pancakes – the gingerbread ones are especially nice in the fall!
Racine's opens on Saturday and Sunday at 8 a.m.
Snooze
Snooze, an AM Eatery, is a popular choice for breakfast around the city. Thankfully, they've spread out their operation so you can gorge on their pancake flight in Union Station, in the Ballpark neighborhood, or at the corner of 7th Ave. and Colorado Blvd. They have awesome benedicts and breakfast platters but I've rarely strayed from the "sweet utopia" section of the menu. Be warned, the wait times can get a bit ridiculous but it's worth the wait. Try and get there early and make sure your whole party is ready to be seated when they call your name.
Snooze is open from 6:30 a.m. to 2:30 p.m. each day.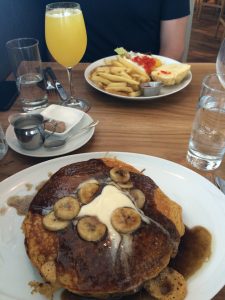 Tupelo Honey
A relative newcomer to the Denver scene down by Union Station, Tupelo Honey serves up Southern-inspired dishes and some of the best fried chicken around. Whether in a sandwich or on top of some sweet potato pancakes, if you're in the mood for crispy yet juicy chicken, this is your spot. They're also pretty on top of refilling your bottomless mimosa glass as it gets empty.
Tupelo Honey brunch: Saturdays and Sundays, 9 a.m. – 4 p.m.
Linger
With a cocktail named the "corpse reviver #2 ½," you know you're in for a good time at brunch. Linger is a popular highlands restaurant and aptly named as it was once a mortuary. Now, the only thing that lingers is the amazing flavors of the expertly crafted cuisine. The best way to experience Linger is to order a bunch of different items off the menu and share them amongst your table. Their bao buns and sliders are divine and the donut holes with sweet chocolate and dulce de leche dipping sauce are too irresistible.
Linger brunch: Saturdays and Sundays, 10 a.m. – 2:30 p.m.
Denver Biscuit Company
I have a love/hate relationship with whoever invented the biscuit because they are delicious and dangerous because I want to eat them all. Especially when they're lovingly made at the Denver Biscuit Company. The servings here are huge so come hungry as you do not want to miss out on any bite of their amazing breakfast creations. Go traditional with the biscuits and gravy plate or spend a good 15 minutes trying to figure out just which sandwich sounds best – please let me know as I've been trying to figure out myself.
Denver Biscuit Co. opens at 8 a.m. on the weekends and operates on a first-come, first-served system.
Bistro Vendome
Add a little ooh la la to your day in Denver by starting with brunch at Bistro Vendome! Though Larimer St. is dotted with an array of excellent restaurants, this bistro transports your tastebuds to France with its menu of hors d'oeuvres, salads, and entrees. Don't make me pick between the beignets and steak tartare to start! Be sure to ask about the crepe of the day though you can't go wrong with any of their dishes with fromage either.
Bistro Vendome brunch: Saturdays and Sundays, 10 a.m. – 2:30 p.m.
Rialto
Rialto, on the 16th Street Mall, is a great choice for brunch if you mean business – both for drinking and eating. With an amazing DIY mimosa bar and a table spread with fresh fruit and pastries to complement your entree selections, it's a fantastic value for brunch. The rosemary biscuits and gravy are heaven in a bowl as well as their fluffy blueberry or chocolate chip pancakes.
Rialto brunch: Saturdays and Sundays, 8 a.m. – 2:30 p.m.
Ophelia's Electric Soapbox
So not only is the food amazing but on certain weekends you can even catch live music while you imbibe and indulge at Ophelia's Electric Soapbox. Enjoy the boudoir-style decor and the gastrobrothel-inspired menu that focuses on vegetable forward dishes. The creme brulee French toast, the nacho flatbread, BBQ pork benedict, and chicken and waffles are some of our favorites.
Ophelia's brunch: Saturdays and Sundays, 10 a.m. – 2:30 p.m.
Old Major
Get a fresh cut of meat at Old Major in Denver! With an in-house butchery, you know you're getting the best cut in town and with a menu designed around farm-inspired American cuisine, it's going to have all that warm, comfort breakfast food you're craving. Go classic with the butcher's breakfast or bring on the meat sweats by ordering the pork breakfast burger. If you need to satisfy your sweet tooth, the cinnamon apple French toast is a great choice. Old Major also has a nice variety of juices to complement your bubbly brunch beverage!
Old Major brunch: Saturdays and Sundays, 9:30 a.m. – 2 p.m.
Lola
Can't get enough Mexican in Denver? Check out the weekend brunch at Lola for amazing takes on traditional Mexican dishes and some hearty comfort food. From the second the dulce de leche cinnamon roll hits your lips, you'll have found a new brunch favorite in Denver! You can't go wrong with their horchata pancakes, chicken and waffles, breakfast enchiladas, or shrimp and grits.
Lola also has a great twist on brunch beverages with their Mexican mimosa (beer, tequila, orange juice, and lime) as well as a great variety of fruit juices for your standard mimosa (peach, OJ, grapefruit, snazberry, pineapple, and cranberry).
Lola brunch: Saturdays and Sundays, 10 a.m. – 2 p.m.
Root Down
Using fresh, local, and in-season ingredients, Root Down is a favorite for farm-to-table dining in Denver. If you're trying to eat healthy or have someone in your party that's vegan or gluten-free, this is a great choice. Their menu changes out seasonally to utilize the best and freshest ingredients. Choose from their sweets, eggs, benedicts, and lunch options for your fresh and flavorful brunch at Root Down.
Root Down brunch: Friday, 11 a.m. – 2 p.m., and Saturdays and Sundays, 10 a.m. – 2:30 p.m.
Bar Dough
This Italian restaurant is well-known for its amazing pizza and pasta – and great wine list – but also hosts a fantastic brunch! Enjoy Bar Dough's Italian twists on brunch classics like the overnight French toast with nutella or go all Italian with the cacio e pepe! They also include their pizzas on the brunch menu if you're more of a lunch person in the brunch crowd.
Bar Dough brunch: Opens on Sunday at 10 a.m.
Ellyngton's at the Brown Palace
For an elegant and decadent affair, you'll need to head to none other than Denver's Brown Palace for Ellyngton's Dom Perignon champagne brunch. Select your champagne tier and let the good times flow as you create your own plate by visiting the variety of buffet stations. Add some color to your plate by stopping at the sushi station, stay classic with pancakes and waffles or omelets and eggs benedict, and be sure to sample a sweet treat from the bakery.
Ellyngton's brunch: Sundays, 10 a.m. – 2 p.m.
Chances are good no matter where you end up in Denver for brunch, it's bound to be amazing. Plan to stay a while and savor your breakfast (let's be real, brunch is allllll about the breakfast foods) and mimosas in the Mile High City!
Like the post? Share it now!