Summer's here and with our alleged 300 days of sunshine, it's the best time of the year in Denver to get out and enjoy a happy hour in downtown.
Rick and I are super lucky to live downtown and be able to walk to all of these great bars and restaurants in Denver's LoDo neighborhood. LoDo (Lower Downtown) is the neighborhood surrounding Union Station and extends up to Coors Field. This walkable neighborhood has a great mix of historic buildings and trendy new bars – making it a great destination for a cocktail with a view.
Some of our favorite places in Denver and LoDo for happy hour include: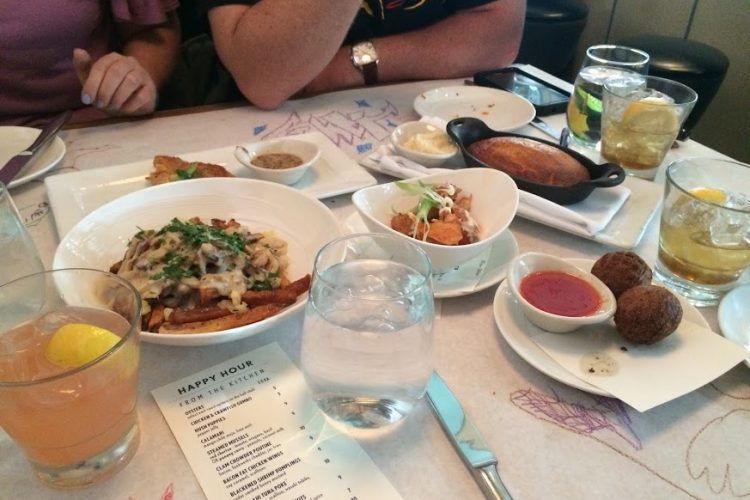 Jax Fish House & Oyster Bar – LoDo
Jax has such a great, big menu for happy hour that it's actually hard to narrow it down on what to eat for a quick "light bite." The fish is fresh, the drinks refreshing, and if you can snag an outdoor table, it's great for people watching around Union Station. We've always enjoyed exceptional service at Jax, no matter if we're there for happy hour or there for dinner. Happy hour is available every day from 4 – 6 p.m. or all night every Monday.
Our recommendations for happy hour selections from Jax:
Seafood sampler – Oysters, shrimp, and crab
Calamari
Creole hush puppies
Bacon fat cornbread (OK, you'll pay full price for this one, but oh my god you will not regret it.)
They have great deals on wine and beer but their strawberry lemonade is so refreshing in the summer, or if you're looking for something you won't find on every other happy hour menu in the neighborhood, try the oyster shooter with bloody Mary mix!
Citizen Rail
Looking for craft cocktails near Union Station? Head to Citizen Rail for a fantastic drink menu with some expertly-crafted appetizers and light bites. Citizen Rail feels upscale but isn't pretentious. Located near Union, this fun bar has a cool vibe and a great wait staff ready to make sure you're happy with your selections for happy hour.
Our recommendations for happy hour selections from Citizen Rail:
Sourdough garlic knot & burrata
Grilled lamb sausage – It is spicy, as a fair warning
Charcuterie
A glass of their house red or white goes for $5, I'd recommend the red, and beer starts at $4, and cocktails at $7 during happy hour.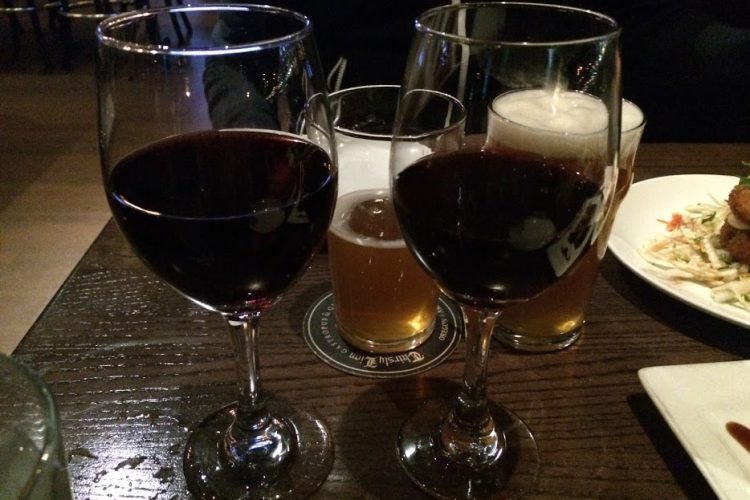 Thirsty Lion Gastropub & Grill
The Thirsty Lion menu is broken out into $4.95, $5.95, and $6.95 options including drinks and a great variety of food, seriously, the menu is gigantic. The service is always good and they make sure to come around before happy hour ends to see if you want to sneak in one more round. We've enjoyed many affordable happy hours here – and definitely make use of the patio seating for a fantastic view of Union Station or the hustle and bustle along the 16th Street Mall.
Our recommendations for happy hour selections from Thirsty Lion:
Crispy calamari
Bacon-wrapped BBQ prawns
Pepperoni and four cheese pizza
Oven baked soft pretzel
Well drinks, house wine, and margaritas start at under $5 or you can enjoy a dollar off all pints during happy hour.
Terminal Bar
Stop for happy hour and step back in time in the historic ticketing office at Union Station. Now it's Terminal Bar, but it still has that authentic turn-of-the-century decor and feeling with dark wood accents and finishes. Happy hour is offered during the work week, Monday – Friday, from 4 – 6 p.m., and you can sit inside and enjoy the period-appropriate decor or grab a table outside and enjoy the hustle and bustle happening around the train station and busy downtown streets. The happy hour menu only offers drinks, though you can always grab a sandwich from Acme Delicatessen if you're hungry.
Our recommendations for happy hour selections from Terminal Bar:
Denver Beer Co.'s Kolsch
Denver Beer Co.'s Graham Cracker Porter
Moscow Mule
Hemingway Daiquiri
Rialto Cafe
We've talked about Rialto before (in our best Denver brunch post) and it's also a great spot for happy hour cocktails as you explore the 16th Street Mall! They've got a nice little bar seating area for drinks or during the summer months get there early for a table outside. The service is good with friendly staff, too. Happy hour is offered each day from 3 – 6 p.m.
Our recommendations for happy hour selections at Rialto Cafe:
Truffle fries tower
Tempura calamari
Ahi tuna poke
Happy hour wines start at $4.50, beers at $3, and cocktails at $5.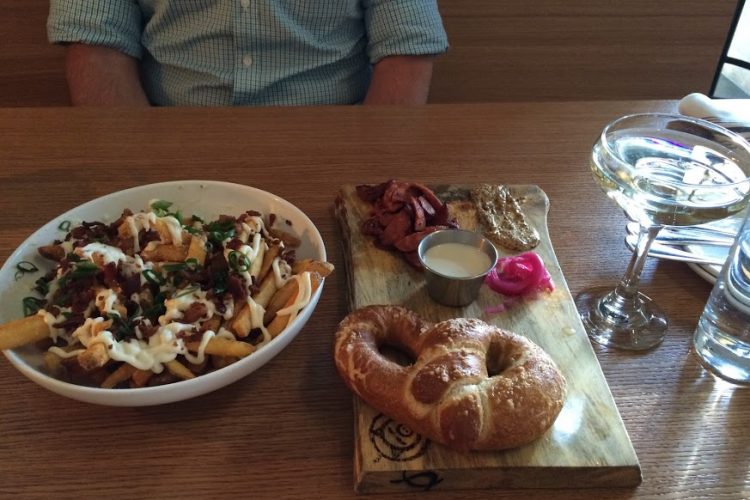 Pig and Sprout
The Pig and Sprout has a rotating, seasonal menu but we've never had anything we haven't liked there. Their menu is split into vegetarian options (sprout) and meat-based options (pig), making it a great place to take your vegetarian or vegan friends – we do. We haven't had anything we didn't like there and the waiters are super friendly and great at making suggestions of what to drink on their rotating cocktail menu. Happy hour is every day from 3 – 6 p.m. and is 25% off specialty cocktails, wines by the glass, well drinks, beer drafts, and small plates.
Our recommendations for happy hour selections from Pig and Sprout:
Smoked brisket poutine
Pigs and blanket
Cheddah' pig fries
Garlic mushrooms
I love the wine list at Pig and Sprout but they also have a fantastic menu of hand-crafted cocktails. The rise & swine, apple pie martini, rum suckle, and apple cranberry mule are some of my favorite cocktails there.
Rio Grande Mexican
I'm not a tequila fan but I can drink the margaritas at the Rio – especially the frozen manberry margarita. They do limit you to three as they're that strong. Salsa and chips are complimentary but you can't go wrong with upgrading and getting some of their delicious queso or sharing some nachos with the table. Happy hour is available Monday through Friday from 3 – 6 p.m.
Our recommendations for happy hour selections from Rio:
Queso deluxe
Tropical guac
Grilled steak tacos
They also have $3 drafts but you seriously need to get a margarita here.
Lucky Pie Pizza and Taphouse
In the mood for Italian or pizza? Head to Lucky Pie on the 16th Street Mall! Lucky Pie has a good bar space and a pretty casual atmosphere – great for some charcuterie and cocktails. Happy hour is from 4 – 6 each day.
Our recommendations for happy hour at Lucky Pie:
Seasonal bruschetta
Smoked mozz and house made jam charcuterie
Fresh mozz pizza
Craft beers are $3.50, the house-made sangria is $4, or you can get a well cocktail for $3.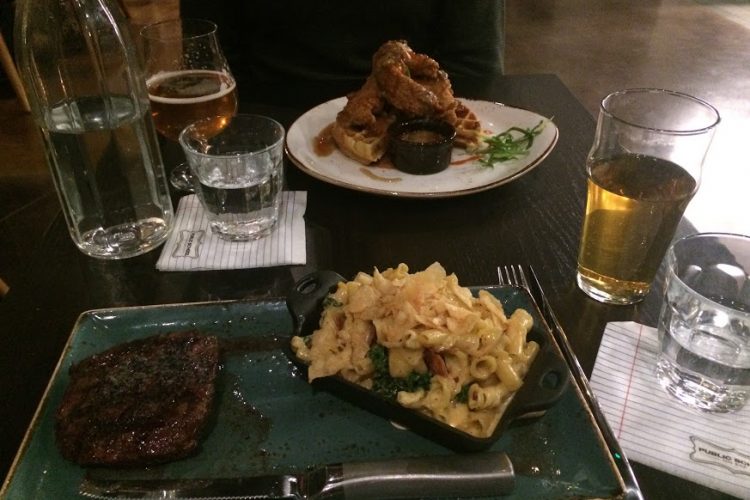 Public School 303
PS303 has a good menu with great prices and their happy hour is actually feasible for those of us that work until at least 5 p.m. With happy hour deals available every day from 3 – 7 p.m., this low key spot is the perfect place for drink and food specials. Their happy hour, or recess to stick with the school theme, includes both drink and food specials – all with great service. Another reason they make the list is their outdoor patio – perfect for a cool beer in the summer.
Our recommendations for happy hour selections from PS303:
PB & J Burger bites – yes, this burger has peanut butter and yes, it's amazing
Bacon cheddar tots – just be prepared that the ketchup is mixed with sriracha
Chorizo mac & cheese – it has crispy kale and potato chips (see the photo above)!
Parmesan truffle frites
Fiery calamari
The house wine is $5 a glass (or $15 per half liter) or you can score some excellent deals on well drinks ($5) or beers starting at $4.
ChoLon
Get your taste buds ready for an amazing journey at ChoLon. The food is exquisite but not super heavy – though with all the tasty menu items, happy hour might turn into dinner here. They do have a small outdoor patio, so get there early or after the first wave of happy hour-goers leave. Happy hour is Monday – Saturday from 2 – 6 p.m.
Our recommendations for happy hour at ChoLon:
French onion soup dumplings – you'll need like six orders of these
Wagyu beef skewers
Pork belly buns
Potstickers

Panzano
Another fantastic option for those in the mood for Italian! Happy hour at Panzano is every day from 2:30 – 6 p.m. and we've gone on the weekends and received excellent service. They have a mix of small plate options, from $5 to $8 options.
Our recommendations for happy hour at Panzano:
Funghi pizza
Salsiccia pizza
Smoked burrata
Local Colorado beers start at $5, wines by the glass for $6, or a carafe for $12, and specialty cocktails at $7. I love the prosecco or their Italian red blend wine.
Wynkoop Brewing Company
Head upstairs to the pool hall for happy hour, from 3 – 6 p.m., Monday through Friday at this popular Denver brewery. During happy hour at Wynkoop, enjoy $2 off their main beers (I love the light rail) or a dollar off seasonal and small batch beers. It's a dollar off house wine and well drinks, too.
Our recommendations for happy hour at Wynkoop Brewing Company:
Beer cheese & pretzels
Bison chili nachos
Chips and queso
Technically these last few are just outside of LoDo's boundaries and are in Ballpark or in the Highlands (over I-25), but worthy of making the trek for happy hour in Denver!
ViewHouse
This popular spot is near Coors Field and serves up happy hour Monday through Friday from 3 – 6 p.m. Start with the $3 bites or get a shared plate for $6 or $9 at ViewHouse. They've got a great little outdoor green space with cornhole and games. They also host many events throughout the year like yoga on the green, Summer Sunday Funday, or Flicks for Chicks on Thursday evenings (ladies drink free after 9 p.m.)!
Our recommendations for happy hour from ViewHouse:
Pigs in a blanket
Cheese pretzel bites
Nachos supreme
Beer starts at $3, wine at $5, and specialty cocktails at $5. I opt for either a cheap beer or fun cocktail there like the berry fizz or chocolate martini.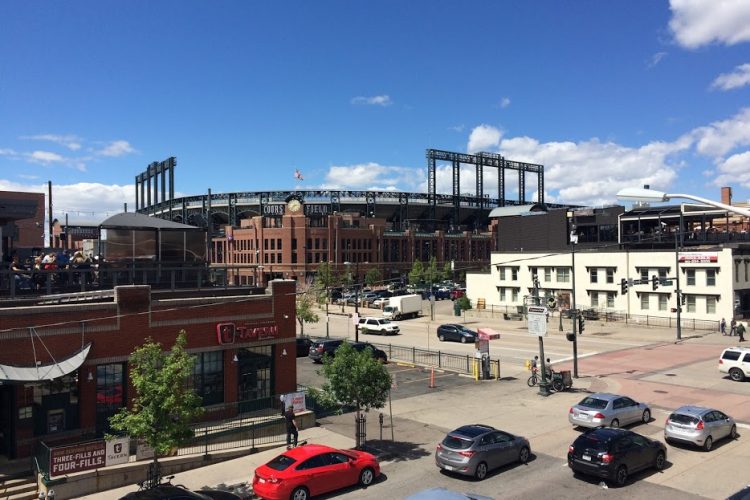 Tavern Downtown
Tavern is another nearby neighbor to Coors Field – it's a popular destination on summer evenings when the Rockies have fireworks after the game. But, during the week, stop by for happy hour from 3 – 7 p.m. and enjoy their two-fer happy hour deals! BOGO house wine, well drinks, and draft beer, and enjoy discounts on shareables.
Our recommendations for happy hour selections from Tavern Downtown:
One-topping flatbread
Asian lettuce wrap
House made chicken tenders
Linger
This former mortuary turned bar is a popular restaurant in the Highlands in Denver. Happy hour is from Monday through Friday from 4 – 6:30 p.m. Linger's a unique venue and has been furnished with cool, modern decor but they still pay tribute to the building's former life in creative ways. Get a great glass of wine or cocktail for $6 here, I recommend the sangria rojo. They specialize in shareable plates and street food, so don't expect to have a dish all to yourself!
Our recommendations for happy hour at Linger:
Pork belly bun
Mongolian BBQ duck bun
Sweet potato waffle fries
Devils on horseback
Ale House
Ale House is great for a casual drink in a lively bar. Grab a seat near the downstairs windows or head upstairs to their open air patio. It has great views of the city skyline while you sip a great drink. Rick and I have done happy hour here a few times and I've met several girlfriends for drinks there and have always had a good experience. Happy hour is every day from 4 – 6 p.m. or all day Wednesday!
Our recommendations for happy hour selections at Ale House:
Ale basted pretzel
Crispy calamari and pickles
Carnitas wontons
Fish tacos
Beers start at $3, Colorado wines at $5, and well drinks for $5.
Recess Beer Garden
Prefer to cool off at happy hour with a cold beer? Then head over to Recess Beer Garden in the Highlands for a crisp, refreshing beer from a variety of brewers. Happy hour is from 3 – 7 p.m., Monday through Friday, and is a dollar off drafts or get a specialty mule for $6. They have a good little selection of $7 snacks, too!
Our recommendations for happy hour at Recess:
Chili tots
Pulled pork sliders and fries
Sloppy Joe sliders and fries
Mac and cheese
Recess is a Colorado proud beer garden, so you have to get a beer brewed right here in our great state. The Steamworks Colorado kolsch, Dry Dock apricot blonde, and the Denver Beer Co. princess yum yum raspberry kolsch are some of my favorites, but they also have a good variety of IPAs and lagers available.
If you check out any of these spots, let us know what you think your experience there!
Like the post? Share it now!