Taking your travels across the seas or over the border? Make your getaway as stress-free as possible with these 21 international travel tips!
Plan ahead
Seems obvious enough! Research destinations and the weather to find the best time to visit – unless you're planning a budget trip and trying to travel in the off-season for cheaper rates. But, once you've selected your destination, it's time to create your travel itinerary and map out how you're going to get there and where you're going to stay.
Some say that around 60 days before your departure is the best time to get a deal on a flight or you can use flight trackers, like Hopper or Google Flights, to alert you when the price is going to be right for your trip. Price out one-way flights versus round-trip options and look at flying on different airlines to find the best flight deals. You'll also want to reserve any seats on the train if you're visiting multiple countries as well as coordinate any ground transportation if you need it.
Next, secure your accommodations for your trip. Check hotel websites directly for the best pricing and direct discounts. Using Expedia and TripAdvisor is great for comparing hotels, but you can often find great deals on the hotel's website – or check out their packages for extra amenities during your stay.
Planning ahead also means planning ahead for prescriptions. My prescriptions only come in a one-month supply and sometimes that renewal window is while I'm out of the country. Call your insurance provider so they can override the renewal date so you can leave with your medications in hand.
Develop your travel itinerary
Then it's time to research tours, attractions, and shows you want to see while you're there. Make a list of the things that are most important to you, things that you'd like to see, and things you'll do if there's time. Double check major attractions' hours and open dates as some museums are closed randomly on Mondays and some have extended hours on other days.
Try not to plan every minute of your day and end up needing a vacation from your vacation. Spread out your must-sees and schedule in some downtime and budget a little extra for travel time between activities.
Buy tickets online and in advance for things you know you must do. Nothing would be worse on your Paris getaway than imagining the perfect evening at the Moulin Rouge and finding out the show is sold out when you get there.
We also recommend planning a day here and there where you have no plans and just see where the day takes you. Be impulsive, stray away from the tourist attractions, and get lost for a bit. Sometimes you'll find the best restaurants, shops, and hidden gems by not having a fixed destination in mind.
Double check your passport
Like we covered in our passport basics post, many countries require that your passport is valid for six months beyond your travel dates.
Double check your passport's expiration date to make sure you're within this guideline. It's also good to make sure the places you're visiting only need passports for entry, or start looking into how to obtain your tourist visa.
Create copies and an emergency plan
Create copies of your passport, one for you to keep stowed safely in your luggage and one for you to leave with a trusted friend or family member. You should also create copies of your credit cards and driver's license. I also always send a copy of my travel itinerary and flight numbers to my family.
You should also make copies of your health insurance card and have an understanding of what kind of overseas coverage you may have or what to do if you do have an emergency. If your coverage isn't the best, you may want to look at travel insurance. Travel insurance generally covers more than just unexpected medical costs, as it can also cover lost or stolen luggage, lost funds for cancelled tours or transportation, and more. We stick to the rule of thumb that the more expensive the trip, the more we're inclined to get insurance to cover any losses.
Get some cash
Most large banks offer currency exchange services so you can order your cash before you leave the country. I always take a couple hundred euro (or whatever the local currency is), split up between my purse and luggage, to start with.
During your trip, take out larger withdrawals at the ATM to avoid paying tons of fees for smaller transactions. Check with your bank to see if they offer ATM fee reimbursement, too! Worst case scenario, you have some extra cash to exchange back for dollars when you get home, or you can save it for a future trip.
Get a credit card that doesn't charge foreign transaction fees
There are many travel credit cards out there that offer zero foreign transaction fees. We both have a Chase Sapphire Reserve – the first credit card I have ever chosen to pay an annual fee for. It's great for frequent travelers as there are no foreign transaction fees, and you have a $300 travel credit each year, get 50% more when you redeem your points for travel through their site, and earn three times the points on travel purchases. It essentially pays for itself and is a great card.
Put a travel alert on your credit and debit cards
Call your credit card companies and bank to let them know you're traveling, otherwise they might flag the purchases as fraudulent and freeze your card. They just need to know when you're leaving and where you're going.
Pick a phone plan
Need to stay in touch with people back home or want cell service overseas? Upgrade to an international plan or buy an affordable international SIM card to use on your vacation. Since most hotels offer free Wi-Fi these days, I don't upgrade my plan and just use Wi-Fi when I have it to send iMessages or use What'sApp. If you're not investing in an international plan, be sure to keep your phone in airplane mode while out and about to save your battery!
Download CityMaps2Go
A great app if you're not going to have internet access or cell service! You can download maps on CityMaps2Go that still use GPS to find you to help you figure out how the hell you ended up in this neighborhood or how to get back to your hotel. You can also create trips, save places, and get some helpful travel tips and in-depth information in the app!
Take hotel business cards
When you get to your hotel, grab a business card and stash it in your purse or wallet. That way if you need to take a taxi back after a long night out and are having some language barrier issues, you can show them the card and they'll know just where to go.
Converters and chargers
Just like we don't all have the same units of measurement (I'm looking at you, America), we don't all use the same wattage and voltage for power. Check each country you're visiting to see what adapters and converters you'll need to throw in your suitcase. Fortunately, most of today's technology works with a variety of voltages and adjusts automatically, or you can buy travel accessories that have dual modes to work in the States and overseas.
Keep a spare change of clothes in your carry-on
Checking your bags? Throw a spare set of clothes in your carry-on just in case your luggage is lost or delayed in getting to you. My plane outfit is picked for comfort, but I wouldn't want that to be my only clothing option for the first day or two on my trip.
Bring a scarf
Not only are scarves stylish and great for pairing with basic T-shirts, but they can also be useful. Many religious buildings in Europe require shoulders and knees to be covered but when it's 100 degrees outside, it's not very tempting to pack a sweater or cover up. A scarf can be used as a wrap to comply with the regulations, but is light enough to not be cumbersome for the rest of your day's plans. While it's a 100 degrees out, it can also provide some sun protection!
Want more tips on what to pack for your trip? Check out our 15-must have travel accessories!
Pack some snacks
Not just for the plane, but for quick breakfasts if your hotel doesn't include breakfast service or as snacks on the go. Granola or power bars, pre-packaged almonds, protein shakes, apples, or anything that's easy to toss in your bag and doesn't need to be kept cool are all great options.
Learn a few key phrases
Though there are tons of translation apps out there and many countries offer menus in English as well as restaurants and hotels staffing people that speak English, I always think it's fun and valuable to learn a few key phrases in the native language of the country you're visiting. Learn basics like greetings, how to ask for directions, and how to order food and drink or make purchases. It can also help to learn how to say that you only speak English or how to ask if the person you're speaking to speaks it.
Be prepared for tummy troubles
Traveling, especially overseas, can throw off not just our sleep schedules, but other internal systems as well. Not only is your time zone off, but the food you're eating might be different as well as drinks. Make sure to bring some over the counter meds for tummy troubles or other indigestion issues you might face with travel.
Also, if you're prone to seasickness or motion sickness and planning on taking a boat tour, be sure to pack some Dramamine or Bonine or something similar!
Jet lag
On a tight schedule and need to kick jet lag's ass? Resist napping! It'll be hard, but it'll help. Drink a lot of water and try to eat the first standard meal at the right time in your travel destination, whether that's breakfast, lunch, or dinner. Sleeping at the right time during your new time table also helps you adapt quicker, so try to go with the flow when you arrive and match your activities to the right time zone.
Most overseas flights are offered at night so you can sleep through the time zone changes, but if you have kind of an off-hour flight time, either get up extra early to wear yourself out or go back to your college days and pull an all-nighter. Our upcoming flight to London this summer leaves around 2:30 p.m. – not exactly either of our bedtimes – but, we'll be pulling an all-nighter so we can sleep on the flight and be ready for breakfast when we land at 6:30 a.m.
Meet new people
Being a traveler means interacting with your destination and its people. Ask your tour guides, wait staff, bartenders, or hotel reception clerks for locals-only information on where to go and what to do. Get to know the people that call your travel destination home and enjoy more authentic experiences that only locals get.
Pack less
Rick and I tend to be overpackers, we want options or feel like we're definitely going to wear everything we bring. Most times, we don't. Learn to pack less and travel light! You don't want to be stuck with luggage that's near the weight limit and having to carry that up and down three flights of stairs to your hotel room. Plan to rewear outfits, take light clothing you can layer, use travel size toiletries, and try to eliminate unnecessary pairs of shoes.
Get more tips and tricks from our packing tips post: How I packed for a two-week Europe trip in a carry-on!
Take care of home things
Planning an extended trip? Make sure all your home-related things to do are taken care of, like prepaying your bills, coordinating pet care or garden watering, and maybe even holding your mail service. Depending on your trip, you could also put a hold on TV or internet services, but check with your provider if that's a complimentary service or if you have to pay a stop/start fee. You might want to let a neighbor know you'll be out so they can keep an eye on your house or many police departments will even check on your place every so often while you're out, just as a backup.
Be patient and calm
Travel can be stressful but it kind of ruins the fun of an adventure when we're annoyed and upset by things outside of our control. Sometimes flights have to be delayed, sometimes your reservations are lost, sometimes people are jerks and steal your personal belongings, and sometimes the universe is just out to get you. Breathe and stay calm through unexpected hiccups.
Travel is an amazing experience but also comes with the risk that things aren't going to run smoothly 100% of the time. Expect that unexpected little changes are going to come up on your trip and try not to let that ruin the whole experience. Focus on all the good things that are going right on your vacation and that you'll get through this little setback.
Also, don't worry about things that might not even happen on your trip! There's no reason to create pre-anxiety about your trip about potential strikes or terrorist threats.
Besides, always assume you'll get back to your passport by visiting that city or town again in the future. Don't focus on what you're missing or not seeing and appreciate what's right in front of you.
What tips do you have to share when it comes to international travel? Tell us in the comments below!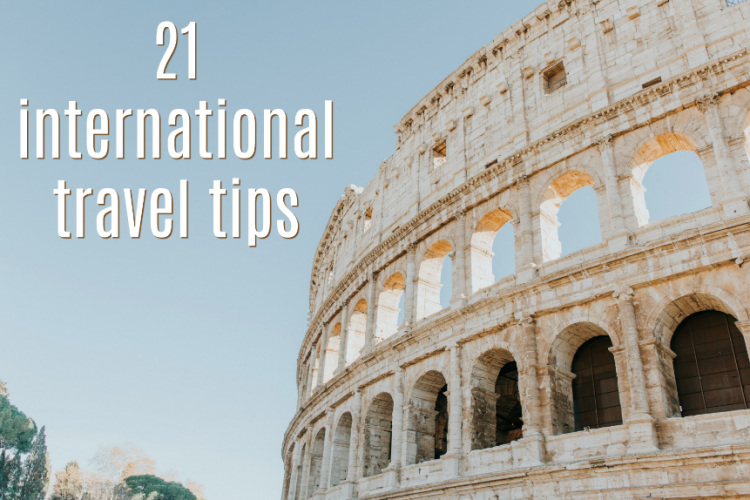 Like the post? Share it now!