A couple years ago, I went on a girls' trip to Europe for a few weeks and surprised the group (and honestly, myself) with how little I packed. Though now I'm wondering if I've found a runaway suitcase from Mary Poppin's universe as no matter how many things I unpacked when I got home, there were still more things waiting to be taken out.
For my two-week European exploration, I took a standard carry-on roller suitcase and a hobo shoulder bag measuring 15 in. wide by 13 in. tall. Most of my clothes went in my carry-on but I did carry a spare set in my bag but most of that was taken up by entertainment and travel essentials like IDs, my wallet, and phone.
It was great during my trip as I didn't have to lug a giant checked bag up and down the stairs at the hotels, on and off the trains, and was able to walk right off the plane ready to start my adventure instead of waiting for my luggage.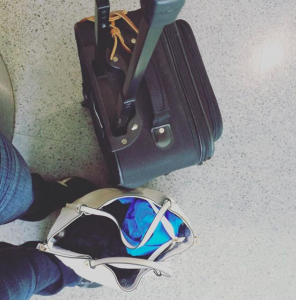 To help replicate that success in the future, I put together some favorite tips I've picked up along the way on how to pack like a pro!
Packing tips and tricks
Color coordinate
I know it's so tempting to bring that one gorgeous sundress that's perfect for a day exploring Paris but if it doesn't match your shoes or you're only going to wear it that one time, do not pack it! Stick to a color palette and mix and match from there.
Take some basic pieces that can be paired with a variety of other items, like a plain black skirt or plain white tee. Black and white is a class look and can be dressed up with accessories or bright sweaters. Aim to pack so that if you were on the road and blindly grabbed a shirt, pants, and shoes that they would work right away.
Don't get eliminated! (It's funnier if you've seen MXC)
Many travelers swear by the 50% elimination trick. You lay out all the clothes you want to take with you and then put half back in the closet. It forces you to only take what you really, really want to wear or what you actually need on your vacation.
Match outfits to your itinerary
I'm not decisive enough to eliminate 50% of what I've picked out so I opt to write out my travel itinerary and then match outfits to those days' activities and make sure I'm wearing an outfit or a specific clothing item more than once. This is where color coordinating comes in handy to make sure my pieces all work together.
Roll your clothes
Roll your clothing to save space! It can seem counterintuitive to roll items when you could just try to squish them flat, but thin shirts and smaller items take up way less space rolled than folded.
Alternatively, you could invest in packing cubes. Packing cubes are fantastic as you can group similar items together and don't have to unpack your entire suitcase to find that one damn pair of shorts that was up near the top of the pile anyway. Simply grab the right cube and off you go! I'm excited to try a set that I got for Christmas this summer to see how much space they really can save.
Don't get tangled
If you plan on traveling with jewelry, the last thing you want to worry about is having a big, tangled mess you have to sort out when you're getting ready to hit the town. Buy a travel-sized jewelry box to keep items separate or buy those weekly pill boxes to keep necklaces separated but still in a compact container.
Take necessities that fold up
If I don't dry my hair, one side is stick straight and one side is wavy like I've been relaxing at the beach all day. It's not a great look. Luckily, most hotels have in-room hair dryers but I didn't want to risk it so I bought a dual-voltage foldable hair dryer for my trip. It was great and fit perfectly in my case. I also take a foldable toothbrush and hairbrush when I travel to minimize space for daily items.
Pack your day purse
I wasn't planning on using my big hobo bag as my day purse when I was sightseeing and packed away a smaller day purse in my suitcase. Since the airlines only let you have a personal item, maximize your space and use your biggest bag and pack away your day-to-day bag. I love my Travelon cross-body bag as it lays flat in my suitcase, is designed for travel, and can hold a ton – I'm pretty sure I'll find 20 Euros in coins when I get it back out for my next big trip.
For our 2018 European vacation, I'll be using my brand new Lo & Sons Catalina canvas weekender bag! I've had my eye on this bag for a while now – mostly because I loooooove the idea of the shoe storage underneath my other items. Keep a lookout for the review of that when we get back!
Wear your heaviest clothes
Similar to packing your smaller purse, save space in your suitcase by wearing your bigger or bulkier items while you travel. I knew my jeans wouldn't roll well and would take up some room by folding them, so I just wore them on the plane and layered up to save space in my suitcase.
Another great tip is to take old clothes or underwear you can throw out on your journey – just make sure to keep enough to get home!
Take sample or trial size items
Save those free samples! Or, let's be honest, save those mini shampoos and conditioners from overnight hotel stays. Anytime I buy makeup or hair care products, I save the little packets of shampoos and conditioners to take with me on vacation. They're thin so they don't take up space and I throw them out as I use them.
You can also save space by taking trial or travel size items like mascara, eyeliner, highlighter or blush, primer, etc. Travel size items are also great because if you were to accidentally leave something behind at a hotel it doesn't seem like such a big deal.
Items I bought and packed for my two-week Europe trip:
Disclaimer: The links below are affiliate links, meaning at no cost to you we may earn a small commission on purchases made through these links. We only recommend travel products we've tested and used ourselves. Thanks for your support!
Like the post? Share it now!