Sun-kissed beaches, a giant volcano, and tourists learning how to surf all await in Honolulu. While many make Honolulu their final travel destination when heading off to Hawaii, sometimes it's just a stopover on the way to another island. Another way to add Honolulu to your Hawaii travel itinerary is by making a day trip out of it!
With affordable flights between the islands on Hawaiian Airlines, it's easy to hop around the islands and see the top sights within a day – especially in a cool city like Honolulu.
There's no shortage of activities to fill your one day in Honolulu, whether you want to be a beach bum or explore the city's historic attractions before heading back to the airport for your flight back to Kauai, Maui, or the Big Island. Discover a blend of Hawaiian history and U.S. history before indulging in the fresh flavors and local cuisine Hawaii is famous for while enjoying a delightful tropical breeze.
Ready to plan your 24 hours in Honolulu? Read on to find out what you can squeeze in in a day touring Hawaii's capital.
A one-day Honolulu travel itinerary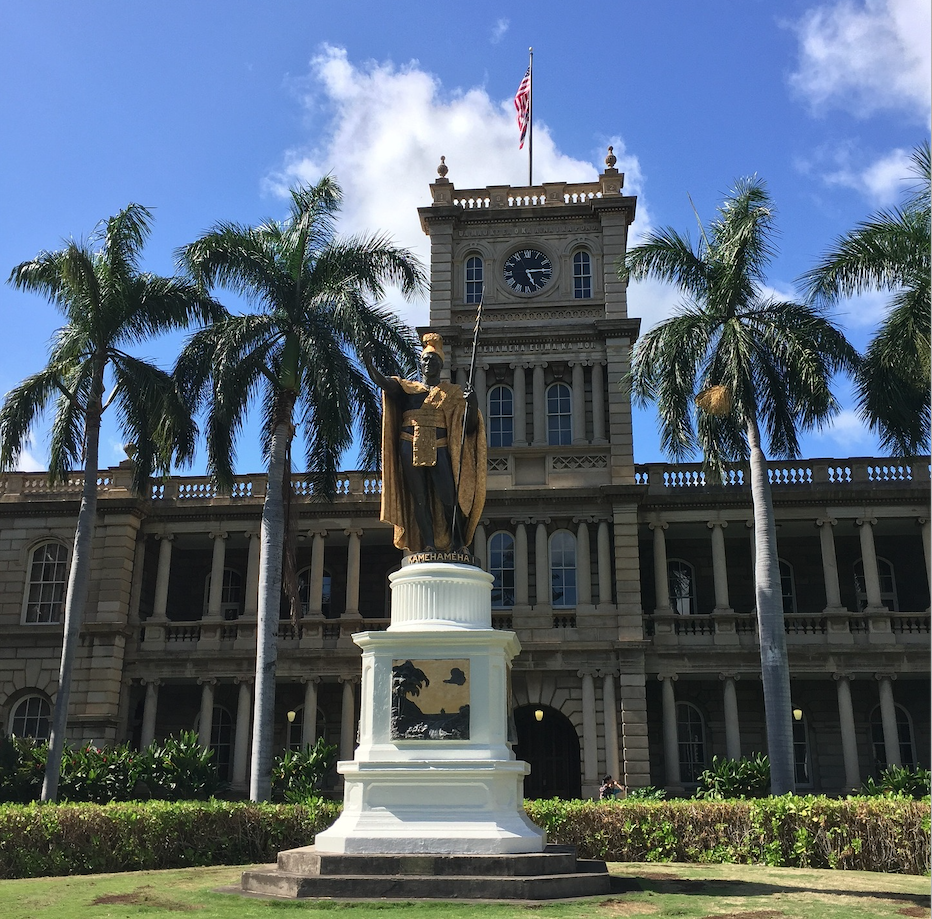 Iolani Palace
Start your Honolulu adventure by learning about Hawaii's former royalty at the Iolani Palace. Take a docent-led tour or go at your own pace with an audio tour as you visit the Grand Hall, the Imprisonment Room, the King's Office, the Queen's Room, and the palace grounds.
Depending on the time of year you go, the King Kamehameha statue may be adorned with leis and flowers in his honor. The palace was established as the official royal residence in 1845 by King Kamehameha III and served five Hawaiian kings until 1874.
Tickets are $20 for adults and must be purchased online before you arrive.
Pearl Harbor
After learning about Hawaii's history it's time to pay respects at Pearl Harbor. Visit the museum to learn about all that happened during the surprise attack that brought the U.S. into World War II and check out the memorial platform near the remains of the USS Arizona.
The National Park Service runs scheduled programs during the day at Pearl Harbor. The programs' full run time is about an hour and 15 minutes and includes:
Watching a 23-minute documentary in the Pearl Harbor Visitor Center theater
The boat ride to the memorial
About 15 minutes at the memorial
The boat ride back to the Pearl Harbor Visitor Center
Timed programs begin at 8 a.m., starting every 30 minutes, and the last is at 3 p.m.
You can get your tickets on the same day as they are first-come, first-served, or you can reserve a specific entry time online before you arrive in Honolulu. There will be a small charge for this service.
You can also look at booking a guided tour of the USS Missouri, but that will come at a price whereas visiting Pearl Harbor is free.
Treat yourself to poke and shave ice
Find a cafe or find a restaurant to dig into some traditional Hawaiian poke for lunch! This tuna-based dish is a classic but if you're not feeling up for fish, try to find some manapua, a bun filled with a sweet pork mixture. You'll need to save room for dessert, which will be shave ice. Try mango or lychee for a tropical spin on your shave ice.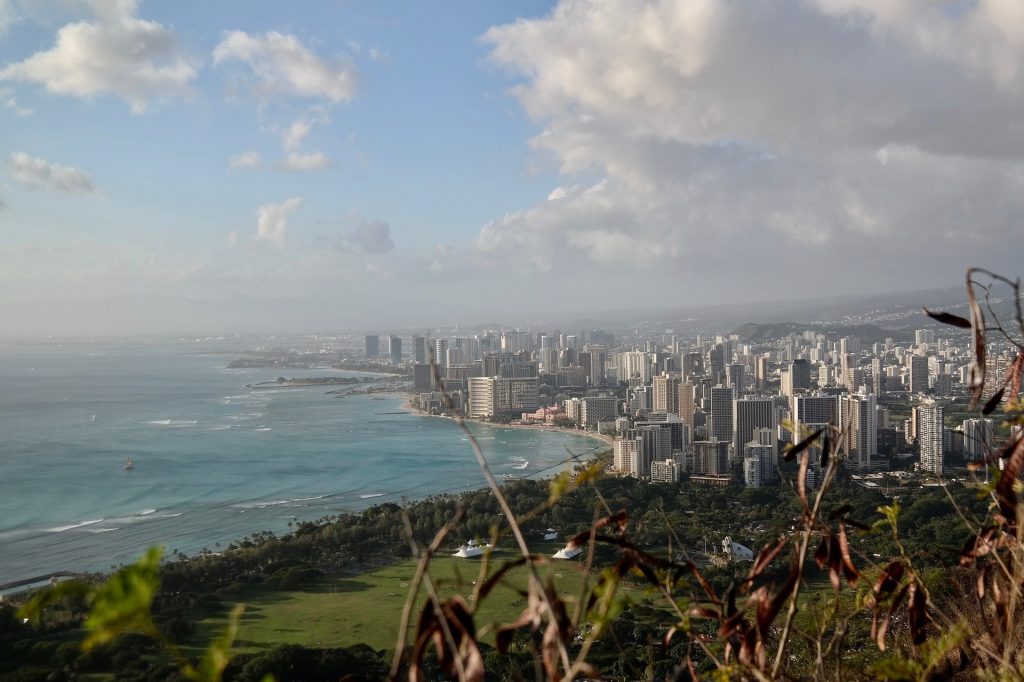 Diamond Head
Ready for an amazing view of Honolulu and an epic hike on a beautiful trail? It's time to climb Diamond Head for panoramic views of Honolulu and get Instagram-worthy pictures of your time in Hawaii's capital. The trail stretches about half a mile, one way, and isn't only for avid hikers. There are rest stops and lookouts on your way to the top and the view is worth the trek.
Diamond Head is open from 6 a.m. to 6 p.m. each day, closed on Wednesdays, but the last entry is at 4 p.m. and it only costs $5 for hikers, $10 per car – cash only.
Waikiki Beach
Cool off from your hike with a dip into the water just off of Waikiki Beach! This beach is famous for surfing, though the best time for surfing tends to be in the morning if you're planning on adding some surfing lessons to your time in Honolulu. But, if you just want to catch some sun and splash around, Waikiki Beach is a great choice, especially with its impressive views.
Hanauma Bay
If you're serious about your snorkeling you may want to head off to Hanauma Bay! It's known as one of the best snorkeling spots on the island and well worth the visit. The bay is a nature reserve so expect to follow their policies and pay an entry fee for access to this exceptional bay and area of water and wildlife.
Happy hour
Dig into a pu-pu platter and try some tropical rum drinks at a beachfront bar and restaurant. Duke's Waikiki is a fantastic option for award-winning food and drink, plus an exceptional view! Rick and I ate at Duke's on Kauai, at Kalapaki Beach and the food was to die for and the service friendly.
Sunset Mai Tai sail
If you've booked a later flight and aren't crunched for time you might want to look at doing a sunset catamaran adventure instead of happy hour as many tour companies offer open bars during their sunset excursions. Enjoy an amazing view of the beach and Diamond Head from the water, and keep your eyes peeled for dolphins playing and splashing around.
Plan for at least two hours for this adventure as most tours are about 90 minutes but then you'll need to add time for check-in and getting off the boat.
Did we miss anything from our 24 hours in Honolulu travel itinerary? Tell us in the comments below!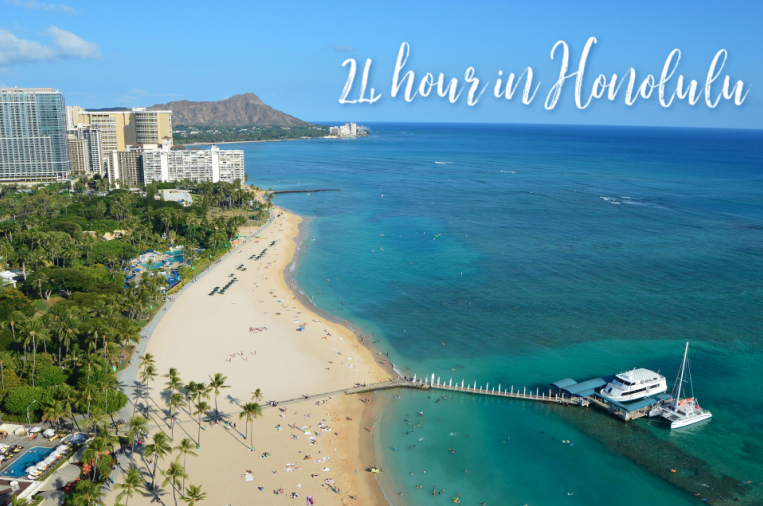 Like the post? Share it now!