Arizona is without a doubt my happy place and I'd be happy to spend any amount of time in the state, even if it's just a day. Growing up, my grandparents wintered just outside of Phoenix and so every spring break my sister and I would go stay with them and enjoy a break from Minnesota's freezing temperatures and get sunburned as we went to the pool, played mini golf, and rode our bikes around my grandparent's retirement community.
It always brings back happy memories and now that my parents live in Arizona, I get to relive the visits of my youth – but now I can drink!
So, when it came time to figure out where I was going to do my bachelorette party two years ago, I knew it had to be somewhere in Arizona. Unfortunately for my friends that meant trekking to the desert at the end of July, but they survived. I ended up picking Scottsdale as we could get a nice Airbnb with a big pool and still be able to check out some cool wineries and restaurants during our weekend away.
I highly recommend spending a weekend in Scottsdale, but if you only have a day to check it out, here are some of the best things to do in Scottsdale in 24 hours!
A one-day Scottsdale travel itinerary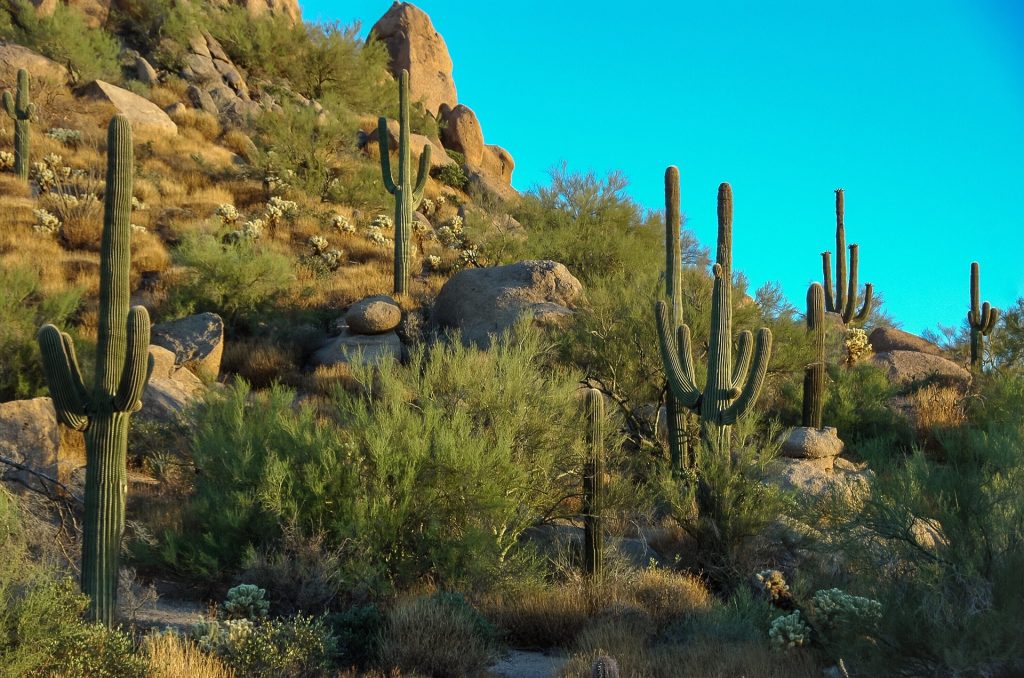 Topgolf
Arizona is big for spring training but I also always think of golf when I think of the Grand Canyon State. Start your day in Scottsdale off with reserving a bay at Topgolf and ordering some breakfast goodies and brunch cocktails to snack on while you perfect your teeing off skills.
McDowell Sonoran Preserve
Work off that breakfast by checking out the hiking trails in Scottsdale's McDowell Sonoran Preserve. Home to more than 225 miles of trails, amazing desert views, and beautiful desert flowers and plants, the preserve is a great way to explore the desert without leaving Scottsdale. Keep your eyes peeled for wildlife sightings, otherwise just enjoy the trails and gorgeous views.
OdySea Aquarium
Check out the 65 exhibits and see the more than 6,000 animals inside the Scottsdale aquarium and cool off after your desert exploration. The aquarium also offers animal experiences where you can meet sloths, African black-footed penguins, or go behind the scenes with sharks!
Scottsdale Museum of Contemporary Art
The Scottsdale Museum of Contemporary Art (SMoCA) has a wonderful collection of art and changing exhibits. It's only $10 per adult so it's an affordable and artistic way to spend your afternoon.
Wine tour of Old Town
One of the reasons I had my bachelorette in Scottsdale was because of its booming wine scene and the Scottsdale Wine Trail. Discover some of the town's finest wineries by going on a guided wine tour of Scottsdale!
Learn all about wine making in Arizona while treating yourself to tastings of fine wine. Start off with a flight of sparkling wine, served with some light bites, then moving on to a few more wineries and sampling some of their best vintages.
Dinner
Scottsdale is home to more than 800 restaurants so you should be able to find an excellent spot for dinner during your day here. We had a fantastic experience at Evo in Old Town if you're in the mood for Italian, otherwise there are plenty of restaurants serving up tacos and other Southwestern favorites, or sports bars with American comfort food if you want a heartier dinner.
Comedy
End your night with some comedy at the Comedy Spot Comedy Club or go up the road a bit and check out Rick Bronson's House of Comedy in Phoenix. Discover some new talent and laugh until you cry to end your day in Scottsdale in high spirits.
How would you spend 24 hours in Scottsdale, AZ? Tell us in the comments below or give us a shout on Twitter!
Like the post? Share it now!