Okay, I'll admit that it's practically impossible to get a bad photo while exploring Hawaii as the islands are so colorful, beautiful, and Instagram-worthy just by their mere existence. But the island that's our favorite to photograph is Kauai!
This island is so rich with photography locations, from the waves crashing along the sandy yellow beach to intense waterfalls surrounded by vibrant green vegetation. Kauai is known as the Garden Island and it easily lives up to its nickname.
One great thing about Kauai is its diversity of landscapes so you won't just leave with pictures of you on the beach. I truly think the island is a travel photographer's dream if you're willing to put the time and effort into getting out to some of Kauai's best photography locations.
Got your camera ready? Discover where to go to get some amazing photos of your adventure across Kauai in this roundup!
Top 10 Instagrammable locations on Kauai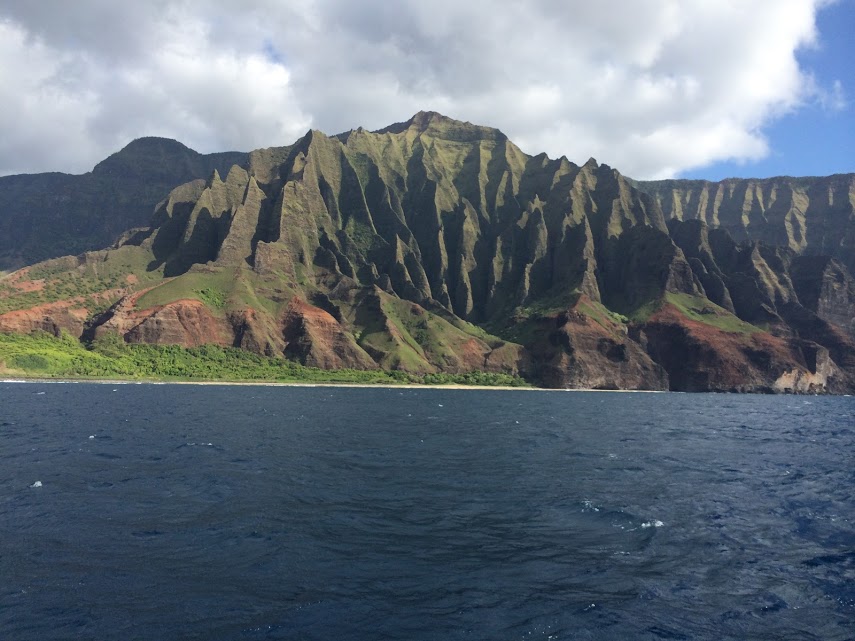 1. Napali Coast
Arguably one of the most famous coastlines of the Hawaiian islands, these emerald green spires are truly a sight to see. The Napali Coast is probably one of the first things anyone thinks of when they think of Kauai and you could easily leave the island with more than 100 pictures of these cliffs just on their own.
Rick and I enjoyed views and photo opps of these cliffs both by catamaran and on an aerial tour of the island. I highly recommend both as they give you different perspectives of the Napali Coast. There are ways to hike to lookouts over the coastline as well if you want to pair your photography with some hiking!
2. Waimea Canyon
Another thing we saw on our aerial tour of the island was Waimea Canyon State Park, another can't-miss subject for your Kauai photos! Again, you can also get great shots of the stunning "Grand Canyon of the Pacific" by foot with trails and lookouts, like Pu'u O Kila Lookout. It's not the landscape you'd expect to find on the Emerald Island, but that's also what makes it well worth the visit!
3. Kalalau Lookout
Want the vibrant blue hues of the ocean against the striking greens of the Napali Coast? Then you'll want to add a stop at the Kalalau Lookout to your Kauai travel itinerary! This lookout gives you a wonderful view of the Kalalau Valley and you might even recognize the scenery from classic films such as King Kong, Mighty Joe Young, or Jurassic Park.
If you want to add a little hike to your stop here, there's about a two-mile out and back trail, the Kalepa Ridge Trail, that provides even better views of the coastline.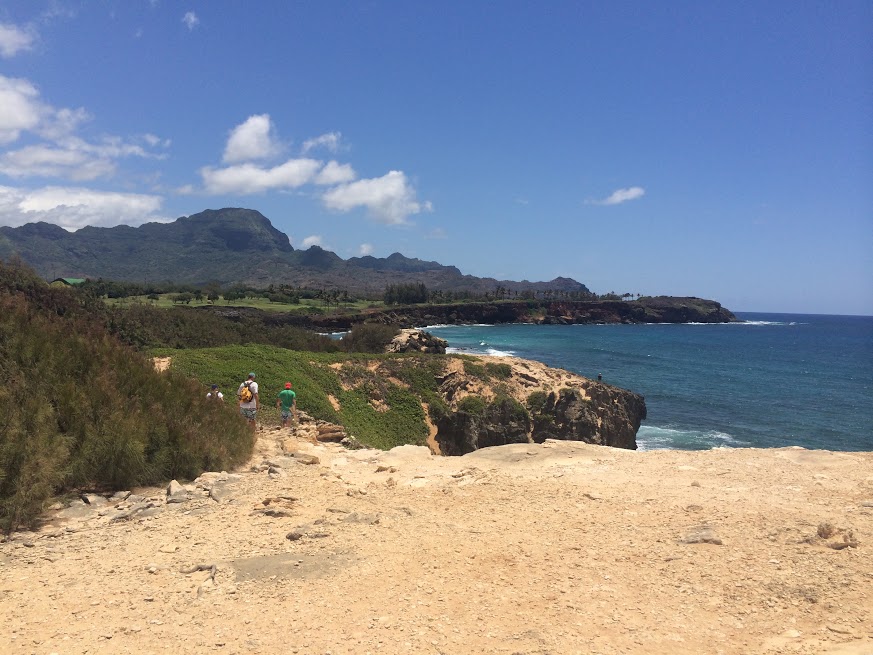 4. Maha'ulepu Heritage Trail
I had the fortune of doing this hike with some friends when we were on Kauai and it'll show you a more rugged side of the island as you walk on red dirt, lookout over the jagged edges, visit beautiful beaches, and check out some caves and natural structures.
5. Hanalei Valley Lookout
We've already said that Kauai is nicknamed the Garden Island and when you see all the greenery and taro plants spread out in the Hanalei Valley you'll have to agree with the apt name. The lookout can be found on Kuhio Hwy, and you'll often find some cars pulled over, a good indication a photo location is about to be stumbled across. Midday is one of the best times to visit this site as you won't shoot directly into the sun nor have great big shadows cast across the valley.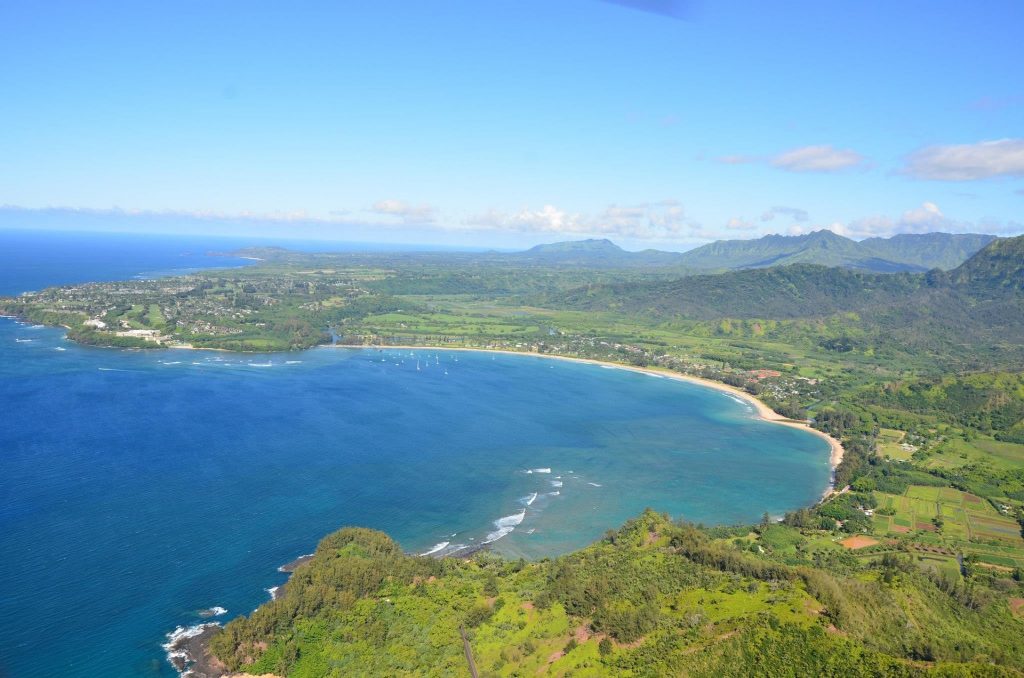 6. Hanalei Bay
Head on up to Kauai's stunning North Shore to visit the incredible Hanalei Bay. Hanalei is a popular vacation destination on the island and once you're there it's easy to see why. Hanalei Bay is home to a beautiful beach set against the green spires and it looks like a dreamscape or ideal filming location for a movie set in paradise.
7. Tunnels Beach
Combine your quest of shooting some of Kauai's best photography locations with some of the best snorkeling when you hit up Tunnels Beach. This beach can also be found on the North Shore and lures you in with vibrant aqua water, golden sand, and a jungle-like backdrop. This beach is very popular but it's worth battling the crowds for amazing Instagram-worthy shots – especially at sunset!
8. Queen's Bath
Queen's Bath looks like it belongs on the Pacific Northwest coastline than it does on Hawaii, but this natural formation is quite the treat to photograph. It's recommended to go at sunset as it's a gorgeous viewing spot, but it also provides some great colors on the powerful tides falling into the tidal pool and provides a pop of color behind the sea spray flying above the rocks. 
9. Wailua River
You'll have to get a bit active for these shots as you kayak on the Wailua River but it's worth it! Wailua is a bit north of Lihue, where the Kauai airport is but you'll be transported to a jungle landscape as soon as you start kayaking the river. You can get some incredible shots this way, but if you're wary to be on water, there are some nearby hikes to give you good glimpses of the lush green surroundings.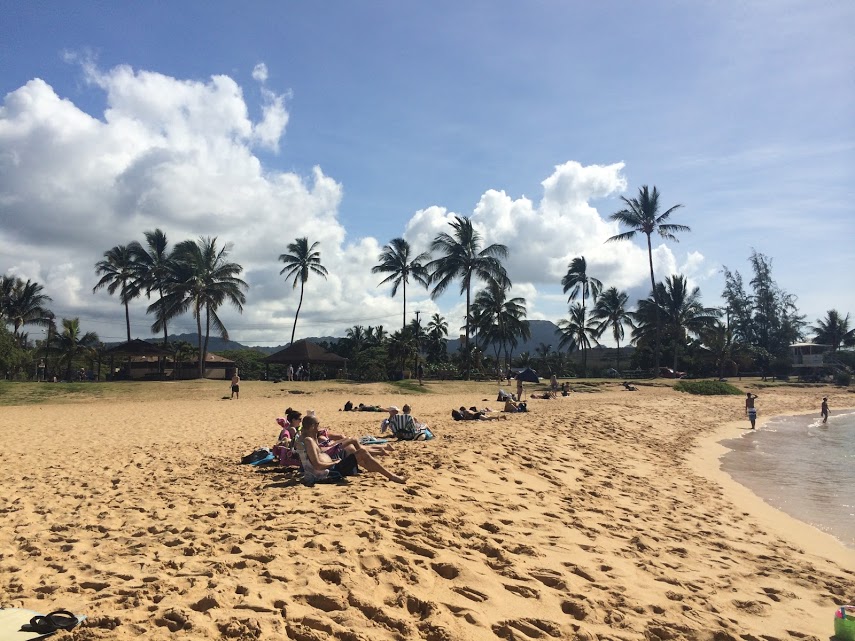 10. Poipu Beach
Rick and I loved staying in Poipu and checking out Poipu Beach. It's absolutely a must-see on the South Coast of Kauai and it's so picturesque you won't be able to help but snap dozens of photos of the soft, golden sand, swaying palm trees, and waves crashing on the shore. Just be warned it'll be practically impossible to not have people in your shots at this Kauai photography location as it's a very popular beach, with many nearby resorts. 
If crowds aren't your thing, we definitely recommend visiting the more secluded and smaller Baby Beach in Poipu. Fortunately our accommodation was a five-minute walk from this cute beach and we practically had it to ourselves most days.
Did we miss any Instagrammable locations on Kauai in our list? Let us know in the comments below or give us a shout on Twitter!
Like the post? Share it now!