I'll start this post off by saying I'm glad we had more than one day in Lisbon but I will also say that if you're strapped for time you can pack a lot in if you only have 24 hours in Lisbon!
From historical attractions to trendy eateries, there's a lot to do in Lisbon. Fortunately, the city is pretty walkable and the public transportation is very easy to use. Besides, who can resist a ride on a classic trolley through a hilly city?
This blog is a mash up of our favorite activities in Lisbon that we did over the course of a few days but packed into one itinerary if your time is limited in Portugal's capital.
Ready to see what you can do in 24 hours in Lisbon? Let's go!
A one-day Lisbon travel itinerary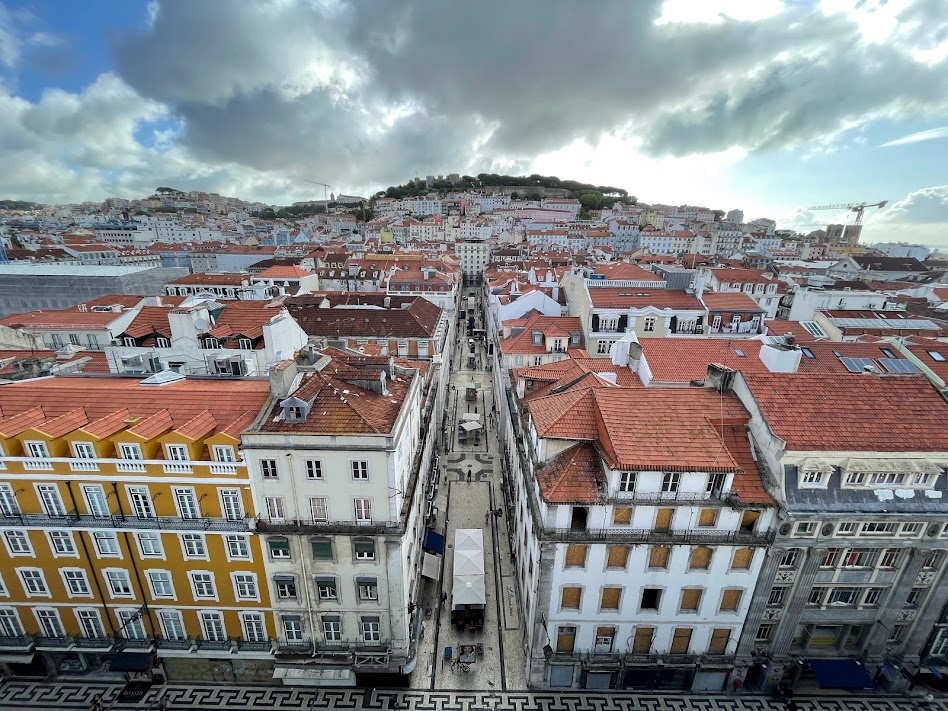 Elevador de Santa Justa
We started off our first full day in Lisbon by getting to the Elevador de Santa Justa (which should remind you of Paris' Eiffel Tower) right when it opened to take a ride up the historic elevator.
The elevator dates back to 1902 and connected the Baixa and the Bairro Alto. The elevator was steam-powered for about five years before an electric motor was put in.
Now, the 147-ft. elevator is a popular tourist attraction and the viewing platform at the top provides a stunning aerial view over the city that's worth the cost of the ride to the top – which is about €5.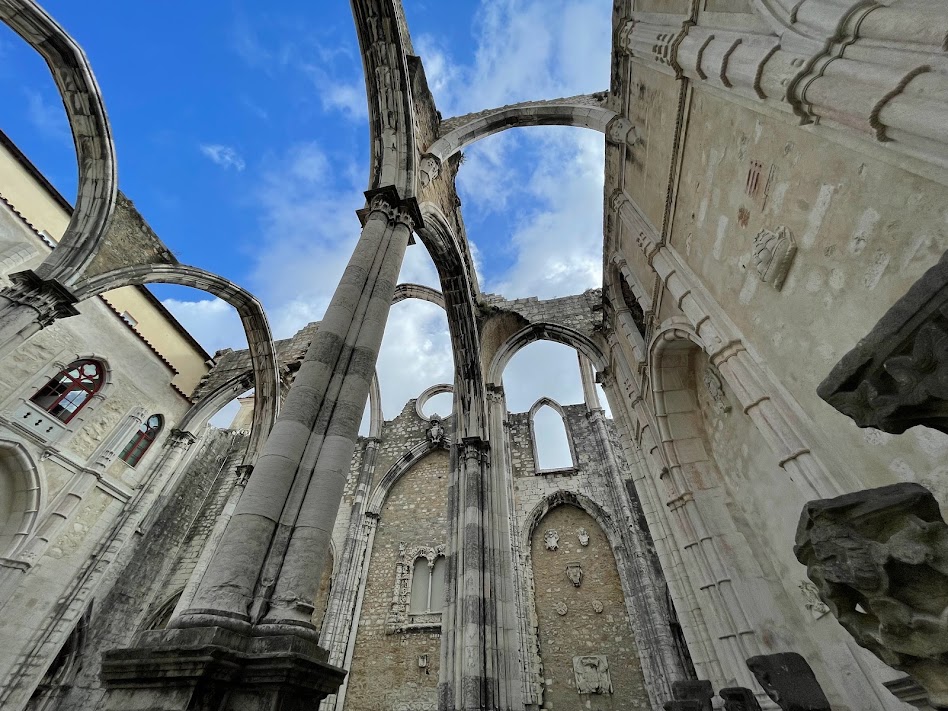 Carmo Convent
After soaking up the beautiful views of the city it's time to dive into some of Lisbon's history – particularly around the 1755 earthquake – by checking out the nearby Carmo Convent, or what's left of it.
This relic demonstrates the damage done by the earthquake but is also a beautiful church and museum featuring archaeological exhibits. There is a film shown on a loop that talks about Lisbon's history, the church, and the aftermath of the earthquake on the city. The film is presented in both Portuguese and English.
The convent dates back to the late 1300s and is an impressive reminder of Lisbon's rich and extensive history.
Interestingly enough, the 1755 earthquake isn't the only one to impact the convent. The church nave was damaged by another quake in 1969.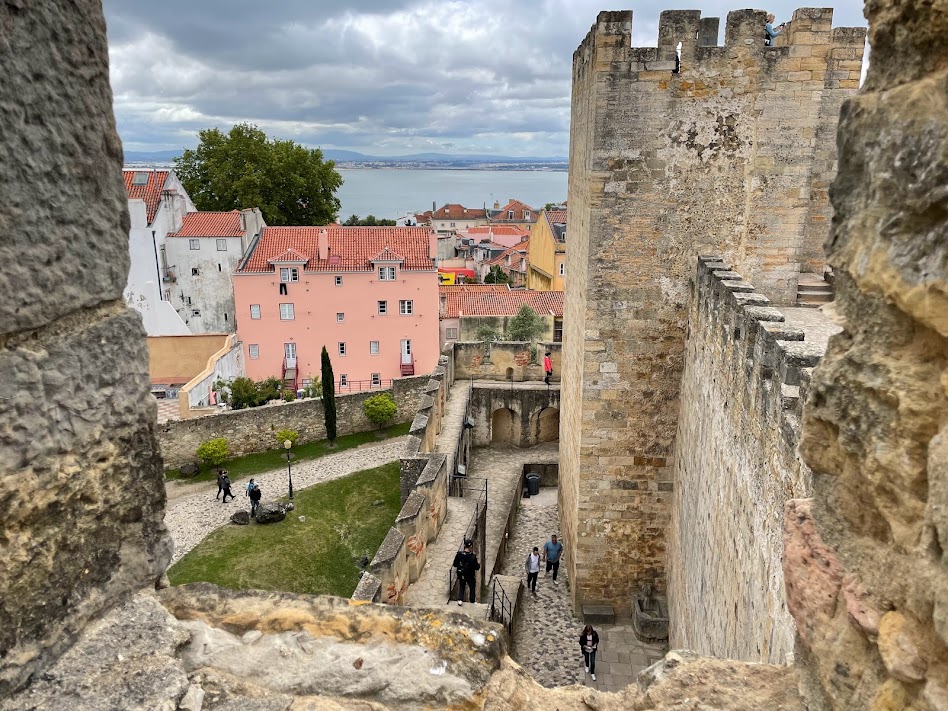 Sao Jorge Castle
Step back in time in Lisbon as you head up to the castle on the hill and explore this well-preserved castle from around the first century BC. Like the Carmo Convent, this structure mostly survived Lisbon's famous 1755 earthquake and fire.
Before you enter the castle there are some great spots to post up to enjoy a fabulous view over the city.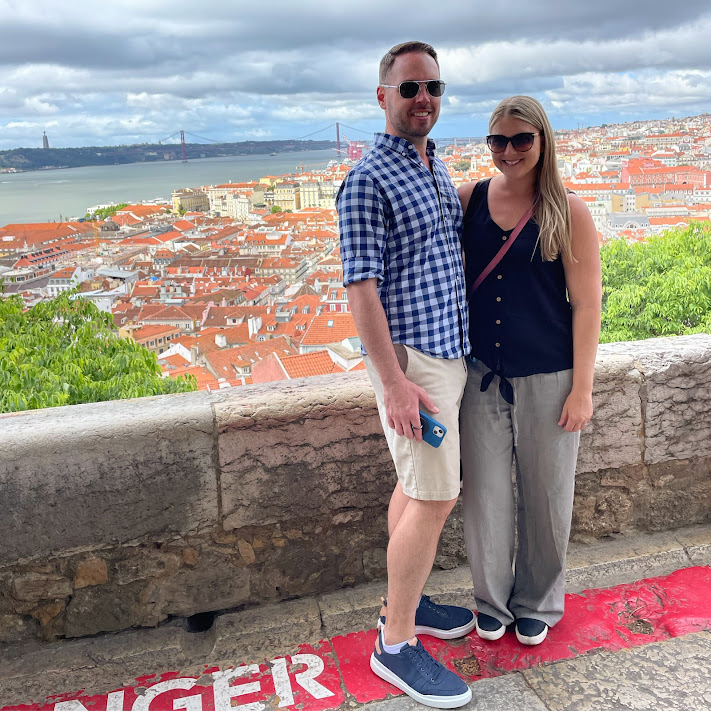 I mean, really. Look at that beautiful view! I could have sat there all day enjoying looking out over the city… especially if I could have sipped some more vinho verde.
But you can't dilly-dally looking out at that all day as there is the castle to explore – and then a small archaeological museum. There are 11 towers to explore and you can continue to climb to new heights and take in even more spectacular views.
The castle opens at 9 a.m. and closes at 6 p.m. November – February and is open until 9 p.m. the rest of the year. An adult ticket to the fortress and park is €10 and is well worth the price to visit this historical attraction and take in the beautiful aerial views of Lisbon.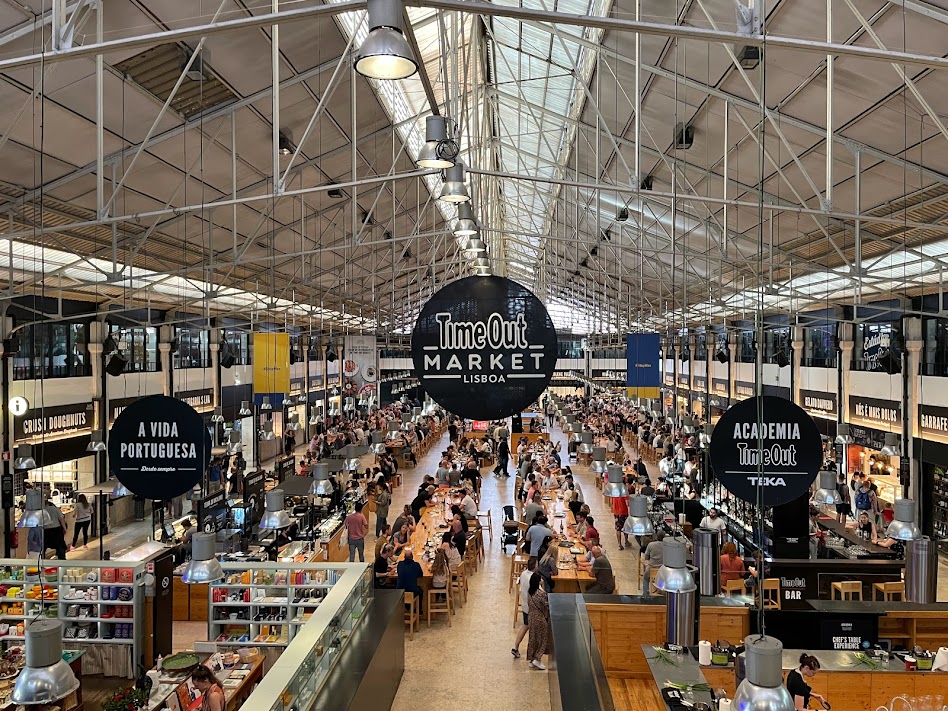 Lunch at Time Out Market
After all that walking and exploring Lisbon's historic side, it's time to dive into its current food scene at Time Out Market! This food hall has a little something for everyone and is a must-visit if you want to try Lisbon's best food and drink.
Rick and I went to Time Out Market at least twice during our stay in Lisbon as we kept finding restaurants we wanted to return to. The first time we were there I got the crispy skin pig sandwich and Rick got the pork sandwich from Henrique Sa Pessoa and then I got the sparkling sangria from O Bar da Odete whereas Rick opted to try the Super Bock Beer Experience. For dessert we got some pastel de nata as well as a nutella doughnut from Crush.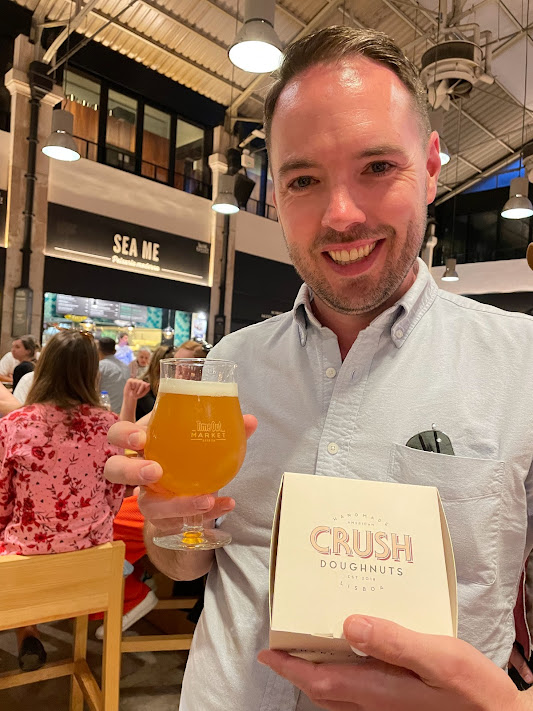 The second time we went we did our own version of Time Out Market tapas and ordered the sardines and salmon tartare from Vincent Farges and some meat in a cone and a steak sandwich from a shop of Rick's choosing. He again returned to the Super Bock Beer Experience and I went back to the wine bar and asked the server for his best recommendation for an authentic Portuguese red.
Time Out Market is well worth the visit, just be prepared to deal with the crowds. It was very busy when we went in the evening during the work week and again around 3 p.m. on Sunday. We were always able to find chairs, even for a group of six our first night. But we did have to scour and lurk as groups were getting ready to leave. Then once we had seats, we took turns going out to get food and holding down our spot at the table.
Don't worry about cleanup as the market has a cleaning crew going up and down the aisles to collect trays, dishes, and trash. Be courteous and help organize your items for easy cleanup.
Belem Tower
Next up you're catching the train and taking the quick ride over to Belem! Plan to visit Belem Tower and the Jerónimos Monastery before picking up some authentic pasteis de nata!
The UNESCO World Heritage Site of Belem Tower is one of the most famous landmarks of Portugal and is also one of the Seven Wonders of Portugal!
The tower dates back to 1519 and was commissioned by King John II. When it was first complete, the fortress was named Torre de São Vicente de Belém after the patron saint of Lisbon.
You will want to go to the top but do prepare for a process to get there. We were let up in groups and you all move to the next floor as a group. Once at the top you again gather with your group and make your descent.
A visit to Belem Tower is €6 per adult.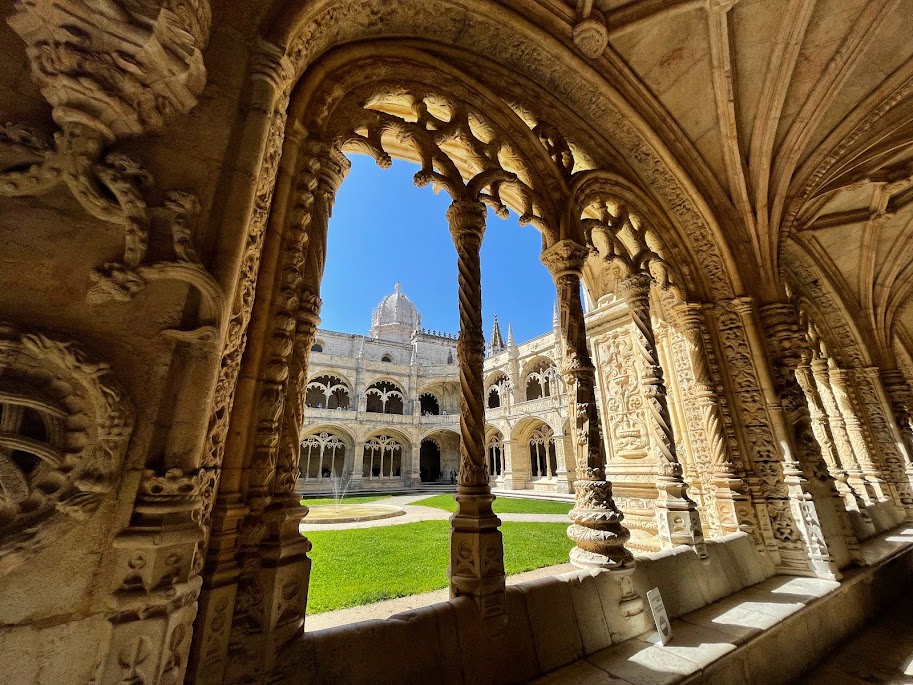 Jeronimos Monastery
After visiting Belem Tower you're off to explore the beautiful Jeronimos Monastery and take in some of the gorgeous Manueline architectural style and pay a visit to the grave of Lisbon's famous explorer, Vasco de Gama.
Construction began in 1501 and wasn't complete for another 100 years. It was also built on the site of a church that de Gama and other sailors prayed in before going off on their voyages. Today, the monastery is also well-known for its two-story cloister along with its stunning architecture.
After photographing the monastery and marveling at its beauty, you'll want to head to the Church of Santa Maria. The church is free to enter and is where you'll find de Gama's tomb.
A visit to the monastery is €10 per adult.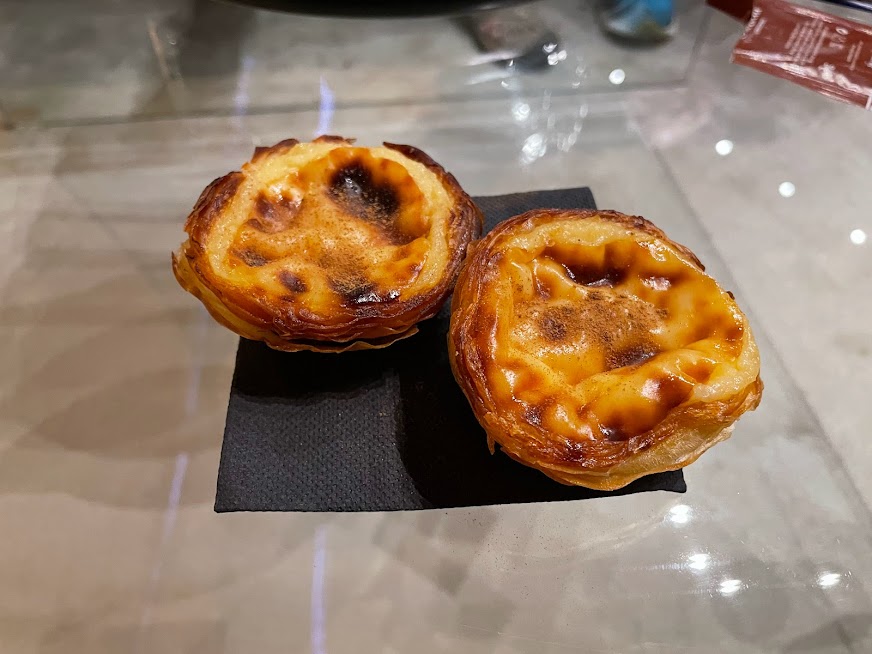 Pasteis de Belem
You can't visit the Belem district without stopping in for some piping hot and fresh pasteis de nata! You can either wait in line to eat at the restaurant or you can get some to go which is what we ended up doing. They package them quite nicely for easy transport and they stayed warm for quite some time.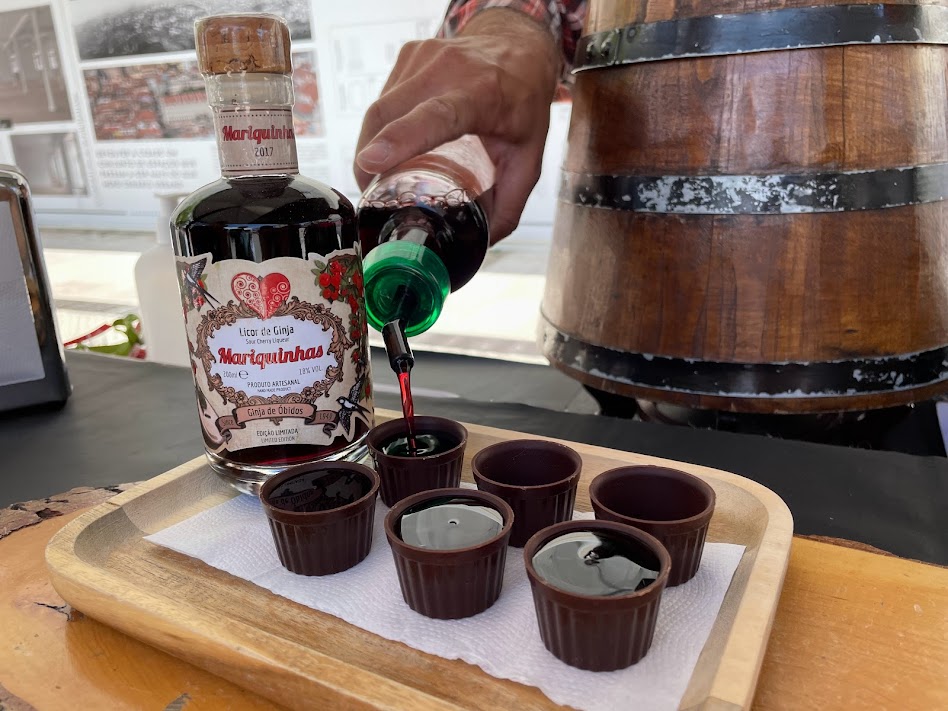 Stop for ginjinha
It's time to treat yourself to another fabulous flavor of Lisbon: Ginjinha, a sour cherry liqueur. You can find carts or street vendors pouring the drink for about €1 or there's a shop near Time Out Market that has the specialty on the menu.
I definitely recommend opting for the chocolate cup option so you can get a shot of the drink and then have a delicious cherry and chocolatey treat.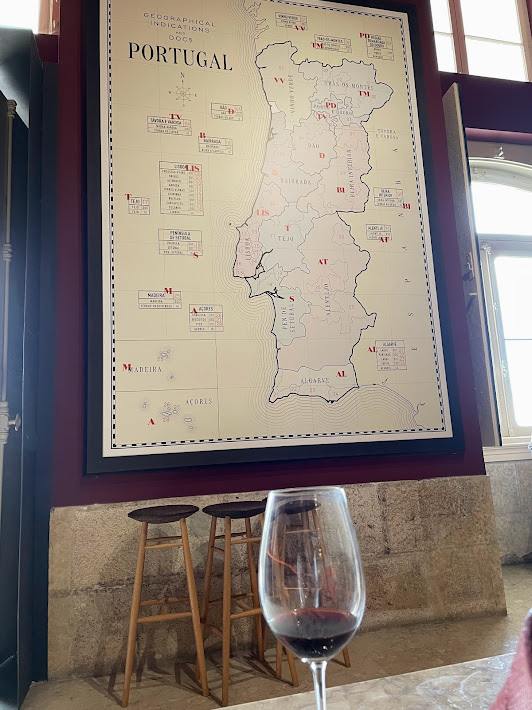 Time for wine
There's no shortage of great wine bars in the city and if you're looking to sample a lot of Portuguese wine in a short amount of time then you might want to stop by Wines of Portugal, located across from the Praca do Comercio square. It's one of those you-pour wine bars where you get a reloadable card and serve yourself with a taster size pour or full glass and the cost is deducted from your card like a debit card.
Waterfront views pair nicely with wine and we had some good white and rose wine at Vestigius along the waterfront.
If you want your wine with a view a local highly recommended the rooftop bar at Hotel Mundial. No matter where you sit you'll have a gorgeous view of the city but if you get a great seat you'll have a straight-on view of the castle on the hill.
Dinner
In the Cais do Sodre district is a fabulous restaurant, Bono. Granted the restaurant was right across the street from our hotel so it was easy to imbibe in plenty of Portuguese wine and walk back to the hotel, but I would honestly recommend this restaurant even if hadn't been so convenient for us. In fact, Rick said one of his favorite meals was at Bono and I couldn't stop raving about my squid ink rice with seafood.
Not sure what to order? Get some advice from our what to eat and drink in Lisbon post!
What would you add to our 24 hours in Lisbon travel itinerary? Tell us in the comments below!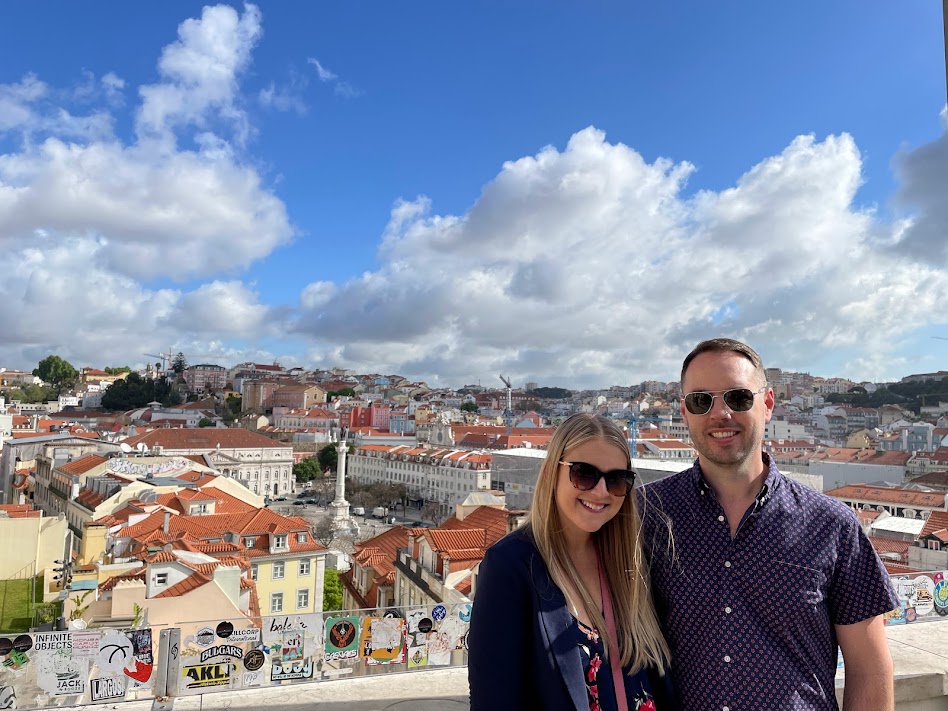 Like the post? Share it now!