Lisbon, like much of Europe, is a fantastic travel destination for its history, architecture, culture, and of course its food and wine!
We had a wonderful time eating and drinking our way through Lisbon's food scene, indulging in vinho verde, rose, port, and eating as much seafood as possible! In fact, I do not want to go anywhere near a scale for another two weeks after our foodie adventure in Lisbon.
While it seems you can't go wrong when it comes to finding great flavors in the city, there are some things I would definitely recommend taking a second look at when you see them on the menu and adding to your plate to ensure a good foodie experience in Portugal.
If you're planning a trip to Portugal's capital, you have to add these must-try foods and drinks in Lisbon to your travel plans!
What to eat in Lisbon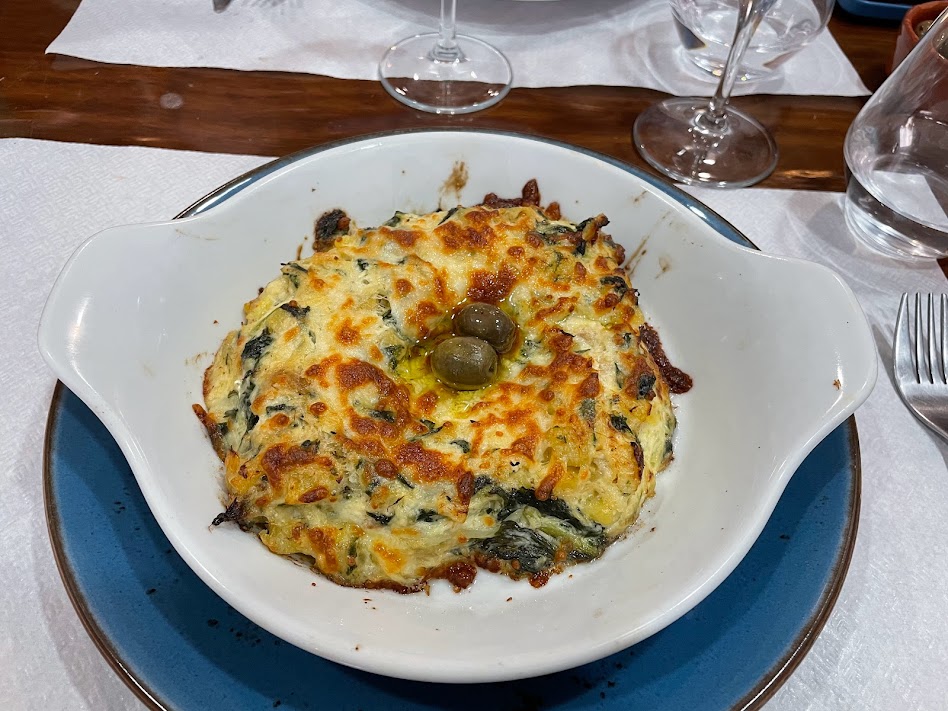 Bacalhau
Bacalhau is the national dish of Portugal and is simply salted cod. There are many ways to enjoy the fish in Lisbon but one of our favorite ways was to dine on bacalhau com natas (cod with cream sauce), pictured above. It's so creamy and delicious I inhaled the entire thing. We also tried the fishcakes, often served with rice, fried cod served with french fries and onions, and we had another bacalhau dish where the fish was mixed with truffle sauce which was amazing.
Sardines
Keeping it going with the fish theme, let's talk about sardines or sardinhas. This is another dish you'll find on many menus in the city. They're very salty and often served with potatoes and salad or a little bit of arugula. The one thing to watch out for with sardines is they have tons of small bones so you'll spend a lot of time picking the meat off of the fish.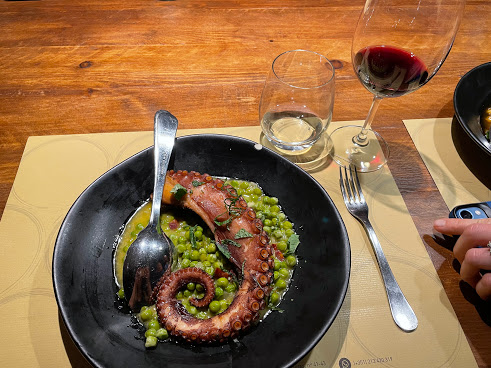 Polvo
Polvo or octopus is another frequently-spotted menu item and served in a few ways. We tried it in octopus salad, a seafood rice dish, and simply grilled and served with vegetables, as seen above. Octopus is tender and chewy, like calamari and well worth ordering – just don't let the suckers freak you out!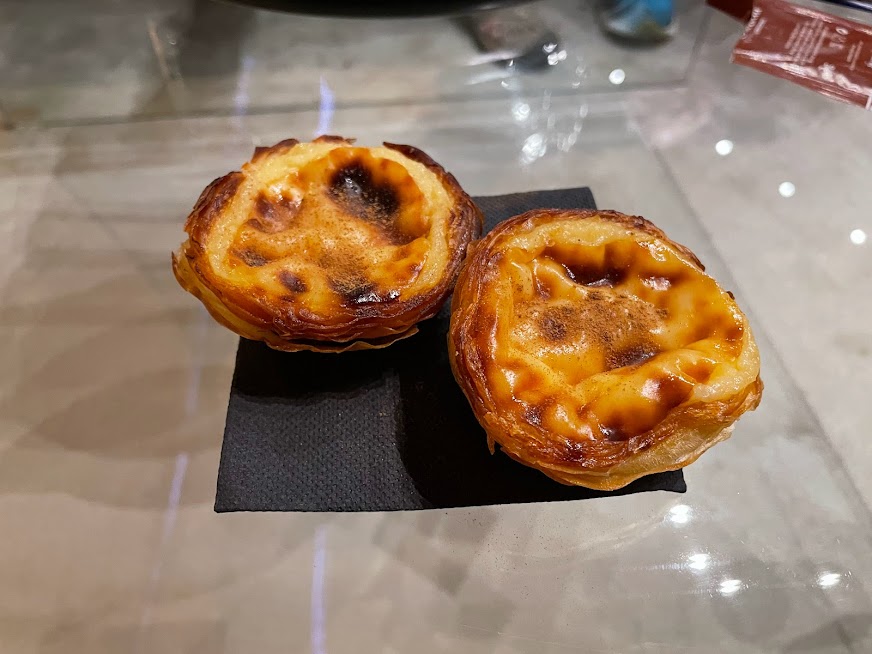 Pastel or Pasteis de Nata
You will see these custard tarts everywhere in the city and with good reason – they are so freaking delicious! They're made with a flaky pastry crust and then has a creamy, eggy filling. If you want the cream of the crop when it comes to the creamy custard pastries, head to Belem to get the original recipe – and be sure to top yours off with a sprinkle of cinnamon!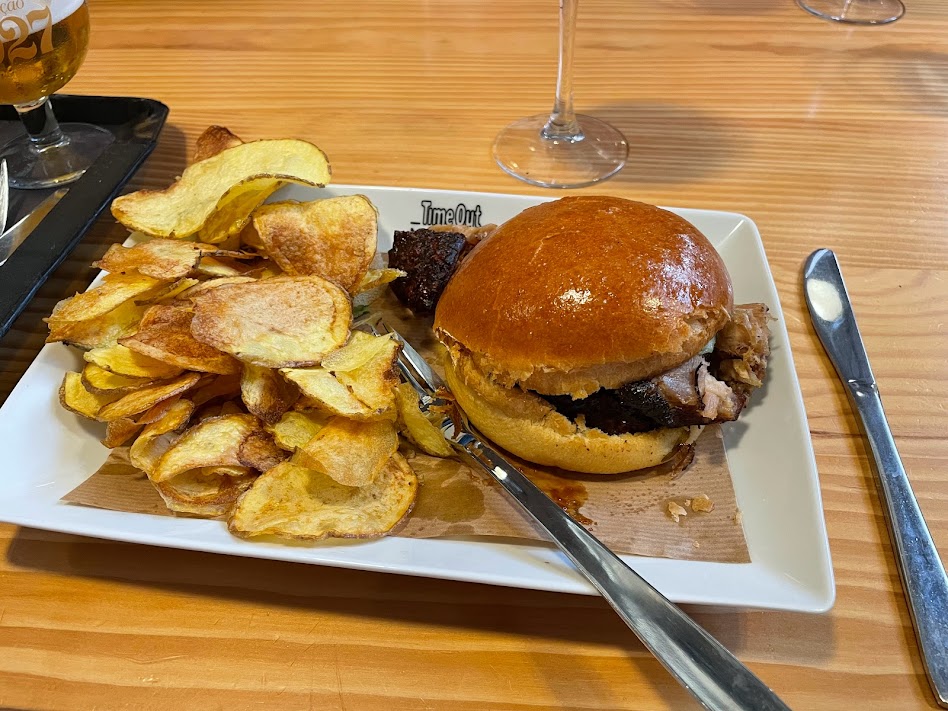 Bifana sandwiches or black pork sandwiches
If you like your meat with bread then you'll want to hunt down a bifana sandwich which is a simple beef sandwich often served with mustard or you can opt for the ever-amazing black pork sandwiches with a bit of crispy skin.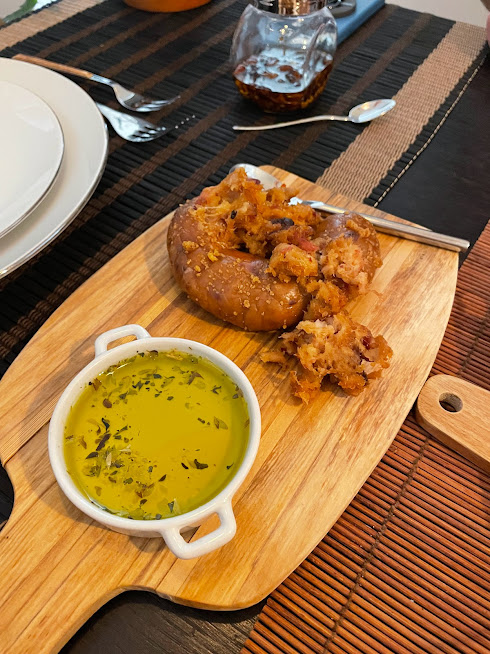 Alheira
This traditional Portuguese sausage actually comes from the Jews who made this sausage without pork (though many of today's varieties include the meat), but made it with chicken and bread so as to not be found out as Jews. They created this recipe to avoid detection as they'd either be removed from Portugal or had to convert to Christianity so they found a new recipe to make sausages and appear to be eating pork.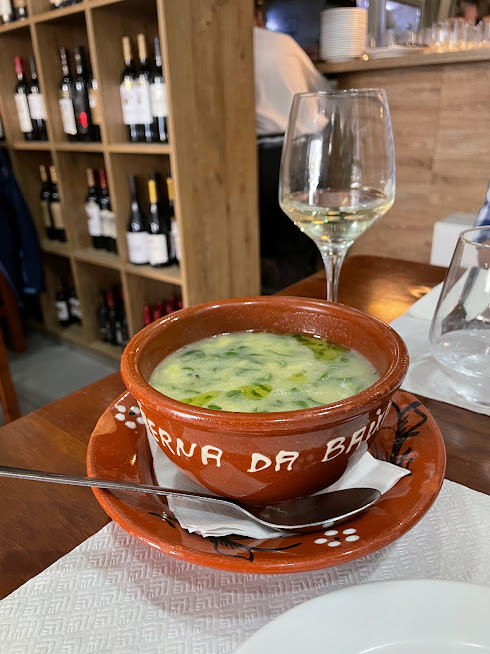 Caldo verde
If you want something light but full of flavor, opt for the traditional caldo verde soup. It's made with kale and sausage and is yellow-green in color but has a somewhat creamy broth.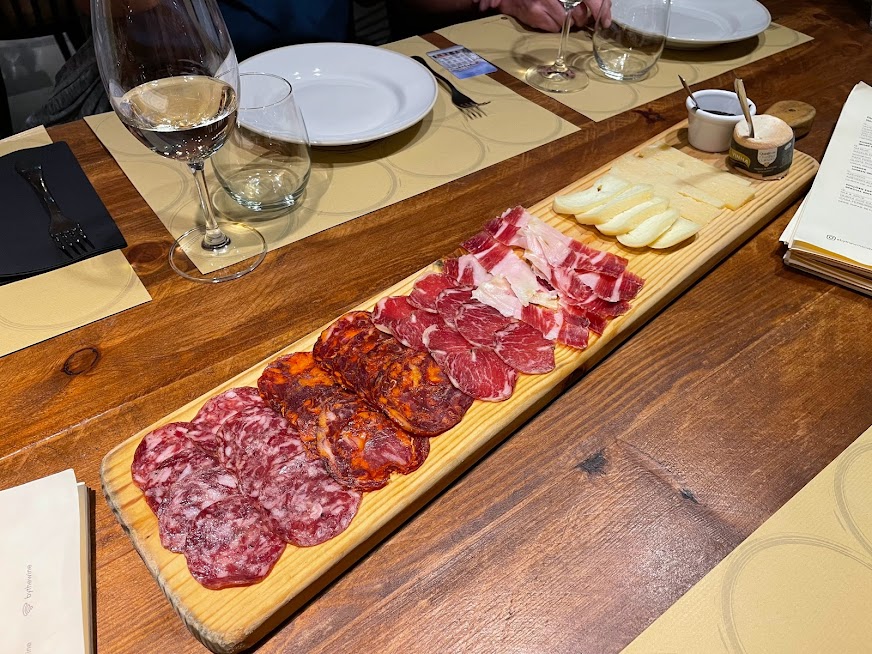 Azeitao cheese
We can't talk about food in Portugal without recommending some queijo or cheese! You really can't go wrong with any of the cheese boards available at many restaurants but if you want an authentic Portuguese cheese, opt for azeitao. It's a semi-soft sheep's milk cheese that's good on it's own or on top of bread.
What to drink in Lisbon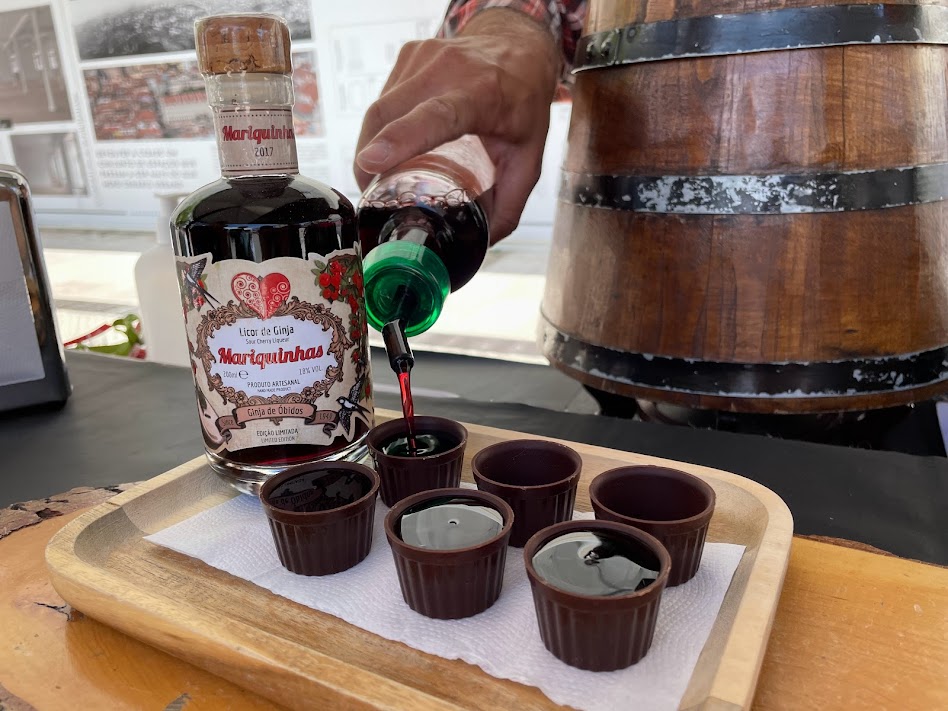 Ginjinha
A must-try drink in Lisbon is ginjinha, a sour cherry liqueur. We opted our first sample of it to be in a chocolate cup which I highly recommend! Not only do you get a fun cherry drink but then you get to eat the cup when you're done. We also sampled a sangria made with ginjinha and let me tell you, beware of the cherries at the end as they have soaked up all the alcohol available.
Caipirinha
Caipirinha is the national cocktail of Portugal so be sure to try at least one on your adventure in Lisbon! This cocktail has a cachaça-base and is served on the rocks with sugar and lime. It reminded me of a margarita as the liquor is reminiscent of tequila and the lime packs a punch.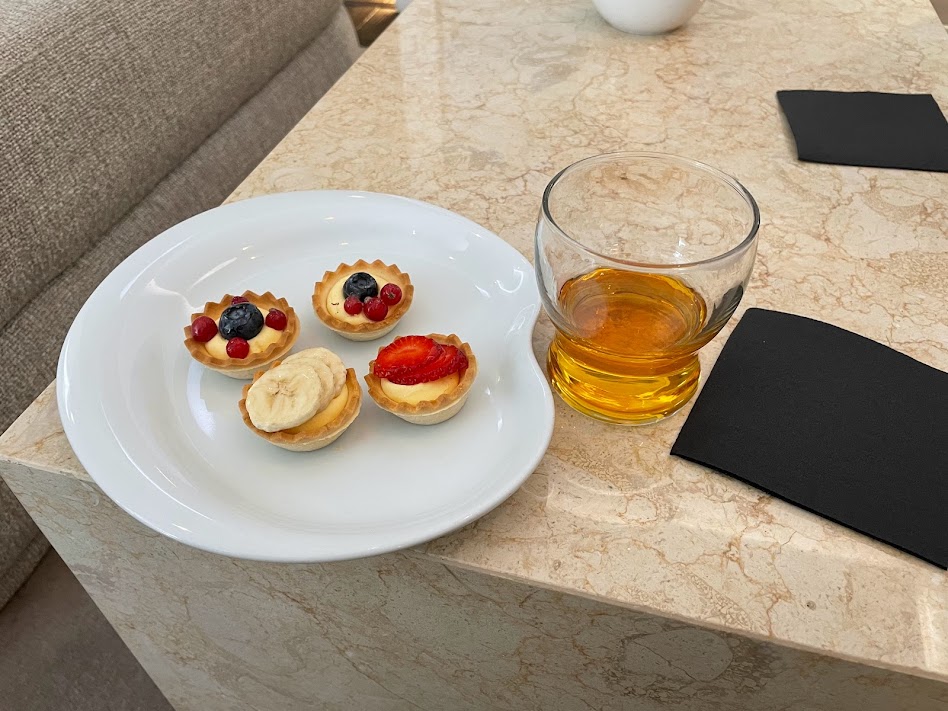 Porto
Though it doesn't come from Lisbon, you have to try Portugal's porto or port. It's a fortified wine and comes in three styles: white, tawny, and ruby.
Port is very alcoholic and has a rich, sweet and is often served alongside dessert or with cheese. It's not typically a drink where you'll open a bottle and just go to town like a rose.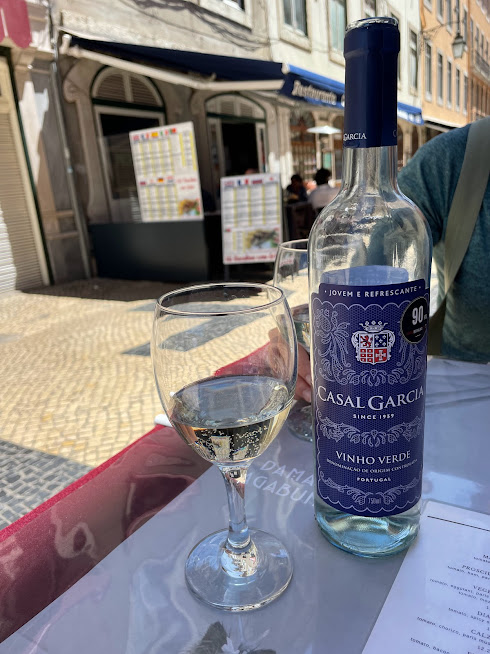 Vinho verde
This wine literally translates to "green wine," and is a white wine with light effervescence. It tends to be crisp, fizzy, and is an easy-drinking young wine. It pairs well with appetizers or seafood or can be enjoyed on a hot afternoon all on its own.
Madeira wine
If you enjoyed the port, you may also enjoy madeira wine which tends to run sweet and is also often served as a dessert wine.
Amendoa amarga/amarguinha
Like Italian amaretto, this is an almond liqueur that's often paired with lemon to create a great cocktail or can be drunk as a digestif. This liquor comes from the Algarve region of Portugal.
Did we miss anything from our list of what to eat and drink in Lisbon? Tell us in the comments below so we can start planning our return visit!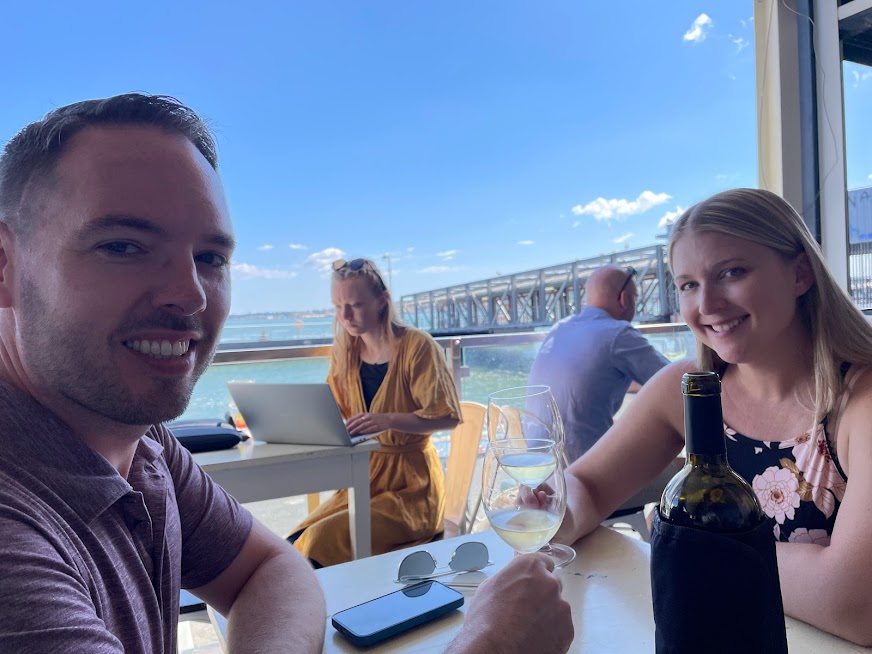 Like the post? Share it now!