With so many cool things to do in London and so many neighborhoods to explore, it can be tough to plan a trip to this iconic city. Even harder when you only have a day there.
Don't stress though! With easy-to-use public transportation (stick to the tube if you can) and many attractions close together, you can definitely see the best of London in 24 hours.
From taking in amazing bird's-eye panoramic views of the city to walking along the same haunted streets as infamous killers, there's always something to do in London!
If you only have a day here, make the most of it by checking off the best things to do in London from our one-day travel itinerary. We'll cover culture, food, history, and wonderful sightseeing along the way.
Just be sure to book tickets for things like the London Eye, Westminster Abbey, and any tours ahead of time to secure timed entry and not disrupt your day with endless queues and crowds.
A one-day London travel itinerary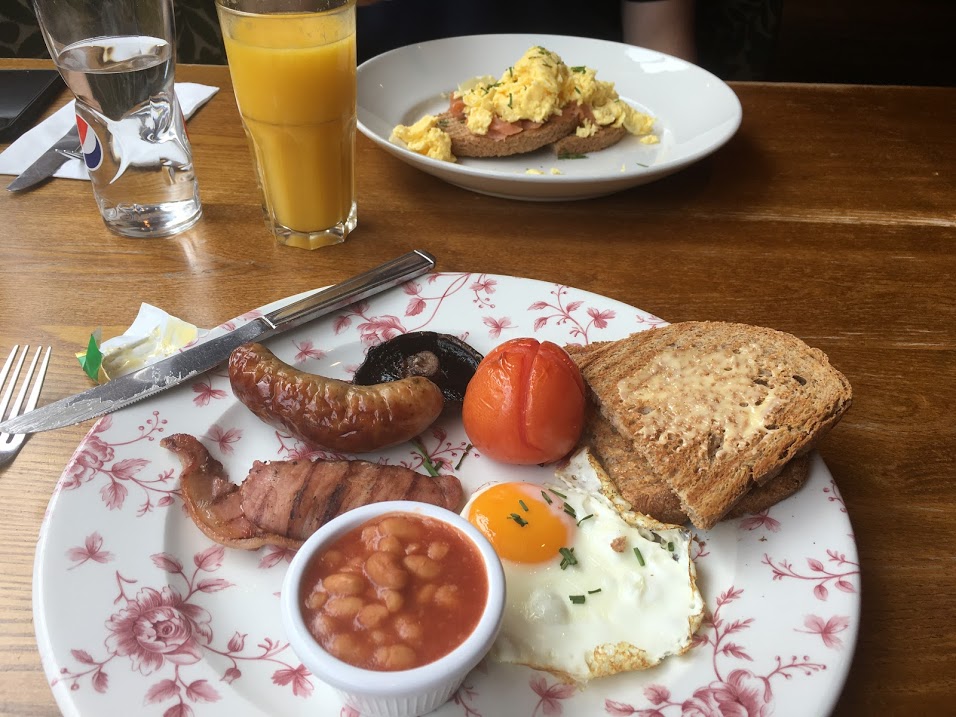 Indulge in a full English breakfast
Get your fill of eggs, bacon, beans, and tomatoes with a traditional breakfast, served with coffee or some piping hot tea to fuel your body for your exciting day ahead of exploring London.
Explore Hyde Park
Then, take a walk through Hyde Park, the largest of the four royal parks in London. It's such a peaceful way to start your day and see where the locals hang out when it's a nice day in the city. The park spans 350 acres (New York's Central Park is 842 acres for comparison) and makes for a good way to orient yourself in central London.
See Buckingham Palace
On your way toward the Thames, stop by Buckingham Palace to snap some pics of the royal residence. You could try and stay for a changing of the guard ceremony, but once you've seen one you've kind of seen them all. I could barely see anything when I stayed and honestly just focused on getting cool pictures of the building and guards out front.
Visit Big Ben and Westminster Abbey
After feeling like royalty, it's time to check off two famous London landmarks. Unfortunately, Big Ben (or formally the Elizabeth Tower) is covered up for repairs but you can still glimpse the clock's face. The tower was completed in 1859 and held the record for the largest four-faced clock in the world, standing at 315 ft. tall.
Then, head inside to take a look around the stunning Westminster Abbey, the coronation church and site for many royal weddings. The stained glass windows are brilliant and it's a must-do when in London – especially for any Friends fans!
Ride the London Eye
If you want a great view of London, why not take a 30-minute ride on the ferris wheel? It's a bit touristy for sure, but there's a reason it's still popular! It offers a unique way to see the city without a traditional sightseeing tour of London. Spot Big Ben, the Houses of Parliament, and watch the boats chug on by on the Thames as you make your circle.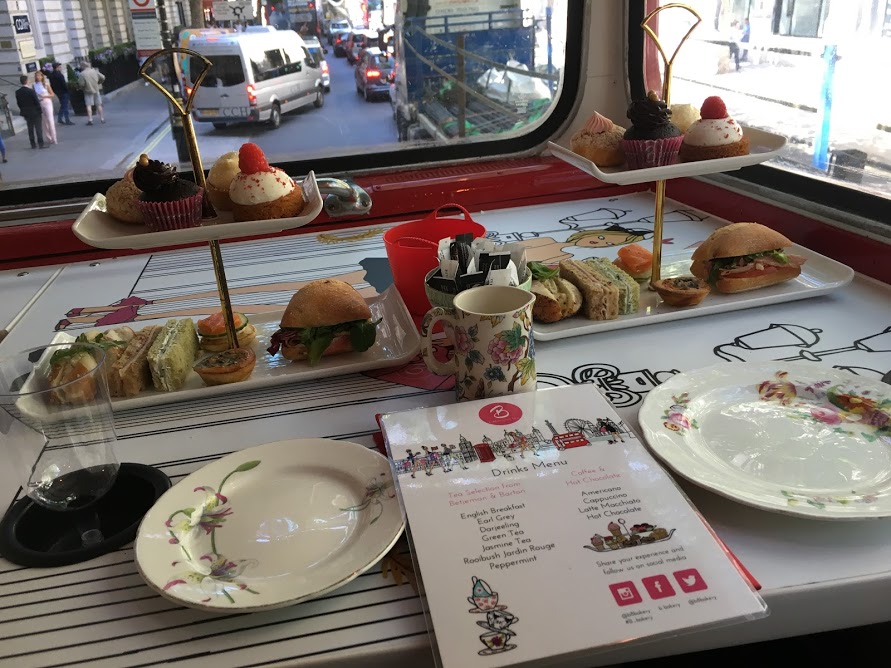 Afternoon tea tour
Next, head to Trafalgar Square to catch your combination activity: a bus tour and afternoon tea! I loved our afternoon tea bus tour with B Bakery where we were served scrumptious finger sandwiches and decadent cakes and pastries, all served with your choice of tea or coffee. Tours depart at 12:30 and 3 p.m., but we recommend the 12:30 as a great alternative to lunch.
This way you can check off two must-dos in London, both an afternoon tea experience and a ride on a doubledecker bus. You see the major sites on your tour and it's just a different way to do tea in London. While the portions are small, it's definitely enough to hold you over for the afternoon – plus you get to keep your tea mug!
Walk along the bank
Burn off some of your delicious goodies from your afternoon tea by taking a scenic walk along the bank of the Thames toward your next activity. See Shakespeare's Globe Theater, the Millennium Bridge (which makes an appearance in Harry Potter), and if you take a walk across the Millennium Bridge you can get to St Paul's Cathedral for a few pics of the exterior, then keep walking toward London Bridge and Tower Bridge.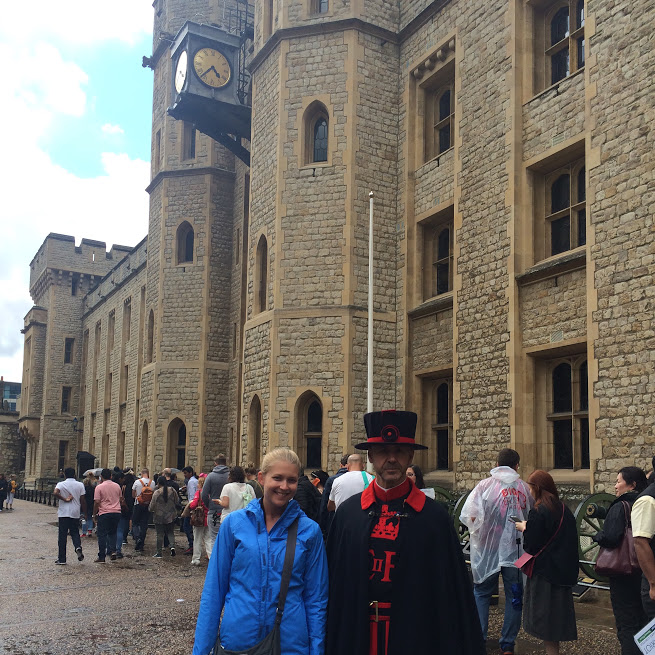 Tower of London tour
Go see the torture chamber, the zoo, and the Crown Jewels at the Tower of London, as well as get cool shots of the modern side of London juxtaposed with historic parts of the Tower. Founded in 1066, this fortress and prison offers a great glimpse into London's history, but even better if you can join a Yeoman Warder guided tour. If you can't get on a tour with one, you'll definitely see them patrolling and can always ask for a photo opp!
Dinner
Go classic with some bangers and mash, steak pie, or fish and chips (eat your mushy peas!) for dinner tonight. I recommend fish and chips with a nice ale for the real deal. There are plenty of inviting pubs that serve up this classic, making it easy to find a great spot for dinner in the city. We loved our food and pints at The Dickens Inn, near the Thames and Tower Bridge, plus it's such a cool pub to visit where you feel like you stepped back a century or so.
Trace the footsteps of Jack the Ripper
Learn about the terrorization that one infamous (and never caught) serial killer unleashed on London with a Jack the Ripper tour. There are many options for tours with guides that dress up in period clothing and guides that keep today's fashion standards, but no matter who you go with, you're sure to hear some horrific stories about the murders and some insights to the killer's behavior.
It's a chilling end to your sightseeing in London for sure!
Nighttime drinks and views at Sky Garden or the Shard
End with a nightcap that's served up with an amazing view of the city glittering in the twilight sky. You could do a 9 p.m. entry to the View from the Shard (go for the all-inclusive to get fast track entry and a glass of champagne), or if you want a few more cocktails to celebrate your day in London, you could head over to the Sky Garden for drinks with a great view.
Either way, you're sure to have an amazing view over the city after it's lit up for the night, the perfect complement to your daytime photos you snapped on the London Eye.
Need more ideas of what to do in London as well as important travel information? Check out our post on what to know before you go to London!
Did we miss anything from our one-day London itinerary? Tell us on Twitter at @bttpassport!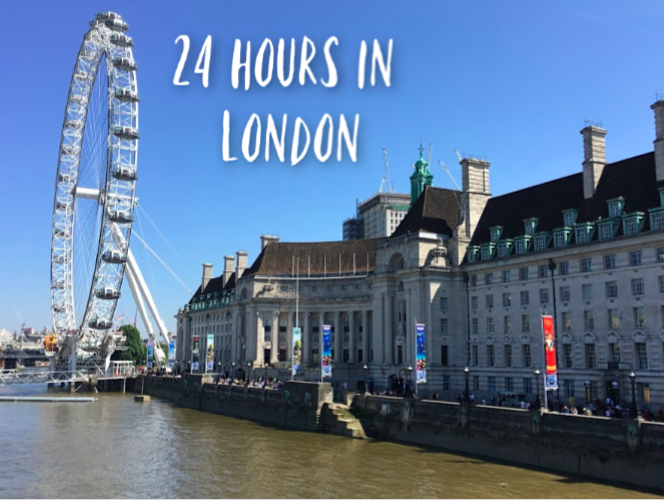 Like the post? Share it now!