New York, New York! I was so excited for my first trip to the Big Apple and knew I'd love all the big city sights, noise, and the abundance of things to do, things to see, and things to eat and drink! And I was not disappointed.
New York City is probably one of my favorite travel destinations in the US and I know I'm not alone in thinking that. Welcoming more than 65 million tourists each year, I'd say it's a pretty popular city for travelers.
Even if you only have a day in New York City, you can make the most of it with its great public transportation and sea of bright yellow taxis. From seeing our Lady of Liberty to stuffing your face with the best bagels and pizza New York City has to offer, you can check off the best things to do in New York City in just a day with our one-day travel itinerary.
A one-day New York City travel itinerary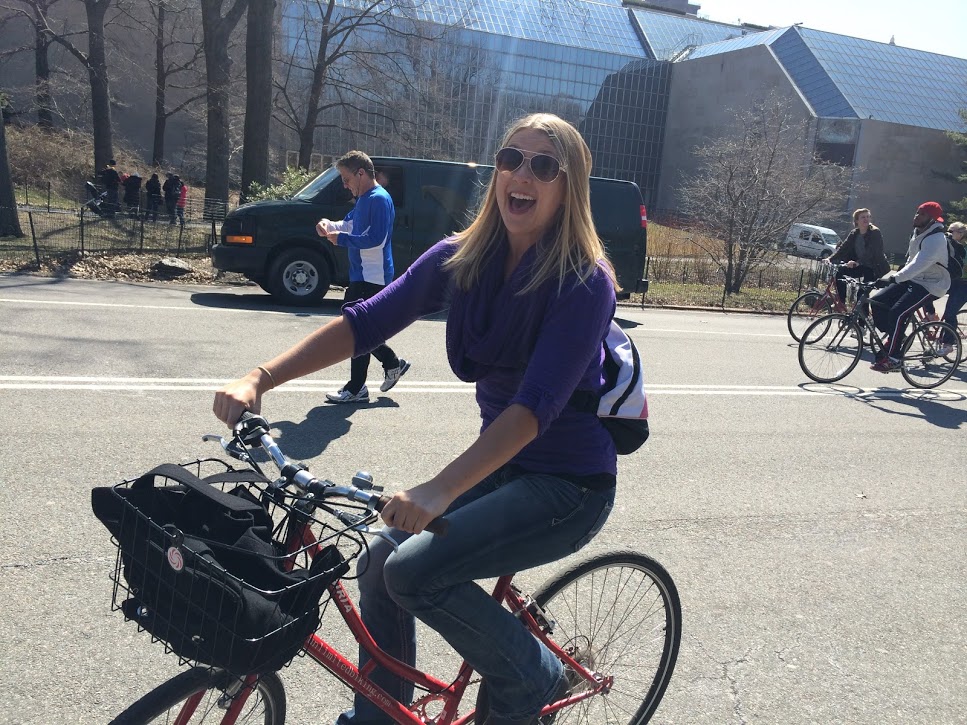 Central Park
Start your morning off with a trip to one of the most famous parks in the world: Central Park!
Comprising more than 843 acres, it's impossible to miss. Whether you want to enjoy a walk in the park, rent some bikes, do as the locals do and go for a run, or add some romance to your New York City getaway with a horse-drawn carriage ride, there are plenty of cool ways to explore Central Park.
Just outside the park, be sure to snap your best Kevin McCallister impression outside the Plaza Hotel!
Rockefeller Center
After exploring the park and the city at sea level, it's time to take your adventure to new heights, 70 floors of it to be exact, at the Rockefeller Center! Visit the Top of the Rock for an unbelievable view of New York City sprawling out every which direction. If you visit from mid-October to early April, you might get the chance to skate at the ice rink down below!
Food tour of Greenwich Village
Next, you're off to Greenwich Village for a culinary adventure! On this three-hour New York City food tour, you'll sample bagels with cream cheese, New York-style pizza, a classic Reuben, doughnuts and cupcakes, and a special surprise.
Discover the Village's charming and meandering streets as you learn about the city's history, culinary evolutions, and the culture of the neighborhood and citizens.
Since you're in the neighborhood, you might as well pop over to Carrie Bradshaw's apartment and then the Friends' apartment for quick Instagram pics!
Brooklyn Bridge
Catch a train over to the Brooklyn Bridge for some amazing views of the city! Built in 1883, the bridge connects Brooklyn and Manhattan and is a great free activity to add to your one-day New York City itinerary.
Wall Street
After enjoying the views of the city, head back into it toward Wall Street to feel like a million bucks as you see all the busy business people, visit the Charging Bull, and if you're a movie fan, stop outside the Trinity Church and do your best Nic Cage impression from National Treasure.
Statue of Liberty
Then you'll make your way up to Battery Park to catch the ferry out to the Statue of Liberty. See Lady Liberty up close and enjoy a great view of the city across the water. The statue reaches 305 ft. and construction started in September 1875, though it took about 30 years for her to lose her copper coloring and turn green through oxidization.
You may also want to stop at Ellis Island to learn more about New York City's immigration and hear about the experience that more than 12 immigrants had when entering the US through Ellis Island from 1892 to 1954.
9/11 Memorial
After a tour of Liberty Island, pay your respects at the 9/11 Memorial and gaze up at One World Trade Center. See the names of those who lost their lives during the terrorist attack on the Twin Towers in 2001. I do recommend a visit to the museum if you have more time in New York City, but be prepared that it is an emotional experience.
Broadway show
Add some arts and culture to your evening in New York City by checking out a performance on Broadway, like The Lion King, Chicago, Moulin Rouge, Hamilton, The Book of Mormon, Aladdin, Wicked, or any other show that catches your fancy.
I loved attending a theater performance in New York City, and you never know what actors might be appearing in that night's performance! I was fangirling so hard when Kelsey Grammer took the stage at our showing of Finding Neverland!
Times Square
After adding some song and dance to your New York City experience, it's time to get lost in the crowds and bright lights of Times Square! See all the ads for shops, Broadway shows, and restaurants light up the street and crowds of people trying to snap the perfect picture of this famous attraction.
Late night treat at Insomnia Cookies
Open until 3 a.m., it's the perfectly sweet ending to your day in New York City! Grab a cookie, or five, and head back to your hotel or accommodation.
Tell us how you would spend 24 hours in New York City by leaving a comment below or sharing your thoughts on Twitter!
Like the post? Share it now!