Venice is an iconic Italian city and symbolic of romantic getaways, hidden streets, and that sweet dolce vita that Italy offers. While I love most every Italian city we've been to, there's just something special and alluring about Venice.
While we definitely recommend you spend more than 24 hours in Venice, if you are on a time-crunch or simply passing through the canaled city, these are landmarks you don't want to miss and the best things do in Venice when short on time.
But first, a few rules of etiquette from our tour guide in Venice, Marco, on how to get around the city:
A friendly "mi scusi" (excuse me) or "permesso" (permit me) never hurts
Since you're limited on time and need to get through the crowds, a light push, push action accompanied with a "mi scusi" will get you through the crowds faster
Though there are no cars on Venice, let's also be respectful of those around us and walk to the right and pass on the left when space allows. Pull off to the side if you see a restaurant or shop you want to enter or if you want to snap a photo of this dreamy city that's on plenty of travel bucket lists!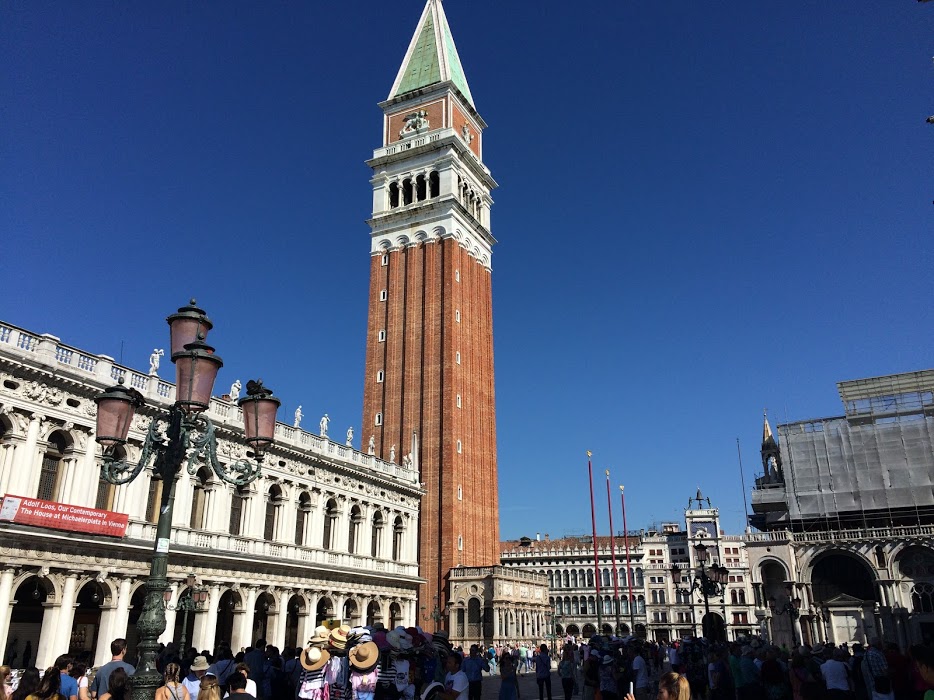 If you only have one day in Venice:
Piazza San Marco and Basilica di San Marco
I'm not sure if it's possible to go to Venice and not stroll Piazza San Marco! In this public (and popular – so, try to go early if you can) square, you can view the gorgeous 900-year-old Basilica di San Marco or St. Mark's Basilica. The original was unfortunately burned in the 970s and the current church started rebuilding in 1063.
This beauty was the chapel for the Doges, you'll see their palace next door, and has more than 800 sq. meters of mosaic on the walls, cupolas, and vaults and these were created and added over eight centuries. The golden mosaics bring stories from the Bible to life and highlight important events in Christ's, the Virgin Mary's, and Saint Mark's lives.
Though Venice gets ridiculously hot in the summer, it's important to dress appropriately if you wish to go inside the church. Knees and shoulders must be covered in this religious building. This is where a travel scarf comes in handy!
Step back outside into the piazza and listen to the bells signaling the hour at the Torre dell'Orologio and make your way toward the Campanile if you want to see all Venice's beauty from the top. It's just a one-minute ride to the top and though the original tower was built in 900, it collapsed in the early 1900s and the current replica was built in 1912.
Doge's Palace
See where the Doges lived by seeing Doge's Palace and the apartments and then tour other historical rooms of this museum by seeing the Museo dell'Opera, the Courtyard, the Institutional Chambers, the Armoury, and the Prisons. The museum also has exhibits and temporary displays. Doges Palace has been built, burned down, rebuilt, renovated, and upgraded many, many times through its history and you can learn all about these changes and what Venetian life was like back when it first became inhabited in the 400s through the centuries until the fall of the Venetian Republic in 1797.
If you're visiting in late spring or in the summer, you could save Doge's Palace for the end of your day and take advantage of their Museums by the Moonlight 2018 program!
Cross Ponte di Rialto
Enjoy unforgettable views of the Grand Canal by crossing Ponte di Rialto (Rialto Bridge)! As the oldest bridge in the city, built between 1588 – 1591, a stroll across this bridge is a must-do in Venice. While taking in the views, you could also take a look at the goods for sale at the little shops on the Rialto Bridge! Like St. Mark's Square, it's almost impossible to miss this bridge. You'd have to be walking around with your eyes closed, which we really don't recommend in a city built on water.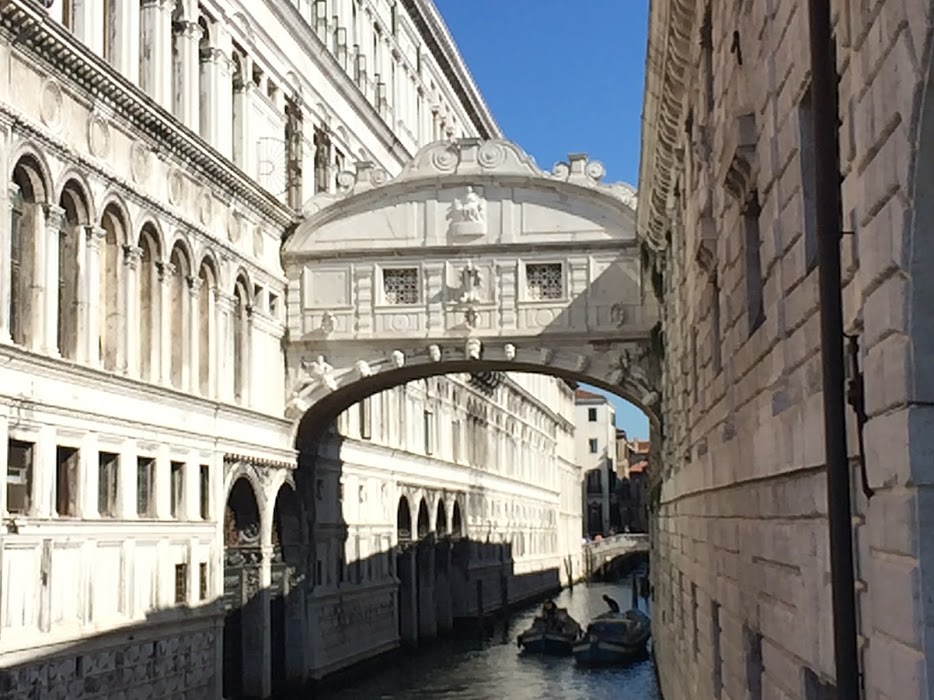 Bridge of Sighs
Another famous bridge (the Ponte dei Sospiri in Italian), but one that you probably wouldn't want to cross back in the day, is the Bridge of Sighs. It got its name due to many of the people sighing as they crossed it – seeing their beloved city one more time before being taken to the new prison. This little white bridge connects Doge's Palace and the new prison and though its history is tragic, it's been turned into a romantic icon in recent years.
Local lore says that if you're riding a gondola at sunset under the bridge and kiss as St. Mark's bell tower starts tolling, you'll have eternal love and happiness. While all of those factors might not come together quite perfectly on your gondola ride, it's still a romantic gesture to share a kiss under the bridge!
Ca' d'Oro
This museum on the Grand Canal is also the Palazzo Santa Sofia or the Ca' d'Oro (house of gold) and is now the Galleria Giorgio Franchetti. The museum houses Franchetti's collections of sculptures and paintings. The museum also boasts great views of the canal as you explore. Go on the first Sunday of each month for free admission! If you don't have time to go inside, at least catch a glimpse of the beautiful gold building.
Head to the islands
Hop on the vaporetto and discover the colorful islands of Burano and Murano. On Murano, stop at the glass museum for an authentic Venetian glass souvenir and Burano is known as the island of lace. While it's not as severe as the leaning tower of Pisa, be sure to check out the leaning bell tower on Burano. Whether you're just touring the colorful house-lined streets or stopping for a great lunch, a visit is a must!
Gondola ride
Is it touristy? Yes. Does it sound cheesy? Yes. Is it really fun anyway? Yes. Worst case scenario, enjoy some liquid courage in the form of prosecco before this "touristy" activity in Venice and just enjoy the ride! Take a classic ride through the canals at least once and enjoy this fantastic vantage point of the city.
Indulge in Venetian food & wine
Besides the beautiful cities, attractive residents, and distinctive culture, one thing Italy is known for doing really well is food and wine. Indulge in some local and regional dishes while exploring Venice. A word to the wise, walk away from the touristy restaurants – those near major attractions or those that use photos to show you what's on the menu!
Some local specialities and food and wine you have to try in Venice:
Cicchetti: Devour some tapas like bruschetta, sarde in saor, baccala mantecato, cheeses, olives served at bacari or little bars in Venice. Not sure how to pronounce it at the bar when it's time to order? A "ci" in Italian sounds like "chee" in English so it becomes chee-KET-eeh.
Fritto mixto: Treat yourself to some fried seafood! Being on the water, can you really go wrong with seafood-based dishes?
Squid ink pasta or risotto: Sample the famous black pasta made with the ink from squid.
Risotto de go: This popular Burano dish has a rich flavor as the broth the rice cooks in comes from the fish and is then creamed.
Bigoli in salsa: The salsa is comprised of onions and sardines or anchovies and served with spaghetti-like wheat pasta.
Prosecco: Instead of champagne, go with a sparkling white wine made in Italy. Prosecco pairs nicely with a gondola ride, lunch, dinner, an apertivo. Honestly, prosecco goes with anything in Venice.
Valpolicella: If you're looking for a red wine in from the Veneto Region, opt for a valpolicella.
Ombra: If you order ombra, you'll be greeted with a small glass of house wine. While we definitely have our favorites and know what we like when it comes to wine, you really can't go wrong with trying the house wine when in Venice, hell anywhere in Italy.
If you're visiting during Venetian Carnival, you'll also be treated to frittelle! Frittelle are small desserts, similar to our doughnut, with raisins, candied citron, pine nuts, and a dusting of sugar. You can also find cream-filled varieties, such as Nutella-filled ones, hello!
Indulge in a gelato
Of course, walking around Venice isn't complete without taking a gelato for the road – or canal! Go classic with stracciatella, add some decadence with chocolate, take it to the next level with hazelnut, add some color with pistachio, or get fresh with mango with your flavor choices for gelato.
Shop for signature souvenirs
Even if your time in Venice is short, it's so easy to fall in love with the city that you'll want to take a piece of the city home with you. Shop for Venetian glass, masks, lace, or any souvenir that will bring up happy memories of running around Venice for a day.
What's your must-do in Venice? Tell us in the comments!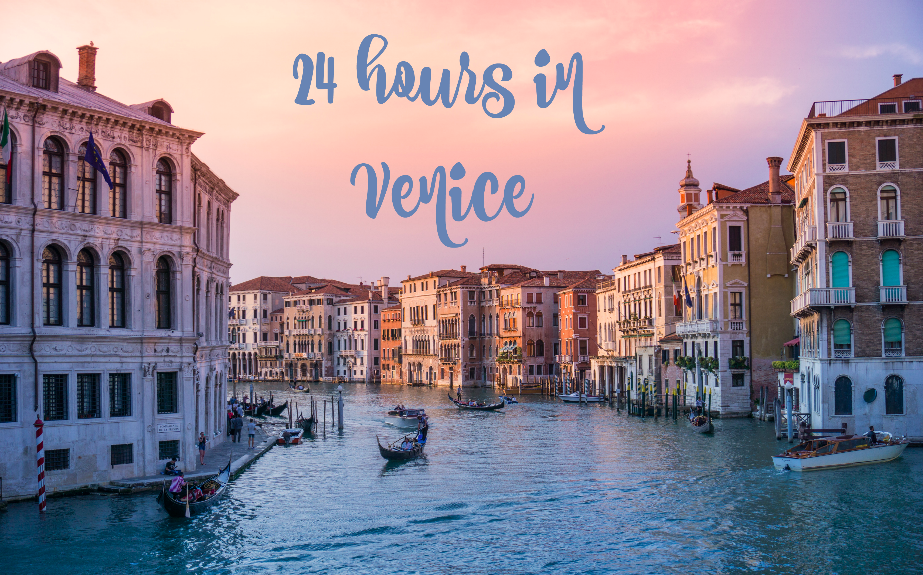 Like the post? Share it now!