Exploring Austria next time you're in Europe to see if the hills really are alive with the sound of music? Be sure to plan at least a day in Innsbruck to take advantage of all the cool things to do there! 
Surrounded by the dramatic landscapes and the Alps, Innsbruck is a hidden gem of the Tyrol region. This charming medieval town offers travelers cool activities, amazing food, and beyond-your- imagination views. 
It's a great stop as you make your way toward Italy, Germany, Switzerland, or other Austrian destinations, or even as its own travel destination! The city has a lot of history, a fun culture, and is situated in a fabulous location. But, if you are planning on just passing through, here are our picks for the best things to do in Innsbruck in a day!
A one-day Innsbruck travel itinerary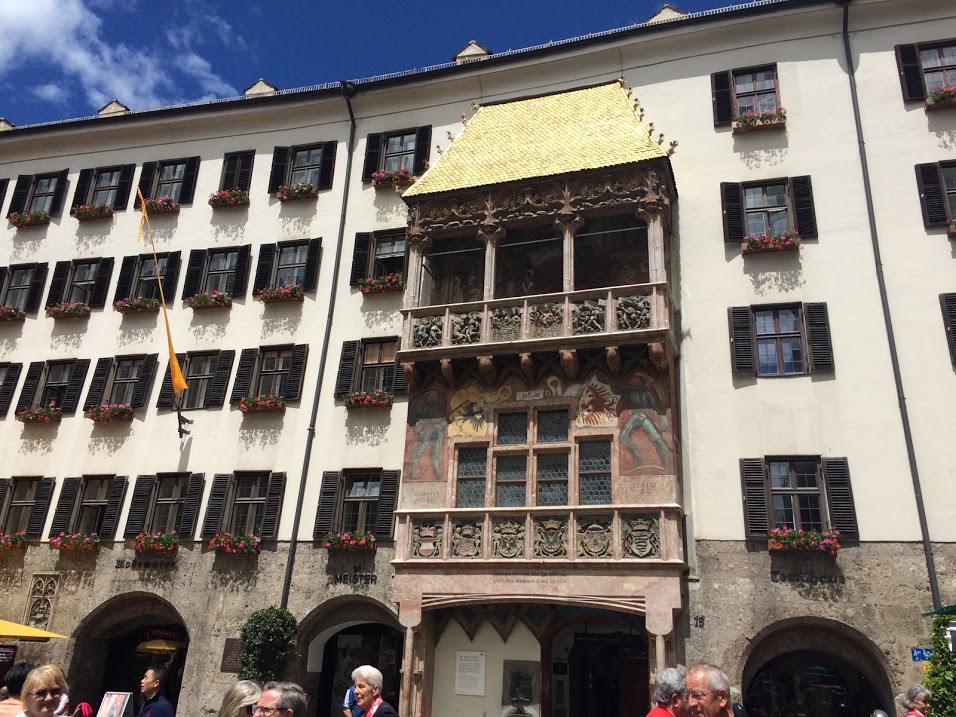 Start your day in Old Town or Altstadt von Innsbruck
First up on your sightseeing tour through Innsbruck is Altstadt or Old Town. Walk past the colorful buildings, where a lot of attention was paid to tiny details and cute accents. 
Here, you can see the Golden Roof, that's complete with 2,657 golden copper tiles and was where Emperor Maximilian could look out over his city and watch jousting under shady cover. I'd bet it's one of the most photographed buildings in Innsbruck and it's impossible to ignore the beckon of the glittering roof. 
Grab a coffee at Cafe Munding, Tyrol's oldest confectionery cafe, for a caffeine kick and sweet treat, like their divine macarons! It's located in Altstadt, right around the corner from the Golden Roof. 
Then make your way toward Maria Theresien Street, or New Town, for some window shopping and awe-inspiring views of the mountains and stunning Baroque architecture. This is a popular street for real shopping, meeting up with friends, or just taking a stroll through the more modern part of town. 
Be sure to stop for a photo at the Triumphal Arch, ordered by Maria Theresa in the 18th century. The arch represents both happiness and sadness for the regent; one side represents the wedding of her son Archduke Leopold and the other side represents the sudden death of her husband and the father of the groom during the wedding festivities. 
Feel like royalty in Innsbruck
First up, take a walk through the Imperial Gardens or Hofgarten. This park is popular with locals for picnics or simply taking a break on a bench and enjoying the green space. There is an on-site cafe and the park is open to the public every day. 
Then, take a tour of the gorgeous Hofburg Imperial Palace, dating to 1500. Though the monarchy ended in 1918, this building is still kept up in all her glory and you can tour the property. 
On a tour of Innbsruck's Imperial Palace you can visit the staterooms, halls, imperial apartments, council chamber, and the Crest Tower. You can join a guided tour or simply pick up an audio guide if you want to go at your own pace. It's good to note that you are not permitted to take photos in the apartments but you can take pictures of the Imperial Silver Collection.
The palace is open from 9 a.m. – 5 p.m. daily. 
Experience Hofkirche or Court Church
See the 28 life-sized bronze statues (also known as the "Black Men" even though eight of them are women) keeping watch over Emperor Maximilian I's tomb, which is actually empty in Hofkirche or Court Church.
The church has a stunning and ornate white interior, beautiful religious relics, and a carved  and gold-plated sarcophagus for the emperor. 
Another impressive piece in the church is the 500-year-old organ by Jorg Ebert and is known as the largest, best-preserved Renaissance organ in Austria. The other organ in the church dates to 1900 and was built by Hans Mauracher.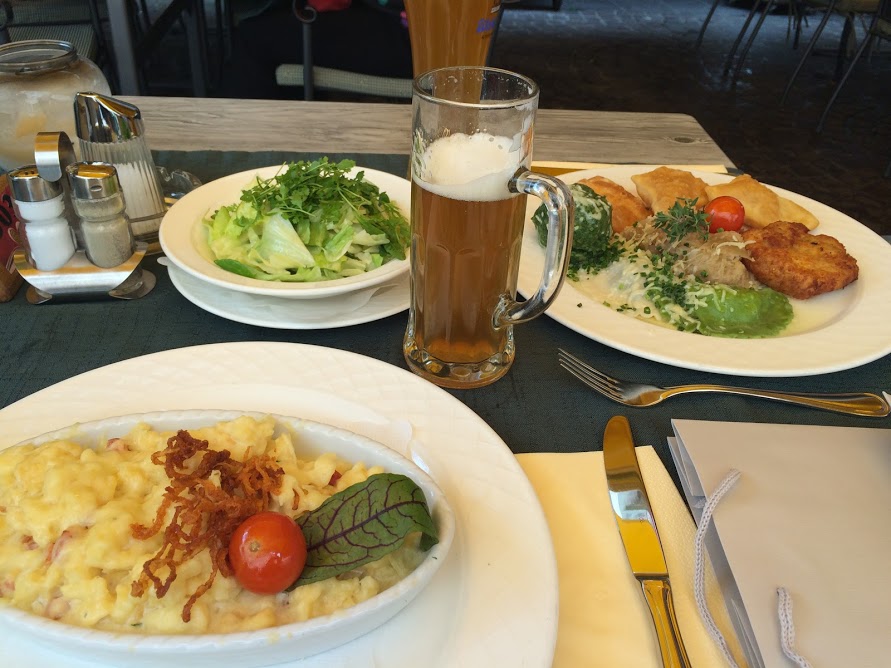 Stop for lunch
Eating in Innsbruck was one of my favorite things! We stopped for a filling lunch of spaetzle, wienerschnitzel, and beer – and all of it was delicious. Be sure to save enough room for chocolate sachertorte. 
Experience Innsbruck from above
You have a few options for gorgeous panoramic views of Innsbruck and the Alps. 
Ride the Hungerburg Funicular
This tramway takes you to Hermann Buhl Square and has amazing views on a budget. It's the shortest, most affordable option for panoramic views over Innsbruck. It's also great for those strapped for time, like those that only have a day in Innsbruck, as it only takes eight minutes to reach the top of this line. 
Ride the Nordkettenbahnen
Head up into the clouds for a beautiful panoramic view of Innsbruck with a ride on the Nordkettenbahnen up higher on the Nordkette mountains. This option also includes a fun, easy hiking trail with great views if you want to burn off some calories from lunch and take in more aerial views of the Alps. 
Go wild at Alpine Zoo or Alpenzoo
Touted as the highest zoo in Europe, this zoo specializes in species that are native to the Alps, like bears and wolves. They have 2,000 species of wildlife in the park and about 1,300 species of flora and fauna. Other animals include lynx, snow hares, wild boars, otters, beavers, European bison, and the Alpine marmot. 
Alpenzoo is open daily from 9 a.m. to 5 p.m. (6 p.m. in summer season) and tickets are €11 for an adult.
Visit the famous Ambras Castle
This impressive royal residence, surrounded by lush landscaping, was once home to Archduke Ferdinand. Now, Ambras Castle offers visitors the chance to roam the grounds, see the suits of armor, sculptures, and vast art collection in his museum. Many spend their time in the Spanish Hall and the Chapel of St. Nicholas. 
The castle is open from 10 a.m. t o 5 p.m. daily.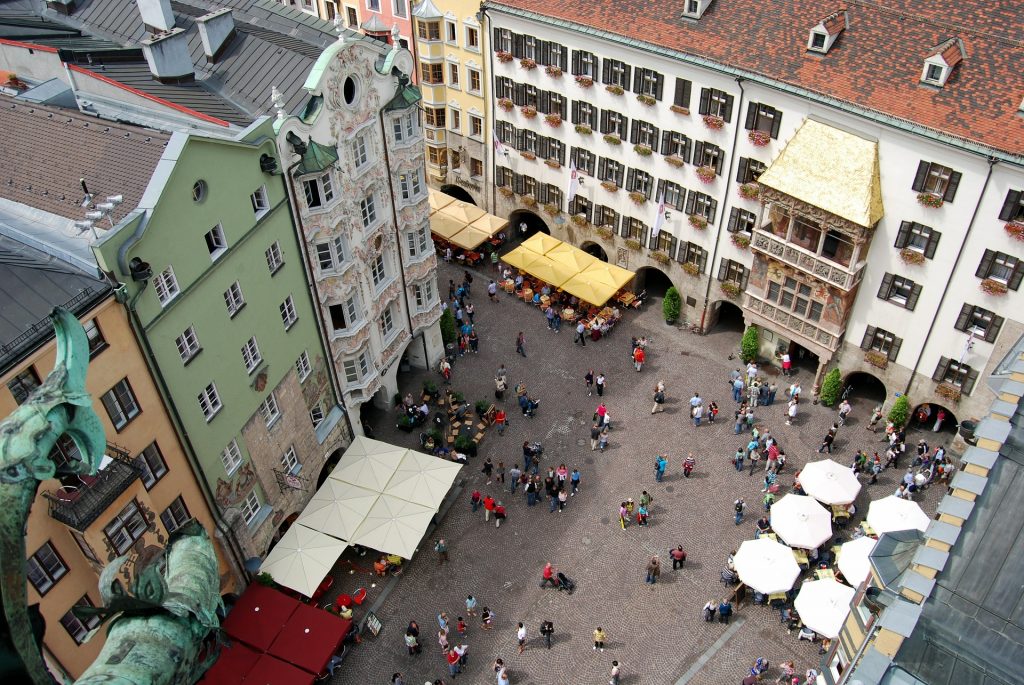 Climb City Tower
Can't get enough aerial views of the city? Head back into Old Town and climb up to the top of City Tower to see the city the way the guards did back in the Middle Ages. The tower was completed in 1450 and the lower stories once held prisoners of the city, so let's try to not end up there! 
Climb the 133 steps to the top to look over the streets  below and be blown away by the surrounding mountain ranges. If you can, time your visit around sunset to see the city bathed in  light. 
The tower is open 10 a.m. to 5 p.m. October – May and 10 a.m. to 8 p.m. June  – September. 
Drink up at Elferhaus
End your evening with a great meal and some suds at this beer bar and restaurant near the Golden Roof. It'll be easy to keep the beers coming with its historic setting and warm lighting, you'll feel like you never want to leave. 
Want to save on the best things to do in Innsbruck? Consider buying the 24-hour Innsbruck Card! The Card includes admission to the city's top museums and even cable car fares, as well as public transport, making it a good deal to get around to check all these Innsbruck must-dos off your list. The 24-hour card is €43 per adult. 
Did we miss anything from our one-day Innsbruck itinerary? Tell us in the comments below or on Twitter!

Like the post? Share it now!