Heading to the Big Apple and looking for the best things to do in New York City? With so many iconic sites and plenty of museums, tours, and activities to keep you busy for weeks, you'll be hard pressed to find ways to be bored in New York.
Funnily enough, a trip to New York City came up when a girlfriend of mine was living there for work, otherwise it wasn't that high on my list of places I wanted to visit next even though I watch Home Alone 2: Lost in New York pretty much every night in December and am a huge Friends and Sex and the City fan.
Luckily, I fell in love with the city – its fast pace, the food, the convenient transportation options, and just that it has so much history behind it – so much so that Rick and I are already planning a visit sometime soon to see all the things we missed.
For the must-dos in New York City, these 25 items should get you off on the right path:
Tour the Statue of Liberty and Ellis Island
While you can see the Statue of Liberty pretty well from Battery Park, it's definitely worth it to take the cruise out and see Lady Liberty up-close. You can pay more to enjoy views from the top, but we stayed at the base and enjoyed the views of the New York City skyline and seeing her watch over everything.
Ellis Island is included in many boat tours of the Statue of Liberty and is definitely worth a visit to see what immigration was like and feel the awe that thousands must have felt upon seeing New York City just waiting for them. More than 12 million immigrants came into the U.S. through Ellis Island 1892 to 1954.
Enjoy the view of New York City from an observatory
If you're not afraid of heights – hell, even if you are – you should definitely check out the incredible views of New York City sprawling out below you from an observatory. Enjoy the impressive and unforgettable views from the Top of the Rock, One World, or the Empire State Building (specifically the observatory on the 102nd floor).
Pay your respects at the National 9/11 Memorial
It's an emotional experience, visiting the National 9/11 Memorial, but an important one for many Americans. Hear about the lives of the more than 3,000 victims of the terrorist attacks, feel the pride at the strength of the community, firefighters and EMT workers, and volunteers who did everything they could to save as many lives as possible, and see how this tragic day has impacted our history and how it will never be forgotten.
Explore The High Line
This unique public park in Manhattan's West Side is built on a historic rail line, offering unparalleled, elevated views of the city. Walk by gardens, water features, and check out the variety of cafes, and see the art exhibits and rotating displays. Join a free public tour or schedule a private tour of the High Line to learn more about the 1.45-mile long park.
Be sure to check the High Line's website for current hours!
Visit the Brooklyn Botanic Garden
From the Aquatic House and Orchid Collection to the Tropical Pavilion, the Brooklyn Botanic Garden is home to an impressive and gorgeous array of flora and fauna and everything else you'd find in a garden. From March – November, you can take advantage of Free Friday Mornings from 8 a.m. to noon!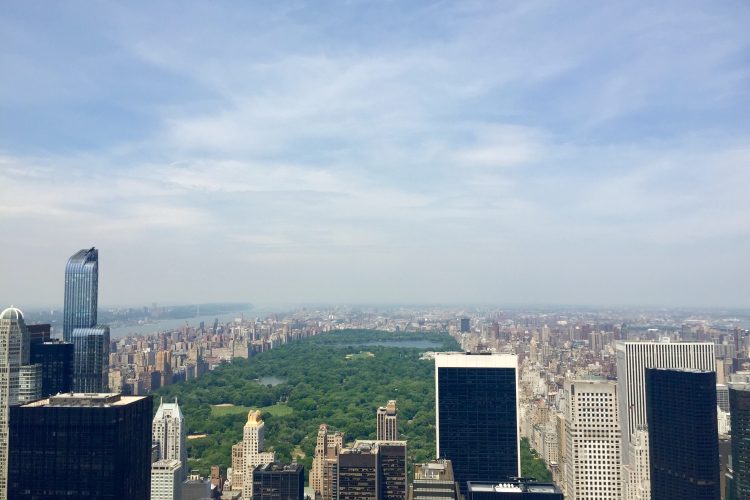 Tour Central Park
At more than 843 acres, you simply cannot miss Central Park. As one of the top-rated things to do in New York City, there are many ways to see the park. You can take a self-guided tour as you simply stroll through the park or you can find a Central Park tour – walking, biking, or even running! Or, for a romantic twist – take a carriage ride through the park! We opted for a biking tour, but when we picked up our bikes there was some confusion with our reservation so we ended up just getting bike rentals and exploring on our own.
Check out Rockefeller Center
Known for ice skating in the winter, Rockefeller Center is another New York City icon you just have to see for yourself! See if there are any events happening during your visit, enjoy the views from the observation deck, or enjoy some world-class dining and shopping in the area.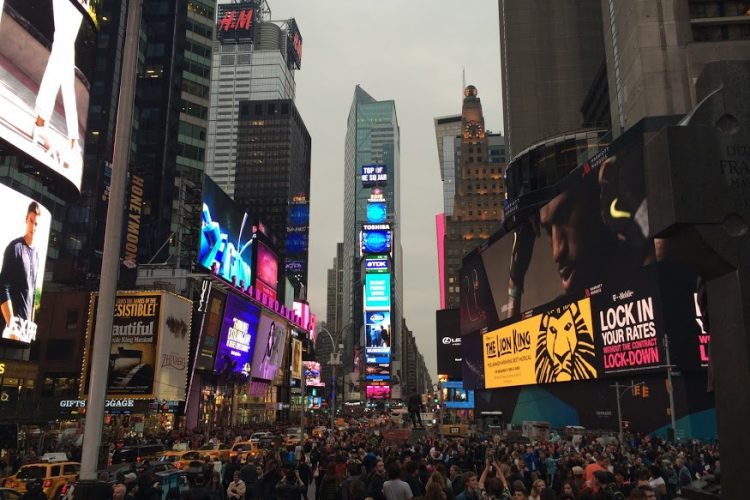 See Times Square
Go blind and/or deaf from the neon lights and the crowds and honking cars that are stuck in traffic at Times Square. It's simply a New York City must-do, that's all there is to it.
Step into the past at Grand Central Terminal
Since 1913, the Grand Central Terminal has been an iconic landmark in Manhattan and serves as a major transportation hub. Today, it also boasts more than 30 restaurants and 60 shops, as well as a place for special events. The terminal is open from 5:30 a.m. to 2 a.m. every day and you can enjoy self-guided tours with an audio guide or pay for a 75-minute docent-led tour, available each day at 12:30 p.m.
Crazy fact: The clocks at the station are accurate to within one second every 20 billion years.
Walk the Brooklyn Bridge
Follow in the footsteps of many New York City commuters and walk this 1.3-mile bridge. Though you won't be rushing off to work, so take your time and photograph the amazing views along the way. Sunrise and sunset (the magic hours for photographs) are popular times to visit the Brooklyn Bridge, though sunset is quite fun as you can watch the city lights come on and welcome you on a nighttime adventure.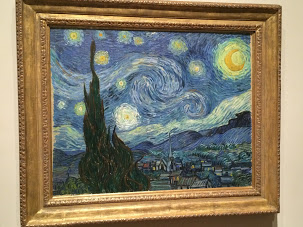 Visit the (many) museums
Be sure to save some time on your New York City getaway to pop into some of its well-known museums. See priceless collections at the Museum of Modern Art (MoMA), check out the works at the Metropolitan Museum of Art, travel back in time at the American Museum of Natural History, understand what life was like for many of America's immigrants at the Tenement Museum, or view the impressive pieces at the Guggenheim Museum.
Step inside the New York Public Library
Even if you're not a bibliophile, you can still appreciate the architecture and history housed in the New York Public Library. The official declaration of the library was in 1911 and by 1910 the library had 75 miles of shelves for books in this fantastic reading room in New York City. Today, the library system is home to more than 51 million items. If you prefer stories brought to life, you'll probably recognize the library as a setting in Breakfast at Tiffany's, Spider-Man, 13 Going on 30, and Ghostbusters.
Explore St. Patrick's Cathedral
The beautiful St. Patrick's Cathedral offers public tours each month (various dates) at 10 a.m. or you can schedule a private tour for a group of 10 – 60 on Mondays – Fridays. Opened in 1879, the cathedral is done in American Gothic Revival style and is a must-see for any architecture buff.
Jump on a hop-on, hop-off bus tour
New York City is huge and while they have a wonderful Subway system and it's easy to get around town, you kind of cut into your sightseeing time by heading underground. I love using hop-on, hop-off bus tours to get around a new city without sacrificing the sights. With convenient drop-off and pick-up locations around the city, you can easily see the major sights as you make your way through New York.
See the city with a boat or jet ski tour
See the skyline from a different point of view when you take a boat tour or jet ski tour in New York City! Many boat tours double as an activity as you can visit nearby islands or visit nearby tourist destinations, but if you're in for a thrill, try a jet ski tour for new perspectives of the city as you tour the Hudson River.
Cocktails with a view
Find a fantastic spot for happy hour or late night cocktails and take in the incredible views of New York City! From stunning views of Central Park to up-close encounters of the Empire State Building, there are many options for bars and restaurants with unforgettable city views and a strong cocktail.
Best New York City bars with a view:
St. Cloud at the historic Knickerbocker hotel
See a Broadway show
For the ultimate experience in theater and stage entertainment, head to Broadway for an awe-inspiring Broadway theater production. With exceptional talent on stage and behind the scenes, it makes for a classic evening in New York City.
We saw "Finding Neverland" while in New York – which was awesome because it had Kelsey Grammer in it and I've seen every episode of Frasier about sixteen times.
Eat traditional NY-style food
You can't visit New York City and not have a slice of New York-style pizza! Of course there are tons of great options for restaurants and fine dining in the city, you have to try some of the more famous staples of a NYC diet or foods that are associated with New York City like New York-style pizza, bagels, pretzels, hot dogs from street vendors, Manhattan clam chowder, New York-style Italian ice, and New York-style cheesecake.
Take a food tour
Combine learning about New York City or a specific neighborhood while tasting some of the best examples of food that area has to offer. We did a great food tour that covered a variety of cuisine styles, from Italian to Jewish influences and mixed in some of today's trendiest restaurants and historic or culturally-rich stops. We enjoyed a slice of pizza, some borshch, falafel, hot dogs and a smoothie sample from Papaya King, and a mini cannoli. Our guide was informative, friendly, and kept a great pace on the tour and pointed us in the right direction of a fantastic historic pub, McSorley's (est. 1854) where your beer options were ale (light beer) or porter (dark beer).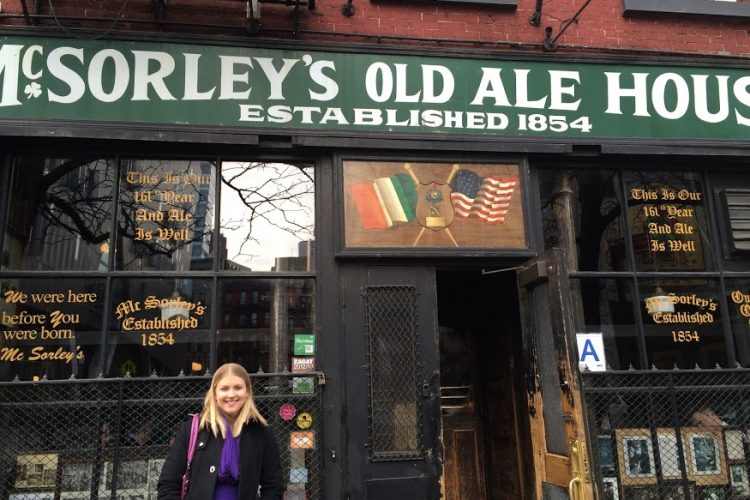 Check out the nightlife
New York City is the city that never sleeps and I have to admit it was a real struggle to stay up and go out when the locals do as it was way past my bedtime. But, no trip to the Big Apple is complete without at least visiting a nightclub, bar, or music venue and dancing well into the wee hours of the morning.
Visit the Apollo Theater
See the next big star before they're famous at Amateur Night at the Apollo! Even if you can't catch Amateur Night, a visit to the Apollo Theater is a must! The theater was originally a burlesque theater in the 1910s but became the Apollo in 1934. This National Register of Historic Places theater is known for hosting African American performers and musicians and showcasing a great variety of musical styles.
Scout famous TV spots
I was damned if I was going to NYC and not seeing the outside shot of the Friends apartment – even though it makes no sense with Monica's apartment set up. I mean really, where the hell is her balcony supposed to be? Moving on, New York City is a popular choice for TV shows' settings and there are tons of film location tours offered or you can take a self-guided adventure. Since it was relatively close to the Friends apartment, I also made sure we stopped at the famed steps of Carrie Bradshaw's apartment.
See popular TV film sites in New York:
Friends – The famous apartment is the building at the corner of Grove and Bedford streets in Greenwich Village
Seinfeld – See where Jerry and co. hung out at Tom's Restaurant at 2880 Broadway.
Sex and the City – See Carrie Bradshaw's apartment at 66 Perry Street in the West Village. Please note that this is a private residence, so be respectful and do not go past the sign or go up the steps.
How I Met Your Mother – MacLaren's Bar is based on McGee's pub at 240 W. 55th St.
Go shopping
Even it's just the window variety, there are plenty of shops to take your credit card to or simply stare longingly at the merchandise. Stroll along 5th Avenue and window shop or pop into Tiffany & Co., Saks Fifth Avenue, Valentino, and Coach to feel like a million bucks – or wish you had a million bucks. There are also tons of shopping opportunities around the city and you should definitely come home with something that has the I heart NY motto on it.
Cheer on the home team
Sports fans have a variety of options for catching a game while in New York City. Head to Citi Field to cheer on the New York Mets, or go to Yankee Stadium and cheer on the New York Yankees. If you're visiting anywhere between fall and spring, head to Madison Square Garden and see the Knicks or visit during hockey season and watch the Rangers hit the ice.
Head to Coney Island
It's time to walk the classic boardwalk by the beach and get curious about Coney Island. This world-famous attraction in Brooklyn offers rides, access to the beach, and in keeping with its P. T. Barnum roots, unique performing arts and live entertainment. Ride the well-known roller coaster, the Cyclone, let out your road rage with bumper cars, visit the museum, explore the New York Aquarium, snack on some boardwalk bites, or check out a special event like the Flicks on the Beach in July and August.
What did we miss from our list of must-dos in New York City? Tell us in the comments!
Like the post? Share it now!