It seems to have become a Fourth of July tradition that Rick and I fly off to Vegas for the holiday weekend and spend Independence Day soaking up the sun in the desert and doing our part to support the casinos in Las Vegas. This year, we went with some friends, another couple, and had a fantastic time!
Not that I didn't expect to not enjoy traveling with our friends but Las Vegas can be a tricky destination to plan a getaway to with a mixed group. While there's no shortage of things to do in Vegas to keep everyone busy, you kind of have to be on the same page regarding pace and budget in Sin City.
If you're thinking of a getaway with some friends and have your eyes on Sin City, check out our recap of what we did in a long holiday weekend on our Las Vegas with friends travel itinerary!
A weekend in Las Vegas
Friday night
We took an evening flight to Las Vegas and met our friends on the casino floor after getting checked into our hotel. We opted to try out the Venetian this time around and I'm glad we did as it was a nice hotel with fantastic restaurants and a great, relaxed pool scene.
Since we got in late we didn't get up to too much on Friday night and gambled a bit, got some drinks, and then called it a night as we knew the rest of the weekend would be a blur of cocktails, casinos, and entertainment.
Saturday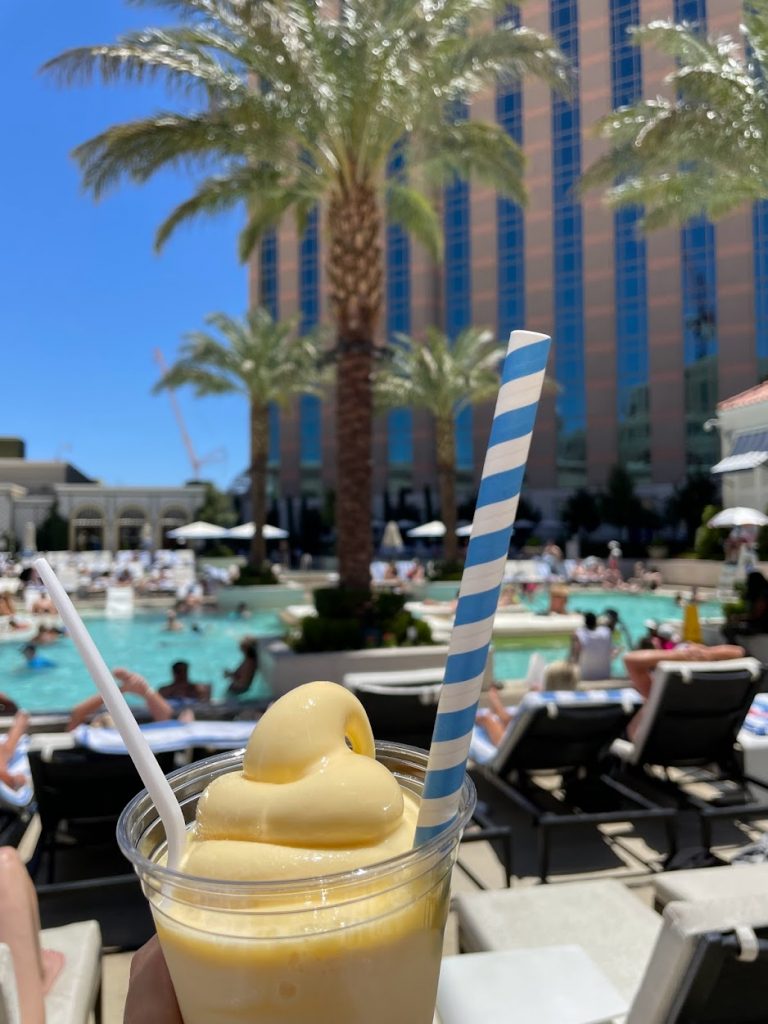 Saturday morning we went to the pool to kick off the day and stayed through early afternoon getting some drinks and lunch at the poolside cafe. Now that we don't live in an apartment, I really enjoying being able to chill out poolside when I can. I'm definitely that person that grabs a chair at 8:30 in the morning in Las Vegas and then rotate throughout the day and can easily stay until 4 p.m. at the pool – especially when I've packed good books.
It was a relaxing morning and thankfully no one got burned in the Las Vegas sun!
After the pool we went back to our rooms to clean up and get ready for an early dinner at Bouchon, the French bistro.
Dinner at Bouchon
At Bouchon, we ordered quite the assortment of starters like escargot, the fromage du jour, and beef tartare. I opted for steak frites for my main and Rick got the croque madame. Everything we had was amazing! We each had approximately 399 french fries on our plates and even the waiter said he'd never seen anyone finish all the fries.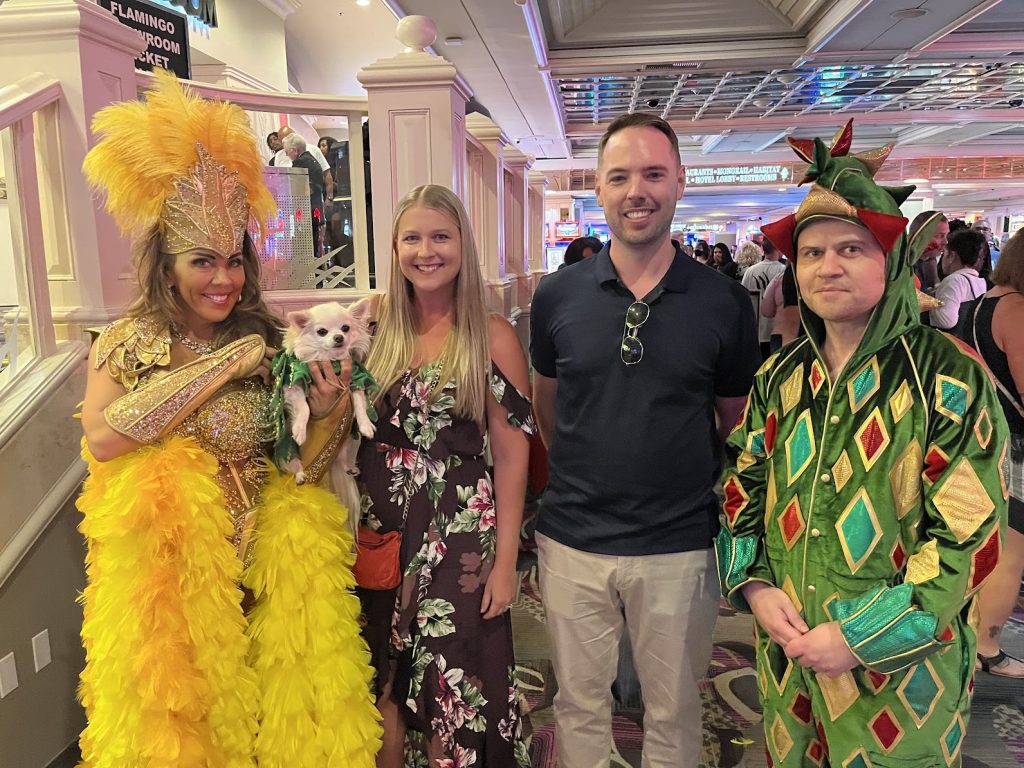 Piff the Magic Dragon
We had to quickly down the rest of our wine as we had to head off to the Flamingo to see Piff the Magic Dragon. I can't even count how many times Rick and I have seen him perform, but this was a new show in a new theater and it was great to see him in a bigger space and an updated show. If you like dry humor and magic, I can't recommend this show enough.
Of course I had to give Mr. Piffles a pat after the show! Though we did not buy another stuffed animal version of him as I think we already have three at home!
Sunday
Daybed at the Venetian
Another tradition Rick and I seem to have adopted when we go to Las Vegas is to book a daybed at the pool and we had to try one out at the Venetian to compare it to the ones at the Cosmo!
I will say it upfront, the daybeds at the Venetian are better.
First, they're more affordable. Our food and beverage minimum was closer to $500 than $800 at the Cosmo and the Venetian had curtains so we could enclose our space and keep the pale people in our group safe from the sun. I was the one who moved around to the sunny spots when the sun shifted during the day.
Our server was fantastic and checked in on us regularly and we definitely got our money's worth of drinks – though we probably should have ordered a bit more food. The Venetian's food menu was also more expansive than the one at the Cosmo and had better options, especially for sharing.
We would definitely stay at the Venetian again and book a daybed there!
Girls' and boys' night
After going back to our rooms and sleeping off our day drinking it was time to split up and have a girls' and boys' night out in Sin City. It had been about 10 years since I'd seen Thunder From Down Under and while Rick would probably go with me if I really wanted him to I wasn't going to make him do that; so it was perfect I had a girl friend to take to the show!
We took an Uber down to Excalibur and watched the muscled Australians dance on the stage and come out to involve some of the attendees in the performance. I was not pulled up on stage but one of the Aussies did dance with me for 30 seconds and I'm pretty sure he could have picked me up using just one arm.
After we got back to our hotel to find the boys we got sidetracked and decided to go on a gondola ride, which I'd always wanted to do! I did not know the gondoliers would sing to us and I got to practice some of my Italian which was pretty cool.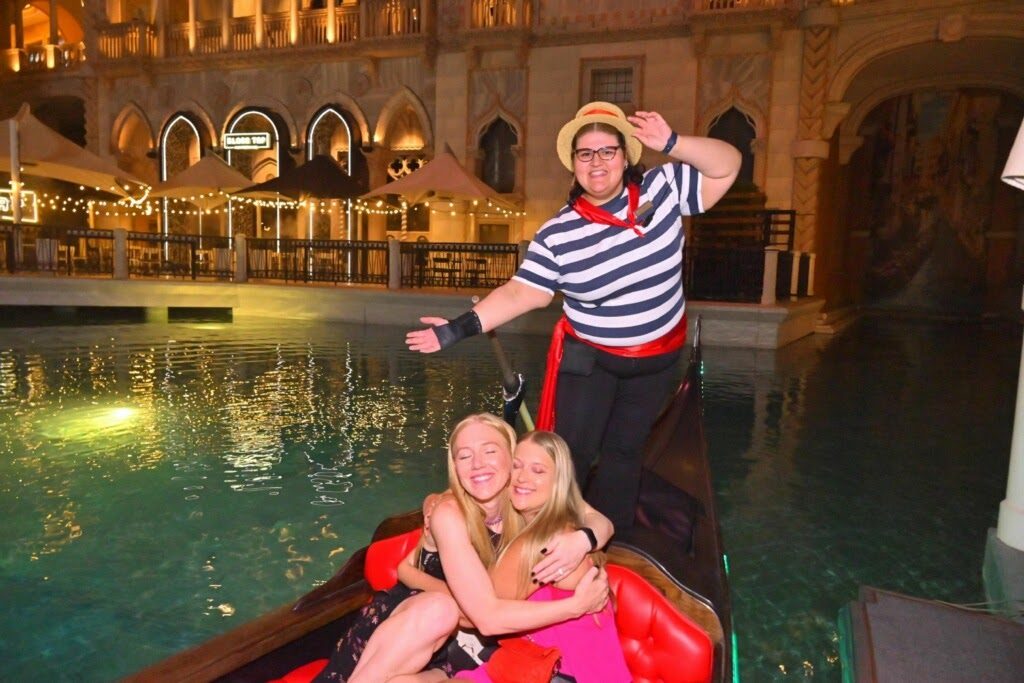 The boys had opted for a classic Las Vegas experience and went to a cocktail lounge and smoked cigars for a bit before hitting the casino floor while we were at Excalibur.
The plan had been to go to Fremont Street after meeting back up but the day's earlier activities hit me hard and I had to call it a night. I really wish we'd been able to go but maybe next time we'll take it easier during the day so we can check out the older part of Las Vegas with our friends.
Monday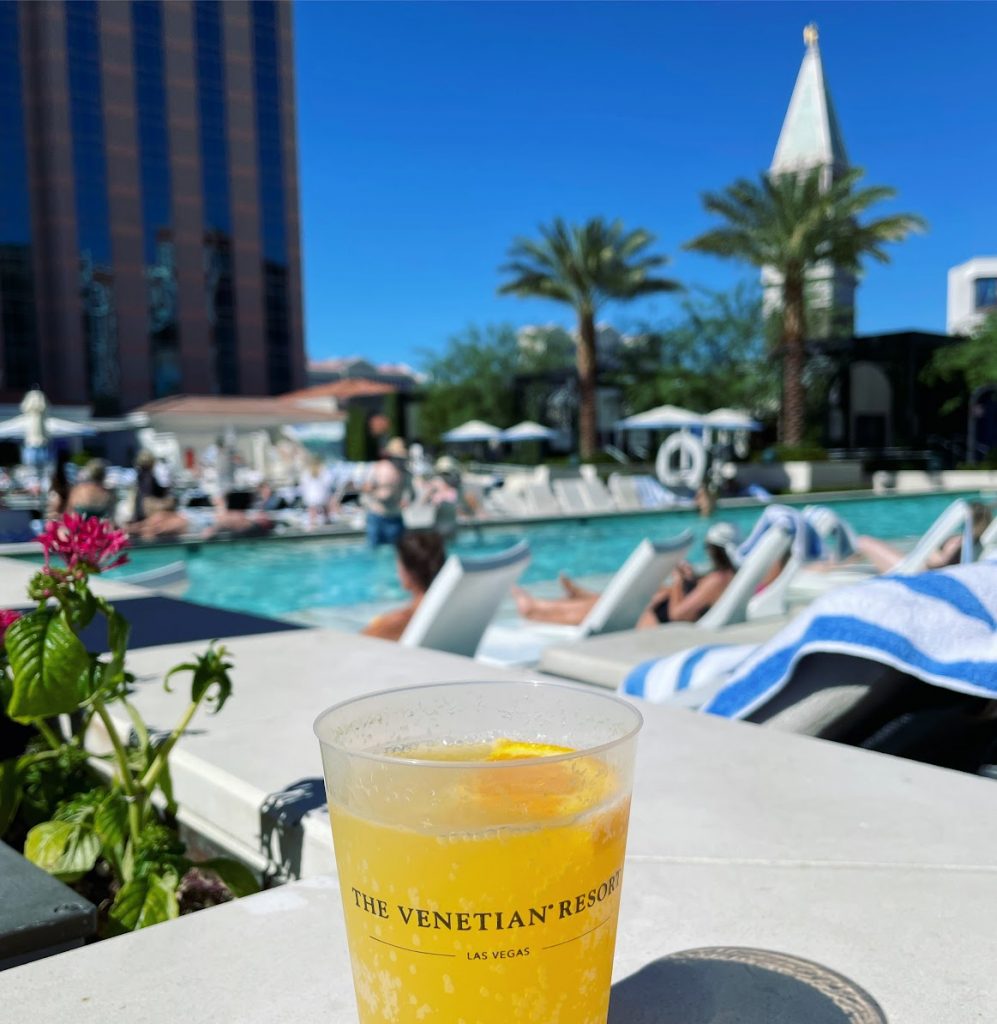 On our last full day there, and the Fourth of July, we started off our morning at the pool for some sun and relaxation. This was the day each couple kind of did their own thing as our friends went to a few different resorts for some shopping and eating so Rick and I stayed back at the Venetian.
Grand Canal Shoppes
In the afternoon we checked out the Grand Canal Shoppes and got some gelato – you can't be at the Venetian and not get some Italian ice cream! We checked out a few of the shops and earmarked a few restaurants we want to try next year when we're in Vegas.
Dinner at Mott 32
We met up with our friends for dinner at Mott 32. It was good we went there with friends as it was served family-style! We had a few appetizer, like the crispy baby octopus, the traditional pork Shanghainese soup dumplings, and shredded peking duck spring rolls. Then we had a few main dishes, a meat, a vegetable, and noodles. It was a great amount of food and we didn't leave overly-stuffed nor hungry.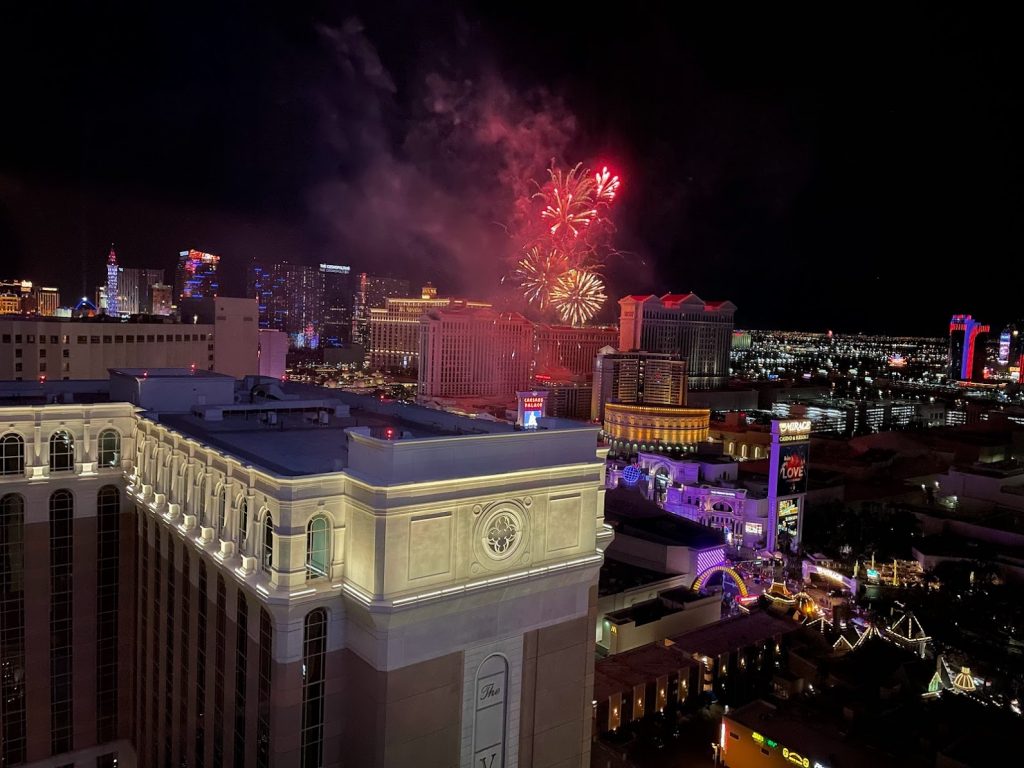 Fourth of July fireworks
Last year, several of the resorts coordinated the fireworks display for the Fourth of July but unfortunately this year only Caesars Palace was the only Strip hotel shooting off fireworks. Luckily, our friends had a Strip-facing view so we could watch the show from the comfort of their room.
Gambling
After the show, which was less than 10 minutes, we went back downstairs as we still had some money in our gambling budget. I opted to try roulette with Rick and ended up leaving the table with more than I had arrived with! It was a great way to end the night and close out the trip.
All in, it was a fabulous way to spend the Fourth of July and I have absolutely no problem with the fact that this just becoming our tradition. I'll see you next year, Las Vegas.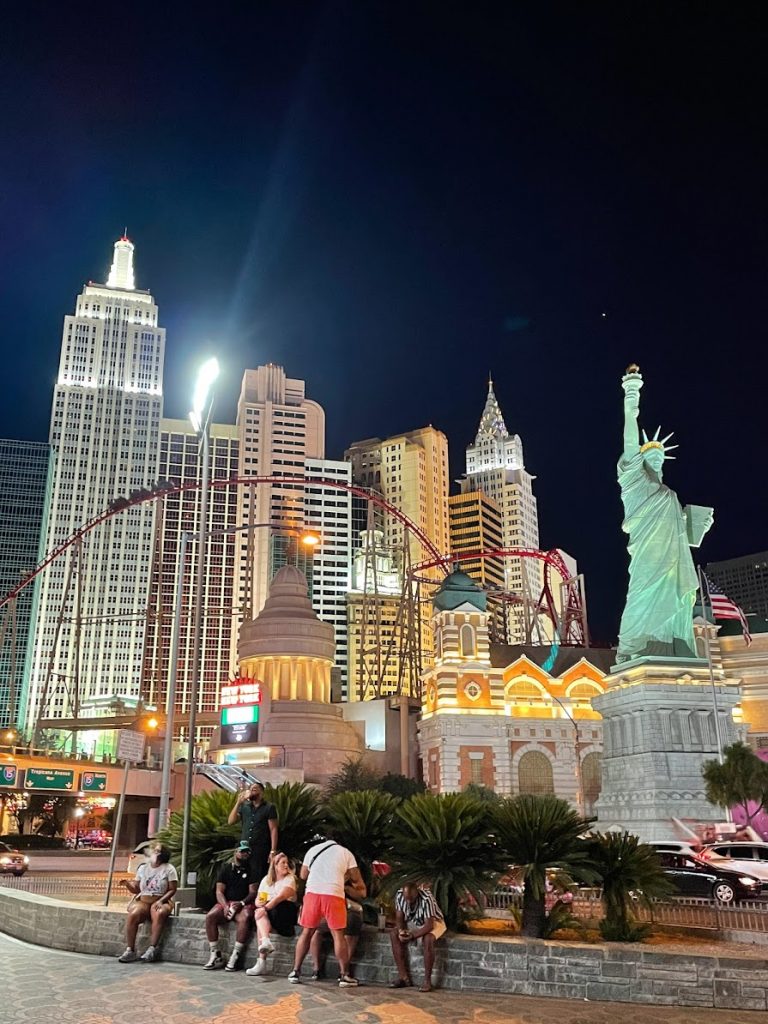 Continue reading about Las Vegas travel:
Like the post? Share it now!