Though it doesn't seem possible that summer is coming to an end I suppose it's true as we've celebrated the holiday that traditionally marks this time of year: Labor Day.
For Labor Day this year, Rick and I opted for something a little closer to home yet still across the border and so that's how we found ourselves planning a holiday weekend in Santa Fe, New Mexico.
I went to Santa Fe a few years ago with my parents and enjoyed the artsy vibe, great food, and delicious wine and have talked about it quite a bit that Rick finally said it was time for us to go visit it together.
Here's what we did over the long weekend in Santa Fe!
A holiday weekend in Santa Fe travel itinerary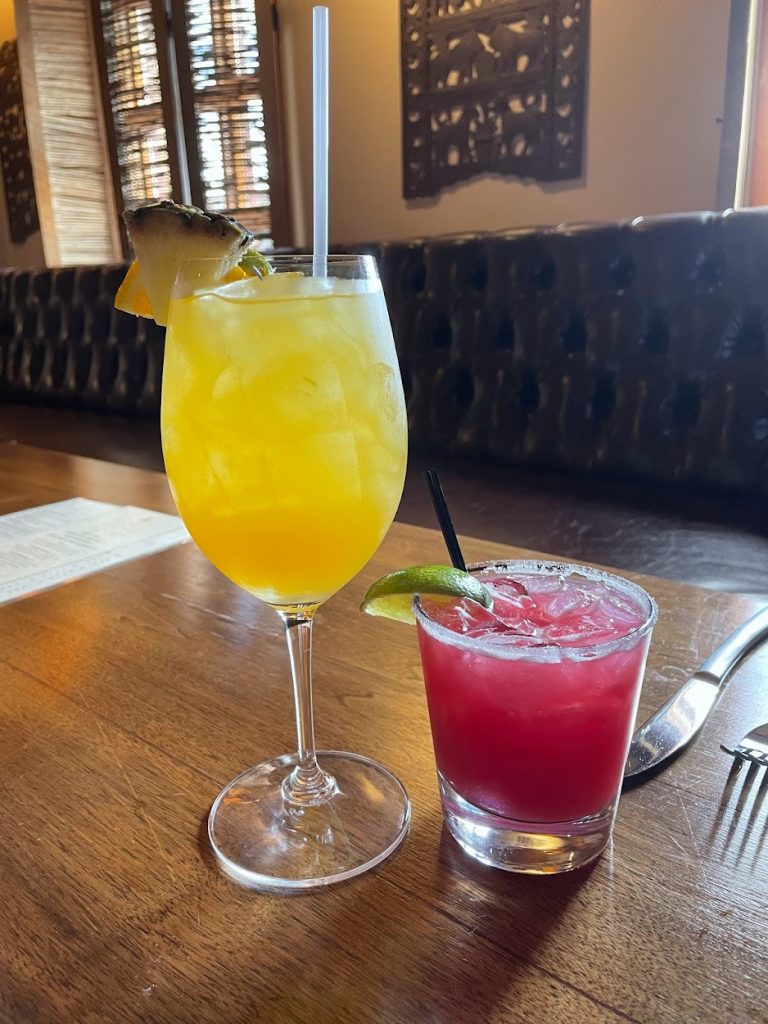 Day 1 in Santa Fe
Check-in and freshen up
Santa Fe is about a six-hour drive from our home in Denver so we left mid-morning to arrive in time to check in at our hotel, the Eldorado. Unfortunately our room was not ready yet so we dropped our car off with the valet and waited in the lobby. About 25 minutes later we checked in with reception and found out our room was essentially not available and they were moving us to a different room type. They'd be able to move us to the right room type the next day so we dealt with it.
We dropped off our bags, changed out of our travel clothes and freshened up for a fun night out.
Happy hour at Agave
Due to our small snafu at the hotel we got credit for the hotel's restaurants and bars so we stopped at Agave for some cocktails. I opted for a white wine sangria and Rick got a prickly pear margarita – one of our favorite margarita flavors when we head south of Colorado. We also got the prosciutto flatbread which was amazing and light enough to tide us over until our dinner reservation at 7:30.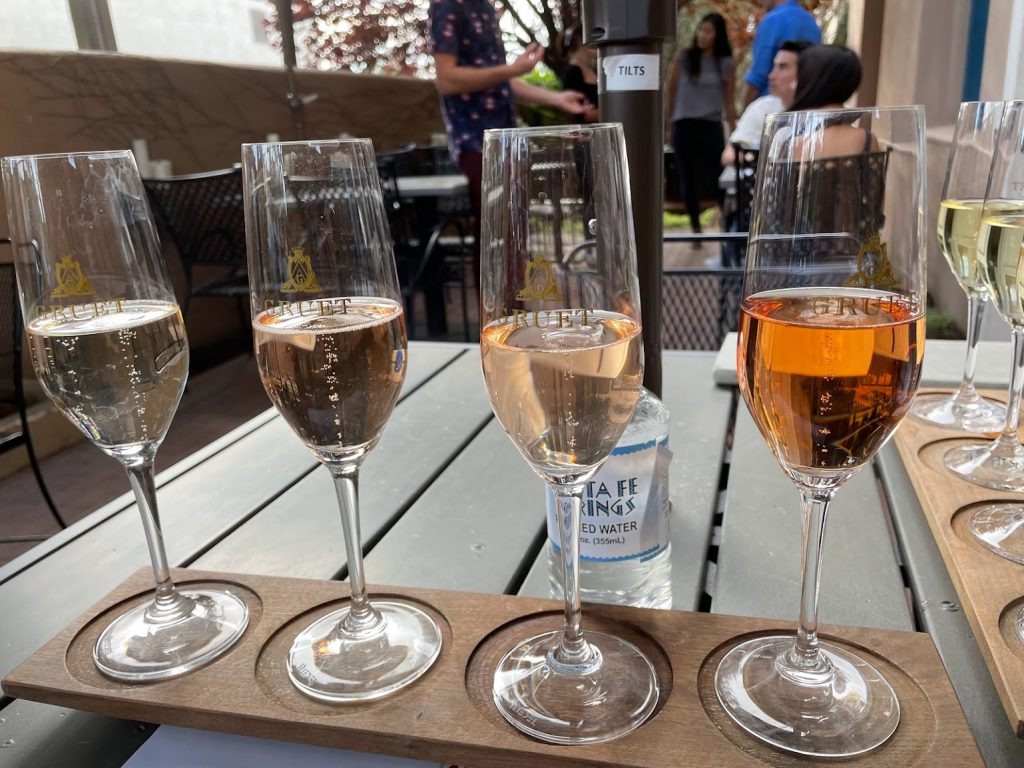 Wine flights at Gruet Winery
One of the reasons we went to Santa Fe was its excellent wine scene and it was fitting we celebrated our arrival at the winery that specializes in sparkling wine: Gruet Winery.
We had made a reservation in advance for a 5:45 wine tasting out on their patio. The day we arrived it was a bit stormy and colder than usual and the patio was completely empty when we arrived. Within about 20 minutes it was completely full!
I tried the Pinot Noir sparkling flight and Rick tried the classic Chardonnay flight. Both were delicious and our server explained the differences in the wines and their production and we both learned quite a bit about how sparkling wines are made. It was educational and fun — though that might be due to the healthy pours of wine they give you in the flights!
Dinner at Market Steer
We opted for a fancy dinner at Market Steer Steakhouse for our first night in Santa Fe, which also worked out well as it was right next to the Gruet Winery.
We both got some more wine and went all out with the bone marrow and steak tartare to start before moving onto our cuts of meat. We both opted for the 7 oz. filet mignon but I had mine served a la lobster oscar and Rick got the smoked blue cheese butter enhancement. We also got some mushrooms and truffle fries on the side. I told you, we went alllll out!
Day 2 in Santa Fe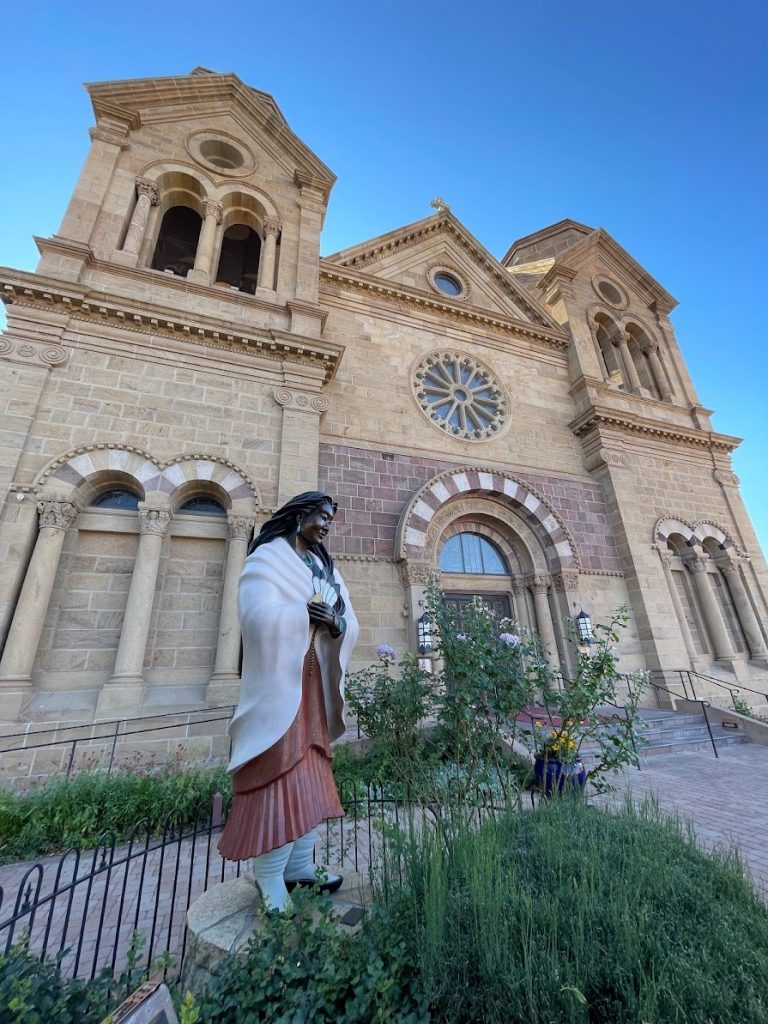 Walk around the city
We started our full day in Santa Fe by walking around the plaza and seeing what shops we wanted to return to later.
Art on the plaza
We picked up a cream puff and chocolate eclair as well as a cafe au lait in the aptly named, French Pastry Shop & Restaurant and took our goodies to go to eat in the park as the artists set up their booths for the day. We then walked off our sweet treats by visiting the different booths and admiring the art, sampling the freebies like honey and biscochitos, and checking out the fabulous jewelry for sale.
Couples massage
We then returned to our hotel to get ready for our spa treatments at Nidah Spa, in the Eldorado Hotel. We booked the 105-minute Spirit of Heritage treatment in a couple's room.
The treatment was perfection as it started with a foot soak and heated neck wrap before we moved onto the tables for a wonderful "Sole Revival" foot massage before our therapists began our 80-minute massages.
The spa was wonderful and relaxing and had all the amenities you could want. After checking in, I was led back to the women's locker room and provided with a locker, robe, and sandals before being told to wait for Rick in the relaxation room. The relaxation room was dark, played soothing music, and had a variety of teas, juices, and water. We were returned to this room after our massages to drink some water and relax before enjoying the steam rooms or showers in our respective locker areas.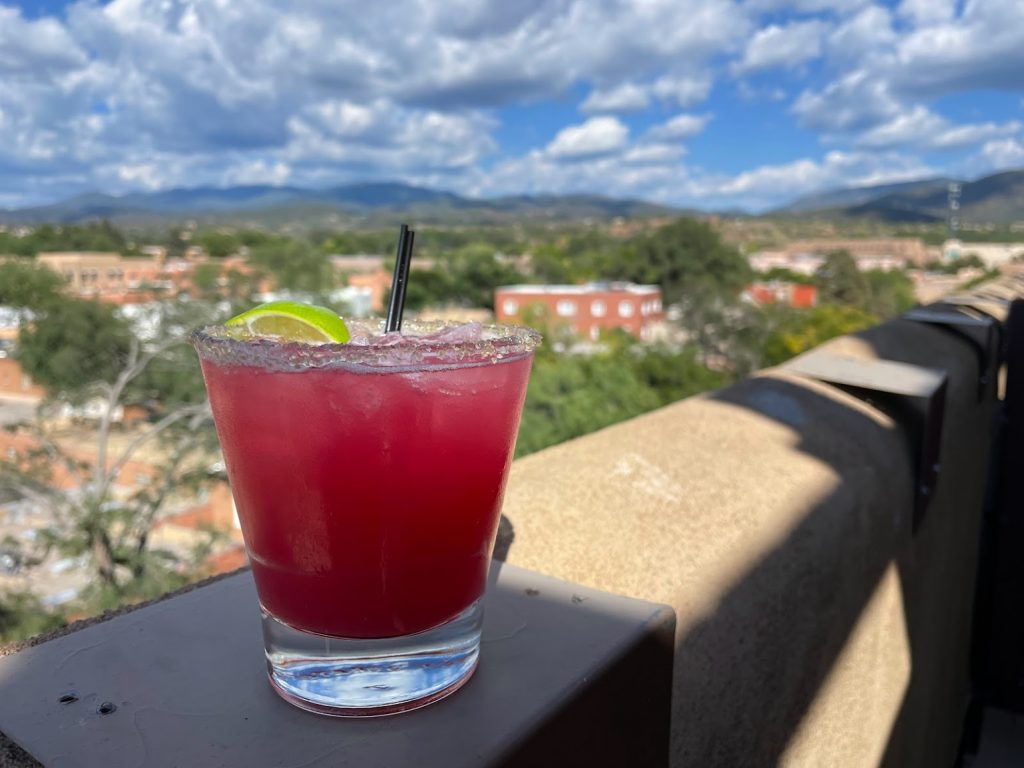 Cocktails with a view
After showering all the massage oil off and relaxing for a bit we went down to the bar and got some cocktails to bring back to the room as we now had a beautiful view to enjoy since we'd been moved into the right room type — one with a balcony!
This time we both went straight for the prickly pear margaritas and enjoyed the peace and quiet of the fifth floor, overlooking the mountains and town. We had no specific plans that evening as we didn't want to feel rushed after our massages so we started looking up where to go for a bite to eat and found a great tapas restaurant nearby that had availability in the next 20 minutes.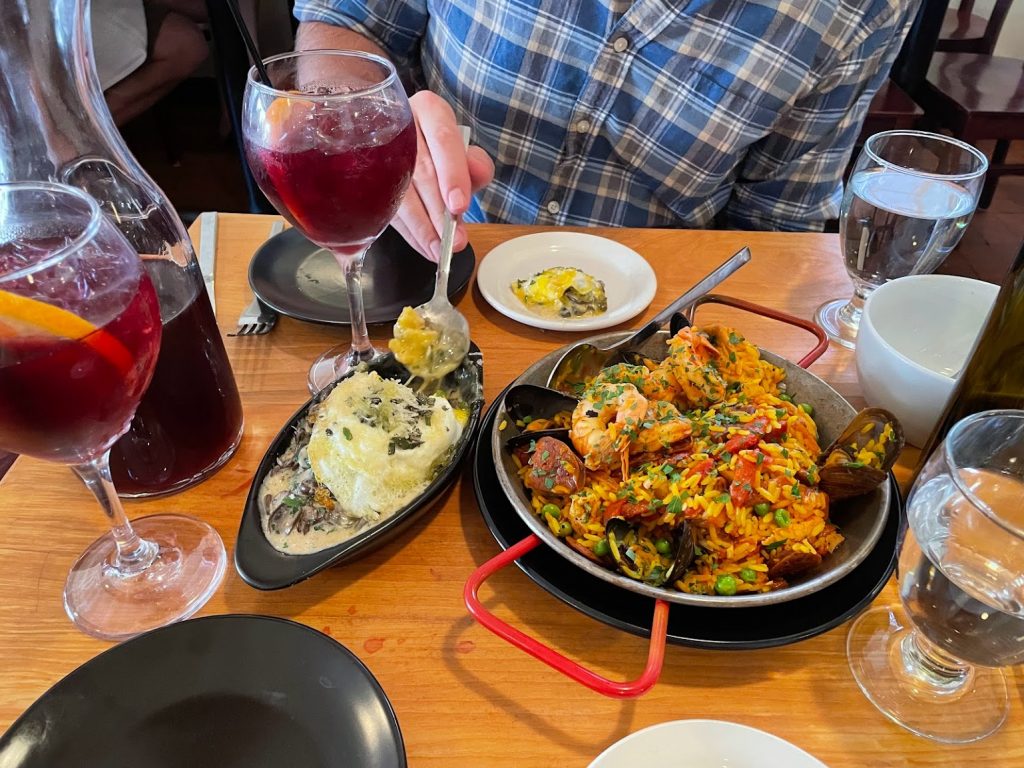 Tapas and sangria at La Boca
Rick and I both love, love, loved our trip to Barcelona and cannot wait to get back to Spain so it seemed fitting that we found ourselves at La Boca to indulge in amazing tapas, paella, and sangria! The paella in that photo is billed as the paella for one!
We started with some manchego cheese, croquetas de jamon, the bruschetta (which was later determined by both of us to be the best thing we ate that night), and of course paella. All of this was complemented with a pitcher of sangria. Needless to say we left completely full and ready to simply roll into bed and fall into a deep food coma.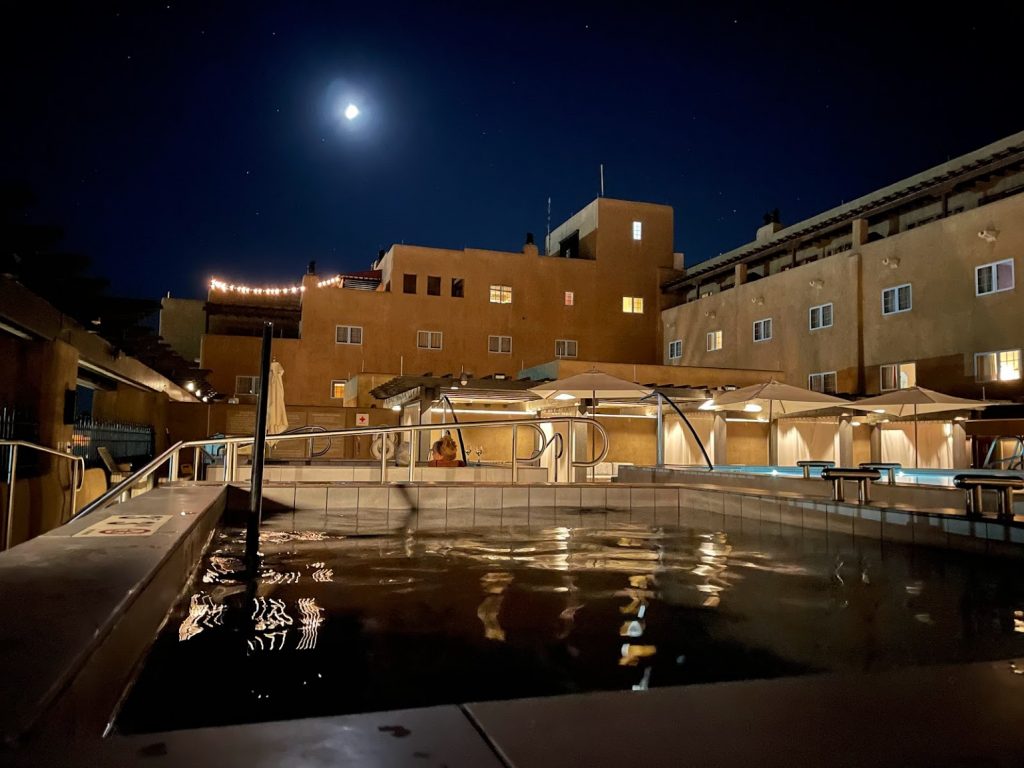 Hot tub under the stars
We did not fall into a food coma and a few hours later we squeezed ourselves into our swimsuits for a late night dip in the hotel's rooftop hot tub. We got there about an hour before closing and apparently at the right time as the other group was leaving so we had the entire space to ourselves for about 20 minutes.
It was a beautiful night to sit and soak under the stars. Then, we finally rolled ourselves into bed.
Day 3 in Santa Fe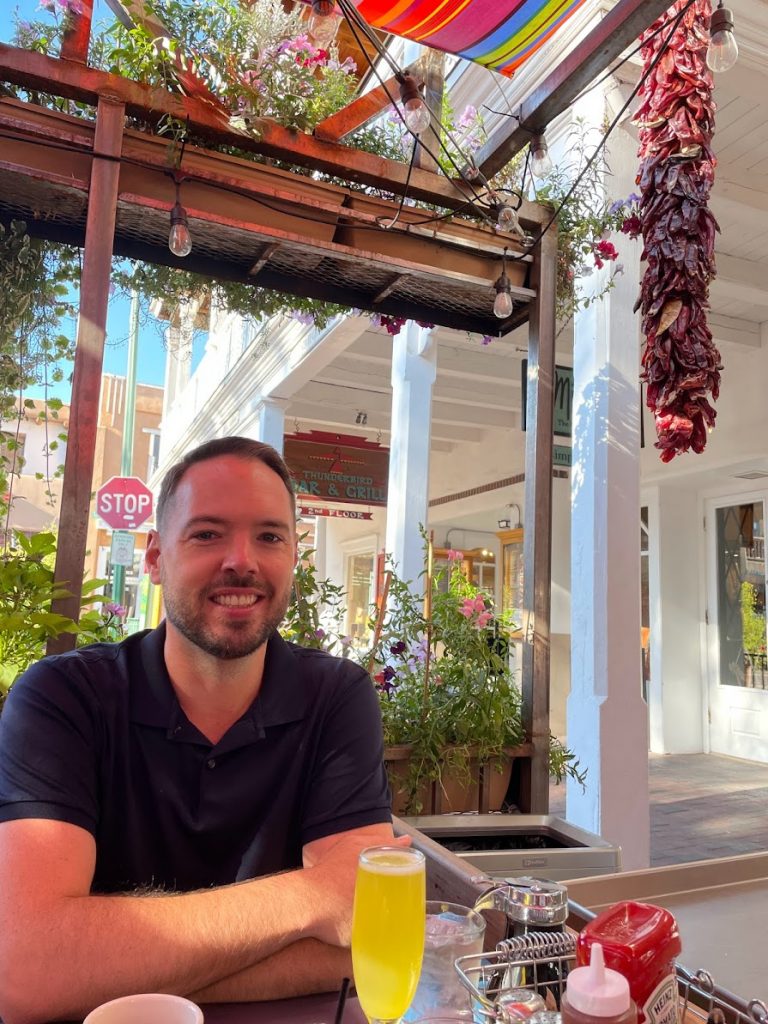 Breakfast at Plaza Cafe
We started our final morning in Santa Fe with breakfast at the popular Plaza Cafe. Rick opted for a traditional mimosa whereas I went for a spiked Mexican hot chocolate that paired quite nicely with my breakfast burrito with "Christmas" chile (a mix of red and green chile).
Art shopping
After breakfast, we went back the booths spread out on the plaza so I could buy some art that I had my eye on, as well as some art I hadn't seen the day before but couldn't leave New Mexico without. We also meandered around town and popped into some shops to explore the goods.
Finally, it was time to head back to the hotel and gather our things to start making the drive back north into Colorado. Next time we head off for a weekend in Santa Fe I'm thinking we'll add a stop in Taos on the way there or on the way home to visit the Ojo Caliente hot springs.
Have you been to Santa Fe with your partner? What was your favorite activity from your travel itinerary? Tell me in the comments below!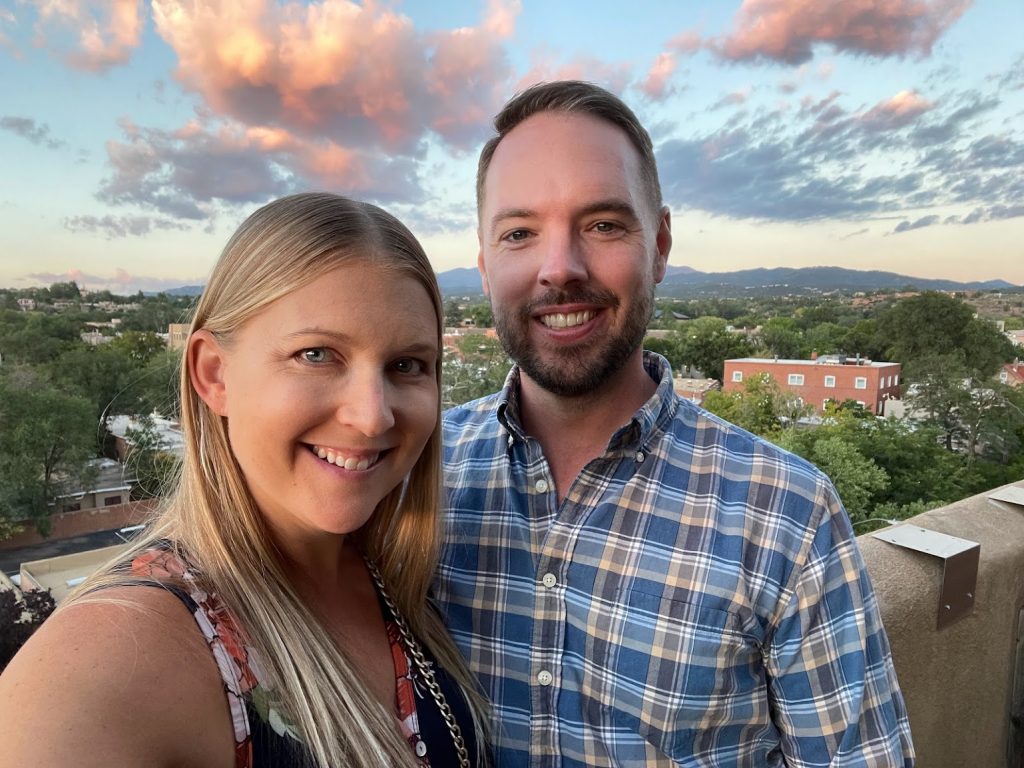 Like the post? Share it now!