We recently enjoyed a holiday weekend in Santa Fe, New Mexico as it's such a cool travel destination and it's only a six-hour drive from home for us — making it a great choice for a quick weekend getaway.
We opted to stay at the Eldorado hotel for our weekend as it was a nice resort-style hotel, complete with a fantastic spa and on-site dining. We wanted to indulge in a weekend of wine, relaxation, and gazing at art we'll need to save for a year just to afford.
If you're planning a trip to Santa Fe. you might want to give the Eldorado Hotel & Spa a closer look as your accommodation for your vacation. Read on to see what we loved about the hotel, but what also could be improved.
A review of Santa Fe's Eldorado Hotel & Spa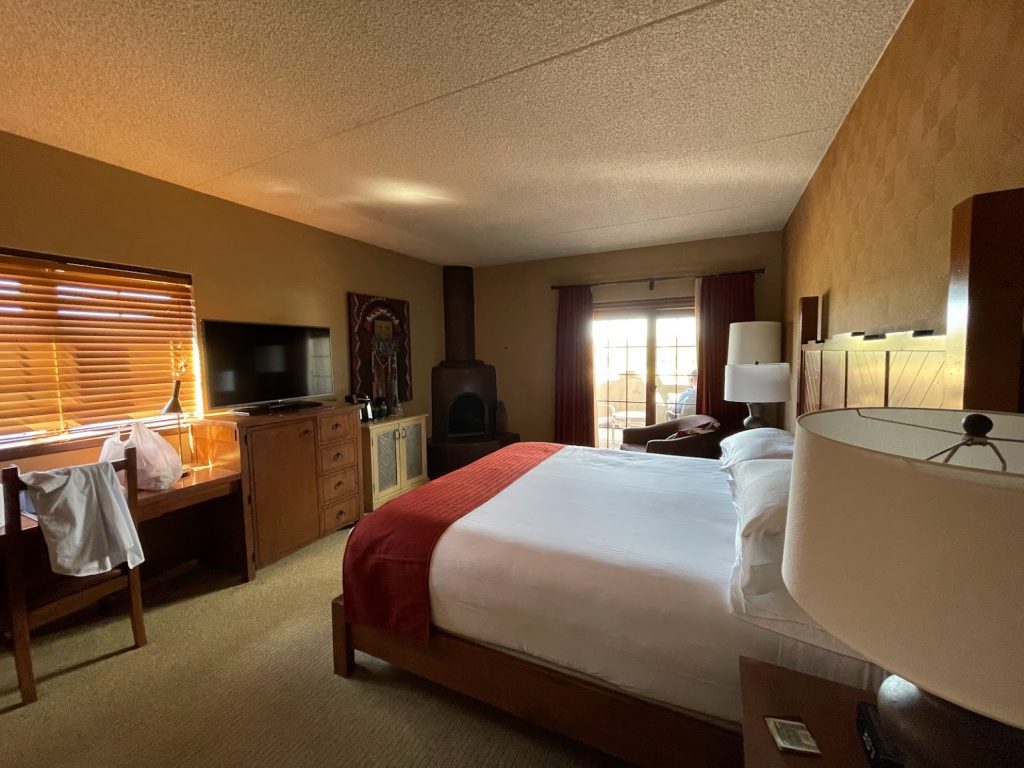 Accommodations
The rooms were spacious, comfortable, and had good amenities. The beds were comfortable, the sheets cozy, and our shower was gigantic. Our room also had a fireplace that a staff member could come light for us.
Unfortunately, we had a snafu upon check-in to even get to our room. We had booked a balcony room so we could enjoy some drinks at sunset and do some stargazing, but we did not get a balcony room on our first night. We did get to the hotel about 20 minutes before check-in and were told our room was still being tended to by housekeeping. Ok, no problem, we'll drop the car off with the valet and wait in the lobby for them to let us know our room was ready.
About 30-35 minutes later, Rick went to see if our room was ready yet and he was told there was a problem with our room so we were being moved. We dropped off our bags in a different room type than we paid for but the room wasn't ready for our arrival and still had some touching up to do as well as replace some missing items, like pillows.
We went back downstairs to ask for housekeeping to revisit and see if we could have a balcony room at least the next night. They would be able to move us the next night and did discount our room rate, which was greatly appreciated, but it was an unfortunate first impression of the hotel.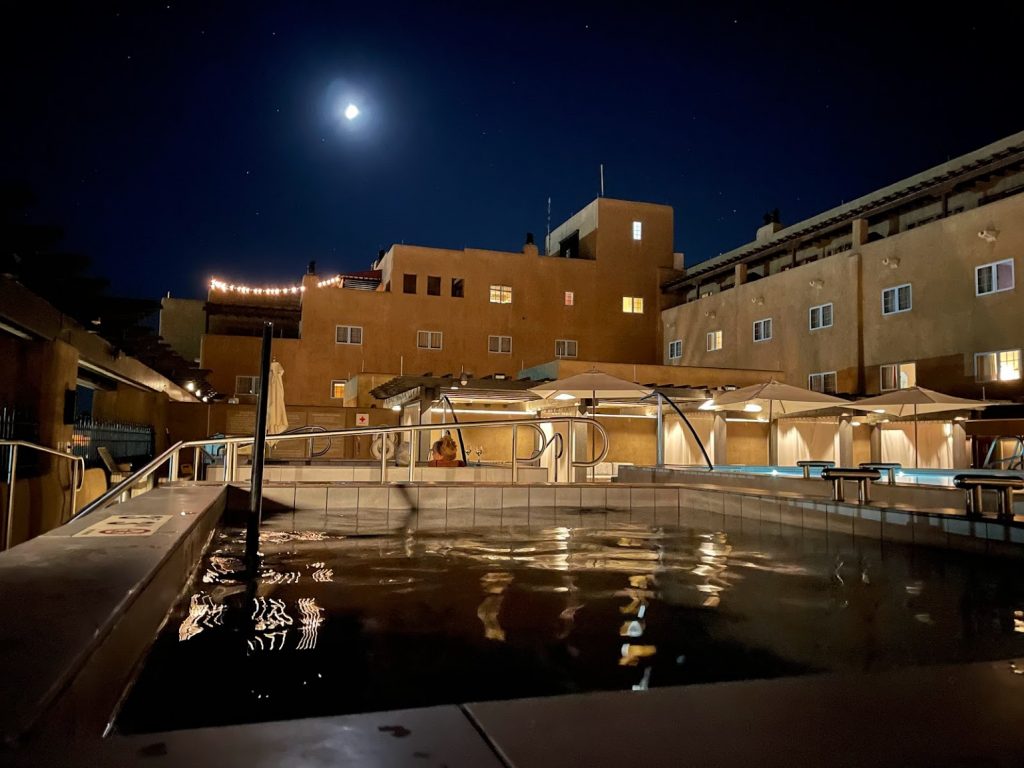 Amenities
The hotel had great amenities though they do charge an amenity fee of $25 to cover valet parking, the gym, the pool and hot tubs, and Wi-Fi access.
Valet parking
Parking in Santa Fe can be rough so it was nice that our amenity fee paid for covered valet parking in the hotel's garage. It was super easy to drop off our car and pick it back up when it was time to go.
Gym
The hotel does have an on-site fitness center that had decent equipment from the looks of it though Rick and I didn't go as we had too much exploration of the town to do! From our quick glances I noticed a few treadmills, stationary bikes, and free weights.
Pool and hot tubs
The rooftop pool was quite lovely and it's a shame we didn't get there more often during our stay. The pool is heated and the hot tubs felt great after the sun went down. The pool area was open until 10 p.m. and it was never packed with people when we were there.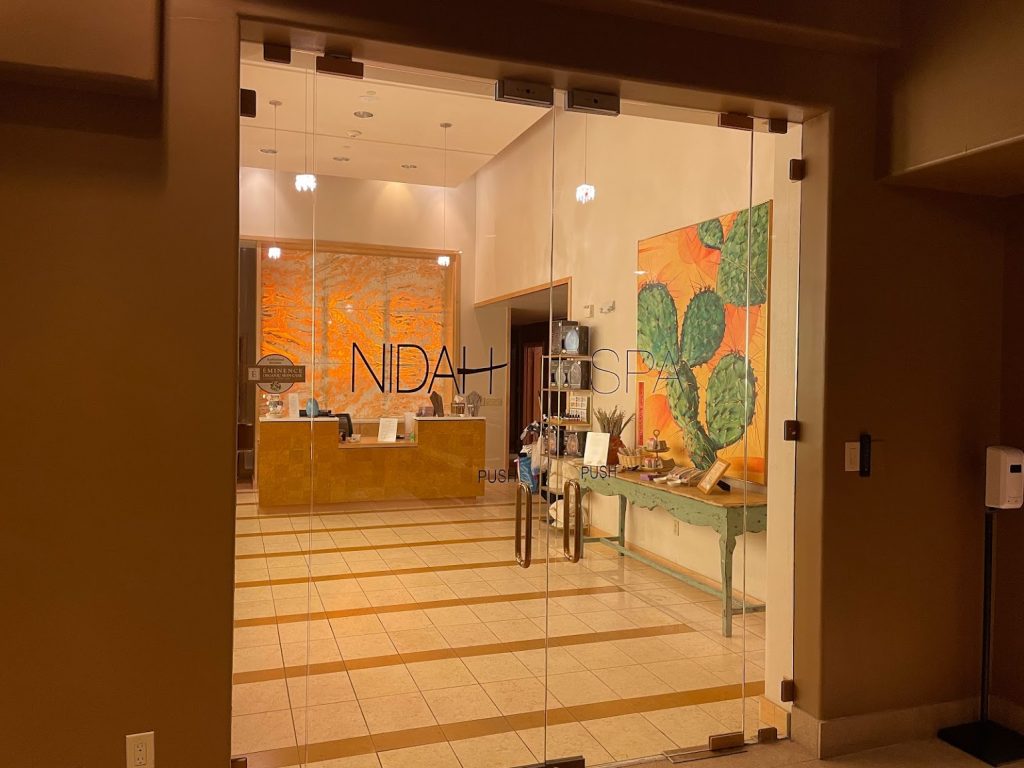 Spa
We booked a couple's massage at Nidah Spa, and like our room, we had some slight issues with our reservation. I had originally called to book and was told I'd get a confirmation email. It never came so I called back to confirm our appointments and was surprised to hear that Rick's massage was at 10 a.m. and mine was at noon – kind of hard to have a couple's massage two hours apart!
A quick conversation righted the error and we were re-booked into the same room for the Spirit of Heritage spa treatment. It included a relaxing foot soak accompanied by a soothing, heated neck wrap. Then we moved onto a foot massage before going into a full-body 80-minute hot stone massage.
The spa was the highlight of the trip as the massages were amazing and the spa itself had all the amenities you could need: a steam room, showers, and toiletries to clean up with after being rubbed down with oil. I did not want to leave – even with the great views of our balcony room beckoning us.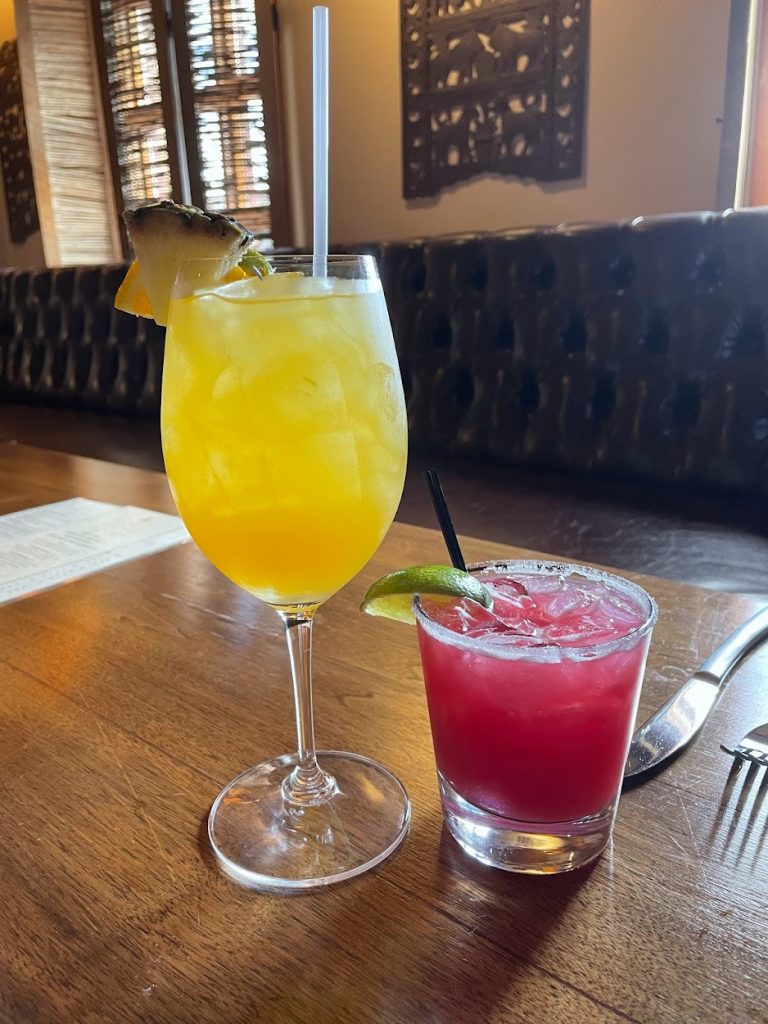 Restaurants & bars
The hotel has two bars, Agave Lounge and CAVA Santa Fe Lounge. With the issues with our room we also got a hotel credit that we used at the bar for some cocktails. We opted for drinks at Agave before dashing off for our wine tasting at Gruet Winery.
Agave also has a good menu of small plate appetizers and light bites and we tried one of their flatbreads and I was tempted to order six more.
One weird thing was that the hours listed for CAVA were 3-10 p.m. each day but our first day there the bar was closed for a private event which was understandable, but it never opened the next day. We tried popping down for a drink at 3:30 but were told they weren't open but the other bar would be at 4. It's not a big deal but it was something odd.
Service
Everyone we encountered at the hotel was friendly and helpful. Connor took great care of us regarding the problems with our rooms and made sure we got a discount and then our balcony room had a very impressive view for the night we got to stay in it.
Housekeeping was friendly and we had put out our Do Not Disturb sign so they left us a note with a number to call if we needed fresh towels or have our room serviced later.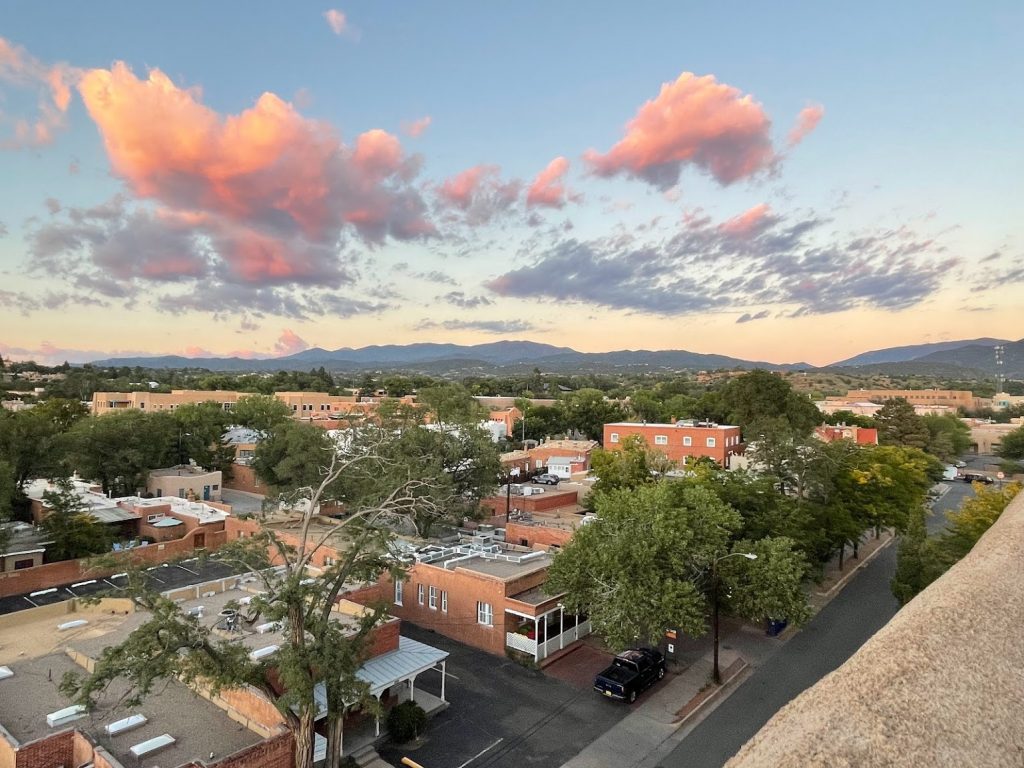 Price
Our original room rate was about $300 per night which is to be expected for a AAA Four-Diamond-rated hotel.
Location
The location was ideal as it was just two blocks from the plaza. It was extremely walkable and we never needed to get our car back from the valet to go anywhere. We had identified a few places we wanted to go that we could have easily gotten our car out of the garage for, but again, the town center of Santa Fe has so many places to eat, drink, and shop at that it was more fun just to walk around and it took less than five minutes to get to the plaza from the hotel's front door.
The hotel is located at: 309 W San Francisco St., Santa Fe, NM 87501.
Have you stayed at the Eldorado Hotel & Spa in Santa Fe? Tell us about your experience in the comments below!
Like the post? Share it now!