Barcelona is bursting with color and unique shapes thanks to Antoni Gaudi's influence and there's no shortage of amazing photography locations in Barcelona to capture forever on film – or on Google Photos.
I don't even want to know how many photos I took just inside the Sagrada Familia and we were only there for an hour and a half! From shooting the rainbow of colors inside the church to photographing the incredible architecture and public squares outside, my camera was constantly at the ready to capture the Insta-worthy photo spots in Barcelona.
Don't worry, this list isn't just cathedrals and you won't be spending a fortune running around the city trying to photograph everything. Many of these top Barcelona photography locations are free to visit and very walkable and easy to get to.
If you're wondering where to take the best photos in Barcelona this list will point you in the right direction of some pretty epic photo opportunities in this timeless and artistic city.
Top 10 Instagrammable locations in Barcelona

1. Sagrada Familia
Obviously this gem has to top our list as it's stunning both from the outside and on the inside. The sheer amount of details built into the cathedral, like the animal and human figures carved into the exterior, and gorgeous use of color in the Glory Facade and Passion Facade's stained glass makes this a photographer's dream. I feel like 90% of my photos from our time in Barcelona were just of Sagrada Familia and trying to get fun shots of all the tiny details that have been incorporated into the design.
Another option is to head to the top of the tower for a wonderful aerial view of the city at your feet. This does cost extra but is a good option if you're short on time in the city and want to maximize your photography locations and the time spent at each site.
While the cathedral is expected to be completed in 2026, there's no reason not to snap pictures of this amazing work of art now.
2. Barcelona Cathedral
Another beautiful cathedral is located in the Gothic Quarter and worth the trek to get pictures of its exterior and wander through the interior of the church. Opened in 1298, the Cathedral of the Holy Cross and Saint Eulalia, also known simply as the Barcelona Cathedral, this historic church has a lot to offer visitors and photographers.
Unlike Sagrada Familia, this cathedral has a darker interior, gorgeous stained glass windows, golden-accented art, and a beautiful organ. Sneak out to the cloister to snap pictures of the 13 geese wandering around! Here you can also take a ride to the rooftop for a great view of the Gothic Quarter and surrounding city, as well as capture some of the cathedral's exterior embellishments.
Do note that you must be properly dressed to visit the church or you will get a free scarf at the door to cover your shoulders or knees.
3. Gothic Quarter
After visiting the Barcelona Cathedral, stick around the Gothic Quarter and walk through Barcelona's birthplace. This area is also great for museum goers as it's home to the Barcelona History Museum and the Picasso Museum. This neighborhood is also good for lifestyle photography with a vibrant restaurant, bar, and nightlife scene.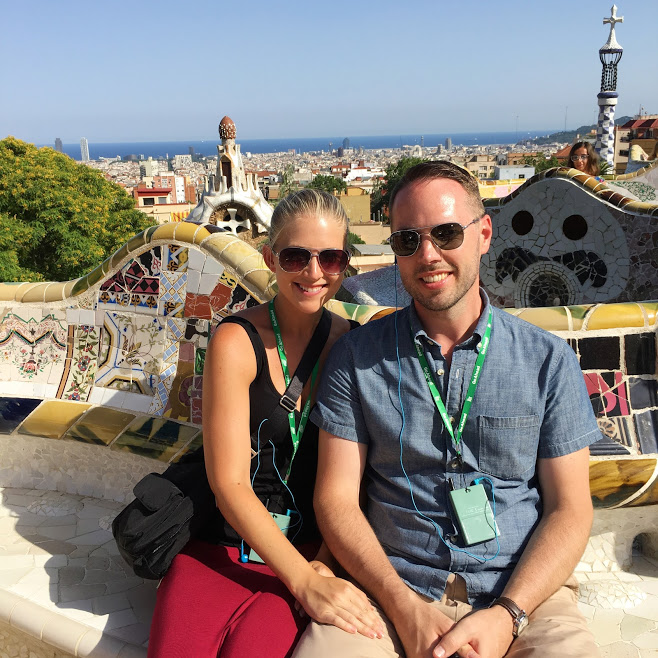 4. Park Guell
Another world-famous photography location in Barcelona is Park Guell and one trip there and it's easy to see why. This park is a work of art, thanks to Gaudi, and has wonderful features, like the tiled seating, wavy benches, colorful sculptures, charming buildings, and blooming gardens. Visit the Hall of 100 Columns, snap pics of the city and the sea from the viewing terrace, as pop into the Gaudi House Museum while there.
5. La Rambla
Take a stroll down the tree-lined pedestrian boulevard, La Rambla and get a real taste for the feel of Barcelona. At the end of the street is the 200-ft. Christopher Columbus column that dates back to 1888 and even has an elevator if you want a panoramic view from this end of the city.
6. La Boqueria
Just off La Rambla is the Boqueria, a large food market where you can find fresh fish, thinly sliced jamon, a delightful medley of fruits and smoothies, cheese, ice cream, tapas, sweet treats, and wine! Even if you're not hungry, it's worth it to wander among the stalls and sellers and snap pics of the colorful, buzzing marketplace.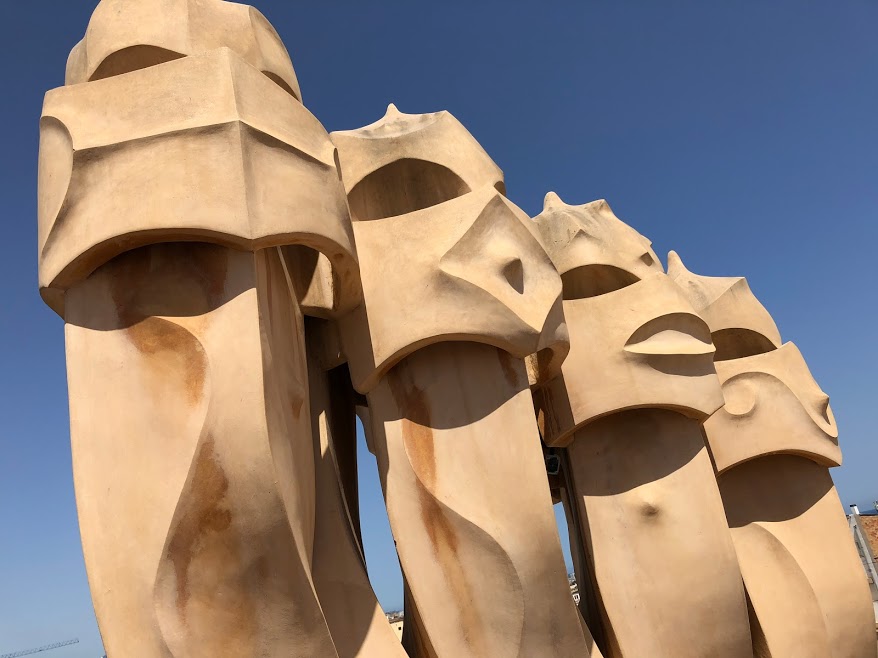 7. Gaudi's casas
Casa Mila
Casa Mila or La Pedrera is part a work of art, part housing development, and part museum. Free of load-bearing walls and innovative structural choices, Casa Mila is a fan-favorite in Barcelona, especially when you get to the rooftop with the Darth Vader-esque ventilation pipes.
Casa Batllo
A fun exterior that looks like it popped out of a happy Tim Burton fantasy is Casa Batllo on the Passeig de Gracia. Most relate the look of this building to be that of the rolling sea, and it comes through with its distinct wavy features and stunning glasswork.
8. Montjuic Castle
Head up to the Montjuic Castle for architectural photos of the fortress and of the view of the city below you. The fortress stands more than 550 feet above sea level and has 360-degree views of the city.
There's a nice walk around the castle, and you'll take a cable car to get back into the city – providing more opportunities for aerial shots of the city and stretch of beach.
9. Aerial views of Barcelona
It seems half my list includes places to get aerial shots but there are two locations in particular that are perfect for this endeavor. First up it Tibidabo, the site of an amusement park and the Church of the Sacred Heart. If you want to say you took a photo from the highest point in Barcelona, go up the Collserola Tower, but the rest of Tibidabo offers breathtaking panoramic views. If the weather's cooperating, you may even be able to capture Montserrat in the background of your photos.
Another good option is Turo de la Rovira where you can get some gorgeous ocean blue hues as your backdrop. Standing at 900 feet above sea level, this viewpoint offers panoramic views of Barcelona and also played an important role in the Spanish Civil War. Sunset is a very popular time at this photography site but well worth it if you love ocean and sunset shots.
10. The beach
Finally, make a stop along the beach and its inviting white sand. There's also public art to photograph around here, the marina filled with boats, and the enjoyment of everyone else sunbathing at the beach.
You might also want to walk along the waterfront bridge, La Rambla del Mar, which leads to the aquarium and a mall.
Where's your favorite photography location in Barcelona? Tell us in the comments below or over on Twitter!
Like the post? Share it now!