Barcelona, or "Barthelona" if you want to sound like a local (but please don't unless you actually speak Catalan), is a wonderful, welcoming city that Rick and I simply cannot wait to get back to.
The beautiful architecture and neighborhoods, the welcoming people, the inviting beach, and the delicious cuisine make for a wonderful vacation destination in Spain.
While it deserves its own getaway, it can be pretty easy to add Barcelona to a bigger Spain travel itinerary or do like we did and combine with a tour of the Cote d'Azur and the Italian Riviera.
If you can only have one day in this stunning Spanish city, here are the must-dos when it comes to things to do in Barcelona!
A one-day Barcelona itinerary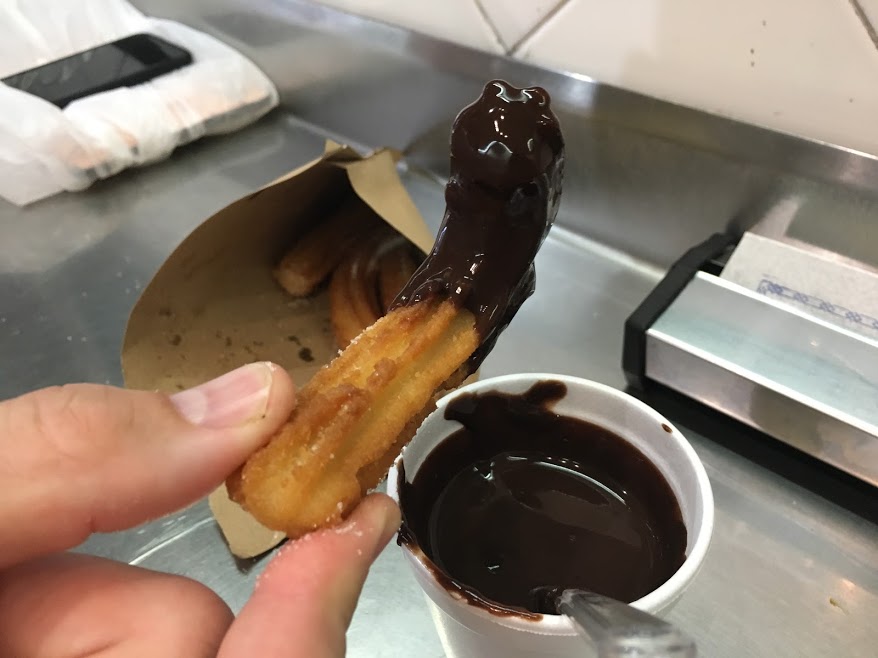 Indulge with churros con chocolate and coffee
Start your morning off with your caffeine kick and some delicious hot chocolate, along with churros to dip in there! We went out of our way to find a spot for this decadent treat and you cannot pass up the chance to enjoy this sweet treat for breakfast.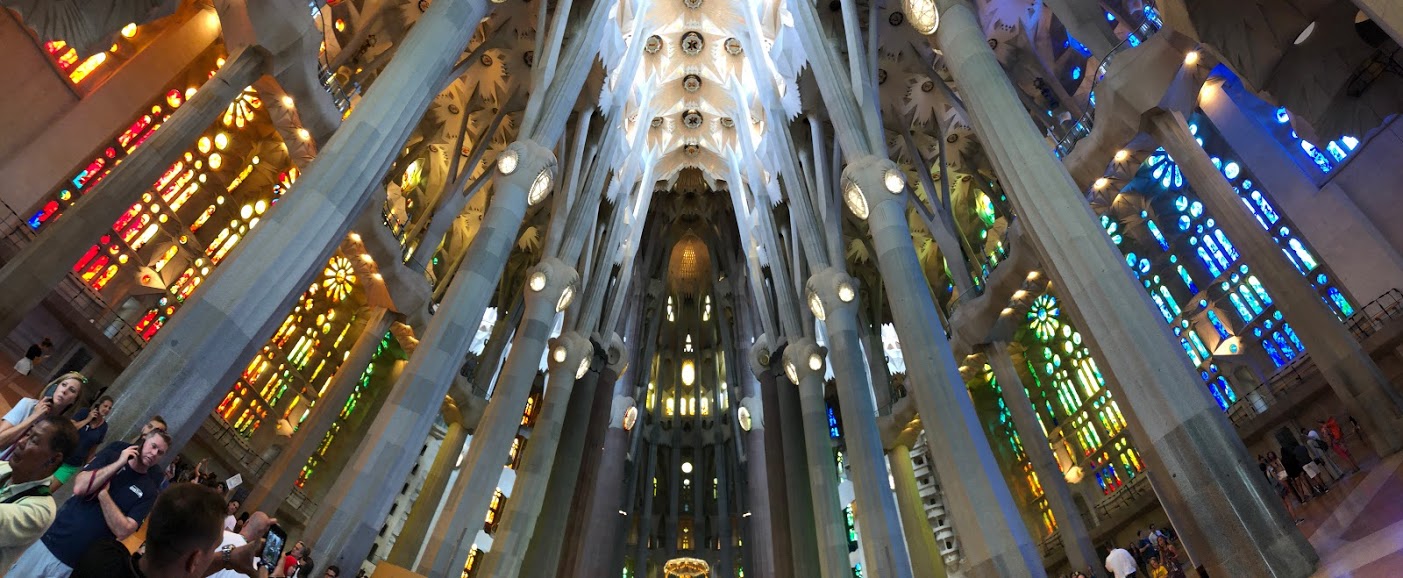 Have a spiritual experience at Sagrada Familia
No matter how many times we go back to Barcelona, I feel a visit here will always be warranted. It's hard to describe what an incredible experience it is to see this church – both the exterior and interior. Discover all the details that have been lovingly added inside and out and see the warm and cool hues cast their light on the walls thanks to the Glory Facade and Passion Facade.
Construction started on this inspiring building in 1882 and is expected to be complete in 2026 – a full 100 years after Antoni Gaudi's death. While its current iteration is breathtaking on its own, it's neat to see the models of how it'll look once it's complete and all the natural elements that are being worked in. We easily spend an hour here, just walking around or trying to find new religious artifacts or works of art that have been added or that we simply missed the time before.
If you want a great aerial view of the city, book a ticket that includes a trip to the top of the tower. You can purchase tower tickets online or at the church.
La Rambla & La Boqueria
After feeding your soul at the wondrous basilica, it's time to feed yourself by heading down the pedestrian boulevard, La Rambla, and entering the Boqueria, or market. You can easily pick up some souvenirs as you stroll La Rambla from the street vendors and little shops along the way.
Then it's time to explore the various stalls housed in the Boqueria. Find fish, jamon, fresh fruit, smoothies, ice cream, oils, wine, and anything you could want here. It's a great spot if you want to create your own little picnic or just have a small snack to tide you over until your next tapas stop. There are tapas bars and wine bars located inside the market if you want something hot or freshly prepared and they're always busy – meaning the food and service are worth the wait and the return visit.
Please note that the market is closed on Sundays! We saw a group of very disappointed tourists wandering outside the market one Sunday morning, and we'd hate for you to join them.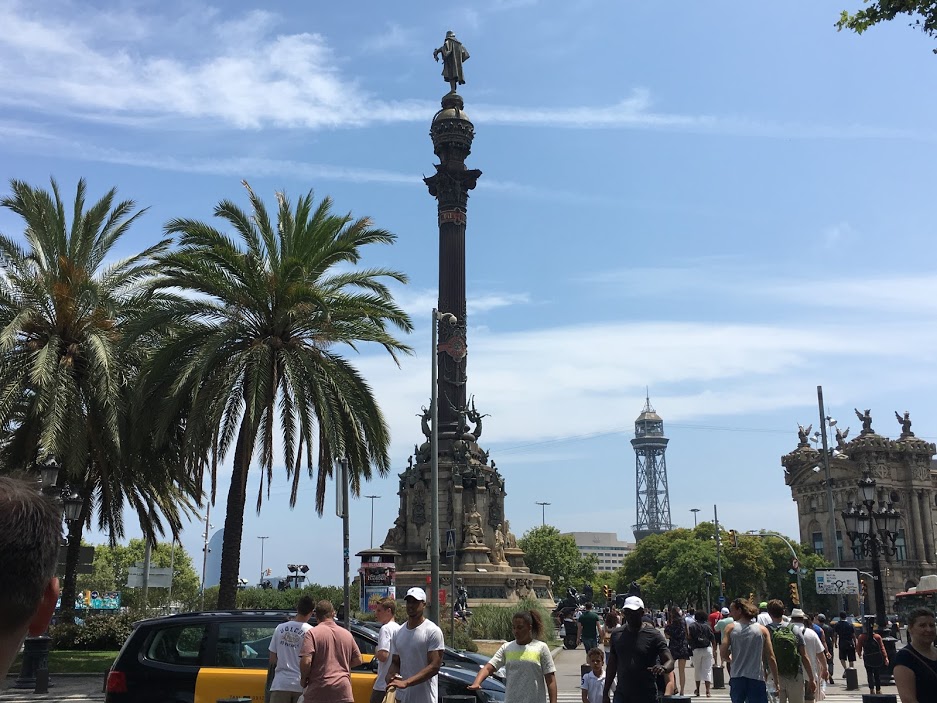 Christopher Columbus Monument
After your tapas tasting, head back out onto La Rambla and go toward the waterfront. At the end of La Rambla stands the 200-ft. Christopher Columbus column. This statue has watched out over the sea since 1888 and if you're feeling adventurous yourself, take a ride up the elevator to the top for a great view of the city.
Since you're so close, you might as well take a stroll along the waterfront and see the unique design of the waterfront bridge, La Rambla del Mar. The bridge leads to the aquarium and the Maremagnum mall in case you want to fit in some additional shopping.
Park Guell
Hop in a cab as you're now off to the see the iconic Park Guell. Originally built as a housing development, the project unfortunately failed but fortunately for the city of Barcelona, they turned it into a park! Some areas are free to visit while the major photo-worthy destinations require a ticket. Be sure to buy your tickets in advance for a timed entry to see this beautiful open space with views of more of Gaudi's work and even all the way out to the ocean.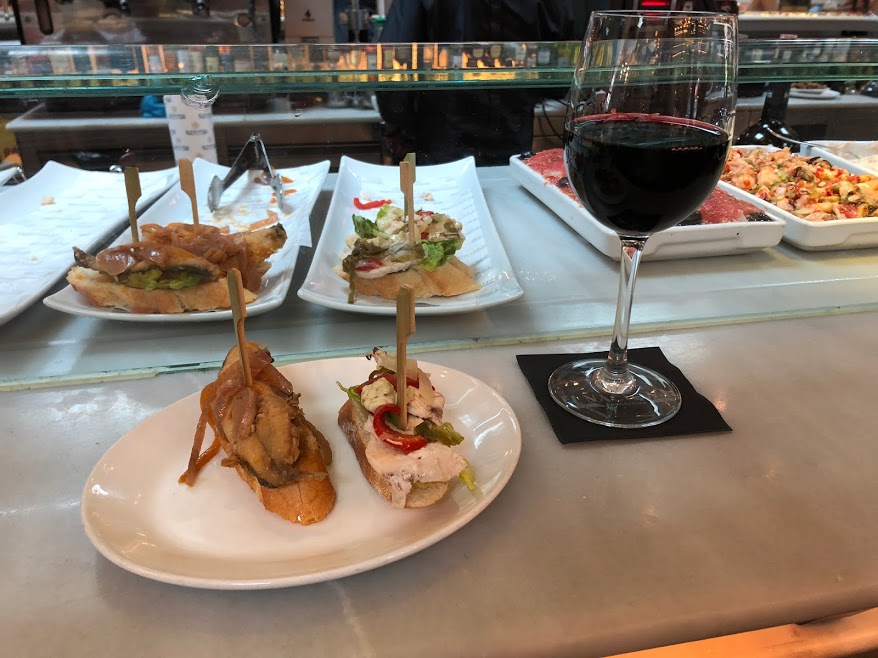 Tapas and wine
Head back into the city and eat like a local and enjoy your own self-guided tapas and wine bar crawl. It's customary when dining out in Barcelona to order one or two little plates or a few pintxos and then make your way to the next restaurant for a few more light bites when it's not quite time for dinner. Rick and I love this style of dining and we had no problems visiting a few different restaurants for fresh seafood, croquettes, jamon, and other popular tapas recipes paired with some sangria or just a traditional glass of rioja.
Check out our recommendations for our favorite wine bars in Barcelona!
Magic Fountain show
End your night with music and a dazzling display. The fountains in the Montjuic neighborhood light up at night and dance to music – somewhat like the Bellagio in Las Vegas but with more color and less vertical climb. It's the perfect ending to a fabulous day exploring Barcelona.
Have a bit more time to explore this magical city? Check out our relaxed three-day Barcelona itinerary!
Did we miss anything from our list of the best things to do in Barcelona in a day? Tell us in the comments below or on our Facebook Page!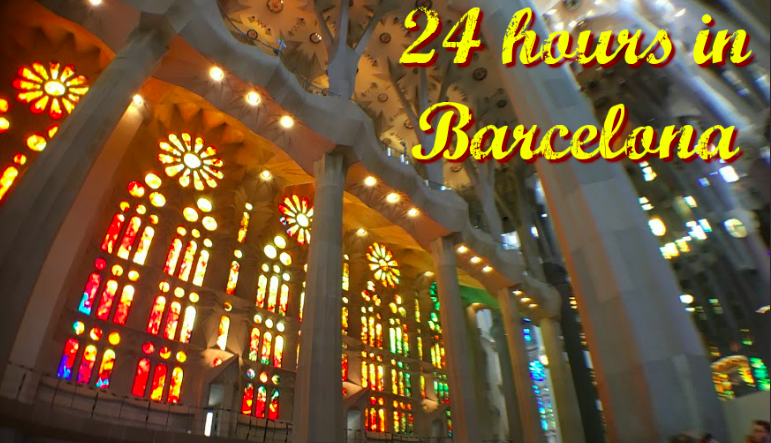 Like the post? Share it now!