It's the most wonderful time of the year! Okay, I know that that's December, but it is the most spooktacular time of the year. I love October and all things haunted and Halloweeny and today we're combining that with travel by talking about haunted Paris!
Since I love, love, love going on ghost tours when I travel (I've gotten Rick to come around to tolerating them), I thought it would be fun to dedicate this month to highlighting haunted cities and the ghosts and spirits still living in the beyond there.
Though Paris is known as the City of Light it also has its dark side with ghosts, stories of mayhem and murder, and all things gruesome. From stories of people dying among the dead to ghostly royalty, these are the best haunted sites in Paris.
Come discover the darker side of Paris and explore these seven places that are good starting points for your haunted tour of Paris!
7 haunted spots in Paris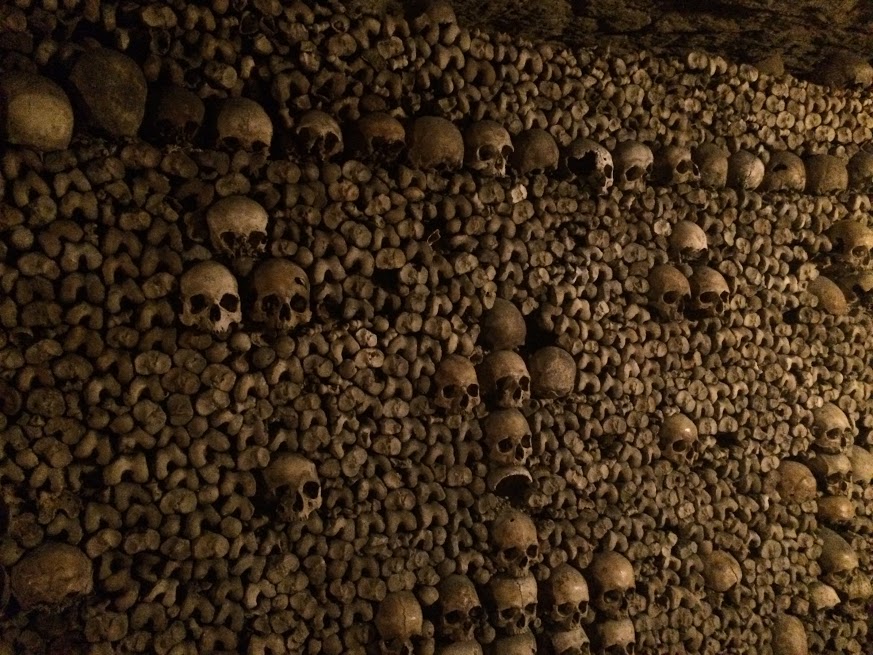 1. Paris Catacombs
Walk among the dearly departed in the labyrinth of tunnels deep under Paris – about 65 ft. below the city in fact. It doesn't matter the time of year you visit, the catacombs are a cool thing to do in Paris as you walk along the tunnels built with the skulls and bones of six million Parisians.
One of the most well-known hauntings is done by the ghost of Philibert Aspairt, who went into the Catacombs only to have his bones found 11 years later. He makes his presence known by whispering in your ear, calling out for others, or blowing on you, though it's so freaking cold down there you might not even feel it if he does choose to spook you.
2. Cimetiere du Pere Lachaise
It's kind of a given for any ghost tour fan that a cemetery is a hot spot of paranormal and ghostly activity, and that holds true for Paris' largest cemetery. This cemetery isn't just known for its ghosts but also as the final resting place for many famous artists, like Frederic Chopin, Moliere, Marcel Proust, Oscar Wilde, Jim Morrison, and Edith Piaf.
The cemetery is said to be notoriously haunted as visitors have spotted ghostly figures moving among the graves and others have said they've seen Jim Morrison checking out the graffiti and mementos left in his honor.
3. Notre-Dame Cathedral
We all know the story of Quasimodo and his bell ringing (thanks, Disney), but many aren't familiar with the hauntings associated with this famous cathedral. As the gargoyles keep watch over the church, the interior is home to ghostly apparitions of kings who like to walk the halls while up on the roof, there have been reports of two ghostly women who make themselves known before disappearing.
Another scary side to the cathedral is the legend that ties the holy place to the devil. The story goes that one of the ironworkers building the entry door prayed that his designs would be accepted by the church, but they never were.
Finally, he started praying to someone else and they answered. The new design was approved and the doors installed. Unfortunately, the story goes, the doors could not open. The ironworker was tracked down but he was already dead by hanging himself. He left a note that the doors should be doused in holy water – and so they were and they finally opened.
Some have claimed to see the spirit of the ironworker sitting in front of his devilish creation at the front of Notre-Dame.
4. Rue des Chantres
Said to be the most haunted street in Paris, this area is home to the ghostly remains of sick children who were drowned in a flood in the 1900s. People have reported hearing screams and the shadows of young children on this street, a deadly reminder of what happened to them long ago.
5. Jardin de Tuileries
Betrayal, murder, and beautiful blooms are part of the Jardin de Tuileries' past. The most notable ghost in the gardens is that of "The Man in Red," said to be an assassin for Catherine de Medici before she had him murdered. Other royal family members have claimed to see this Red Man before they died, like Marie Antoinette, as he continues to haunt Tuileries.
6. Paris Opera House
Come for the opera or ballet and stay for the ghostly stories of the Paris Opera House! This beautiful building was the inspiration for Gaston Leroux's work, which he claimed was more than just a story. Leroux said the story was based on a real-life ghost who lived under the opera house and was hidden away because of his disfigurement, though he wore a white mask when among others.
The Paris Opera House also has reports of creepy whispers and sinister voices, apparitions moving across the stage or up on the balcony, as well as the death of a construction worker in 1896 when a chandelier fell and killed him.
7. Versailles
Okay, Versailles is outside of Paris but not by much so I'm counting it! Plus, there are great stories of people seeing Marie Antoinette wandering through the gardens, the palace, and her special retreat, Petit de Trianon.
Seems the queen wasn't happy with her not-so happily ever after as unexplained paranormal activity happens around the palace, temperatures suddenly drop in random spots, and sometimes a mist has been spotted when there's no reason for it. King Louis XVI has also been spotted in Versailles though not as frequently as his wife.
There's also the story of two women in 1901 who reported that they essentially time traveled as they walked the gardens and started noticing people dressed in 18th-century clothing and finally spotting the Queen of France herself. Many debate this story's truthfulness though it's said that the women talked of parts of the palace and gardens that existed during Marie Antoinette's time but not during theirs.
Want to add another supernatural flavor to your Paris trip outside of ghosts and haunted locations?
Plan to learn about the undead at the Vampire Museum! This privately-owned museum is a one of a kind and dedicated to all things vampires. Learn about vampire myths and legends and see artifacts, including a vampire protection kit, in this vampiric collection in Paris. 
Did we miss any haunted sites in Paris? Tell us in the comments below or give us a shout on Twitter!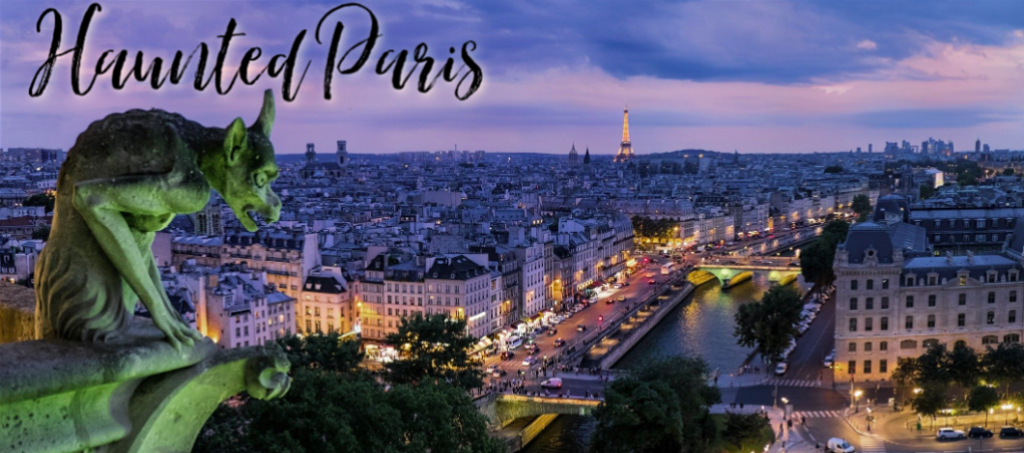 Like the post? Share it now!