I know we're all super excited to leave 2020 behind us and embrace the possibilities available in 2021 – especially around the hope the COVID-19 vaccine brings, but COVID-19 will still bring some challenges in the new year in how we go about our everyday lives and how we travel.
Rick and I recently traveled for the first time this year since the first shutdown back in March with a trip down to Jamaica for Christmas. We booked this in June assuming that surely six months from then things would be on the up and up as we'd been locked down for two months already at that point.
As it turned out, we were wrong in that assumption but were still able to travel by closely following the safety measures in place.
We took every precaution and followed every regulation during our trip and wanted to share our experience with others who may be looking at booking some upcoming travel soon.
COVID-19 testing and travel authorizations
We were required to provide negative COVID-19 tests as part of our departure from the United States and entry to Jamaica. We were also required to fill out a travel authorization form online prior to our arrival.
We could take our COVID-19 tests up to 10 days before our arrival in Jamaica and had to print out our test results. The tests had to meet certain requirements:
A PCR or RT-PCR, a Nucleic Acid Amplification (NAA), or Antigen test
Tests must be done by a lab that has a Clinical Laboratory Improvement Amendments (CLIA) registration or ISO 15189 certification
Test must be authorized by the FDA under an Emergency Use Authorization (EUA) or meet the standards of the WHO
Fortunately, the tests offered by Walgreens meet these requirements and we could do it by appointment. Rick and I scheduled our sample collections, drove up to the pharmacy window, and were instructed on how to swab ourselves and drop off our samples. We both got our test results a day later by email and ours were negative.
After getting our test results back we applied for our Jamaican travel authorization which took less than 15 minutes. We did have to provide information about ourselves, our occupations, any recent travel, and where we were staying. We got our authorizations approved within a few minutes and got an email with our travel authorization certificate, which we could present as a printed copy or an electronic version.
With these extra restrictions, we couldn't check in for our flights online and had to get our boarding passes from a check-in counter where we had to show our negative test results, our travel authorization forms, and our passports. Then, before our flight to Montego Bay, they checked these forms again at the gate and checked our names off the list.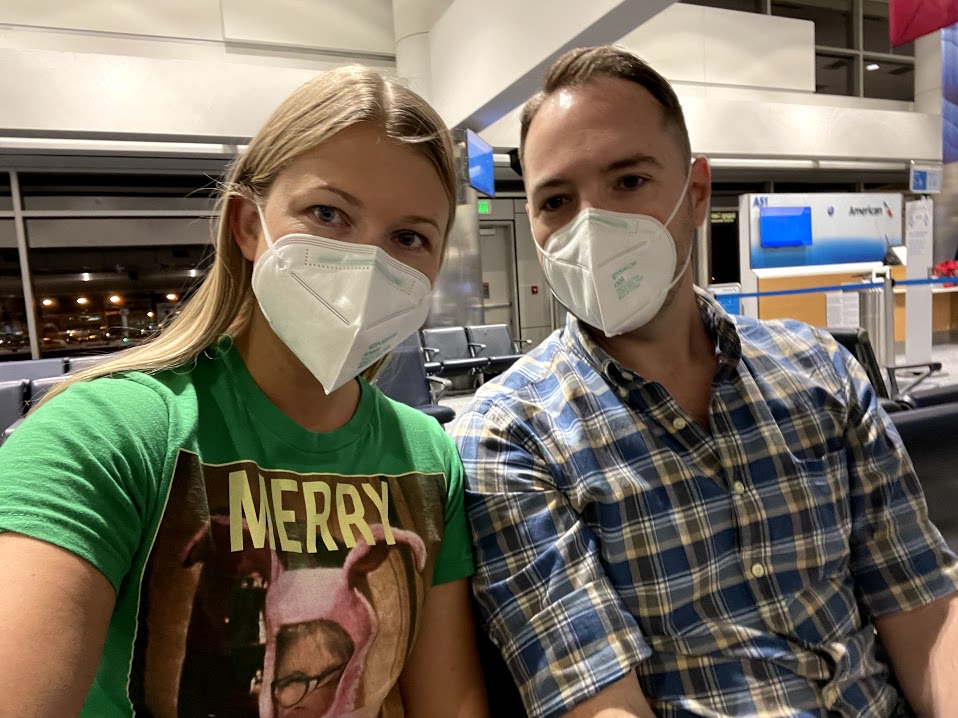 The experience at airports
We flew from Denver International Airport to Charlotte Douglas International Airport before arriving at Sangster International Airport. Overall, most people were good about keeping masks on in the airports with the exceptions to eat or drink. Obviously there were a few outliers, but for the most part we were happy to see many taking the mask precautions seriously.
At TSA, you do have to pull your mask down briefly so the agent can compare you against your picture on your photo ID, but they stay masked the entire time, wear gloves, and have partitions up.
Sangster International Airport had several hand sanitizing stations along your path through TSA that you were required to use. They also had stickers on the ground to mark six feet of separation.
At all the airports, many restaurants were closed but there were still options for grab-and-go food or snack items if you're in a pinch.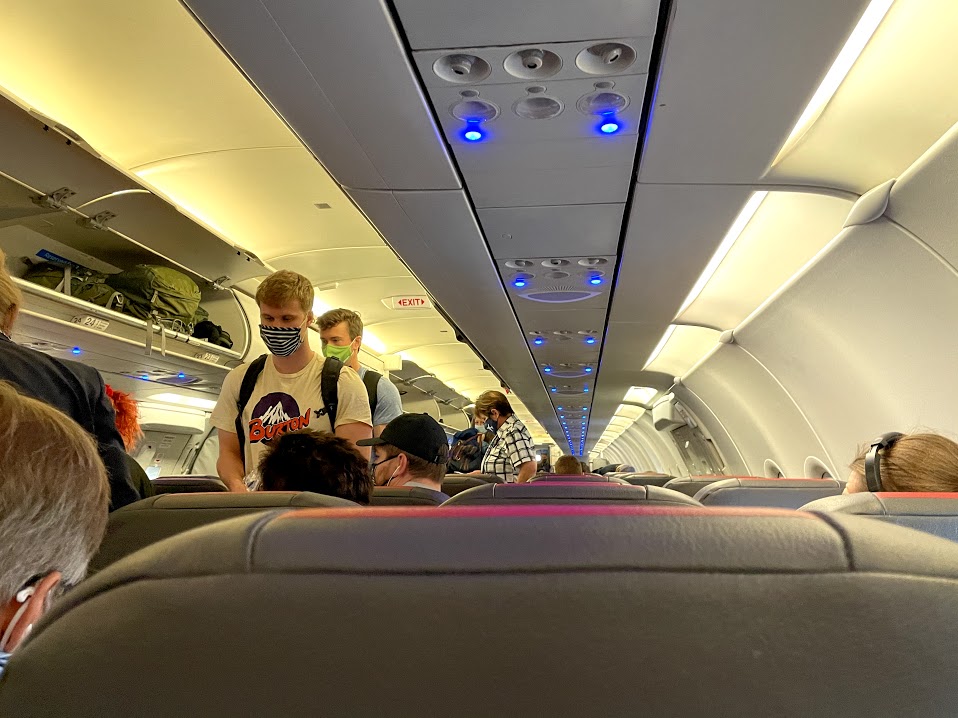 The flights to and from Jamaica
We flew with American Airlines for our flights between the US and Jamaica. They did not purposely keep any open seats or rows between passengers and still board by group. You are required to wear a mask when you scan your boarding pass and at all times during the flight, you can remove it briefly to eat or drink. At the airports, we heard neighboring Delta flights boarding by row, starting at the back of the plane. All of the flight attendants wore masks and would check the cabin every so often to ensure passengers were wearing theirs unless eating or drinking something.
Beverage service was different this time as they handed us a little baggie as we boarded with an 8 oz. bottle of water, cookies, and a sanitizing wipe. Of course you were welcome to bring on additional food and drink with you.
Transportation to and from the airport
We parked our vehicle at a shuttle lot near DIA and passengers were required to wear a mask on board, as was the driver. On our bus back to Sangster International Airport, everyone on board was masked up too.
While on our vacation at the resort we were only required to wear a mask during our massage treatment and only when we were facing up toward our therapists.
Overall, the experience felt so familiar but with the addition of wearing a mask the entire time. People are still pushy and in a rush to stand as soon as the airplane touches down, TSA still makes you take off your shoes at security, and you're still going to be exhausted after a long day of flying – in a way it was comforting knowing somethings were still the same after all this time. I will say I felt pretty safe traveling but did use my hand sanitizer often, especially after touching any shared spaces.
Have you traveled any during this time? What was your experience like? Share your thoughts in the comments below or let us know on Twitter!
Like the post? Share it now!