I love wine and am always on the hunt for a new favorite wine bar in Denver even though we already have several fantastic ones. 
When my parents were in town, we went down just south of the city to check out the wines at Carboy Winery. I've had their wines in restaurants that are Colorado Proud before but had never yet been to their winery or tasting room, so I was excited to visit it and taste test a few of their wines.
Check out our Carboy Winery review to see if it's the right fit for your next wine tasting in the greater Denver area.
Review of Colorado's Carboy Winery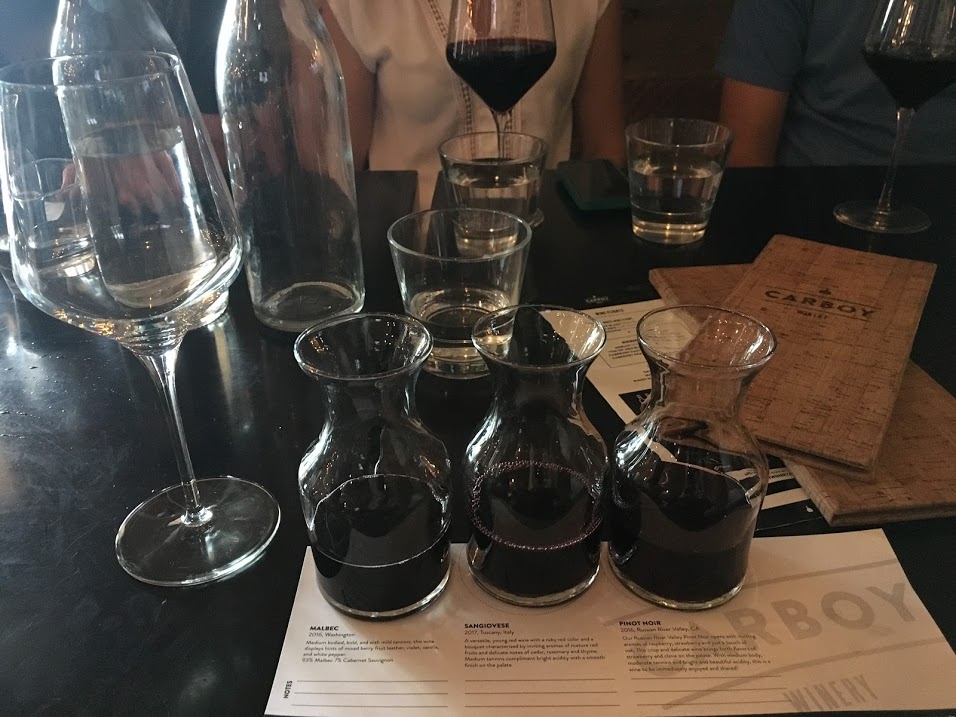 Wine selection and quality
Carboy has about 20+ wines on the menu, with grapes coming from California, Washington, Oregon, Italy, France, and of course grapes grown in our own backyard in Colorado! They source grapes from around the world and then blend and age the wines here. They have a great selection including a pinot gris, sauvignon blanc, malbec, pinot noir, sangiovese, and more.
They have a few wine flights available as well if you want to try a few different varietals. I tried their red wine flight that had the sangiovese, malbec, and pinot noir, and it was very good! Even ordered a glass of the malbec to take into the restaurant.
Their white wine flight has: Sauvignon blanc, pinot gris, and chardonnay; and the winemaker flight has a merlot, their "VIN '59" red blend, a cabernet sauvignon, and a cabernet franc.
They also have a few cocktails and non-wine drinks on the menu if you bring a friend who isn't a die-hard wine enthusiast. Be sure to come hungry too as they have a great selection of snacks and light bites, or you can make a reservation at the restaurant next door, Angelo's Taverna, for amazing Italian food!
Price
Their prices are very reasonable with glasses ranging from $6-$12, and wine flights from $11-$15. Their pours are very healthy for the price and I wouldn't hesitate to ask for a sample before ordering a glass here.
They have happy hour every day from open until 5 p.m. where you can get $2 off wine by the glass.
Customer service
Unfortunately we went right after an event let out at Breckenridge Brewery, so the tasting room was a bit crowded and the servers were busy, which led to us to not having the best table service. We probably could have gotten our drinks faster by ordering at the bar. Our server was friendly but we felt a little ignored at times. I'll give them the benefit of the doubt that it was just because of the surplus of people when we were there.
Winery tours
You can tour the winery and then enjoy a private tasting.
The first Carboy tour experience is a standard private winery experience for $25 per person with a two-person minimum. Learn more about their wines, the winemaking process, and sample a variety of wines with a wine specialist for 30 minutes.
The next option is the winemaker experience for $40 per person. Meet with a winemaker and learn more about the winemaking process on this in-depth tour.
Lastly is the sensory experience for $75 per person and is focused on tasting and identifying the wine's flavors and aromas. Ideal for those who already know a thing or two about wine but really want to learn to appreciate the different flavors involved.
Location of Carboy Winery
For us, that's one of the negatives of Carboy – it's down in Littleton, so great if you live south of the city but not great if you live downtown and have to drive about 45 minutes to get there. Though they do say on their website a Denver tasting room is opening soon.
Overall, I'd be happy to go back and sample some more wines from Carboy when we're already down south. The tasting room was well done, the wines were quality, and I'd definitely go back to follow our day of wine tasting with the delicious Italian food just steps away from the bar.
Like the post? Share it now!