Last summer, Rick and I were in Las Vegas for my birthday and we checked into the Cosmopolitan for the first time and it was a fun setting for a fabulous birthday weekend in Las Vegas!
Accommodations at the Cosmo
Our suite at the Cosmo was fantastic! It was spacious, open, and had a breathtaking view from the large balcony. Our room had a separate deep tub which also overlooked the Strip. We had a living area with a desk and chair, couch, table, and dry bar area, as well as a large bathroom, and a walk-in shower.
The room was amazing and was one of the first times it was more tempting to stay in our room and enjoy the view from our balcony than head out to play on the Strip. Even our friends who live in Vegas commented on how sweet our suite (sorry, had to) was.
Seriously, look at this view:
The only issue we had with our room was they switched out the locks during our stay and didn't provide any notice. Rick found out when he went back up to our room and noticed the locks were different. They gave us new keys, but we should have been given a head's up they were swapping out the locks on our floor during our stay.
Another weird thing about our stay was the elevators. They took forever, so much so that we didn't think it was possible to leave something in the room in the morning and get it before sunset. On our last day there, we were getting ready to check out and were waiting for at least 10 minutes before we finally got on one that was going up and then just rode that back down. While it's definitely a first-world problem, it wouldn't have been a pretty picture trying to carry our luggage down 30+ flights of stairs the day after drinking by the pool all afternoon.
Amenities
The amenities were nice and we made use of the on-site pools and gym. The gym was spacious and had decent equipment for a workout. It looked like they also had classes and personal trainers, but we just stuck with the basics.
The two pools were lovely and and refreshing. Like any Las Vegas pool, they fill up fast so get there early. We got seats with just a hint of shade and some misters, so that made it quite nice to sit outside all day. The view from the Boulevard Pool was fantastic but this pool definitely had more of a party vibe going. But, it also had hot tubs and plenty of seating. The Chelsea Pool offers a more relaxed atmosphere and the smaller of the two.
Add-ons
Since a couple of our friends live in Las Vegas, we decided to upgrade our pool time and rented a daybed at the Chelsea Pool. It turned out to be a great decision.  We had two dedicated servers throughout the day and they were always checking in and making sure we had what we needed and were always friendly.
They operate on a food and beverage minimum and after a whole day of hanging out by the pool, it wasn't that hard to meet it. We started with mimosas, moved to mixed drinks and cocktails, ordered some lunch and snacks, and ended the day with champagne and popsicles. We definitely will do another daybed rental in Vegas, but maybe opt for some shade covering or have a few more people in on it to bring down the cost. Even as it stands, we have no regrets about booking it for the day.
Customer service
All our interactions with the staff at the Cosmo were pleasant. Check-in was easy, housekeeping was efficient, and everyone was very nice.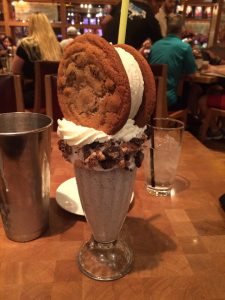 Dining
For their restaurants, we enjoyed getting birthday treats and dessert at Milk Bar. The cereal milk flavor of ice cream was interesting and the cookies were fantastic.
On the day we were leaving, we stopped at Holsteins to fill up before catching our flight and did we ever. We each got a burger (we should have split if we were thinking right) and I tried their cookies and cream shake. The only two words I could utter when they brought it out for me: Holy shit!
It was gigantic and yes, it was amazing. Until I saw the extra 10 pounds on the scale the next day from that shake alone.
Bars & drinks
We did get some cocktails at the other pool and those were pretty good. Beyond doing the daybed service, we didn't drink much at the resort and instead just bought some wine from Walgreens and drank that in our suite. Since we didn't spend much time gambling at our own resort, I can't comment on how drinks and service was downstairs.
We stopped for drinks in the Chandelier bar and lounge, and the drinks were fine but expect typical Las Vegas prices.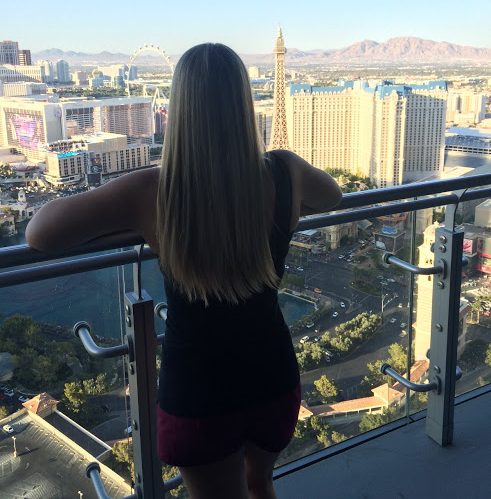 Weather
Since my birthday is at the end of June, we were pretty much guaranteed hot, sunny weather for our stay in Las Vegas. With how the pools are situated at Cosmo, it's easy to take advantage of those sunny days and work on your tan – unobstructed.
Overall, we'll definitely return to the Cosmopolitan for another stay in Vegas. Even with the hiccups of the keys and crazy elevators, the views, pools, and dining options are worth the stay.
Like the post? Share it now!