Last month, we got to celebrate our friends' incredible destination wedding in Iceland and they choose the dreamy south coast for their nuptials. It was a beautiful drive from Reykjavik to Vik and there are some awesome stops along the way!
From thundering falls to majestic glaciers and volcanoes, Iceland is known for its exquisite natural wonders and you can see many of them on the south coast of the island.
If you're planning to travel to Iceland, you must add a little road trip from Reykjavik to Vik, Iceland's southernmost town! Check out our favorite stops along the 110-mile route.
6 cool things to do between Reykjavik and Vik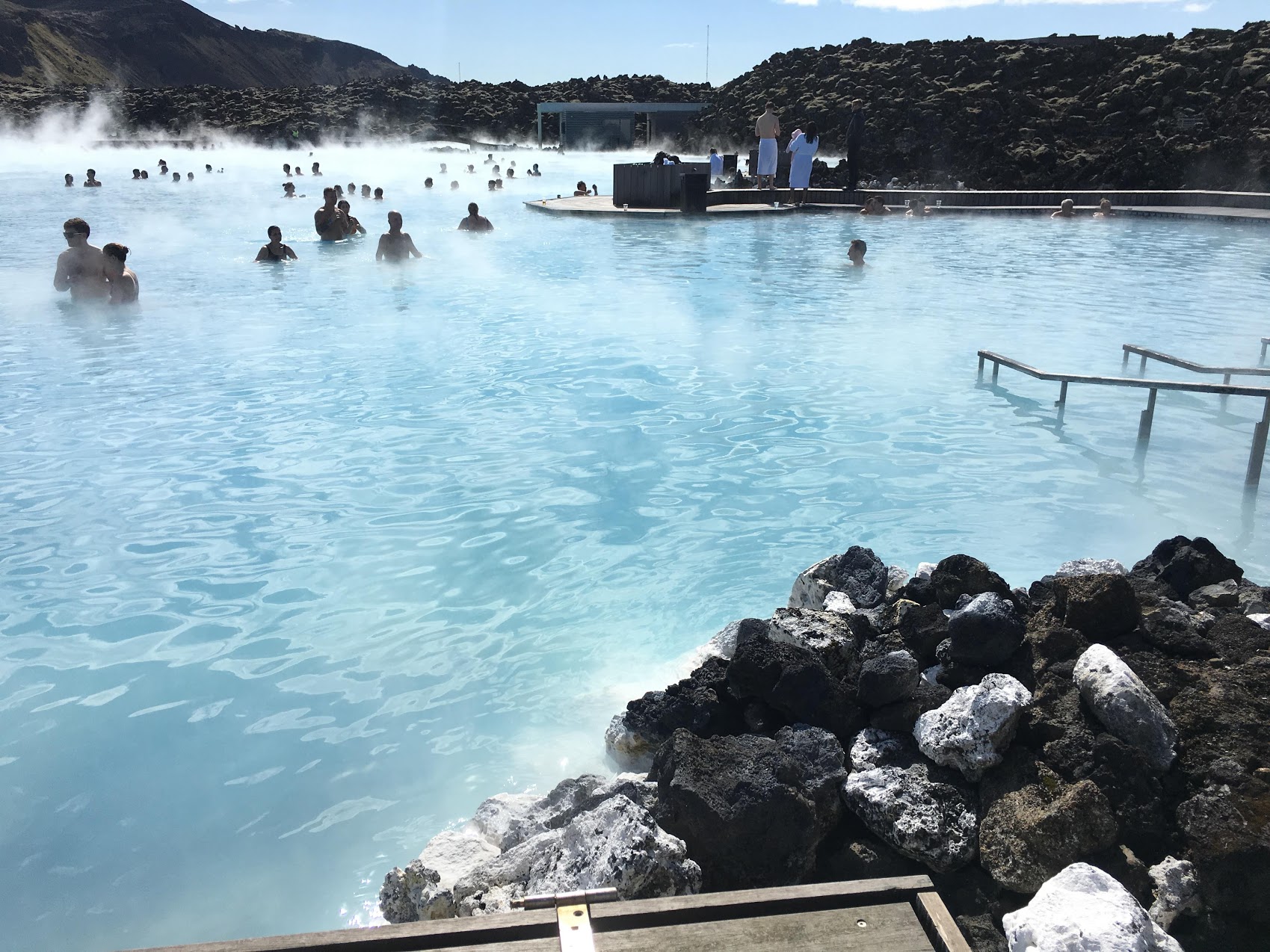 1. Blue Lagoon
Right after we left Reykjavik, we headed straight for the mystical-looking milky blue waters of the Blue Lagoon. There are many hot springs around the island but this is the most famous. It is commercialized, but that also means that the comfort and convenience of having restrooms, showers, and a swim up bar is included.
We spent about two hours relaxing in the warm water with friends and enjoying some refreshing beer and sparkling wine. I opted to try the complimentary silica mask which made my face silky smooth though you do look quite funny as the mask clumps up.
Be sure to book your time slot in advance so you can go through the fast pass line.
2. Seljalandsfoss
Go behind this impressive 200-ft. waterfall for unique photos – though be prepared to get wet. The water is fed by melting ice from the glacier-capped Eyjafjallajokull volcano and is one of Iceland's most popular waterfalls.  You can't miss it and you definitely won't be alone as you take in the view of this Iceland waterfall.
Fun fact, the cliff where the waterfall drops from used to be the marker for the country's coastline.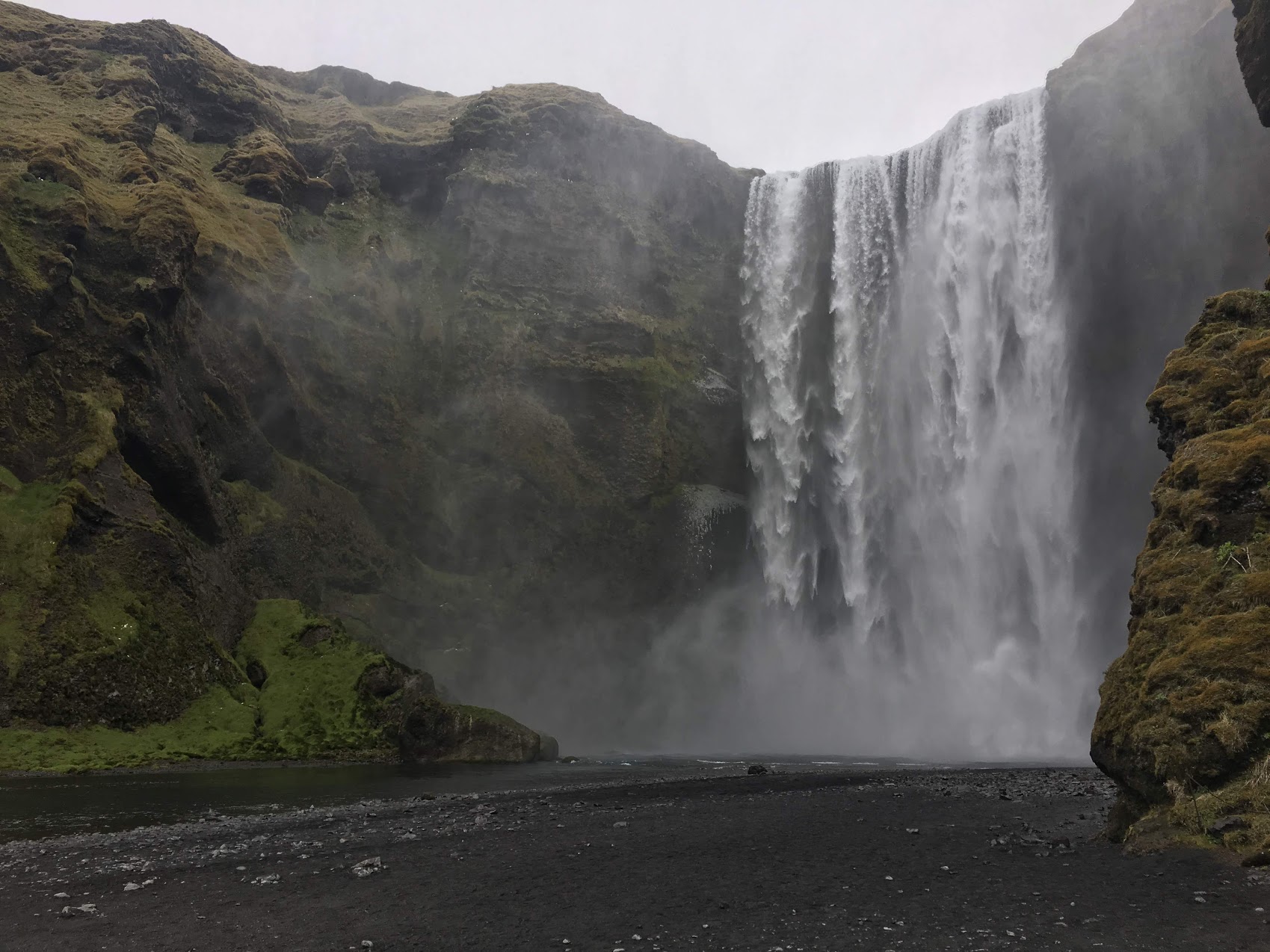 3. Skogafoss
This thundering giant, spanning 82 ft., is a must-see in Iceland, and you can climb the 500 or so steps to the top for a panoramic view of where the water actually falls over the cliff. It's a steep climb, but offers cool views.
Though, my favorite views were from below and seeing the water hurtling over the edge. You can stay pretty far back to get some great shots of the falls without getting in the mist, but you won't help but feel compelled to get a closer look at this natural beauty.
There's also a legend about Skogafoss that a Viking settler in 900 hid a treasure in Skogar and if you find it, you can keep the gold and treasures inside. Unfortunately, Rick and I were not the diamonds in the rough who could enter the falls and find it.
4. Plane wreck
Near Skogafoss is the hike to Solheimasandur Beach and the plane wreck. The US Navy plane crashed in 1973 (everyone survived) after it ran out of fuel and it's remained there ever since.
It's a cool photography spot as the remains of the silvery plane contrast with the black sand beach. Fair warning, you'll need time for this Reykjavik to Vik road trip stop. It's a two and a half mile walk (~45 minutes) to the abandoned plane and you cannot drive to the plane – you will be reported to the police if you try.
Use the coordinates 63°27'32.8″N 19°21'53.2″W to find the plane.
There is a parking lot on site but it's not well marked. If you see a bunch of cars in what looks like a parking lot, you've found it.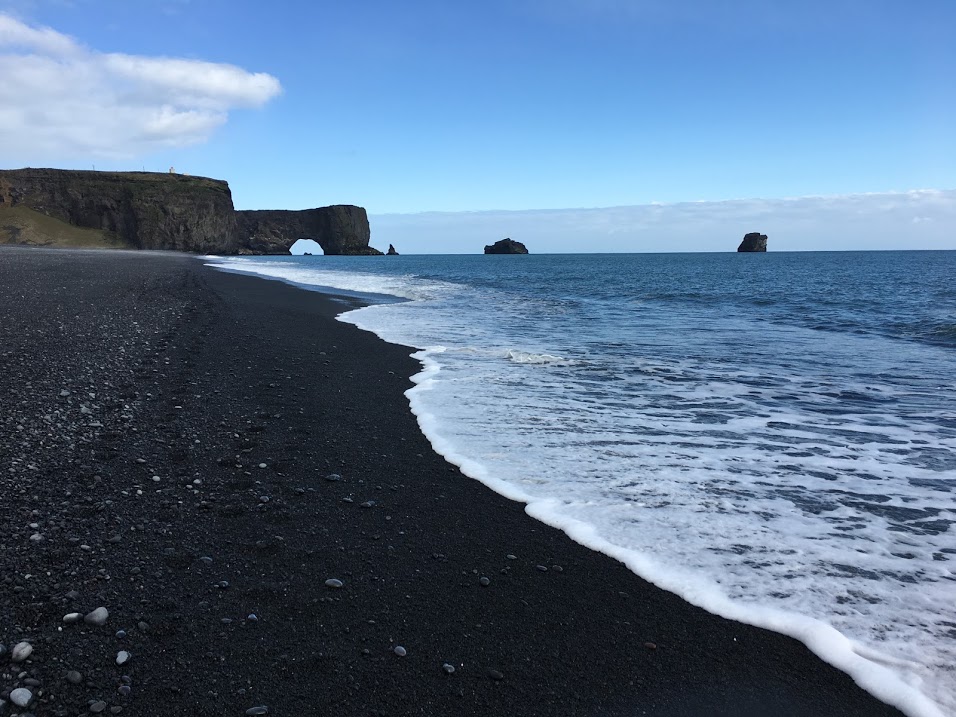 5. Black sand beaches
Walk on lava – okay, not really lava anymore, but it's cool to say – as you visit the volcanic black sand beaches on Iceland's south coast. Reynisfjara gets its dark sand color as it was once lava that cooled as it met the ocean.
There are a few different beaches to choose from, and some you can find cool, smooth black stones and pebbles and some you'll find real black sand. Both are fun to walk on and get some really neat shots of the coastline from.
6. Rock formations
There are some cool natural rock formations along the south coast that are worthy of a stop to snap some pictures. First, check out Reynisdrangar, the rock pillars that are said to be frozen trolls in the sunlight. You can see them from almost any vantage point  along the coast and it's kind of fun to think about the stories behind them.
Next, look back on the shoreline and look for Gardar, the basalt rock columns. Get close and try to find a cave so you can get an inside look at these unique volcanic columns. They almost resemble a staircase – perhaps Thor's backup plan if the Bifrost stops working.
Finally, stop and check out Dryholaey. It's impossible to look at the coastline and miss this sea arch. You can view it from the beach or get an aerial view by heading up to the cliff edge and visiting the lighthouse.
While on the beaches and near the cliffs, keep a lookout for puffins who are nesting and diving into the water for food!
Have you made the roadtrip to Vik? Tell us what your favorite thing was in the comments below or on Facebook!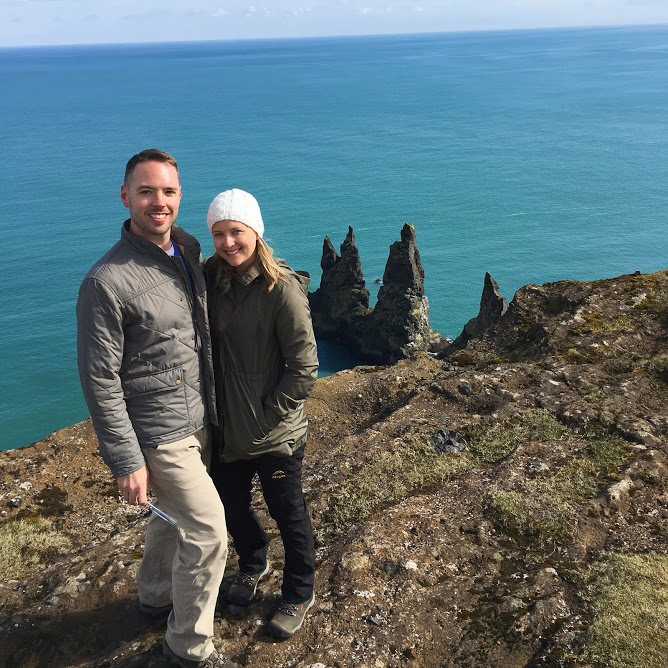 Like the post? Share it now!