For Rick's birthday this year, we decided to make the most of the holiday in honor of Martin Luther King, Jr. and take a long weekend down in the Bahamas. Having sailed with Royal Caribbean before, we decided to book a three-night Bahamas cruise aboard the Mariner of the Seas.
It had been about three years since our last cruise so we were both really looking forward to some fun and sun both on and off the ship. If you're looking at booking an upcoming cruise with Royal Caribbean, check out our review of our most recent experience cruising with them on the Mariner of the Seas.
Royal Caribbean review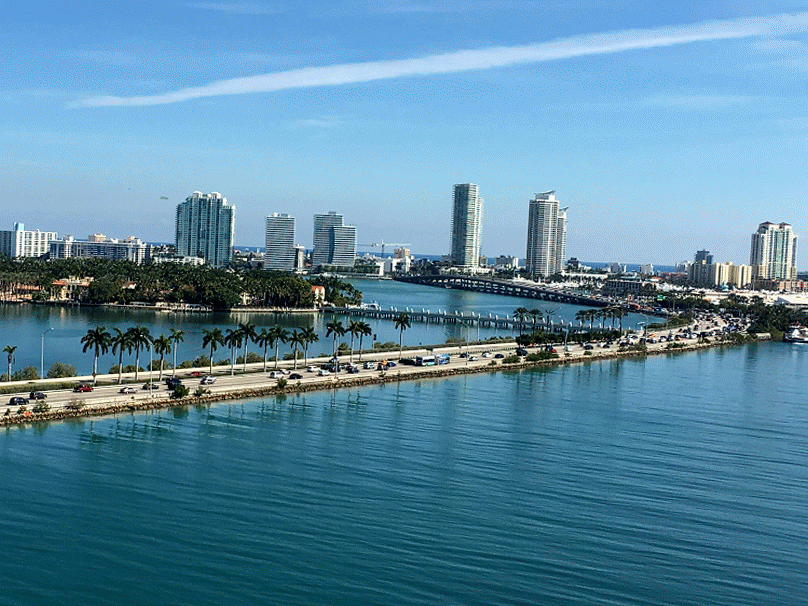 Our Bahamas cruise itinerary
For our cruise schedule, we departed Miami on Friday afternoon at 4 p.m. Rick and I got on the ship about 11:30 a.m., so we had time to explore the ship, enjoy the views of Miami, get some lunch, change into our swimsuits, and relax by the pool with a daiquiri in hand before we set sail. We went back to our room to watch the sunset from our balcony before heading up to the buffet for dinner.
Saturday was our day at Coco Cay, Royal Caribbean's island. We got off the ship around 9 a.m. and took a tender to the cay. We had pre-booked a private day bed so we took a little limo golf cart over to the quiet side of the beach for our bed check-in. There, we relaxed and napped a bit in the shade before checking in for our swimming with pigs shore excursion. Lunch was delivered to our bed (pre-ordered on the ship) around 1 p.m. and then we simply relaxed on our bed or on the floating mats out in the water. We caught one of the last tenders back to the ship so we could shower and change before dinner and then enjoy the live entertainment.
Sunday was our day at Nassau, Bahamas. Rick's been quite a few times before but I wanted to check out a few of the sights again so we got off the ship in the morning to visit the Queen's Staircase, get some rum cake, and explore the city. See some of our recommendations for the best things to do in Nassau!
And on Monday, we were back in Miami by about 6 a.m., so not much time to enjoy the ship since we had quite a late night on Sunday!
Check-in
Check-in at the Miami port was a bit different compared to our last cruise. This time, we dropped off our bags, had our Set Sail Passes scanned, went through a security checkpoint for our carry-on luggage, and then went directly onto the ship. Our room keys would be available at 1 p.m. at our room. We could still use our drink package once on the ship as the bartenders would just look us up by our room number. This check-in process was smoother than other times we've cruised and made for an enjoyable start to the trip.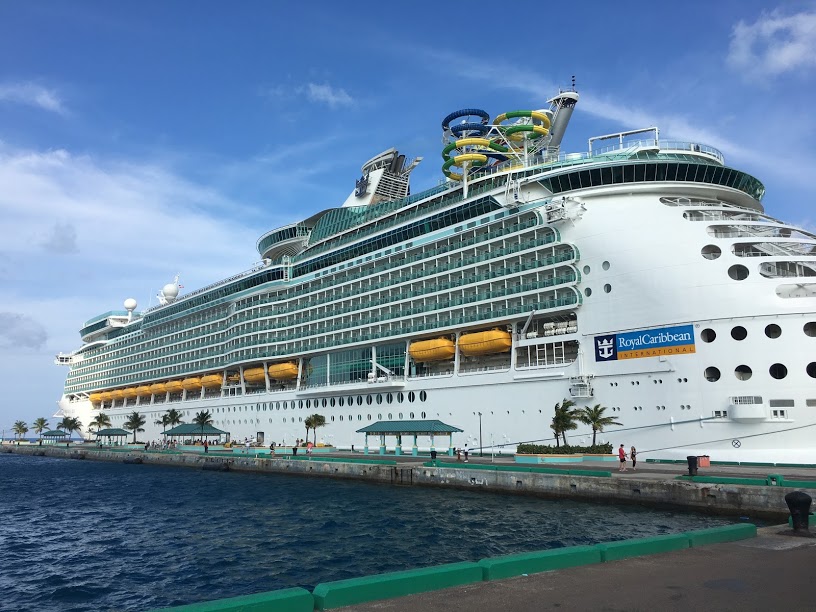 The Mariner of the Seas
At just over 1,000 ft. in length, she's built to accommodate more than 4,250 passengers and she's equipped with plenty of amenities and activities. The cleaning crew were fantastic as she was always sparkling clean. While she's spacious, I would say there were times it was hard to get around when big groups were leaving the entertainment areas or right around the first seating with people grouping in front of stairs or taking up the entire hallways. Obviously, that's not the cruise line's fault, but it was still a bit of an annoyance to have to push your way through a small hallway or walking area.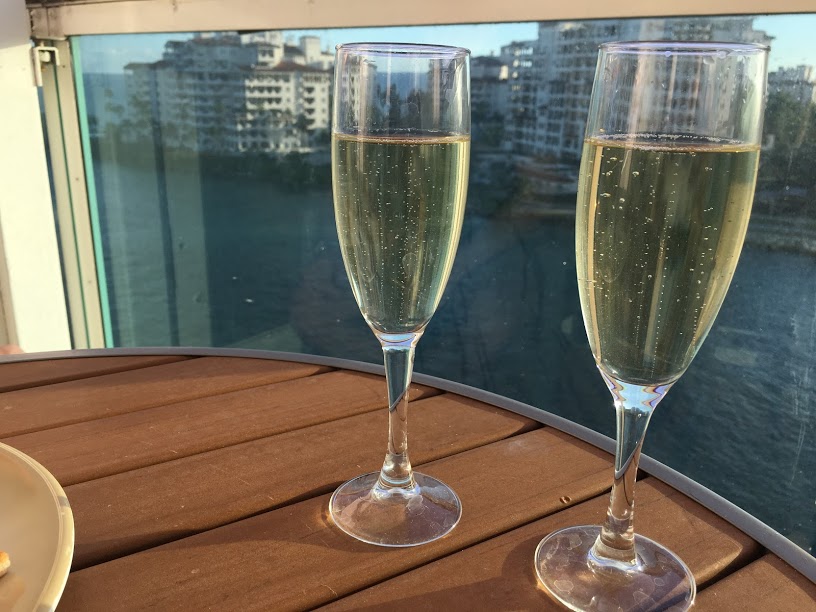 Accommodations
I love how dark interior cruise staterooms get as I get some of the best sleep of my life, but this time we opted to book a balcony room and I'm glad we did. Our room was a bit more spacious than we're used to and had a bed, couch, desk area, closet, and a decent bathroom – the shower had doors! The balcony was very nice for when we set sail as we grabbed some glasses of prosecco and hung out on our balcony watching the sunset fall behind Miami.
Our stateroom attendant was always around and he kept our room in perfect condition and very organized.
Dining and bars
The food and drinks on the ship were phenomenal. I never had a bad cocktail from any of the bars and our drink package covered most of the cocktails (up to $13), wine, and beer choices. The drink of the day was always fun and tropical, but I fell in love with their banana daiquiris and mudslides. For dinner, we'd grab a glass of wine or two and take it into the dining room or buffet dining area and then get a glass of sangria in the seating area.
When it comes to ordering drinks, be prepared to wait for a bit for your order as the bars get busy and it seems they only have two or three bartenders working any bar at any given time. So, the wait can get long but they're very good about knowing who was next in line and getting people their drinks as quickly as possible.
The food on board was phenomenal! We did enjoy dinner one night in the main dining room and the food was really good, but we honestly enjoyed the buffet food more. The food at the buffet was varied but each night did have a "theme," like Saturday night was Mexican and Sunday was Caribbean. They still had staples like fruit, salads, breads, pastas, cheeses, and so on, but then specialty items too. Our first day on board we had lunch in the buffet and they had an amazing paella dish and the mac and cheese at dinner was to die for.
Activities on the Mariner of the Seas
There's no shortage of things to do on the cruise, so if you're bored that's your own problem! On the Mariner of the Seas, we enjoyed:
The pools and hot tubs
The waterslides
The Flowrider
Mini golf
The swings
Gambling in the casino
Live entertainment: Theater shows, comedians, jugglers, ice skating performances
Games: X versus Y and Crazy Quest (an adults-only show)
Dancing and Latin music
Spirits and wine tastings
Many of the activities are family-friendly or designed for kids, like the rock climbing wall, but they also have a great variety of things for just adults. The live entertainment and shows were fantastic, I loved the ice skating show and we both enjoyed the juggler, Mike Price, and the comedian, Stephen Thomas. The audience participation games were fun, especially the men versus the women shows.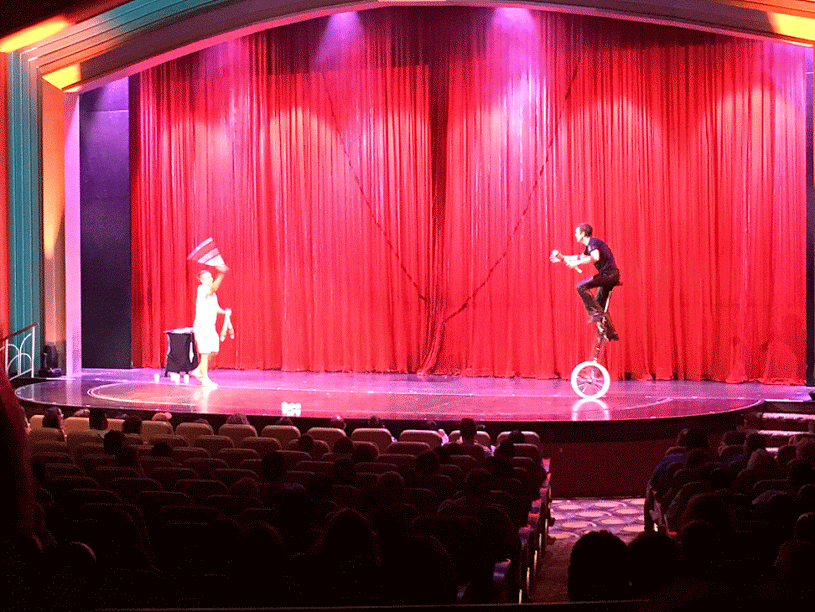 We also booked services at the spa – for Rick, a Swedish massage and I opted for a hot stone massage – and it was heavenly. 75 minutes of pure relaxation and bliss. The treatments were a bit expensive compared to their counterparts on land, but it was worth it to have an hour of relaxation toward the end of our trip. Both our therapists were friendly and paid attention to our pain areas.
Shore excursions
Even though we only had one day at Coco Cay, we made the most of our shore excursions! We didn't book anything for our day on Nassau as we wanted to explore on our own and get back in time for our massages.
Swimming with pigs
We did pre-book a swimming with pigs excursion, and it was unlike other things we've done on the island. We got on a little boat and went out to another island and there they had cute piggies ready to swim in the shallow waters with you and go after the apple chunks you were feeding them. They teach you how to feed the pigs and have plenty of apples to continue to entice the pigs to come to you. They each have their own personality and the guides are happy to tell you more about each individual pig.
It was fun, easy to book, and made for a neat way to spend an hour out in the Caribbean. If you suffer seasickness, be sure to take some meds or use one of those ear patches as you do ride a little boat out to the where the pigs are.
You can take your phone to the island, but you cannot bring your phone or camera into the enclosure with them. They have someone taking photos of you with the pigs but you cannot bring your own into the water as the pigs will try to eat them.
Private beach bed
For our day on Coco Cay, we opted to go to the quieter side of the beach and enjoy our own private beach bed. It was a four poster bed with drapes, so Rick could enjoy the shade, and we also had two loungers out in the sun as well as two floating mats for going out into the water. They supply a cooler with bottles of water and it included a lunch delivered to your bed. We ordered the chips and salsa, chicken tacos, fish sandwiches, and rum cakes for dessert. The food wasn't the best thing we ate that day but it was decent. We also had access to a bar reserved for beach bed and bungalow users. Next time we cruise, we'll probably book another day bed as it was worth it.
Cruise staff
We honestly only had one bad interaction with a staff member, our waiter in the main dining room was kind of pushy and we felt very rushed throughout dinner, but everyone else was friendly and helpful. From the people checking out towels to our stateroom attendant, everyone was nice and had a smile on their face.
Transportation services
On Sunday, we got our debarking schedule and saw that they had shuttle services to the airport we were flying out of. We went to see if they had any seats left as that'd be more convenient than trying to hail down a Lyft outside the port. We were able to book two seats on the shuttle and were told to meet at 7:50 a.m. the next morning. We were off the ship at our designated time and then found our shuttle and then sat on the bus for over an hour. We didn't leave until after 9:15 a.m. Had we known we'd be sitting there so long, we could have stayed on the ship enjoying breakfast or at least in our room until it was time to go. I know we won't be booking transportation services through them again.
Crown & Anchor Society
Rick and I are Diamond members with Royal Caribbean and I highly recommend signing up for their Crown & Anchor Society to start reaping the rewards of traveling with them. It was Rick's first time as a Diamond member, so we made good use of the lounge for happy hour snacks and drinks and just escaping the crowds late at night. Like any rewards account, the more points you accrue the better your rewards, like priority check-in, discounts on staterooms, and access to private events and lounges.
Bahamas winter weather
We'd never cruised in winter before so didn't really know what to expect weather-wise, but it was very nice for the majority of the trip with temperatures in the mid- to high 70s. At our port in Miami, the weather was beautiful during the day with about 75-degree temps, but the morning we returned it was only 50 degrees, so definitely bring a light jacket or thick sweater!
Our day at Coco Cay was perfect with 77 degrees and clear skies. Our morning in Nassau was lovely but clouds started rolling in around 1 and by 2 p.m. it was storming and the sea was really rolling. Since we were heading back to Miami around 5, it wasn't that big of a deal for us, but it probably put a damper on some people's fun at Atlantis or trying to get some shopping done.
Friendly travel tip: Download the Royal Caribbean app! While Rick and I aren't the biggest fans of Royal's website, their app makes up for it. It's easy to use, has everything already organized for you, and if you're connected to the WiFi it'll auto update to the right time to display what's happening on the ship or what pre-booked activities you've got coming up. It also had a handy map to help us navigate the ship.
Overall, it was a great weekend at sea and we had a wonderful time aboard the Mariner of the Seas. There was always something going on: dancing, bingo, gambling at the casino, snacking, laying out by the pool, or catching a show, and the ship was easy enough to navigate. I wouldn't hesitate to book another cruise aboard this ship and make a little return trip to the Bahamas!
Want more travel tips on cruising? Review our 13 favorite cruise tips to get the most out of your vacation!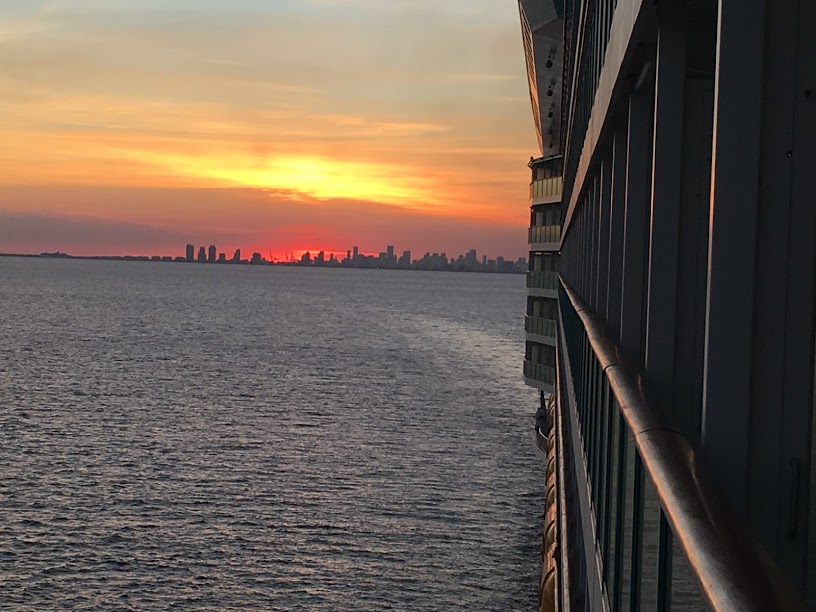 Like the post? Share it now!