We spent the first weekend of October in Tucson visiting my parents and enjoying the 90 degree sunshine, lazy mornings at the pool, and some delicious food – and wine.
I inherited my love of all things wine, and my dislike of moscato, from my parents and they're my go-tos when I have questions about wine or need recommendations of things to try. On Saturday afternoon, we decided to do a wine tasting at the winery they're members of: Flying Leap Vineyards and Distillery.
While the actual winery and vineyard is a couple hours away, they do have a wine tasting room located in Tucson that was convenient to us. So, after lunch we headed over to the tasting room to sample some Arizona wine!
If you're in the Tucson area and interested in a wine tasting, read our review of Flying Leap Vineyards tasting room in Tucson.
Flying Leap Vineyards Tucson wine tasting room review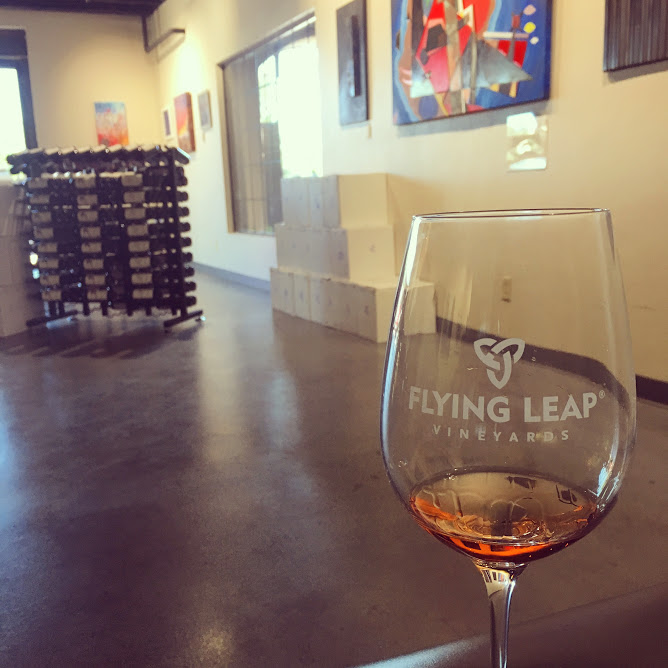 Wine selection and quality
I felt like the wines were hit or miss, honestly. Some were very good and some were either just okay or I couldn't get the taste out of my mouth fast enough (see the habanero wine.)
We tasted the:
Flying Leap White (Viognier and Grenache Blanc)
La Flor Rose
Mourvedre
Tempranillo
Spanish Fly (Tempranillo and Cabernet Sauvignon)
Habanero (habanero infused Grenache – I'm still coughing to this day)
Graciano
Union (Cabernet Franc, Cabernet Sauvignon, and Petit Verdot)
Petit Verdot Dessert
My absolute favorite was the Graciano, a grape from the Rioja region in Spain. The Mourvedre, Union, and dessert wine were also quite good. If we were staying with my parents longer, I probably would have bought a bottle of the Graciano, but we were flying out the next day.
The tasting room
The tasting room was spacious but they aren't maximizing their space well. It has only been open for about a year so I understand they're probably still working on the layout and getting furniture in, but the seating was quite limited and it was busy when we got there.
They have a bar with seating for about 10 and then they had a couch and chair – we were able to squeeze three on the couch and Rick took the chair. I think they definitely could add another couch or two in the space, and hopefully they will in the future. Right now the space is pretty open, so there's room to make it more inviting and cozy.
If you want a spot at the bar, I'd recommend getting there early or going during the week.
They also have some interesting art for sale and we had fun trying to guess the prices between wine pours.
Price of the wine tasting
The tasting was a bit pricey at $14.95 plus another $4.95 for the souvenir tasting glass. You get a minimum of six pours of their white, red, and port wines. You can bring in your own tasting glass if you wish, or if you're a member you get to use their glasses for free. Wine club members also get complimentary tastings.
The souvenir wine glass is nice, but kind of odd that we had to buy it. If you do buy a bottle after your tasting, $10 of your tasting fee goes toward your purchase so that's a bit of an incentive to buy a bottle.
Customer service
They had one server at the bar when we went and she was very friendly and knowledgeable about their wines. Since it was so busy there was a time where we probably waited five to ten minutes between pours, so not bad, but it also made us feel like we were forgotten.
I felt like if we had snagged a spot at the bar, we would have had faster service but it was still pretty good.
Location
The tasting room was located in a little shopping complex, and is easy to get to and find parking.
Flying Leap Vineyards & Distillery Tucson tasting room
Plaza Palomino, 2940 N. Swan Rd., Suite 128
Tucson, AZ 85712
The tasting room is open Monday and Tuesday and open Wednesday through Friday, 2 – 6 p.m., Saturday from noon to 8 p.m., and on Sunday 2 – 6 p.m.
Overall, it was an enjoyable experience and I found a new wine varietal I can't wait to try more of and I do like our souvenir wine tasting glasses. Were all the wines amazing? No, but it was a fun way to spend time with my family and try different wines produced in Arizona.
Have you tried any wine from Arizona? Tell us what you thought in the comments below or over on Twitter!
Like the post? Share it now!